Arkansas Football: Razorbacks, John L. Smith Can't Lose to Louisiana-Monroe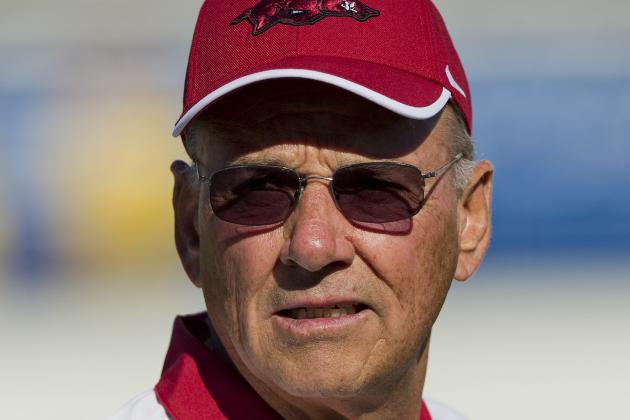 Wesley Hitt/Getty Images

The Arkansas Razorbacks and John L. Smith are still reeling after last weekend's loss to Louisiana-Monroe.
Such a devastating upset can have consequences far more reaching than a coach's win-loss record or a team's title hopes. It can impact the local economy and can even change the dynamic of college sports throughout the state.
Here are five reasons why John L. Smith and the Razorbacks can't afford to lose to teams like Louisiana-Monroe.
Begin Slideshow

»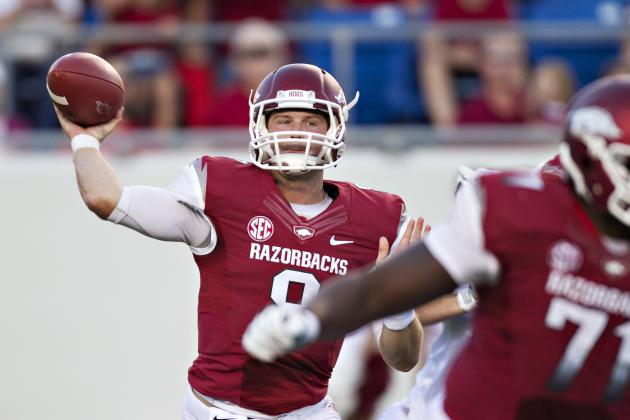 Wesley Hitt/Getty Images

It does not take any kind of football genius to point out the overwhelming gap between the talent from a top 10 ranked SEC team and a team from the Sun Belt conference.
Even without Tyler Wilson, there is still a player on the field with Heisman trophy potential (Knile Davis) and a group of seniors with big game experience against LSU, Alabama and a Cotton Bowl victory.
Arkansas was favored highly by preseason and Week 1 polls due to their players on the field. John L. Smith and the rest of the coaching staff cannot lose to a Sun Belt team in Week 2 with a top 10 team and avoid long-term consequences.
Wesley Hitt/Getty Images

College football fans are notoriously impatient, but even a diehard fan of any program knows that it takes a new head coach a couple of seasons to rebuild a program after a few seasons of mediocrity.
Fans will be patient while a new coach implements new systems, trains a staff and gets recruiting back on the right track.
Smith, though, does not have that kind of time. His tenure at Arkansas is not a permanent position so much as a tryout. He did not have to build up his team, and his coaching staff was already in place. He even has an offensive coordinator in Paul Petrino that has previous experience with the Razorbacks.
Smith has the difficult task of managing his team after an offseason full of controversy and bad breaks, but the key elements were already in place for him. His task was to utilize what was given to him and maintain some degree of success.
Maybe he will be successful this season. Maybe the Razorbacks will go undefeated the rest of the year, and everyone will be talking about what a genius he is before it's all over. Maybe voters will turn a blind eye to the Louisiana-Monroe loss after a string of big time wins and the Hogs will still make it to the title game.
But odds are he won't. He probably won't be greeted at the end of the season with patience from a fanbase that understands that he needs time.
He will be met as a coach that was handed a top 10 team with the potential for greatness and blew it.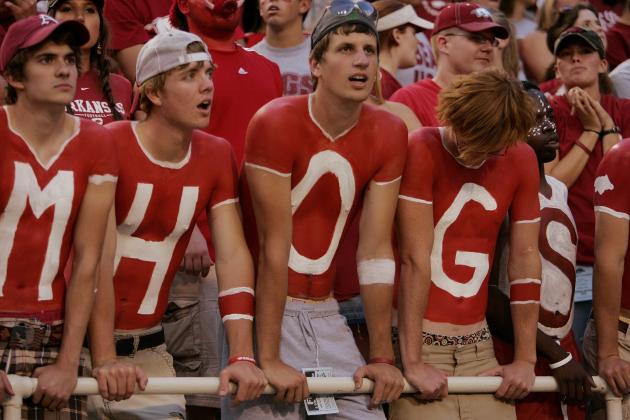 Brian Bahr/Getty Images

Arkansas fans know their Razorback football. There are no other major college programs in the state and no professional teams to read about in the Sunday paper or follow online.
The Hogs are it.
There were many Twitter and Facebook posts Saturday night from fans concerning the decision to pass without giving accomplished running backs Knile Davis and Dennis Johnson the opportunity to carry the ball and run down the clock with a 28-14 lead heading into the fourth quarter.
While Monday morning quarterbacks are the norm for any team, it's different in Arkansas.
When poor coaching decisions lead to an upset as massive as this one, Hogs fans don't just feel the pain of a football loss, but the pain of being let down by a family member who has all the potential in the world and throws it away.
The head coach of the Razorbacks is like being the governor in some states. John L. Smith is not viewed as someone just coaching a football team. He's seen as a public servant managing a valuable state resource for the common good.
Close losses are forgiven, if the opponent is deemed worthy. Louisiana-Monroe is not seen as a worthy opponent, and Razorback fans are already talking about next year when we're only in the second week of the season.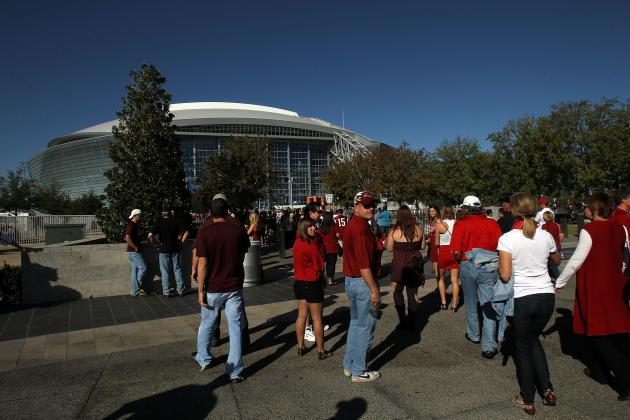 Ronald Martinez/Getty Images

The upset on Saturday costs the Hogs more than the goodwill of fans.
Today's THV reports that the Hogs' loss cost them the chance to host ESPN's College Game Day during the Alabama game Saturday in Fayetteville, a loss estimated to be in the $5 million range.
It also costs the state and university national exposure. Arkansas is not in the national spotlight often, and any occasion to showcase the state is seen as a valuable and rare opportunity.
This upset didn't just hurt the pride of the Razorback nation, it had far reaching ramifications to national perception of the state as well as the local economy.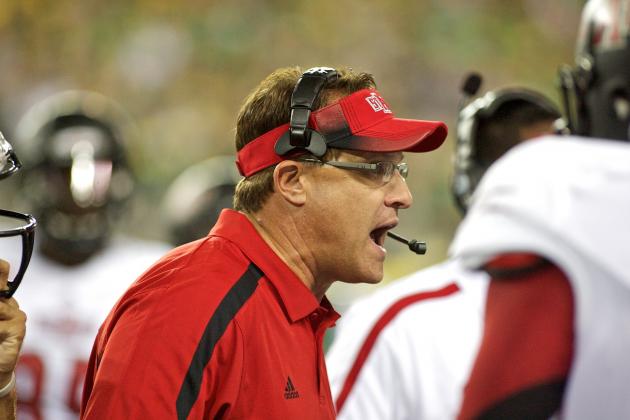 Craig Mitchelldyer/Getty Images

Since the Razorbacks are the only big time athletic program in Arkansas, college or professional, the team enjoys a position of prominence that teams in other states do not.
One of the reasons for this is the Hogs do not play other teams in-state. There is nothing like the North Carolina-Duke rivalry or the Alabama-Auburn game in the state of Arkansas.
But a loss like this could be a factor that changes that.
Arkansas State football is on the rise. The hiring of Gus Malzahn as head coach has placed expectations on the program normally unprecedented. People expect the Red Wolves to actually achieve something in the upcoming seasons.
Arkansas State will play Louisiana-Monroe on November 8 in a game that is scheduled to be televised on ESPNU. If the Red Wolves win that game, there will be many conversations as to whether or not the Hogs should still be given their place as the premier team in Arkansas without having to play anyone in-state to actually prove it.