2012 College Football TV Schedule Week 3: TV Listings for the Upcoming Week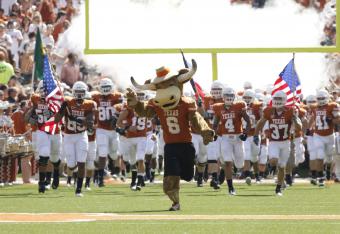 Erich Schlegel/Getty Images
Week three of the college football season has three amazing games on deck that will have you stuck to your couch.
With that being said, welcome back to another week of college football television!
But before we can look forward to next week, we must take a step back and remember the week that was.
Last week, the viewer was treated to some amazing comebacks, upsets and shockers. If you are an Arkansas, Nebraska, Wisconsin or Oklahoma State fan, then I sympathize with you.
I am a fan of the University of Pittsburgh, a team that after two weeks has looked about as good as Savanna State.
On the other side of the TV watching coin, there was the sheer joy of watching football on Saturday, as fans of UCLA, Arizona and Oregon State proved that the Pac 12 shouldn't be forgotten about.
With the way that Oregon and USC are playing, maybe their conference can provide a team that can knock off a team from the SEC, should one of their teams make the BCS Championship game.
And before we get into the next week, let's take a moment to recognize the efforts of Louisiana-Monroe's quarterback, Kolton Browning. Browning led the Warhawks to a shocking upset of then No. 8 Arkansas with 412 passing yards, three touchdowns and an amazing game-winning rushing touchdown in overtime.
Browning was certainly last week's player of the week.
Oh and one more thing, it wasn't all bad for Pennsylvania college football teams. Yes, Penn State and Pittsburgh both lost, but, California University of PA won again, defeating Kutztown 48-45.
Have a great week everyone. Below you can see who your team is playing this week at what time and the channel you can find the game on.
Date

Time (ET)

Game

Channel

Thursday, Sept. 13

7:30 PM

Rutgers at South Florida

ESPN

Friday, Sept. 14

9:00 PM

Washington State at UNLV

ESPN

Saturday, Sept. 15

Noon

Northern Illinois at Army

CBS Network

Charleston Southern at Illinois

Big Ten Network

No. 16 TCU at Kansas

FX

Bethune-Cookman at Miami (FL)

ESPN-3

Western Michigan at Minnesota

Big Ten Network

CAL at No. 12 Ohio State

ABC

Louisiana-Lafayette at Oklahoma St.

Fox Sports Network

No. 13 Virginia Tech at Pittsburgh

ESPN-U

Eastern Michigan at Purdue

Big Ten Network

12:21 PM

Louisiana-Monroe at Auburn

SEC Network

12:30 PM

Presbyterian at Vanderbilt

ESPN-3

UCONN at Maryland

ACC Network

3:00 PM

Furman at No. 11 Clemson

ESPN-3

Tennessee Tech at No. 4 Oregon

Pac-12 Network

3:30 PM

Morgan State at Akron

ESPN-3

No. 1 Alabama at Arkansas

CBS

Virginia at Georgia Tech

ESPN-U

North Carolina at No. 19 Louisville

ABC

UMASS at No. 17 Michigan

Big Ten Network

Boston College at Northwestern

Big Ten Network

Navy at Penn State

ESPN-2

Texas A&M at SMU

Fox Sports Network

East Carolina at Southern Miss

CBS Network

3:42 PM

Northern Iowa at Iowa

Big Ten Network

4:00 PM

Miami (OH) at Boise State

NBC Sports Network

Stony Brook at Syracuse

ESPN-3

FIU at UCF

CHSS

Portland State at Washington

FX

4:30 PM

James Madison at No. 9 West Virginia

ROOT

6:00 PM

South Alabama at North Carolina St

ESPN-3

No. 18 Florida at No. 23 Tennessee

ESPN

7:00 PM

Sam Houston State at Baylor

FCS

Delaware State at Cincinnati

ESPN-3

North Carolina Central at Duke

ESPN-3

North Texas at No. 15 Kansas State

Fox Sports Network

Western Kentucky at Kentucky

ESPN-U

Rice at Louisiana Tech

ESPN-3

Arizona State at Missouri

ESPN-2

UAB at No. 8 South Carolina

Fox Sports Network

New Mexico at Texas Tech

FCS

Bowling Green at Toledo

ESPN-3

Mississippi State at Troy

ESPN-3

7:30 PM

Florida Atlantic at No. 7 Georgia

ESPN-3

No. 2 USC at No. 21 Stanford

FOX

8:00 PM

Colorado at Fresno State

CBS Network

Ball State at Indiana

Big Ten Network

Idaho at No. 3 LSU

ESPN-3

No. 20 Notre Dame at No. 10 Michigan State

ABC

Colorado State at San Jose State

ESPN-3

Utah State at Wisconsin

Big Ten Network

9:15 PM

No. 14 Texas at Mississippi

ESPN

10:00 PM

No. 25 BYU at Utah

ESPN-2

10:30 PM

South Carolina St at No. 24 Arizona

Pac-12 Network

Houston at No. 22 UCLA

Pac-12 Network
This article is
What is the duplicate article?
Why is this article offensive?
Where is this article plagiarized from?
Why is this article poorly edited?