SEC Football: Winners and Losers from Week 2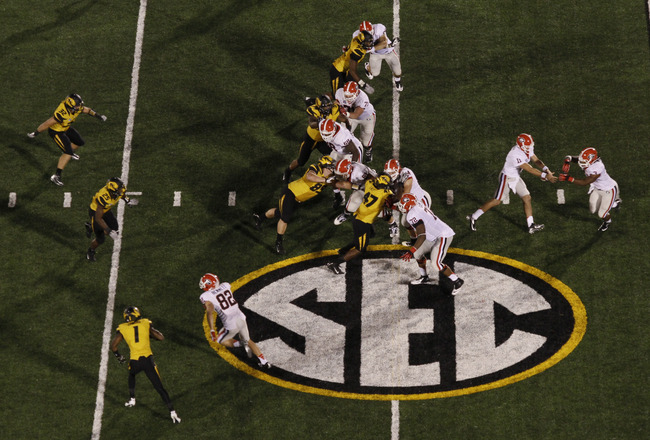 Ed Zurga/Getty Images
In a historic week that welcomed two new teams into the Southeastern Conference, there were some compelling story lines, close games, and one big-time upset.
With no games featuring two ranked teams on the weekend's docket, the SEC treated college football fans to quite a Saturday of football.
Let's take a look at the winners and losers from the SEC in Week 2.
Loser: Vanderbilt Commodores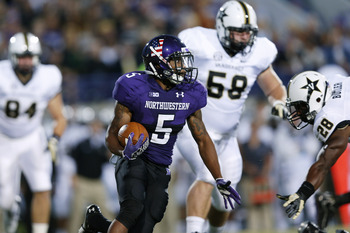 Joe Robbins/Getty Images
The Vanderbilt Commodores are clearly getting better under head coach James Franklin, but apparently not that much better.
After a very close loss to a very good South Carolina team in Week 1, there seemed to be some cause for optimism in Nashville.
Unfortunately, Vanderbilt squandered a fourth-quarter lead against Northwestern Saturday. Vanderbilt started the fourth up 10-6, but were outscored 17-3 in the final period.
The 'Dores now sit at 0-2 and have a gauntlet of games looming. Vanderbilt should notch its first win next week when Presbyterian comes calling. But the Commodores then have to travel to Georgia and Missouri before getting Florida and Auburn at home.
Vanderbilt is almost certainly going to have to win at least one of those games if they want to go bowling again this season.
This week's loss might just be the beginning of what looked like a promising season spiraling out of control for the Commodores.
Winner: Lousiana State Tigers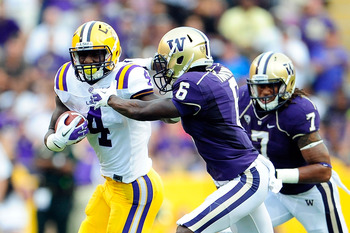 Stacy Revere/Getty Images
LSU had a great day Saturday against the Washington Huskies. The Bayou Bengals made a pretty good Washington team look pretty bad.
There were a lot of positives for the Tigers in their blowout win.
Quarterback Zach Mettenberger managed the game well and put up solid —12 for 18 passing for 195 yards, a touchdown and no interceptions.
Running back Alfred Blue also looked very strong, rushing for over 100 yards and a score.
As expected, the LSU defense was stout. The Tigers only gave up 26 rushing yards and 192 total yards to the Huskies.
It looks like LSU has started to steam roll and won't be slowing down any time soon.
Loser: Arkansas Razorbacks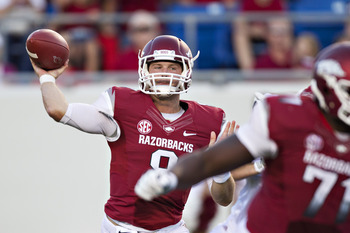 Wesley Hitt/Getty Images
Not only did No.10 Arkansas lose the game versus Louisiana-Monroe, they may have lost their starting quarterback for next week's date with No. 1 Alabama.
Even if Tyler Wilson is cleared to play against the Tide, it may be in Wilson's best interest to sit this one out given the way his offensive line protected him against Louisiana-Monroe, .
There's no doubt that Wilson is an elite quarterback, but no one can continue to take punishment like that—an issue last season as well—and hope to make it through an entire SEC West schedule.
Loser: Florida Gators' First Half Defense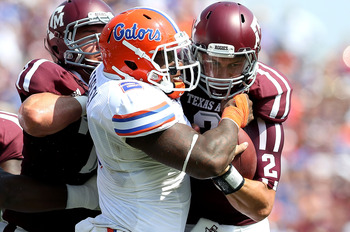 Ronald Martinez/Getty Images
The strength of the Florida Gators in 2012 is supposed to be their defense. This did not appear to be the case in the first half of Saturday's game against Texas A&M.
The Aggies' offense moved the ball at will in the first half, scoring on every drive except the last, which ended the half.
Fortunately for the Gators, things got better...
Winner: Florida Gators' Second Half Defense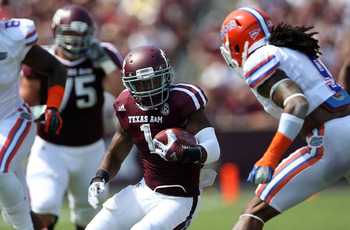 Ronald Martinez/Getty Images
On another day when the Gator offense struggled to put up points, the defense was picked apart by redshirt freshman quarterback Johnny Manziel in the first half. The Gators went into the locker room trailing 17-10.
But, give credit to head coach Will Muschamp for settling his team down and making the necessary defensive adjustments to shut out A&M in the second half and come away with a 20-17 victory.
Loser: Texas A&M Aggies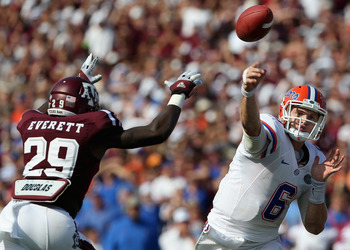 Ronald Martinez/Getty Images
Kyle Field was rocking Saturday as it lived up to its "12th Man" moniker. Unfortunately, the fans were treated to a gut wrenching three-point loss to the Florida Gators in their first contest since joining the SEC.
A&M looked solid in the first half as it took a 17-10 lead into the locker room. But the Gator defense clamped down in the second half and forced punts on every Aggie possession.
The Aggies get their next SEC opponent at home when Arkansas comes to town in Week 5. And after what happened to the Razorbacks against Louisiana-Monroe this week, A&M should be feeling a lot more confident about that contest than they did a couple of days ago.
Winner: Johnny Manziel
Ronald Martinez/Getty Images
Despite Texas A&M's loss, the bright spot was the performance of red-shirt freshman quarterback Johnny Manziel.
Manziel had a fantastic first half and seemed to move the ball at will against a very good Florida defense.
He's showed off a good, accurate arm, as well as the athleticism to escape pressure and extend plays. Simply put, the kid just looks like a gamer.
Manziel should only continue to improve and the future looks bright for the Aggie offense with him under center.
Winner: Jarvis Jones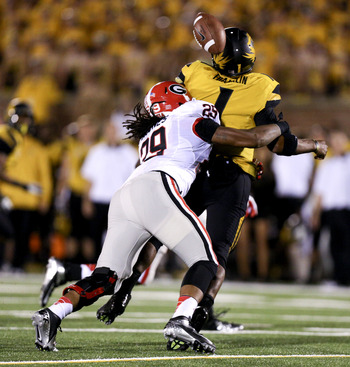 Ed Zurga/Getty Images
Jarvis Jones may just be the best defensive player in all of college football.
With a monster day against the Tigers in their inaugural SEC game, Jones welcomed Missouri into the league with eight tackles, a sack, and an interception.
In a close game in the fourth quarter, Jones put the team on his back and almost single-handedly let the Dawgs to the win. Georgia's last two touchdowns can be attributed almost exclusively to Jones as he returned an interception to the Missouri one, then sacked James Franklin on the ensuing possession, causing a fumble that was recovered inside the Missouri five-yard line.
This game was a lot closer than the score indicates and that is in large part due to Jones' excellent play all game, and especially in the fourth quarter.
Loser: Missouri Tigers Fans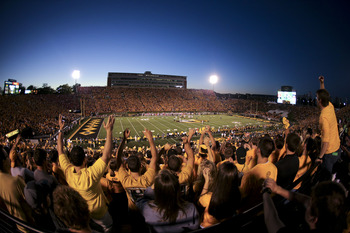 Ed Zurga/Getty Images
Missouri's first game in the SEC had been hyped all off-season and Tiger fans were anxiously awaiting welcoming in the No.7 Georgia Bulldogs to Memorial Stadium.
Tension was high, trash talk abounded—but eventually all that was left was to play the game.
The fans were treated to a dandy of a contest, but Jarvis Jones ruined the night for the Tigers and their fans.
The silver lining is that—barring an upset of No.8 South Carolina in the other Columbia—Tiger fans will most likely get to witness their first conference W when Vanderbilt comes to town October 6.
Winner: The Georgia Bulldogs/Loser: The Rest of the SEC East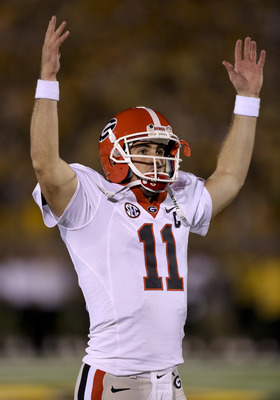 Ed Zurga/Getty Images
The Georgia Bulldogs certainly don't have an easy road back to Atlanta for the SEC Championship Game. But the Dawgs cleared their first—and maybe most daunting—hurdle with their 41-20 victory over the Missouri Tigers Saturday night.
With an electric atmosphere, the emotion of the Tigers' first SEC game, and Georgia being without four defensive starters, Missouri may squandered the best chance—other than South Carolina—to hand the Bulldogs a conference loss.
With the win, Georgia stays in control of its own destiny in the East and maintains its status as the favorite to win the East crown in 2012.
Tennessee looks to be much improved, and Florida and South Carolina are always tough games for the Dawgs, but this victory makes the road to Atlanta that much easier for Georgia. Had Missouri been able to pull off the upset, the whole division would have opened up.
Keep Reading