Big Ten Football: Ranking the Teams After Week 2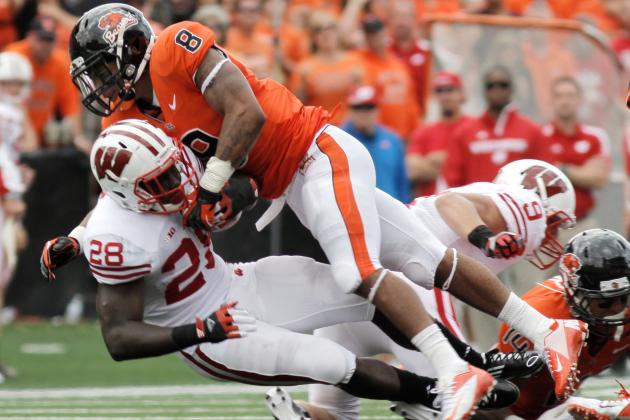 Jaime Valdez-US PRESSWIRE

What a colossal case of awful. Many thought the Big Ten would be the second best conference in the nation prior to the season. My how things can change in two weeks. Both Wisconsin and Nebraska traveled out west and lost. Michigan had to hold on for dear life at home against Air Force. Purdue couldn't cut it against Notre Dame. And, again, Penn State.
There are only five Big Ten teams that are still undefeated. I bet you can't name three.
On to the list!
Begin Slideshow

»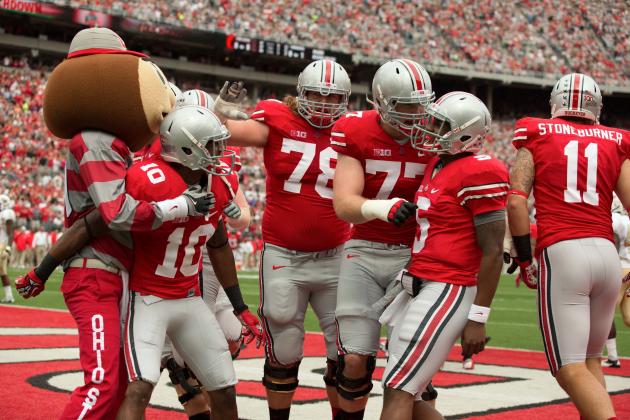 Greg Bartram-US PRESSWIRE

The Buckeyes trounced an in-state team a week ago and were expected to get a challenge from Central Florida. For a half, they were.
Ohio State led only 17-10 at the half and looked to have some confusion on offense at times. Central Florida also passed for more yards (249) than I'm sure coach Urban Meyer is happy with.
The bright side of the coin in Columbus has been the play of sophomore quarterback Braxton Miller. He again played exceptionally well, completing 18-of-24 passes for 155 yards and a score. While the yardage through the air wasn't impressive, Miller's real value came on the ground.
He ran the ball 27 times for 141 yards and three scores. No other Buckeye rushed the ball more than seven times. Should that be an area of concern? Possibly, but Miller is looking like the best quarterback on the best team in the conference right now.
One area of concern for the Buckeyes is penalties. Their 10 penalties for 79 yards either stalled drives or kept UCF drives alive. They will play better teams that will capitalize on those mistakes as the season progresses.
Stat of the Game: I'm gonna steal this one from ESPN.com and say 59. Ohio State has won 59 consecutive nonconference home games against teams ranked outside the Top 25. Impressive.
Player of the Game: For the second week in a row, it's Braxton Miller. The Buckeye quarterback is simply the glue that holds this offense together. Without him, this game would have been quite a bit closer.
Up next: vs California (1-1)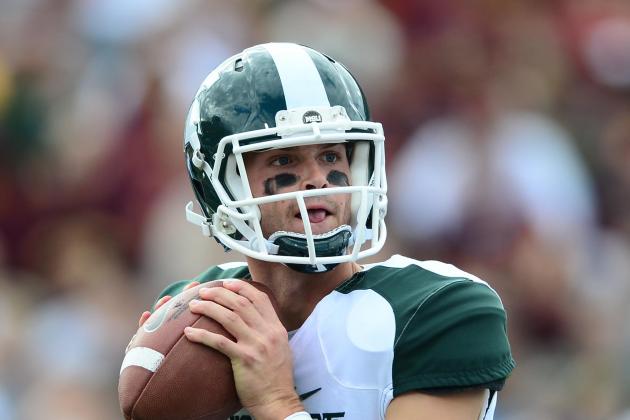 Andrew Weber-US PRESSWIRE

A week ago, Le'Veon Bell led the Spartans to victory over Boise State. This time, quarterback Andrew Maxwell took over the reins as Michigan State dominated Central Michigan 41-7.
Maxwell completed 20-of-31 passes for 275 yards and two touchdowns. Unlike against Boise State, he had zero interceptions. He looks as though he's coming into his own.
The Spartan defense is looking as dominating as everybody thought they would. They are allowing only 225 yards per game and just a measly 54 yards on the ground. As far as defenses go, they are top in the Big Ten. It really isn't close.
Stat of the Game: 0. That's the number of offensive touchdowns the Spartans have given up this season. Impressive.
Player of the Game: Andrew Maxwell. As noted, Maxwell led Michigan State on offense. He was the biggest reason they converted 50 percent of their third down opportunities.
Up Next: vs No. 20 Notre Dame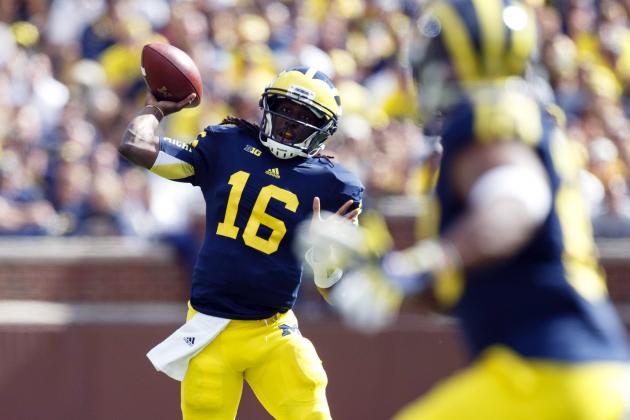 Rick Osentoski-US PRESSWIRE

This is where it starts to get a little bit more difficult. Are the Wolverines really the third best team in the conference after getting pounded by Alabama and then surviving a real scare against Air Force?
Yes. And not really because they've looked the most dominant. Other teams just aren't as good as we thought they would be.
Denard Robinson, as expected, rebounded nicely Saturday. He ran for 218 yards and two touchdowns and threw for 208 yards and two scores as the Wolverines held off Air Force 31-25. He did, of course, throw his obligatory interception and completed just 56 percent of his passes, but he was spectacular when they needed him to be.
The Michigan defense still needs to shore up their rush defense, though. Through two games, they've allowed 522 yards on the ground. That's in front of only four other teams who have played two games and is alarming for a team that will face serious running threats in the coming weeks.
Stat of the Game: 218. Robinson had 218 yards rushing. His backup Fitzgerald Touissant had just seven.
Player of the Game: Another quarterback here. Much like Braxton Miller at Ohio State, Michigan would not be sitting where they are without Denard Robinson.
Up Next: vs Massachusetts (0-2)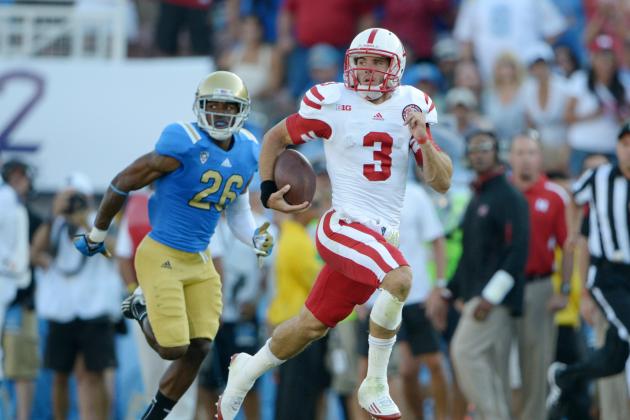 Kirby Lee-US PRESSWIRE

This one is also a little difficult, especially after the Cornhuskers surrendered 653 yards in a 36-30 loss at UCLA.
Two things keep the Cornhuskers here:
Taylor Martinez. That guy looked really fast on his 92-yard touchdown run late in the first quarter, and his passes looked on target most of the night. There were some fairly obvious drops.
Nebraska's defense. I know you're asking me...um what? But yes, their defense. I watched this game expecting the Cornhuskers to really get in the backfield and disrupt the Bruins. They did. They simply missed tackles for loss and sacks. This defense was in the right spots more often than not. With execution, they will be better.
With that being said, it would be relatively easy to throw Nebraska under the bus. They were only 1-for-11 on third downs, gave up a safety and threw an interception late in the game, fumbled on the first carry of the second half, and missed what appeared to be easy field goals. I understand where people look at this and wonder how they're this high.
Then I look at the explosive offense. That they are. Even without running back Rex Burkhead, Nebraska is quick and can strike from anywhere on the field. It would be a tall order to find another team on their schedule that can run and score like the Bruins.
Stat of the Game: 1-for-11. A week after leading the nation in third down conversions, the Huskers now find themselves at just 50 percent on the season. Many were dropped passes.
Player of the Game: Taylor Martinez is again Nebraska's most outstanding player. He made more good decisions than bad, and his running game is back to where it once was.
Up Next: vs Arkansas State (1-1)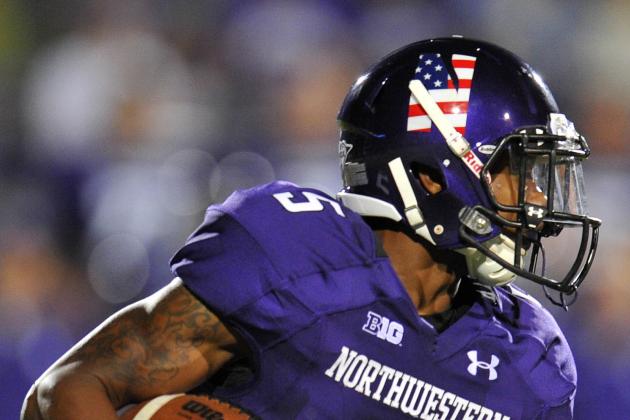 Mike DiNovo-US PRESSWIRE

A week after surviving a scoring explosion at the hands of Syracuse, the Wildcats returned home and won a defensive struggle over SEC foe Vanderbilt.
After being held scoreless for three quarters, Northwestern scored 17 points in the fourth quarter and won 23-13. They were able to look more impressive in the fourth quarter than Top 10 team South Carolina was over the Commodores last Thursday.
There wasn't much offense to be had, but junior running back Venric Mark was able to run for 123 yards. His only score of the game in the fourth quarter gave Northwestern their first lead of the game at 13-10.
Stat of the Game: 0. The Wildcats had zero turnovers but forced two in a defensive battle that required one defense to step up. In this case, the Big Ten team fought harder and played better than the SEC squad. Northwestern is No. 8 in the country in turnover margin.
Player of the Game: The Northwestern defense. As noted, they played exceptionally well on defense, holding Vanderbilt to just 4-of-15 on third down attempts and forcing two turnovers.
Up Next: vs Boston College (0-1)
Side note. If the Wildcats are able to defeat Boston College, their schedule sets up so they could be 7-0 when they play Nebraska on October 20. Who would have imagined that?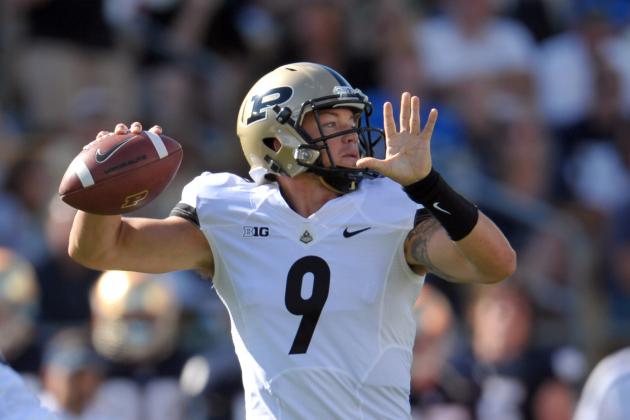 Matt Cashore-US PRESSWIRE

Purdue is actually better than many people thought they would be. A week after pummeling Eastern Kentucky, the Boilermakers were seven seconds from going into overtime at Notre Dame Saturday afternoon.
Purdue's main concern isn't their rushing defense, that's for sure. They limited the Irish to just 52 yards on the ground and are No. 22 in the country in rush defense. Credit a stellar defensive line for that.
Their main issue, besides the fact that they are No. 87 in the country in rushing yards, is their lack of a pass defense. They gave up 376 yards and a touchdown through the air to Notre Dame.
Purdue doesn't have a particularly challenging schedule and could reasonably challenge for the Leaders Division crown if they continue to stop the rush like they have. However, if they aren't able to stop the pass, they may be fighting for their bowl lives. I'm leaning more toward the former.
Stat of the Game: 52. Purdue held Notre Dame to just 52 yards passing. That's impressive.
Player of the Game: Robert Marve. The Purdue quarterback was challenged throughout the game and came through, completing 11-of-18 passes for 119 yards and a score. What's more impressive was his composure as his coaches rotated him in and out of the game in favor of Caleb TerBush.
Up Next: vs Eastern Michigan (0-2)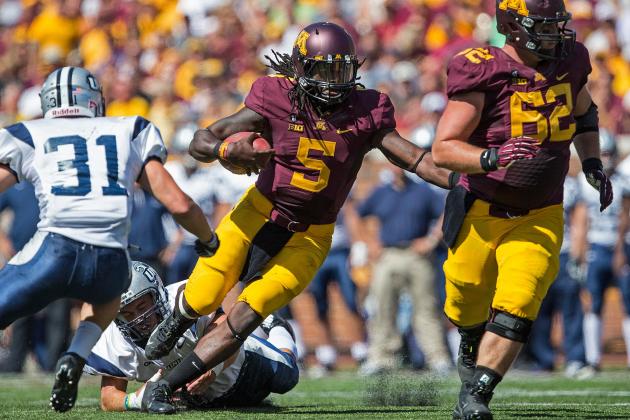 Jesse Johnson-US PRESSWIRE

Well Minnesota is 2-0 after their 44-7 dismantling of FCS foe New Hampshire on Saturday. We all pretty much saw that coming. The opening game triple overtime win over UNLV was a bit of a bore, but their victory over the Wildcats was just fun to watch.
In what seems like a broken record for Big Ten teams not named Nebraska, the Gophers were stellar against the run. They held New Hampshire to 68 total yards on the ground. That's an accomplishment no matter who you play. Well, unless you're Oregon State. But more on that later.
Quarterback MarQueis Gray threw for a touchdown and ran for two more, and Minnesota scored their most points in five years.
If you want to point to an area of concern, it's Gray. He was completely inaccurate early against UNLV before righting the ship, and he was sacked twice while fumbling three times against New Hampshire. Never mind that he recovered all three fumbles. Better teams will take advantage.
Stat of the Game: 64. Minnesota completed 64 percent of their third down conversions. If they can keep that up, they will be sitting pretty in the middle of October.
Player of the Game: Gray. The quarterback did recover all three of his fumbles, and he was 6-for-8 passing for 100 yards and a score while also rushing for 109 yards and two more touchdowns. That's not bad.
Up Next: vs Western Michigan (1-1)
Jaime Valdez-US PRESSWIRE

I honestly didn't think I would see Wisconsin this low on any list this year. I thought they might have a bit of a drop after losing Russell Wilson, but this is just unprecedented.
The Badgers have won back-to-back Big Ten Championships, and they look like they could very well miss a bowl game this year. Heck, they didn't even have any points until there was almost a minute left in the game in their 10-7 loss at Oregon State.
Wisconsin is No. 105 in the nation in total offense. While that's not the lowest in the Big Ten, it's not where you expect the guys in Madison to be. The are last in the conference, though, in rushing. For a team with a Heisman Trophy finalist returning at running back, averaging only 101 yards on the ground is pitiful.
Through two games, their rush defense has been exemplary. They limited Oregon State to 78 rushing yards. That's not bad. They are also No. 41 in the country in total defense. If their offense could ever catch up to their defense, they wouldn't be half bad.
This team seems to have no identity. They were nearly upset by an FCS team. They were handled on the road at Oregon State. They now welcome Utah State, who upset Utah, and UTEP, who nearly upset Oklahoma, in two straight weeks before heading to Nebraska to open Big Ten play. There isn't anything saying they won't be 2-2 when they head to Lincoln.
Stat of the Game: 35. That's the amount of rushing yards Wisconsin had Saturday. Ouch.
Player of the Game: This one is tough because they just played so poorly all around. I'll give it to the defense, though. This game could have easily gotten away from the Badgers, and the defense kept it close.
Up Next: vs Utah State (2-0)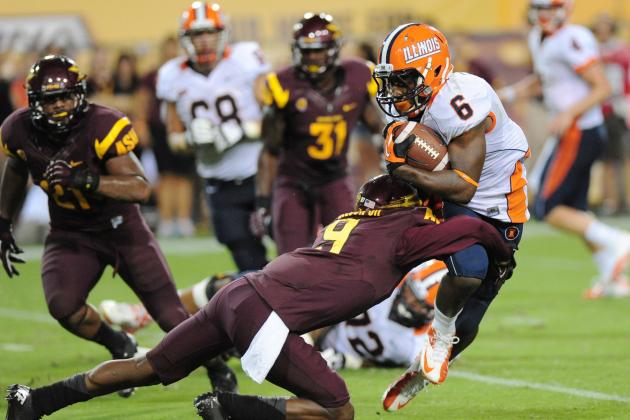 Jennifer Hilderbrand-US PRESSWIR

Ouch. A week after losing starting quarterback Nathan Scheelhaase in a 24-7 win over Western Michigan, the Illini were torched 45-14 at Arizona State. This game could have actually been worse. The Sun Devils actually could have done more damage but fumbled the ball away two other times inside the Illinois 10.
The Illini couldn't stop the run or the pass, had three turnovers, and converted just seven of their 17 third down chances. They gave up 510 yards and 26 first downs to Arizona State and look reminiscent of the team that fell apart last season.
With a tough schedule upcoming for the Illini, they better hope Scheelhaase heals up quickly.
Stat of the Game: 510. A week after surrendering just 259 yards to Western Michigan, Illinois gave up 510 to the Sun Devils, including 318 through the air.
Player of the Game: Josh Ferguson. The freshman running back led Illinois with 139 yards on 25 attempts. He was the only bright spot on an ugly day.
Up Next: vs Charleston Southern (0-2)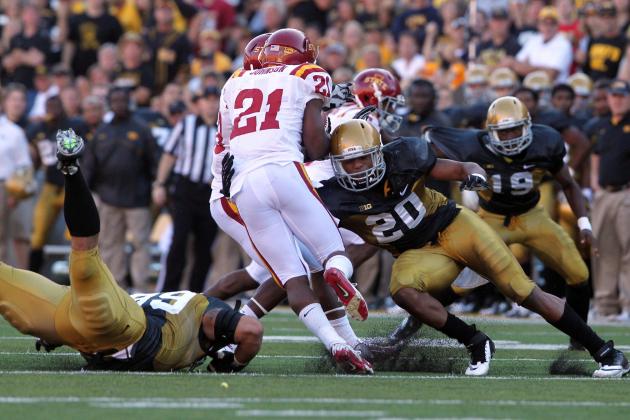 Reese Strickland-US PRESSWIRE

Their offense is just pitiful. I mean awful. It's actually last in the Big Ten. That was on display in Saturday's 9-6 loss to the hand of in-state rival Iowa State. It is the second time in a row the Cyclones have defeated the Hawkeyes.
James Vandenberg, heralded as the top pro style quarterback in the conference, has just 365 yards and no touchdowns through two games this season. He's been sacked six times and picked off twice. His 54 percent completion percentage is on par with that of another quarterback up in Ann Arbor who isn't known for his arm as much as his legs.
The Iowa rushing attack has been stagnant, coming in at No. 102 in the nation, just a spot in front of Wisconsin. Wow, if there were ever two teams you thought would never end up that low, it would be these two.
Expectations weren't exactly high in Iowa City, but I doubt they could have ever imagined a start like this.
Stat of the Game: 68. That's the number of rushing yards the Hawkeyes had. That won't cut it in the Big Ten.
Player of the Game: Again, the defense. Without a defense that forced four turnovers, this game would have been out of hand.
Up Next: vs Northern Iowa (1-1). Yes the same Northern Iowa that nearly upset Wisconsin.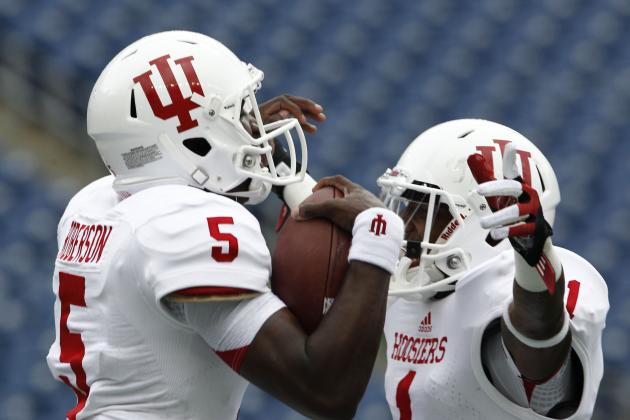 Mark L. Baer-US PRESSWIRE

Yes they're 2-0. That's fine. Yes they beat Massachusetts 45-6. That's also fine. I mean, it's better than their near meltdown versus Indiana State, but Massachusetts also lost 37-0 to Connecticut. That's not exactly a stellar performance.
But hey, they're still 2-0!
Stat of the Game: 596. Just four more yards and they would have had over 600 yards. Can anybody tell me the last time the Hoosiers went over 600 yards of total offense? I'd imagine it would be tough to find.
Player of the Game: Tre Roberson. The Indiana quarterback performed quite well despite leaving the game early with a broken left leg, throwing for a touchdown as well as running for another. Although he is gone for the season, he was still the best player in this game.
Up Next: vs Ball State (1-1)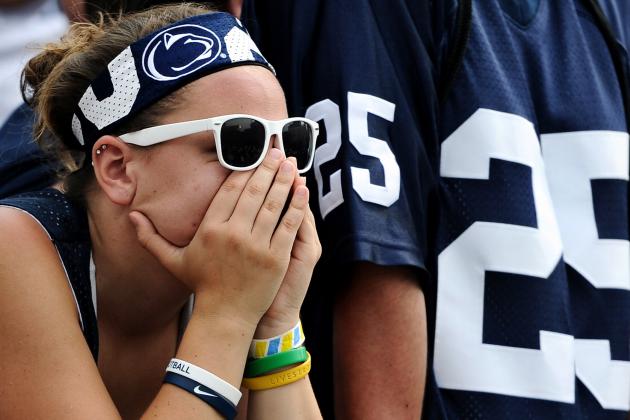 Patrick Smith/Getty Images

There's certainly some fight in this Penn State squad. They gained more yards, had more third down opportunities, and had more chances to win in their 17-16 loss at Virginia.
You can point to the four missed field goals, including one as time expired, to their demise, and you would be correct. I have long been a proponent of not blaming kickers because there are 11 other players on offense, but he missed four field goals. Four. Let me try again. Four. That's just awful. I don't want to get on the kid, but Penn State must have somebody better. I do understand their starting kicker transferred, but that's just ridiculous.
The Penn State defense did force four turnovers, but they buckled when it mattered most. This team is in real danger of having their worst season in as long as I can remember.
Stat of the Game: 4. It has to be the four missed field goals.
Player of the Game: The defense seems to be a recurring theme. They largely kept Virginia at bay the entire game even though their offense could not generate any points.
Up Next: vs Navy. (0-1) I'd expect their first win of the season to come next week.