Studs and Duds from Week 2 in College Football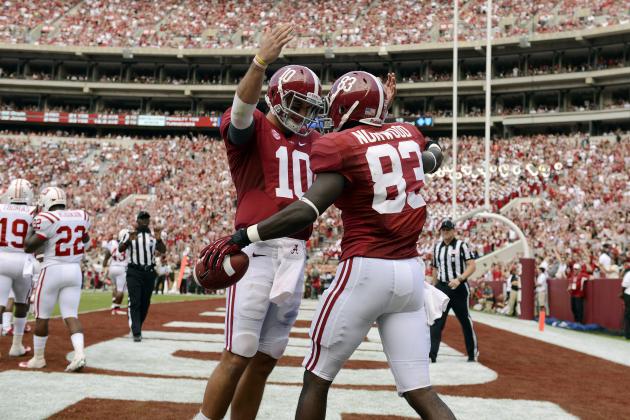 John David Mercer-US PRESSWIRE

Week 2 saw a vast number of heroes help their respective team to a big victory. However, where there are studs, there are players who failed to live up to expectations and hurt their team by struggling during Week 2—otherwise known as duds.
This piece focuses on individual players more than teams. So you will not be seeing the Colorado Buffaloes on the duds list, despite the fact that they lost their home opener to the FCS Sacramento State.
Likewise, you will not see Savannah State on the studs list, though they covered the point spread of 70.5 points against Florida State after losing by only 55.
Here are the studs and duds from last week's games.
Begin Slideshow

»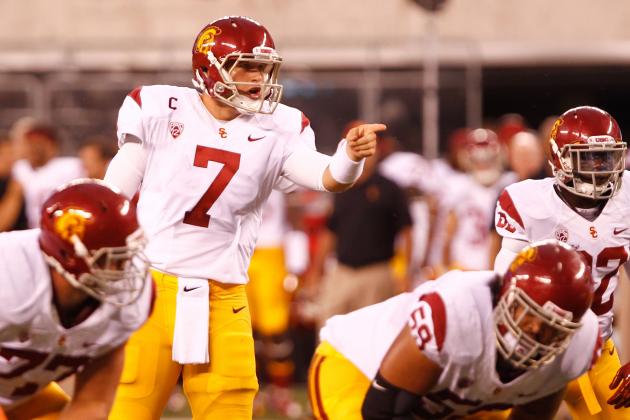 Debby Wong-US PRESSWIRE

Matt Barkley's Week 2 Stat Line: 23-of-30, 187 Yards, six TDs and one INT
This was the closest that we will come to seeing Barkley on an NFL field this season, as he looked great playing at MetLife Stadium, which is the home of the New York Jets and Giants.
Barkley may not have lit the world on fire with 187 passing yards, but throwing for six touchdowns places him into the "stud" range.
If it wasn't for Barkley bailing USC's defense out when Syracuse kept coming back, then the Trojans may have suffered a horrible loss on the road.
Through two games, Barkley has 10 touchdowns and is living up to the hype that surrounded him coming into the season.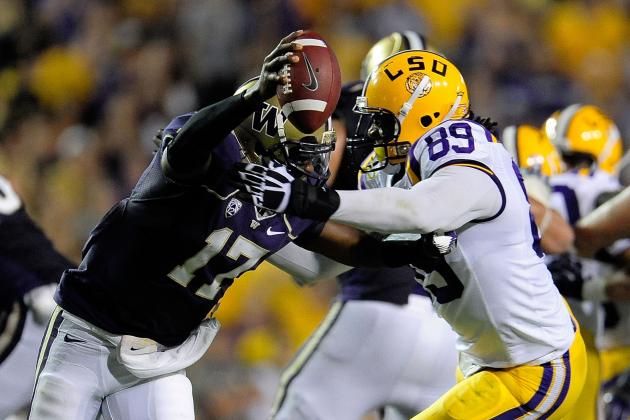 Stacy Revere/Getty Images

Keith Price's Week 2 Stat Line: 17-of-36, 157 Yards and one INT
Price is a talented quarterback that could have had a breakout game last week against LSU. If he had led the Huskies to an upset victory, it would have made him a topic of discussion on SportsCenter.
However, Price was crushed by LSU's defense for four quarters. The Tigers never allowed him to get into a rhythm or break away and use his legs.
Because of Price's struggles in Week 2, Washington was only able to score three points, losing 41-3.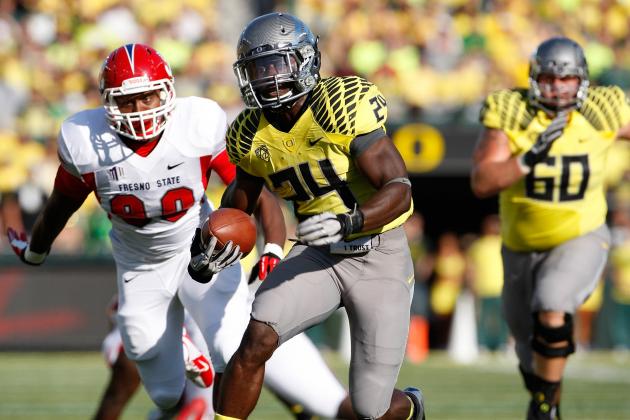 Kevin Casey/Getty Images

Kenjon Barner's Week 2 Stat Line: 34 Carries, 201 Yards, three TDs
I could have gone with Oregon's other running back, De'Anthony Thomas, but I gave the nod to Barner because of his 34 carries to Thomas' seven. Plus, Barner rushed for three touchdowns, while Thomas only scored twice.
Either way, it was a great day for Oregon running backs. The two players combined for 35 points and 303 of Oregon's 532 total yards.
With the dangerous rushing attack of Barner and Thomas, it's hard to imagine which Pac-12 team is going to be able to stop them.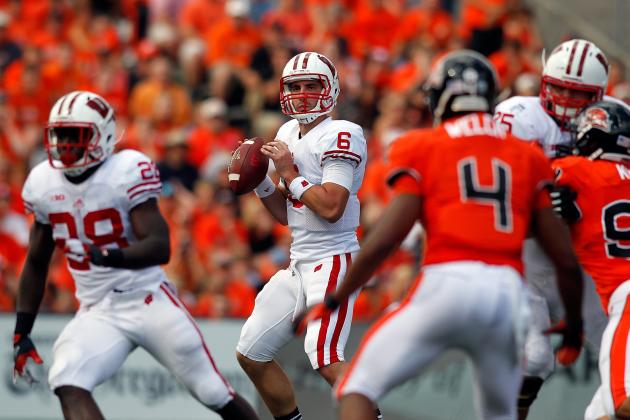 Jonathan Ferrey/Getty Images

Danny O'Brien's Week 2 Stat Line: 20-of-38, 172 Yards, one TD, one INT
It's never easy to fill a starting quarterback's shoes, as the replacement is expected to be as good, if not better. However, O'Brien just had to be decent to lead Wisconsin back to the Big Ten championship game.
However, against Oregon State, O'Brien was inconsistent with his accuracy, couldn't find the end zone and did nothing to establish a passing game to take pressure off of running back Montee Ball.
If Wisconsin is going to rebound and make a push back to Indianapolis for another championship game, then they have to get better play from O'Brien.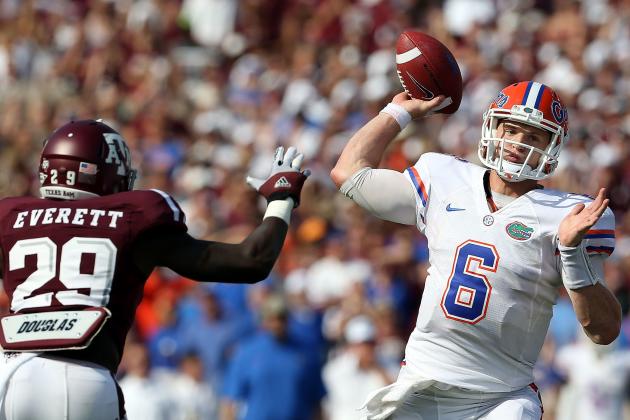 Ronald Martinez/Getty Images

Jeff Driskel's Week 2 Stat Line: 13-of-16, 162 Yards
I'm as surprised as you are that Driskel is in the stud section and not dud after the way he played last week against Bowling Green.
Driskel's stats were not that impressive compared to other quarterbacks from Week 2. However, where Driskel struggled—holding onto the ball for too long, resulting in sacks—he shined by not forcing throws, which would have resulted in turnovers.
Driskel managed the game perfectly, as he picked up timely first downs, had a near-perfect completion percentage and did enough to help Florida to their first SEC win this year.
If it weren't for Driskel, Florida would have left College Station with a loss.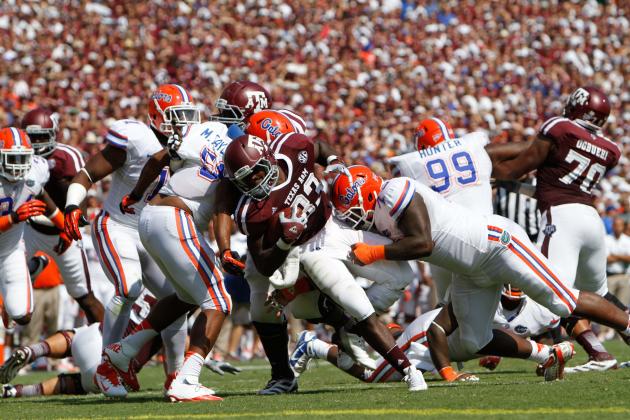 Brett Davis-US PRESSWIRE

Christine Michael's Week 2 Stat Line: 13 Carries, 33 Yards, one TD
Flipping to Driskel's opponent, A&M's Christine Michael had a horrible start to his senior year, helping the Aggies offense to only 33 yards and an average of 2.5 yards per rush.
Michael's struggles forced redshirt freshman Johnny Manziel, in his first start, to make plays against the tough Gators defense. Manziel shouldered the load in the first half, but the Gators shut him down after halftime.
If Michael had had a decent game, then the Aggies could have opened their SEC season with a huge win.
Instead, his struggles killed the A&M offense, which led to a second-half collapse.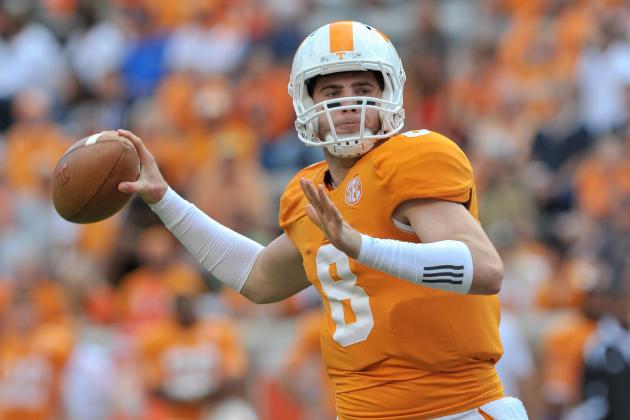 Jim Brown-US PRESSWIRE

Tyler Bray's Week 2 Stat Line: 18-of-20, 310 Yards, three TDs
This is another one of those "I could have gone with another player on this team" slides, as Volunteers wide receiver Justin Hunter had a huge game, catching all three of Bray's touchdown passes.
However, through two games this year, Bray's playing out of his mind with two straight 300-yard games and six touchdowns with zero interceptions.
Let's see what Bray does next week, when Tennessee plays Florida.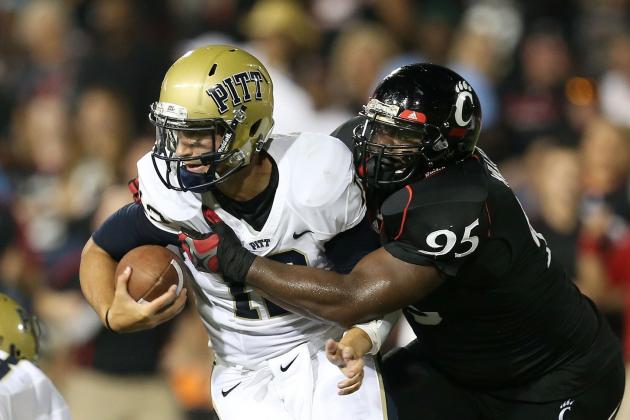 Andy Lyons/Getty Images

Tino Sunseri's Week 2 Stat Line: 24-of-37, 278 Yards, one TD, one INT
The stats do not do justice to the struggles Sunseri and the Pittsburgh offense faced against Cincinnati. For the second straight week, Sunseri failed to lead Pitt down the field on scoring drives.
In Pitt's first game, against Youngstown State, Sunseri struggled, completing under 65 percent of his passes (19-of-30) with only one touchdown.
Against Cincinnati, the story was the same, with Sunseri's inaccuracy and lack of scoring crushing Pitt's chances against their second opponent.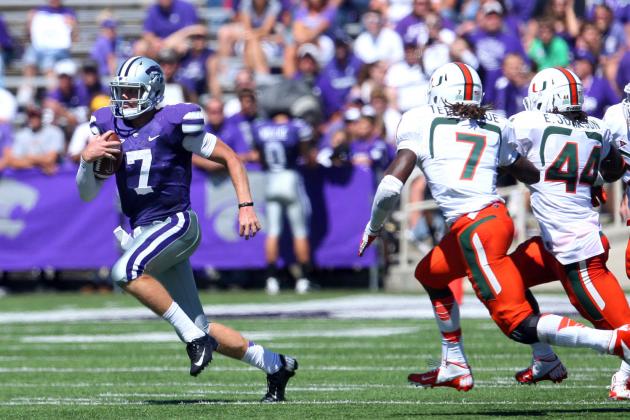 Scott Sewell-US PRESSWIRE

Collin Klein's Week 2 Stat Line: 9-of-11, 210 Yards, one TD, 22 Carries, 71 Yards, three TDs
Klein had one of the most complete games this week. His four touchdowns and near-perfect completion percentage helped expose the Miami Hurricanes as a team that has a horrible defense.
Klein had three completions of 30 yards or more, which were made available to him by a punishing running game courtesy of Klein himself and running back John Hubert.
On paper, Klein singlehandedly defeated the Hurricanes, scoring 28 points to the Hurricanes' 13.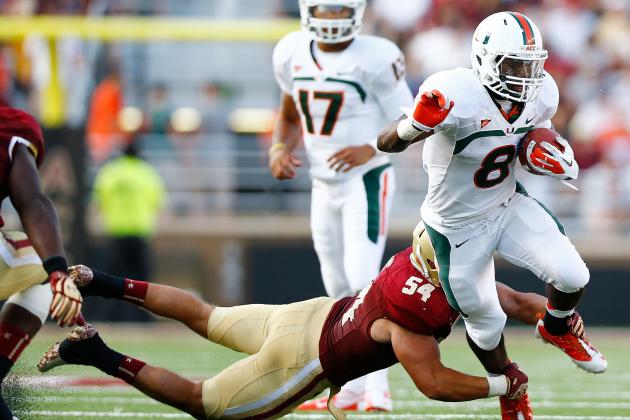 Jared Wickerham/Getty Images

Duke Johnson's Week 2 Stat Line: Six Carries, 19 Yards
First off, no one on the Miami Hurricanes had a good day against Kansas State.
However, Johnson had a monster game against Boston College in Miami's opener, rushing for 135 yards, two touchdowns and 19.3 yards per carry.
So coming into their game against K-State, he was looked upon as someone that could be the next great Hurricanes' game-breaker.
But for whatever reason, Johnson couldn't get going against the Wildcats defense. His longest run was just nine yards.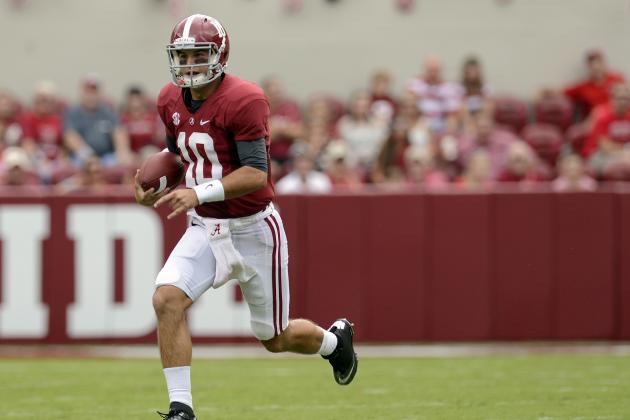 John David Mercer-US PRESSWIRE

A.J. McCarron's Week 2 Stat Line: 14-of-19, 219 Yards, four TDs
Don't look now, but McCarron is quietly putting together a great season as the Tide's best offensive weapon.
Yes, T.J. Yeldon stole the show against Michigan, but it was McCarron's two touchdowns in the first quarter that set the tone of the game.
So, McCarron's great performance against Western Kentucky was nothing shocking, but it's something to which Alabama fans have to pay attention.
With Arkansas quarterback Tyler Wilson going down with an injury, it makes McCarron the best quarterback in the SEC West.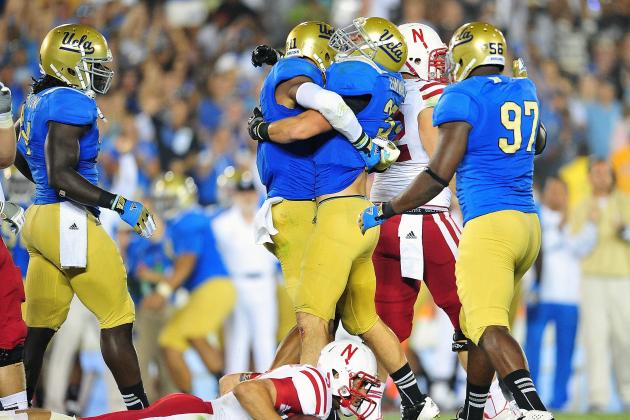 Gary A. Vasquez-US PRESSWIRE

Taylor Martinez's Week 2 Stat Line: 17-of-31, 179 Yards, one INT, 13 Carries, 112 Yards, one TD
It seems like Nebraska fans have been down this road before with Martinez. He can scramble and make plays with his feet, but when he has to throw and win games with his arm, it often results in a Nebraska loss.
The game against UCLA was the same, as Martinez had a great rushing touchdown of 92 yards, but he was inconsistent in the passing game and threw an interception.
When Nebraska needed points in the second half, Martinez was only able to drive the Cornhuskers to two field goals.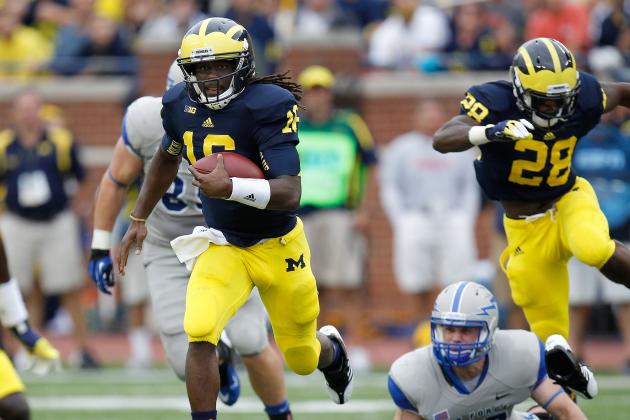 Gregory Shamus/Getty Images

Denard Robinson's Week 2 Stat Line: 14-of-25, 208 Yards, two TDs, one INT, 20 Carries, 218 Yards, two TDs

Robinson may have the most decorated stat line out of anyone on this list. Plus, he may be the only person that was entirely responsible for their team's success.
If it wasn't for Robinson and his 400-plus yards of combined offense and four touchdowns, then Michigan would be 0-2 and not 1-1.
"Shoelace's" huge game against Air Force was a reminder of what he can do on any given Saturday.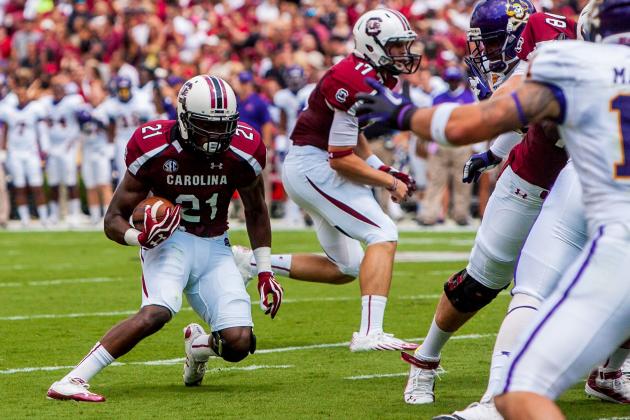 Jeff Blake-US PRESSWIRE

Marcus Lattimore's Week 2 Stat Line: 13 Carries, 40 Yards, one TD
Maybe Lattimore's light workload this week against East Carolina was due to the team wanting to take it easy on his surgically-repaired knee. If that's the case, then that's understandable, as they will need him later on against Florida, Georgia and Tennessee.
However, this bad stat line against East Carolina will come back to haunt him in the chase for the Heisman Trophy.
So, while Lattimore should have a great season, he should have had at least two touchdowns and 75 yards this week.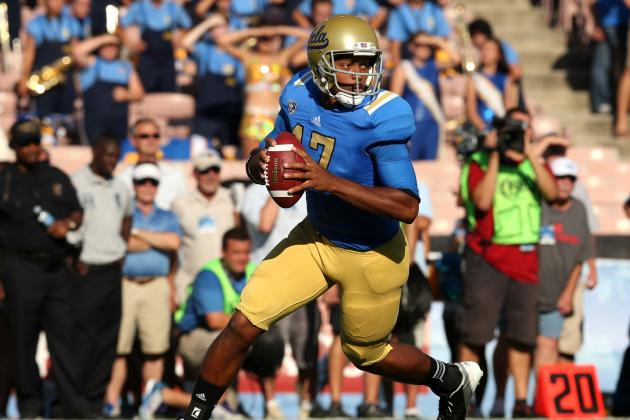 Stephen Dunn/Getty Images

Brett Hundley's Week 2 Stat Line: 21-of-33, 305 Yards, four TDs, 12 Carries, 53 Yards
It looks as if UCLA has a great quarterback that will carry them to more upsets this year. The Cornhuskers had no answer for Hundley's versatile game, as he had three first-half touchdowns, with two second-quarter scores.
However, it was his touchdown thrown after an intercepted Taylor Martinez pass that iced the game for the Bruins.
With USC's Matt Barkley graduating after this season, Hundley could be the top Pac-12 quarterback in 2013.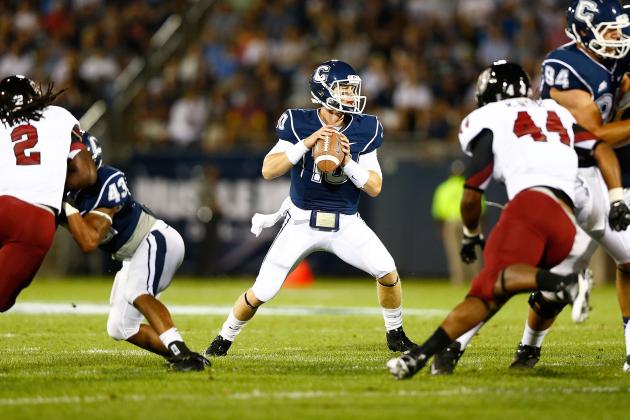 Jared Wickerham/Getty Images

Chandler Whitmer's Week 2 Stat Line: 15-of-27, 204 Yards, three INTs
I could have given the dud to Whitmer's opposing quarterback in this game, North Carolina State's Mike Glennon, but the Wolfpack QB had one touchdown, which was enough to win the game, 10-7.
Whitmer's poor performance brought his stats in 2012 to zero touchdown passes and five interceptions.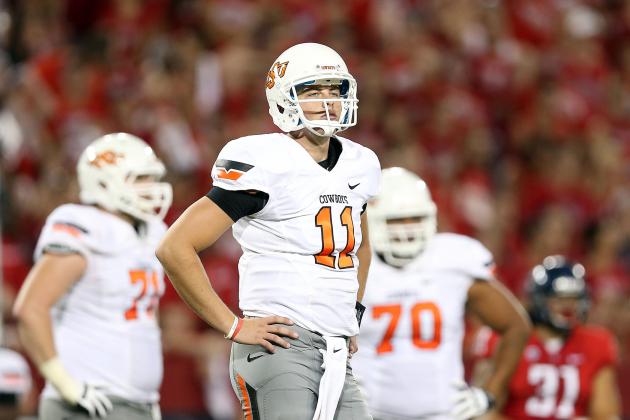 Christian Petersen/Getty Images

Wes Lunt's Week 2 Stat Line: 37-of-60, 436 Yards, four TDs, three INTs
Lunt is the only stud on this list whose team lost this week. I couldn't overlook his 436 passing yards and four touchdown passes.
It wasn't his fault that the Cowboys defense had no answer for Arizona's offense and gave up 501 total yards and 59 points.
All that aside, Lunt is clearly a stud.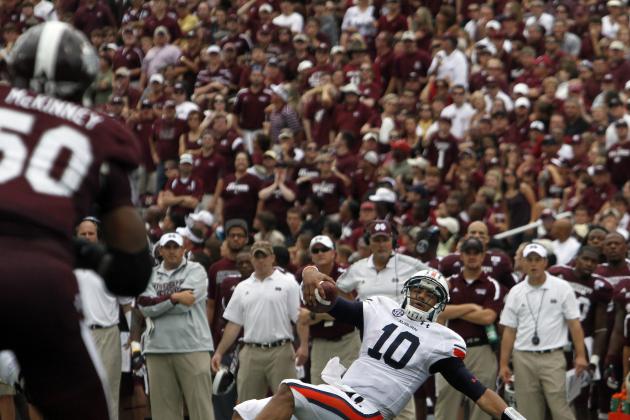 Butch Dill/Getty Images

Kiehl Frazier's Week 2 Stat Line: 13-of-22, 125 Yards, three INTs
Few players had a worse day than Frazier, who accumulated three interceptions, 125 yards and a quarterback rating of 79.5.
Because of Frazier's horrible week, Auburn couldn't do anything against Mississippi State. They only managed 10 points in a 28-10 blowout loss.
Things do not get any easier for the Tigers, as they play Louisiana-Monroe, who is coming in after an upset victory at Arkansas.
Kolton Browning's Week 2 Stat Line: 42-of-67, 412 Yards, three TDs, one INT, 16 Carries, 69 Yards, one TD
Speaking of the Warhawks of Louisiana-Monroe, their quarterback pulled off one heck of a performance this week in the upset of the Arkansas Razorbacks.
When Razorbacks quarterback Tyler Wilson went down with an injury, it opened the door for Browning to carry ULM to the unexpected upset victory.
It will be interesting to see if Browning is a one-hit wonder, or if he will be able to pull off another upset victory over an SEC West opponent next week against Auburn.
Sam Ficken's Week 2 Stat Line: 1-of-5 Field Goals, 1-of-2 Extra Points
No one—and I mean no one—is more of a dud than this poor kid from Penn State.
Ficken could be excused for one missed field goal—heck, even two. However, when you miss four and have an extra point blocked, you are the sole reason why your team loses.
Hopefully, next week, Ficken can come out and go perfect against Navy.