College Football: 10 of the Current Big 12 Teams' All-Time Best Runners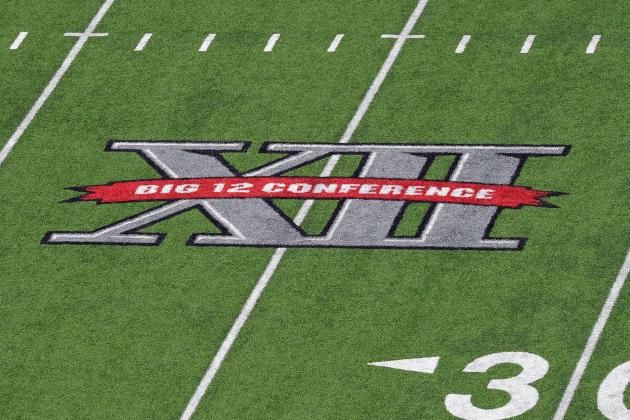 Jerome Miron-US PRESSWIRE
Big 12
The 10 best Big 12 players running the ball recorded by video! We've read about the 10 best quarterbacks, running backs and supposedly 10 best players of all time. Don't tell us—show us.
The Big 12 has a long and storied past of football success that will keep on growing. There have been many touchdowns scored over the years.
There have been passes, runs, kickoff and punt returns. There have been fumble returns and interceptions.
Well, let's just one time forget about how the player got the ball. Does it matter? What's important is a player had the ball and was determined to cross the other team's goal line. No matter how far away!
One problem. He only had 10 players blocking for him and there were 11 other guys determined to stop him—the harder the better.
I'm going to show you the best run or running back for each current Big 12 team with various videos I found in the cyberspace world. Let's go in alphabetical order by team.
So let's relive some of the best runs available and watch a few minutes of college football history as it happened. I won't try to say which one was the "best." I wasn't trying to tackle them!
Begin Slideshow

»
OK, if it's Baylor, you know it had to be Robert Griffin III! I had so many videos to choose from! Did Griffin have some longer runs? Sure. Didn't he have some highlight passes? You bet.
But this is a bowl game. This should have been a sack. Baylor is up 14-6 on Washington late in the first quarter of of the Alamo Bowl.
It's 1st-and-10 on the Washington 26-yard line. Griffin takes the snap on a play-action pass. Three defenders have him for a sack...no, wait...Run...Touchdown! This is Heisman stuff.
The one they call RGIII was special. The 6'3", 195-lb dual-threat quarterback was more than a running back that could throw a good pass. Griffin was a game-changer.
In Griffin's college career, he completed 776 of 1,159 passes for 1,031 yards and 78 touchdowns with only 17 interceptions.
Griffin also rushed for 2,199 yards on 510 attempts for 32 touchdowns. He missed all but three games in his sophomore year due to a torn ACL.
Griffin won the Heisman Trophy in 2011, his junior year.
Seneca Wallace. A 5'11", 205-lb quarterback for Iowa State in 2002. Early in the third quarter, 2nd-and-10 on Texas Tech's 11-yard line. The score is tied with each team having a field goal.
Wallace steps under center. He goes back and looks to his left. Nothing there. Here comes the rush, he sprints out right—nothing.
Wallace gives ground back to the 32 with his eyes downfield. Will somebody come back to break free? No. Wallace ducks a defender at the 31, he tucks the ball and runs. A defender has him at the 12. No, wait. Wallace jukes him and heads back across the field.
He's back to the line of scrimmage, but now he gets a block. Wallace scoots in to score from the left sideline. Incredible. Wallace ran at least 50 yards to cover 11. What a run!
In two years at Iowa State, Wallace was 411-of-712 passing for 5,289 yards and 26 touchdowns.
2005, Kansas vs. Nebraska. Kansas leads 17-15 late in the third quarter. Nebraska had just scored.
Kansas has the ball, 2nd-and-2, on their own 28. Jon Cornish takes a deep handoff and heads straight up the middle.
A hole opens up, Cornish breaks an arm tackle and he outruns the secondary 72 yards for a touchdown. The speed of Cornish is what makes this run special.
Nebraska fell apart after that run, and Kansas went on to win 40 -15.
Jon Cornish, a 6'0", 217-lb running back, gained 2,242 yards on 386 attempts and 17 touchdowns.
Michael Bishop—6'1", 228 lbs—quarterbacked Kansas State from 1997 to 1998. He had too many incredible runs to pick only one. So I'm showing you the best highlight video of him I could find.
In 1997, Bishop was named the Big 12 Offensive Newcomer of the year. He was also named the Big 12 Player of the Year in 1998.
As a junior college transfer in 1997, Bishop started all 11 regular-season games and completed 80 of 185 passes for 1,557 yards and 13 touchdowns. He also rushed for 556 yards and added nine rushing touchdowns.
Kansas State played Syracuse in the Fiesta Bowl that year and Bishop led the Wildcats to a 35-18 win over the Orange, who were led by Donovan McNabb.
In 1998, Bishop broke school season records with 2,844 yards passing and 23 touchdowns with only four interceptions, He led the team with 14 rushing touchdowns and finished second in yardage with 748 yards on 177 attempts.
In 1998, Bishop won the Davy O'Brien Award as the top college quarterback in the nation. He also finished second to Ricky Williams for the Heisman Trophy and was a consensus All-American.
On October 30, 2004, Oklahoma was playing Oklahoma State. It was midway through the third quarter and Oklahoma led 28-21. It's 1st-and-10 and Oklahoma has the ball on their own 20.
Freshman Adrian Peterson takes a deep pitch and follows a blocker just outside the left tackle. He spins off a would-be tackler and sprints down the left sideline. Touchdown!
Peterson went on to rush for 161 yards in the third quarter, finishing with a career-high 249 yards. In 2004, Peterson broke several NCAA freshman rushing records, rushing for 1,925 yards and leading the nation in carries with 339.
This is but one of Peterson's many highlight videos, but it is believed by most to be the best.
Adrian Peterson, a 6'1", 217-lb running back, gained 4,045 yards on 747 attempts and scored 42 touchdowns.at Oklahoma.
I believe some pro team may have picked him up!
1988 against Miami of Ohio. Details are hard to come by. The final score was OSU 58, Miami 20.
Sanders took the opening kickoff and returned it 101 yards for his first touchdown of the day.
The Cowboys finished the regular season with a 9–2 record. In 1988, Barry Sanders led the nation by averaging 7.6 yards per carry and over 200 yards per game.
Sanders rushed for over 300 yards in four games. He set college football season records with 2,628 yards rushing with 29 touchdowns.
Sanders won the Heisman Trophy in 1988. Sanders left Oklahoma State after his junior year to enter the NFL draft.
He did pretty well there, too. At 5'8" and 195 lbs, Sanders was not only fast, he was incredibly strong for his size.
Barry Sanders gained 3,556 yards on 523 attempts with 46 touchdowns at Oklahoma State.
Jeremy Kerley—5'9", 190 lbs—was an outstanding quarterback in high school. He played wide receiver and punt returner for TCU from 2007 through 2010.
In 2007, Kerley was the only freshman to play on offense for TCU. In limited action all season, he had three catches for 15 yards in the Texas Bowl win over Houston.
Kerley spent most of 2008 as a punt return specialist and was named first-team All-Mountain West Return Specialist. He had 95 yards receiving on 11 receptions. Kerley also added 143 yards rushing, and 10 of his 25 punt returns went at least 17 yards.
In 2009, Kerley Was again named first-team All-Mountain West Special teams Player of the Year after breaking the conference record for punt return yards in a season with 563 yards.
He had 10 touchdown catches, one touchdown pass and two rushing touchdowns in 2010. He ranked second in the nation in punt returns and third in the nation in kickoff returns
Kerley was named the Mountain West Conference Special Teams Player of the Year for the second consecutive year in 2010, as well as second-team All-Mountain West honors at wide receiver.
Kerley was one of three finalists in 2010 for the Paul Hornung Award, which honors the most versatile college football player in the nation.
I thought this 69-yard punt return against Colorado State was amazing.
At 5'11", 232 lbs, Earl Campbell played football for the University of Texas from 1974 to 1977. Campbell was such a prolific runner, it is impossible to choose one carry as his best.
In 1974, '75 and '77, Campbell was All-Southwest Conference. In 1977, he was All-American. He also won the Heisman Trophy and was the first player chosen in the NFL draft.
Oklahoma Sooners head coach Barry Switzer, who unsuccessfully recruited Campbell, said in his 1989 book that Campbell was the only player he ever saw who could have gone straight from high school to the NFL and immediately been a star.
That's high praise from your most heated rival's coach. In Campbell's senior year at Texas, he gained 1,744 yards and had an 11-0 regular-season record.
Texas lost to Notre Dame in the 1978 Cotton Bowl.
Byron Hamspard, a 5'10", 200-lb running back, played for the Texas Tech Red Raiders football team from 1994 to 1996. As a freshman in 1994, he recorded 761 yards rushing on 173 carries.
In 1995, he had 1,374 yards on 248 carries. In 1996, he accumulated 2,084 yards rushing (and a total of 2,276 all-purpose yards). He was recognized as a consensus first-team All-American.
At of the end of the 1996 season, Hamspard became Texas Tech's all-time leader in career rushing yards (4,219 yards in three seasons) and rushing yards per game.
Hamspard ranks second in career rushing attempts. He also holds school records for single-season rushing attempts (339 in 1996) and most yards in a single game (287 against Baylor in 1996).
Byron Hamspard became the greatest running back in Texas Tech history and one of the best to ever play college football by gaining 2,000 yards rushing in the Red Raiders' 56-21 victory over Southwestern Louisiana in 1996.
Amos Zereoue, a 5'9", 190-lb piece of dynamite, scored a 69-yard touchdown run against Pitt on his first college carry. In that same season, Zereoué finished the season with two of the school's five best single-game rushing performances (234 yards against Notre Dame and 228 yards against Rutgers).
As a sophomore, Zereoué also led the conference and set a school single-season rushing record with 1,589 yards on 281 carries. His 18 touchdowns on the season was one shy of the WVU record.
In Zereoue's junior season, he was named second-team All-American. He led the team with 1,462 yards and 13 touchdowns on 283 carries. He was also ranked sixth in the nation with 143 yards per game in '98.
Zereoue entered the NFL after his junior season.