Georgia State vs. Tennessee: Complete Game Preview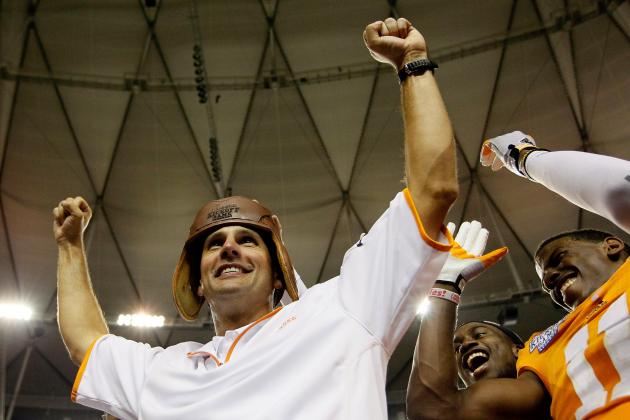 Kevin C. Cox/Getty Images

Derek Dooley, Tennessee players and the Tennessee fanbase all breathed a collective sigh of relief Friday night when the Vols knocked off North Carolina State 35-21 in the Georgia Dome.
By no means did the men in orange and white play a perfect game, but they looked much improved from last year and gave fans plenty to be excited about as the season continues.
Tyler Bray showed off his ability with over 300 yards and two scores. Cordarrelle Patterson made people forget about the loss of Da'Rick Rogers before the first quarter was over. The defense was much more aggressive and, while it gave up its share of big plays, the Vols picked off four passes.
Now they return to Knoxville for the home opener against Georgia State. The Panthers' are led by head coach Bill Curry, who will become the first person to coach against Tennessee as the head coach of four different teams (Georgia Tech, Alabama, Kentucky and Georgia State).
Begin Slideshow

»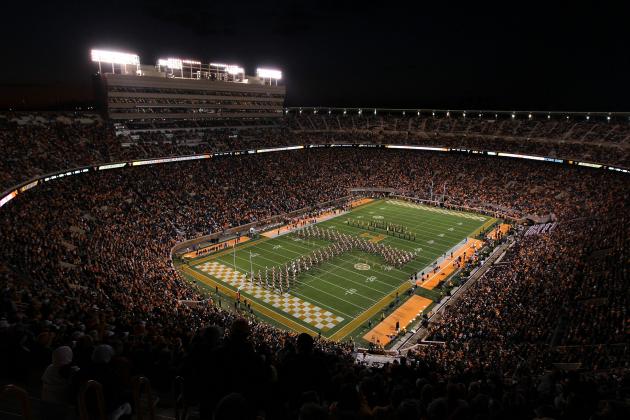 Andy Lyons/Getty Images

Who: Georgia State at Tennessee
When: Saturday, 4:00 p.m. (EDT)
Where: Knoxville, Tenn.
Stadium: Neyland Stadium, (102,455)
TV: VideoSeat PPV
Radio: Vol Network
Internet Stream: WatchESPN.com—Subject to blackout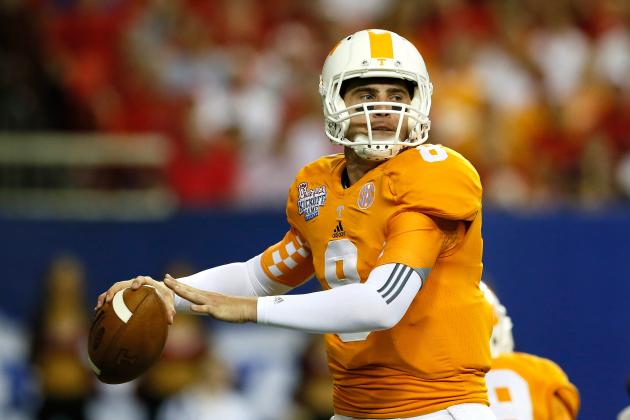 Kevin C. Cox/Getty Images

Offense
QB: Tyler Bray, Justin Worley
RB: Raijon Neal, Devrin Young or Marlin Lane
FB: Ben Bartholomew, Justin King
WR: Cordarrelle Patterson, Zach Rogers
WR: Justin Hunter, Cody Blanc
TE: Mychal Rivera, Ben Bartholomew
LT: Antonio Richardson, Alan Posey
LG: Dallas Thomas, Marcus Jackson
C: James Stone, Mack Crowder
RG: Zach Fulton, Alex Bullard
RT: Ja'Wuan James, Kyler Kerbyson
Defense
DE: Darrington Sentimore, Corey Miller
NG: Daniel McCullers, Daniel Hood
DE: Maurice Couch, Marlon Walls
Jack: Jacques Smith, Jordan Williams
SLB: Curt Maggitt, Willie Bohannon
MLB: A.J. Johnson, Channing Fugate
WLB: Herman Lathers, Dontavis Sapp
LCB: Marsalis Teague, Justin Coleman
FS: Brian Randolph, Rod Wilks
SS: Byron Moore, Brent Brewer
RCB: Prentiss Waggner, Eric Gordon
K: Michael Palardy, Derrick Brodus
P: Matt Darr or Michael Palardy
KR: Devrin Young, Cordarrelle Patterson
PR: Devrin Young, Justin Hunter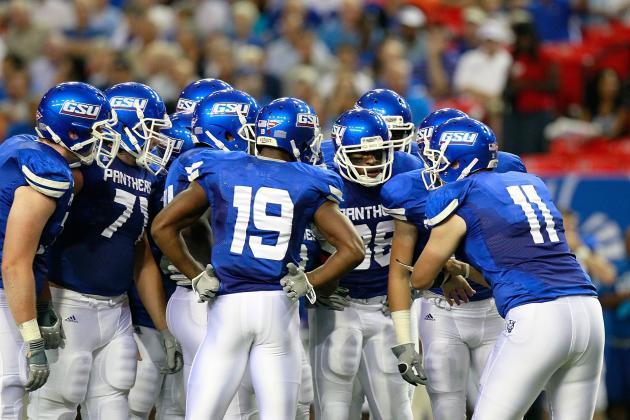 Kevin C. Cox/Getty Images

Offense
QB: Ben McLane, Kelton Hill
RB: Donald Russell, Parris Lee
WR: Albert Wilson, Nathaniel Minor
WR: Danny Williams, Lynquez Blair
WR: Jordan Giles, Darren McCray
TE: Emmanuel Ogbuehi, Drew Pearson
LT: Ulrick John, Gabriel Hampton
LG: Tim Wynn, Cade Yates
C: Michael Davis, Ronald Martin
RG: Harrison Clottey, Kam Cheatham
RT: Grant King, Ramell Davis
Defense
DE: John Kelly, Melvin King
DT: David Huey, Joe Lockley
NG: Terrance Woodard, Nermin Delic
DE: Theo Agnew, C.J. Stephens
ILB: Mark Hogan, Jarrell Robinson
ILB: Joseph Peterson, Robert Ferguson
OLB: Akeen Felder, Mitchell Vinson
FS: D'Mario Gunn, Kail Singleton
SS: Demazio Skelton, Arlington Jordan
CB: Demarius Matthews, Jamal Ransby
CB: Brent McClendon, Isaiah Howard
K: David Miller, Matt Ehasz or Christian Benvenuto
P: Matt Hubbard, David Miller
KR: Albert Wilson, Demarius Matthews
PR: Albert Wilson, Demarius Matthews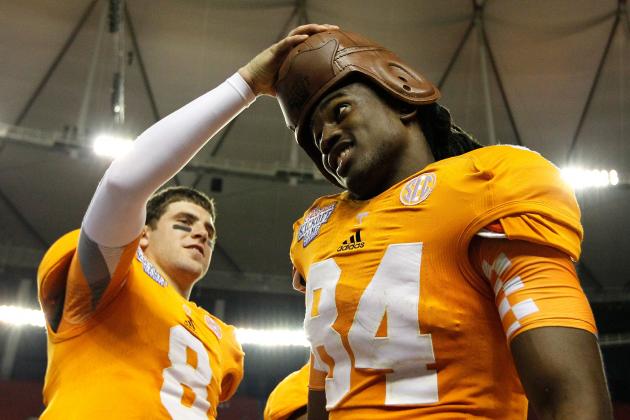 Kevin C. Cox/Getty Images

Cordarrelle Patterson stole the show for the Vols in the opening quarter last week in the victory over North Carolina State 35-21. Patterson connected with Tyler Bray for a 41-yard touchdown to start the scoring for Tennessee.
With the Vols trailing 7-6 in the first quarter, Tennessee scored 16 points on three consecutive snaps spanning 38 seconds.
Bray hooked up with Zach Rogers for a 72-yard touchdown to give Tennessee the lead back. On the following Wolfpack play from scrimmage, Curt Maggitt sacked Mike Glennon and forced a fumble that turned into a safety and two more points for the Vols. Tennessee's next offensive snap saw Patterson take a reverse 67 yards to the house—giving the Vols a 22-7 lead as the first quarter was coming to a close.
From there, North Carolina State never got closer than eight points, and Tennessee held on in the second half.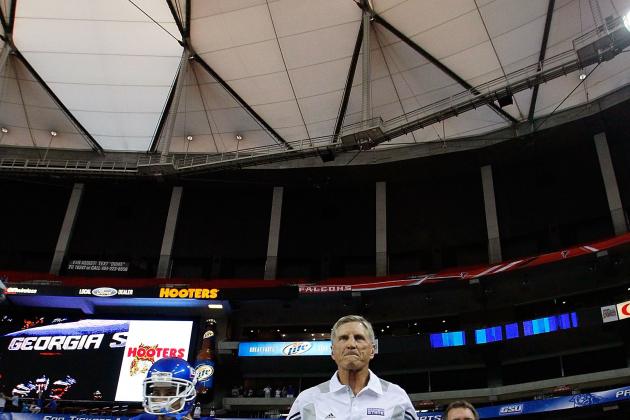 Kevin C. Cox/Getty Images

Like the Vols, Georgia State opened up its season in the Georgia Dome. The night prior to Tennessee's victory, the Panthers took on South Carolina State.
However, Georgia State didn't have quite the success that Tennessee did. The Panthers fell 33-6. The score could have been much worse had it not been for two long SCSU drives that stalled out inside the 10-yard line resulting in field goals.
Bill Curry's squad managed just 229 yards of total offense and turned the ball over three times.
On the opposite side, Georgia State allowed 488 yards to a South Carolina State team that, let's be honest, doesn't quite have the talent that Tennessee will feature on Saturday.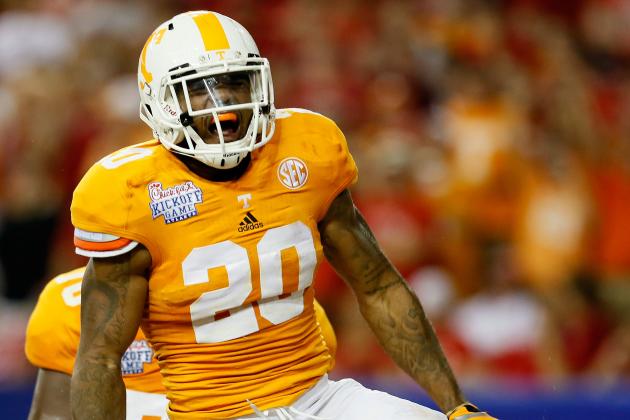 Kevin C. Cox/Getty Images

For the Vols, this game honestly means nothing. Obviously, it would be beyond embarrassing to lose the game, but winning the game carries no significance for this team.
The focus on Saturday will be more on execution and shoring up the shortcomings that presented themselves against North Carolina State.
The game will be a nice opportunity for the Vols to continue to work out the kinks of installing a new defense, continuing to establish running lanes and improving the ground game.
For Georgia State, this will be an opportunity to expose its players to top-flight competition. Everyone wants to play against good competition, and this is a chance for that.
In addition, this is a payday for the Georgia State program. A trip to Knoxville will come with a nice sum of money to help fund the GSU athletic department.
There's not one player that will make or break Saturday's game for the Vols. Tennessee should have no trouble with the Panthers.
However, keep an eye on Cordarrelle Patterson. He stole the show on Friday night against N.C. State.
Patterson tallied 165 total yards and two exciting touchdowns, but somewhat disappeared after the first quarter.
Tennessee's offense will be what carries the Vols through the season, and they need Patterson to be a consistent weapon throughout. His opportunities should be plenty early in the game Saturday night.
When the Panthers played in Tuscaloosa in 2010, they managed just seven points. Those seven came thanks to a 97-yard kickoff return from then-freshman Albert Wilson.
The junior is still atop the depth chart in the return game and still presents a threat to take one to the house.
His long return in last Thursday's loss was 44 yards. With a Georgia State team that is going to struggle to score points, a great return could be what leads to getting on the scoreboard.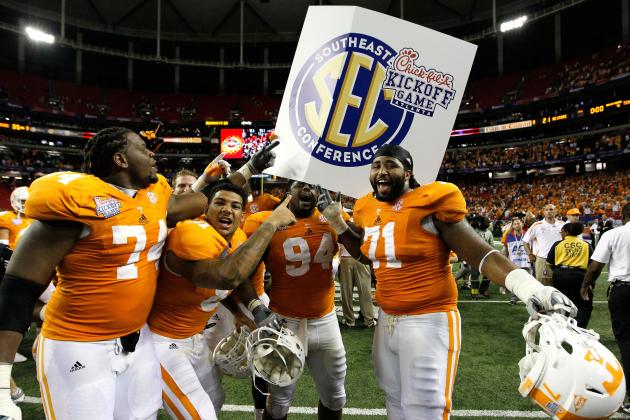 Kevin C. Cox/Getty Images

They show up for the game.
The Vols are superior in every facet of the game and it should be very obvious from the opening kick on Saturday.
It's much more important to focus on how the Vols take care of business rather than if they do.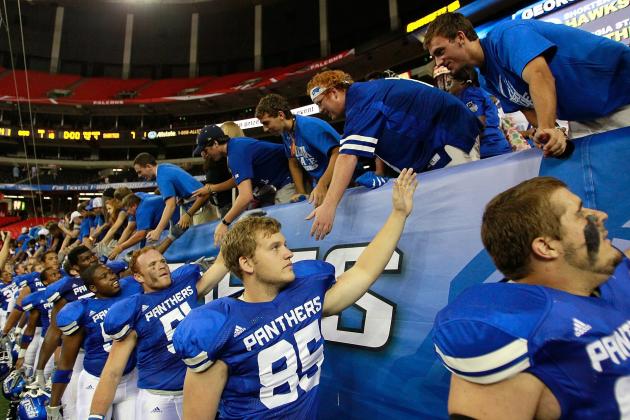 Kevin C. Cox/Getty Images

For some reason Tennessee decides not to take the field.
Once the opening whistle blows, it will pretty much be over.
Georgia State's success will be measured more by how they are able to hang around than by the final score.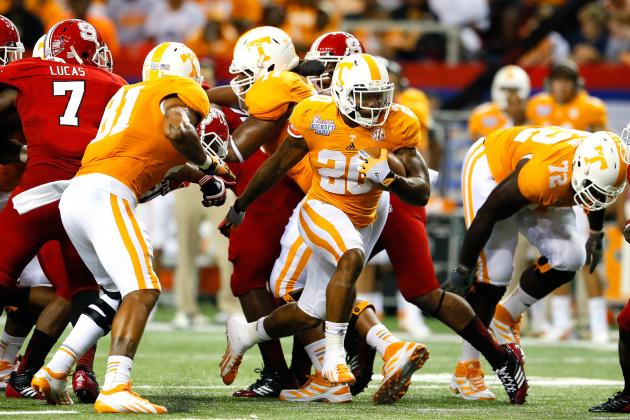 Kevin C. Cox/Getty Images

Tennessee 55-6
The Vols will make easy work of the Panthers, and the starters should be done by halftime.
Justin Worley will get plenty of reps with the second-team offense, and everyone aside from redshirts should see the field.
The biggest key for Tennessee will be making it out of the game fully healthy. Suffering an injury is always a blow to a team, but when it happens in a game that's not going to be in question, it hurts doubly.