How College Football's Top 25 Will Fare in Week 2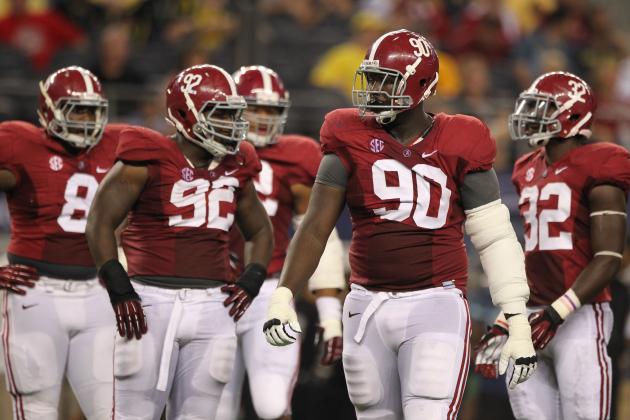 Matthew Emmons-US PRESSWIRE

It was a good opening weekend in college football. No team lost to a team ranked lower than them, and there were storylines from the very start.
Some teams came out of the gate ready to go, while others had a rough time getting anything going. Alabama and Michigan didn't live up to the hype, but the game went about as expected. The last game of the weekend ended with overtime. That's a great start.
Every Top 25 team with the exception of West Virginia will play this week, and there are no games featuring teams that are both ranked.
Nathan's Week 1 Results: 20-2 (.909)
Nathan's Season Results: 20-2 (.909)
As usual, all rankings as provided by the AP Top 25 Poll.
Begin Slideshow

»
Kirk Irwin/Getty Images

The Ohio State Buckeyes certainly started off coach Urban Meyer's tenure with a bang, crushing Miami (Ohio), 56-10.
Quarterback Braxton Miller threw for 207 yards and a touchdown while also rushing for 161 yards and a score on the ground. The Buckeyes also held the RedHawks to a negative rushing effort. That's impressive.
Enter Central Florida. The Knights are coming off a 56-14 victory over Akron in which they forced four turnovers, including two fumbles inside the Zips' 10-yard line.
The Knights carry some momentum into this matchup, but their defense wasn't solid against Akron. Expect the Buckeyes to exploit their weaknesses.
Ohio State: 49
UCF: 14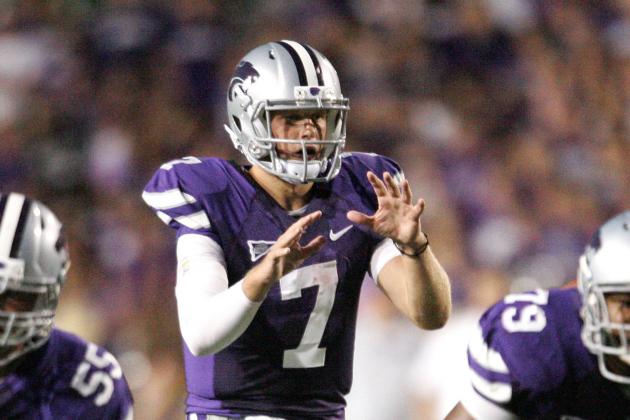 Scott Sewell-US PRESSWIRE

This one is a little tougher to decide. Neither team started well against inferior competition, but both the Kansas State Wildcats and Miami Hurricanes found their stride and came away with season-opening wins.
Kansas State, as suspected, beat Missouri State, 51-9. The score was much closer than anticipated in the first half, though, as the Wildcats led just 9-6 and allowed the Bears to tie the game on their first possession of the second half.
After that, Kansas State rolled. They scored 42 unanswered points to give the final many expected. Head coach Bill Snyder rarely sent any blitz packages and played vanilla on defense, though, most likely to keep the Hurricanes from analyzing game film. Even so, they allowed 323 yards through the air and surrendered 19 first downs.
Miami, on the other hand, had to overcome a 14-0 Boston College first-quarter lead and hold on for a 41-32 victory. The Hurricanes surrendered just 96 rushing yards, but they allowed 441 yards through the air.
See the conundrum here? Neither team could stop the pass. That begs the question: Who has the better quarterback? I'd say the Wildcats have the edge in that department. Nobody can discount the play of double threat phenom Collin Klein.
Miami running back Duke Johnson might make that a moot point, though. It's doubtful he will have too many 50-plus-yard runs against Kansas State, but his presence in the backfield might be what the Hurricanes need to pull off the upset.
Miami: 35
Kansas State: 31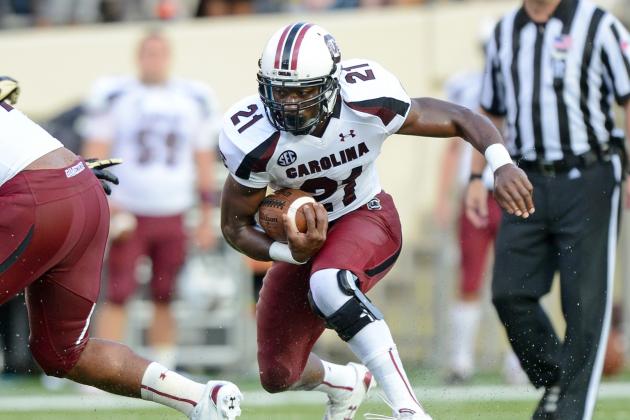 Don McPeak-US PRESSWIRE

The South Carolina Gamecocks started off their season with a win, but it didn't come as easily as most expected. Quarterback Connor Shaw injured his right throwing shoulder in the second half of their gritty 17-13 win over Vanderbilt, and running back Marcus Lattimore had to shoulder the load in his first game since tearing his ACL last season.
The good news for the Gamecocks is that Vanderbilt is behind them and Shaw will have time to heal up as East Carolina comes calling.
The Pirates opened their season with a 35-13 win over Appalachian State, but they benefited from an interception return for a score in the first half and a kickoff return for a touchdown in the second half to pull away. They also allowed 300 yards through the air.
While South Carolina will not throw the ball nearly as much, expect them to cut through the Pirate defense.
South Carolina: 42
East Carolina: 10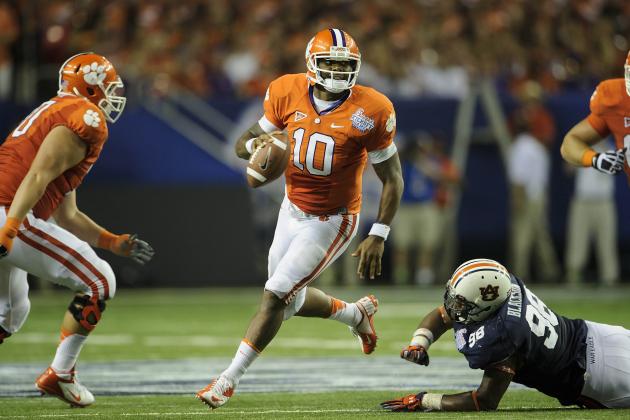 Paul Abell-US PRESSWIRE

This is a game that shouldn't be close. The Clemson Tigers shrugged off the suspension of star receiver Sammy Watkins and defeated Auburn, 26-19, by running for 320 yards. Andre Ellington ran for 231 yards himself, and quarterback Tajh Boyd also threw for 208 yards and a score.
Ball State? Well, they beat Eastern Michigan 37-26 after scoring 21 straight in the third quarter. Don't expect the same versus Clemson.
Clemson: 42
Ball State: 10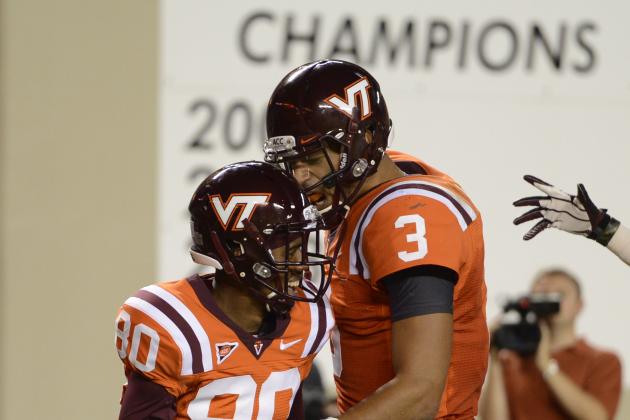 Bob Donnan-US PRESSWIRE

The Virginia Tech Hokies had to escape conference foe Georgia Tech in overtime for a 20-17 victory on Monday night. They'll have had only four days to prepare for Austin Peay, and who can forget when James Madison beat the Hokies? Could it happen in 2012?
In a word, no. FCS team Austin Peay was held to 154 total yards in a 49-10 loss at Western Kentucky. What's going to happen when they meet the Hokies? Much of the same, I'd imagine.
Virginia Tech: 56
Austin Peay: 3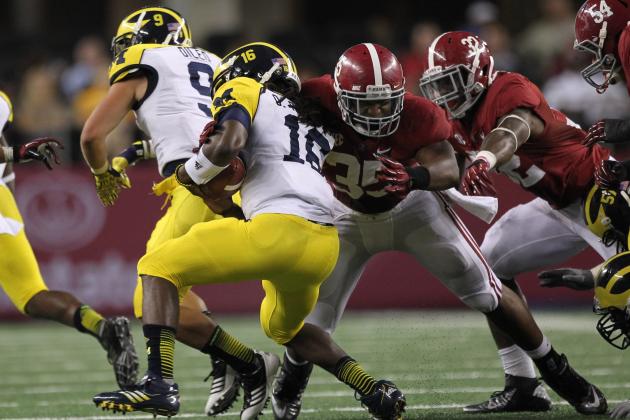 Matthew Emmons-US PRESSWIRE

Who doubted the Alabama Crimson Tide? Wow, what a show by Nick Saban's bunch in their thorough dismantling of the team formerly known as No. 8 Michigan.
Note to the Western Kentucky Hilltoppers: I hope you enjoyed your win over Austin Peay. This one could get ugly fast.
Alabama: 52
Western Kentucky: 3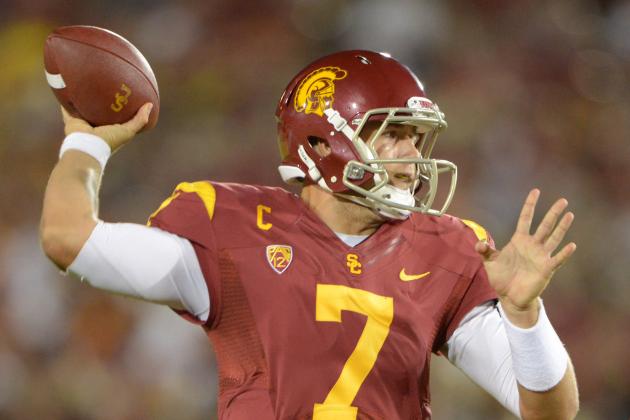 Kirby Lee-US PRESSWIRE

A team in this contest is No. 1 in the nation in passing yards, and it isn't the USC Trojans.
Syracuse Orange quarterback Ryan Nassib threw for 470 yards and four touchdowns in their season-opening 42-41 loss to Northwestern.
On the flip side of the coin, the Trojans, led by Heisman candidate Matt Barkley, pummeled the Hawaii Warriors, 49-10. Oh, and he also threw for 372 yards and four scores himself.
Should we expect to see an aerial showdown and a shootout? Well, probably one more than the other. Both teams will throw the ball all over the field, but only one will put up the points.
Hawaii loves to throw the football—always has. Against the Trojans, they were held to 208 yards through the air. Syracuse, meanwhile, was done in by turnovers against the Wildcats.
This one might be close for a while, but the Trojans simply have too much firepower for the Orange.
USC: 38
Syracuse: 21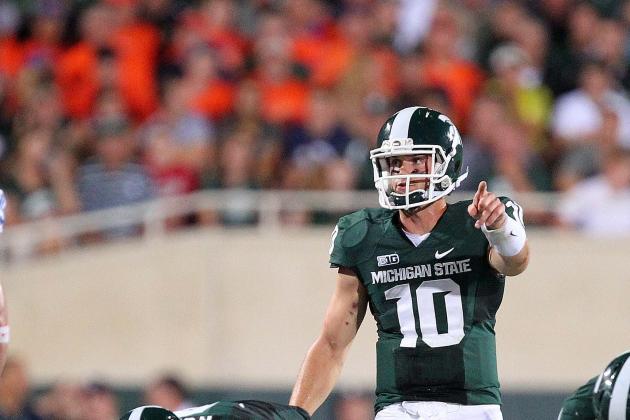 Mike Carter-US PRESSWIRE

We all know the name by now: Le'Veon Bell. He had 210 rushing yards and two touchdowns on an astounding 44 carries against the Boise State Broncos. He made highlight reel after highlight reel when he hurdled a Bronco defender to get another first down for the Michigan State Spartans.
His two scores were the only times Michigan State found the end zone in their 17-13 win, though. Quarterback Andrew Maxwell, playing in his first start, looked shaky at times, and his receivers didn't make things easy on him. He threw three interceptions, but two were off the hands of a Michigan State player.
The Michigan State defense, lauded by many as one of the top in the country, shined against the Broncos. They allowed just 206 total yards, with only 37 of them coming on the ground.
They will need to rely on their defense against the Central Michigan Chippewas. They rolled up 324 rushing yards and scored four of their five touchdowns on the ground. Of course, that was against FCS foe Southeast Missouri State.
Michigan State is a whole different animal. I imagine the Chippewas will find much tougher sledding against William Gholston and Co.
Michigan State: 35
Central Michigan: 7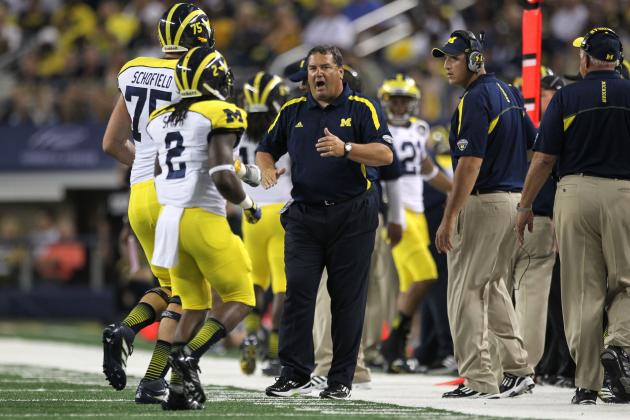 Matthew Emmons-US PRESSWIRE

The last time we saw Michigan Wolverines quarterback Denard Robinson, he was completing just 42 percent of his passes and being overwhelmed by a far superior Alabama defense as the Wolverines lost, 41-14. While it's not the best start to a season, there's no suggesting the Wolverines won't be able to turn it around.
Running back Fitzgerald Touissant, who was suspended for the Alabama game, is back. He has been practicing all fall and should be ready to go as Michigan welcomes the Air Force Falcons to the Big House.
The Falcons, meanwhile, own the nation's top rushing attack. They rolled up an astounding 490 yards and downed the Idaho State Bengals, 49-21. That sounds like a recipe for success, especially against a Michigan attack that allowed Alabama to rush for 232 yards.
That's entirely possible, but Michigan is no Idaho State. You can also expect Michigan to exploit a Falcon defense that allowed 365 yards through the air. This one could be a bit of a shootout. Watch for Michigan to ride on emotion for at least the first half, though.
Michigan: 41
Air Force: 24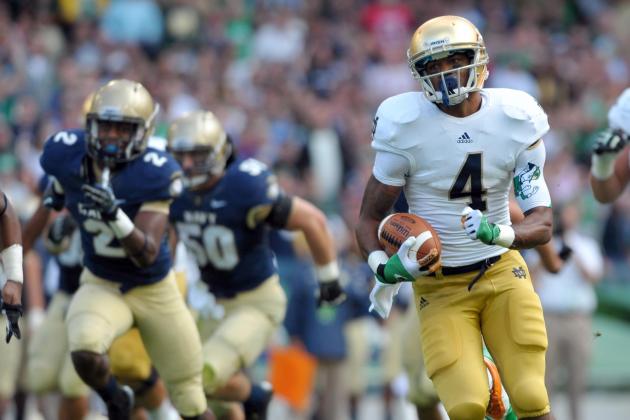 Matt Cashore-US PRESSWIRE

Welcome back to the list, Notre Dame! Some people questioned your inclusion in the Coaches' Poll, and you took that to heart in your 50-10 throttling of Navy.
It wasn't just that, though. The Notre Dame Fighting Irish held the vaunted Navy rushing attack to just 149 yards on the ground and forced four turnovers while piling up 293 yards on the ground themselves.
The Purdue Boilermakers were just as impressive, though. They held FCS foe Eastern Kentucky to 190 yards and 10 first downs and forced four turnovers as they won, 48-6.
The Irish should be able to move the ball a little better than Eastern Kentucky, but it's tough to know how well Purdue will perform on offense.
Transfer quarterback Robert Marve started in place of suspended starter Caleb TerBush. Even after his impressive performance, in which he threw for 295 yards and three touchdowns, Marve was informed on Tuesday that TerBush would be the starter versus Notre Dame. That could throw a wrench in things for the Boilermakers.
Notre Dame: 28
Purdue: 24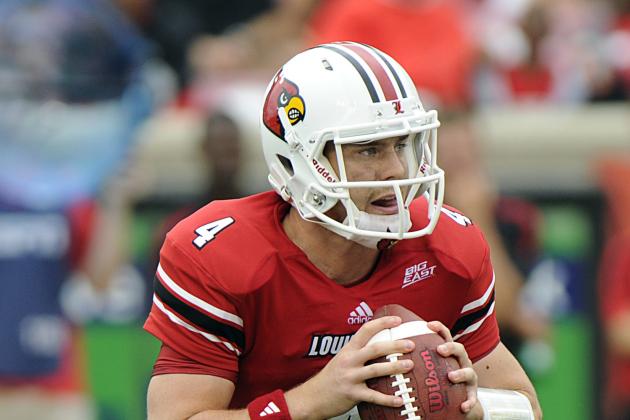 Jamie Rhodes-US PRESSWIRE

It seems the Missouri State Bears are making some money to lose in September. Two straight weeks versus Top 25 opponents at their place; that's not a bad paycheck.
Louisville, the only team in the Big East to even sniff the Top 25, downed SEC foe Kentucky, 32-14, and allowed just 93 yards on the ground. Their only concern: The Wildcats were above 50 percent on third-down conversions.
That won't matter against Missouri State, though.
Louisville: 42
Missouri State: 14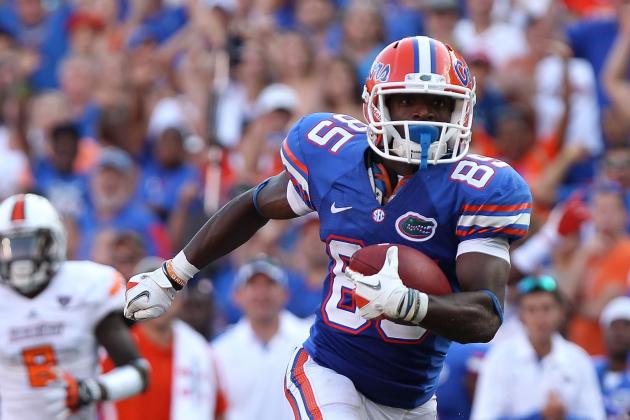 Kim Klement-US PRESSWIRE

Welcome to the SEC, Aggies. It's a great conference to be in. I'd recommend winning a few games before you put up a billboard in an opposing team's town, though.
The Florida Gators certainly didn't look great in their 27-14 win over the Bowling Green Falcons, and they didn't name their starting quarterback until Monday. It's Jeff Driskel, by the way.
Still, not playing great is better than not playing at all. The Texas A&M Aggies had their game against Louisiana Tech postponed because of Hurricane Isaac, so they haven't taken the field yet this year. Starting your season off against an SEC squad, especially one you have drawn the ire of, is never easy.
Florida isn't great. Texas A&M didn't have the best season, has a new coach, quarterback, and offensive system. That doesn't translate to success early, especially against SEC defenses.
Florida: 27
Texas A&M: 14
Update: After Texas A&M stated they had no involvement with the billboard in Gainesville, it was taken down on September 5. No school or fan base has claimed responsibility for the placement of the billboard.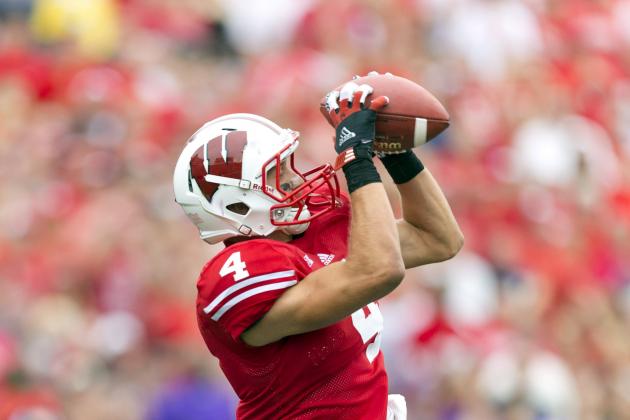 Jeff Hanisch-US PRESSWIRE

This is another case of an underwhelming team versus a team that has yet to play a game.
The Wisconsin Badgers survived the scare of the year when they held off FCS team Northern Iowa, 26-21, in the fourth quarter after leading 26-7. Quarterback Danny O'Brien was steady in his debut, and Heisman candidate running back Montee Ball had over 100 yards and a rushing touchdown.
It was Wisconsin's defense, especially through the air, that made us all pause. Was this really the team many suspect to win the Big Ten? As for me, I'm not extremely worried. More than one team had a hiccup in their first game and was still able to overcome and win. The Badgers are no different.
It's not out of the realm of possibility for them to lose to Oregon State, but a letdown like they had on Saturday is not likely.
Wisconsin: 31
Oregon State: 21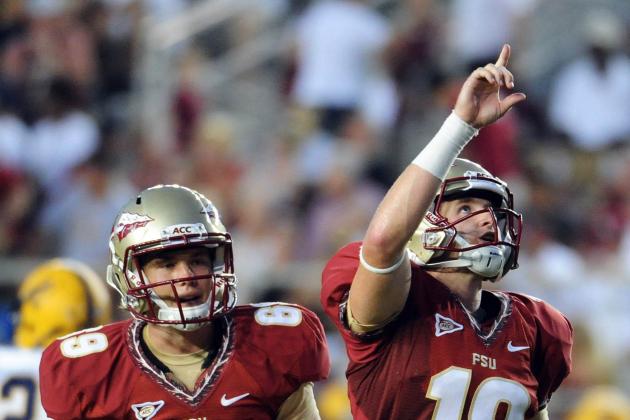 Melina Vastola-US PRESSWIRE

You're kidding, right? Sheesh, I hope they're getting paid well. What are the odds the Florida State Seminoles put up 70?
Florida State: 56
Savannah State: 3
Yes, I gave them three points. They deserve it.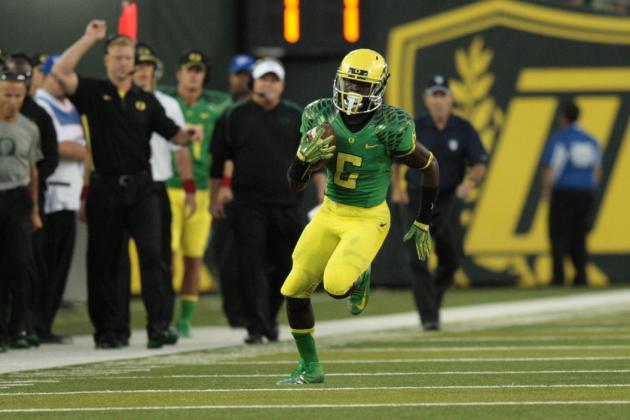 Scott Olmos-US PRESSWIRE

This was one that you thought would be close back in the day. The Fresno State Bulldogs were one of those squads that had the go-anywhere, play-anybody mentality. Sometimes they upset teams. Now, though, that's not likely.
It isn't because the Bulldogs aren't a good team. Quarterback Derek Carr threw for 298 yards and two scores to lead them past Weber State, 37-10. The Bulldogs out-gained the Wildcats, 515-274. So no, they're a good team.
It's just that Oregon is really good. The Ducks might not have impressed you with the final score in their 57-34 victory over Arkansas State, but it's important to note that they were up 29-0 after the first quarter and 50-10 at the half.
After that, they just put it on autopilot, let the subs play and coasted to a victory. Starting quarterback Marcus Mariota and running back De'Anthony Thomas didn't even play in the second half.
They might have to play deeper into the game against the Bulldogs, but a better bet would be as to how many times Chip Kelly decides to try for a two-point conversion instead of kicking the extra point.
Oregon: 56
Fresno St: 31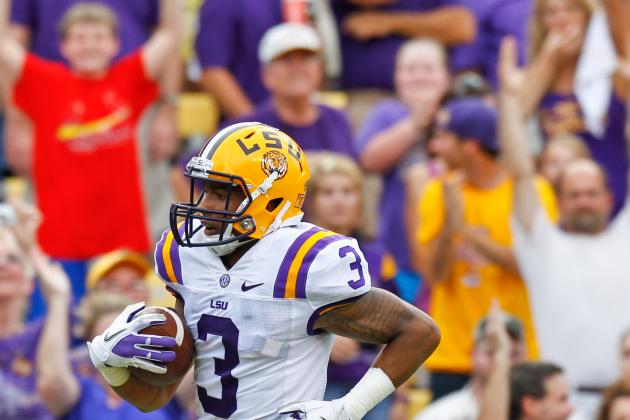 Derick E. Hingle-US PRESSWIRE

I'm not certain I understand bringing a live tiger to practice, but if you're Washington Huskies coach Steve Sarkisian, that's how you prepare your team to play LSU.
While the tiger is cool, it doesn't put on pads and play. Louisiana State does. Quite well.
The Huskies beat San Diego State, 21-12, on Saturday. Take away a fumble return for a touchdown in the third quarter and two failed two-point conversions by the Aztecs and the game is tied. Washington also allowed 199 yards rushing.
That's never good when you're playing a team that thrives on running the ball and is 10th in the nation at it. Add to that a defense that won't allow you to throw the ball whenever you want, and you have a recipe for disaster.
LSU: 41
Washington: 20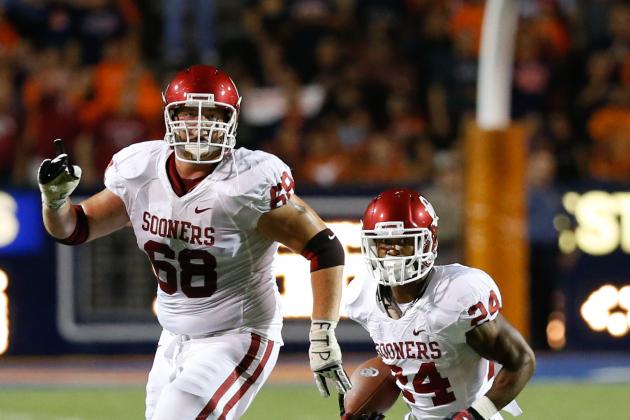 Jim Cowsert-US PRESSWIRE

The Oklahoma Sooners had to overcome UTEP. That's never good. They weren't Florida A&M bad, though. The Rattlers lost to FCS foe Tennessee State, 17-14. They allowed 401 yards, including 263 to the air, to the Tigers.
Is Oklahoma overrated? It sure didn't look dominant versus the Miners. Will it show this week against the Rattlers? Uh, no.
Oklahoma: 56
Florida A&M: 3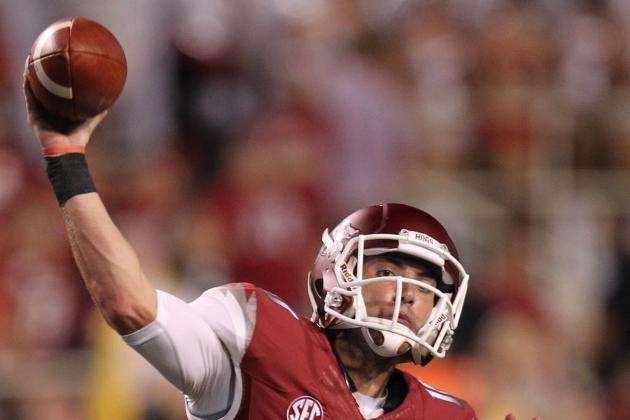 Nelson Chenault-US PRESSWIRE

It took a while for the best offense in the SEC to get going, but when it did, the Arkansas Razorbacks were unstoppable. Down 14-7 to Jacksonville State, quarterback Tyler Wilson led the Razorbacks to four straight touchdowns and turned what looked like a possible upset into a 35-14 Arkansas lead at the half. Two late insurance touchdowns provided the final 49-24 score.
Things shouldn't be much different against the Louisiana-Monroe Warhawks, who haven't played since finishing the 2011 campaign with a 4-8 record. This one could be over with by the half as well.
Arkansas: 52
Louisiana-Monroe: 10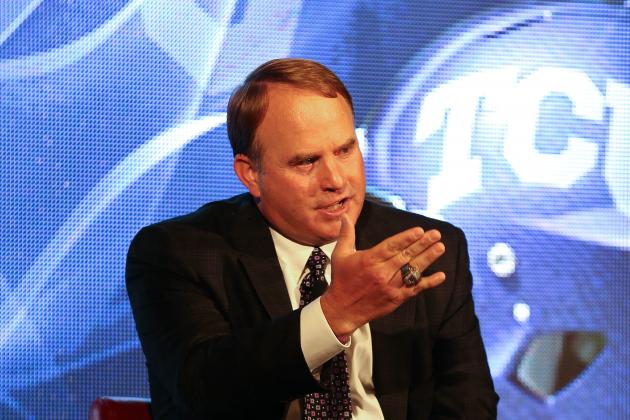 Kevin Jairaj-US PRESSWIRE

The TCU Horned Frogs haven't played since last year. The Grambling State Tigers are coming off a 22-21 loss to Alcorn State in which they allowed 13 unanswered points in the fourth quarter.
The Horned Frogs might be a little rusty or antsy after watching all the action in Week 1, but this one should be over with fairly quickly.
TCU: 42
Grambling State: 14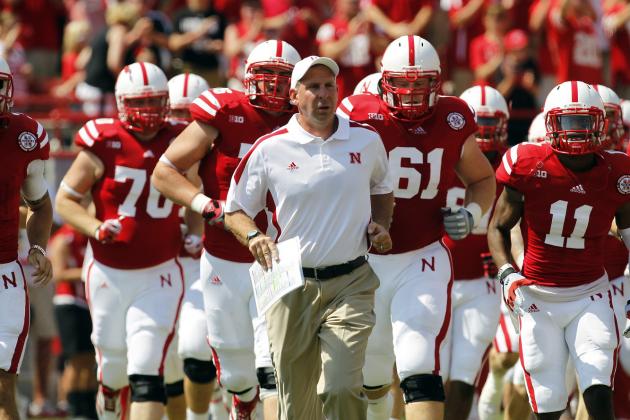 Bruce Thorson-US PRESSWIRE

What a difference a year makes, right? Nebraska Cornhuskers quarterback Taylor Martinez, often ridiculed for his throwing motion, attended more than one coaching session over the spring and summer. When All-American running back Rex Burkhead went down with an injury in the first quarter, Martinez had to rely on his arm to lead the Huskers.
All he did was complete 26 of his 34 passes for 354 yards and five touchdowns as he led Nebraska to a 49-20 victory over the defending Conference USA champion Southern Miss Golden Eagles.
Let's also not forget that the Huskers piled up 632 yards while holding the Golden Eagles to 260 total yards. They also only allowed one Southern Miss offensive touchdown. The other was a 100-yard kickoff return.
UCLA also showed what they can do on offense, putting up 646 yards of total offense as they defeated Rice, 49-24, in Houston. The game was actually quite close in the first half, though, and that has to trouble Bruin fans with the Huskers looming. Rice ran and passed for 358 total yards and also blocked three UCLA extra-point attempts.
While UCLA isn't Southern Miss, Nebraska is certainly not Rice. The better defense should get this one done. An oft-overlooked stat: third-down conversion percentage. Nebraska leads the nation, having converted 12 of their 15 chances for an 80 percent clip. UCLA, on the other hand, is only 2-for-11, which is 103rd in the nation.
Nebraska: 47
UCLA: 28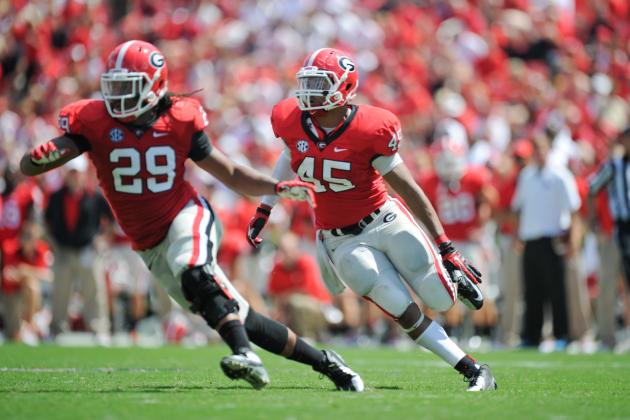 Kevin Liles-US PRESSWIRE

The Georgia Bulldogs were another one of those teams that didn't show us a lot over the weekend. Their offensive and defensive schemes in a 45-23 victory over Buffalo were vanilla. Even so, they were up just 24-16 at the half before finding their groove and pulling away in the second and third quarters. Before a Bull touchdown with 4:08 left in the game, the score was 45-16.
The defense, considered one of the best in the nation, was missing several key players to suspension that will return for the Missouri game.
Missouri, like Texas A&M, will play their first conference game at home. Of course, how much do we actually know about the Tigers after their 62-10 demolition of Southeastern Louisiana?
Well, we know they can score defensively. Missouri led 28-0 after one quarter, but only two of those were offensive touchdowns. The others were an interception return and a fumble return.
We also know that Marcus Murphy can score on punt returns. He took two back for touchdowns in the second half alone.
What do we make of this game? Well, I can assure you Georgia has watched every minute of Missouri's game. Quarterback Aaron Murray is a much more polished passer than anybody the Tigers will face this year, and the Bulldog defense most likely won't allow Missouri to pile up 261 yards on the ground.
Georgia: 31
Missouri: 30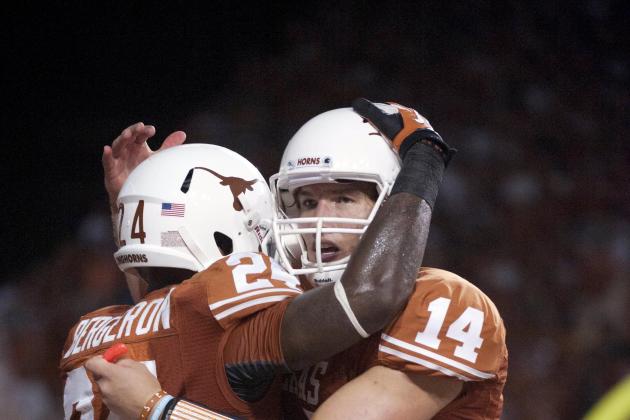 Brendan Maloney-US PRESSWIRE

The New Mexico Lobos rushed for 347 yards and beat the Southern Jaguars, 66-21, on Saturday.
Good luck doing that against Texas. The Longhorns allowed just 69 yards on the ground and limited Wyoming to 1-for-11 on third-down conversions in their 37-17 win over the Cowboys.
It wasn't the prettiest win for Texas, but it was stable. That's something we haven't seen a lot of these past couple years. Watch for more of that against New Mexico.
Texas: 40
New Mexico: 10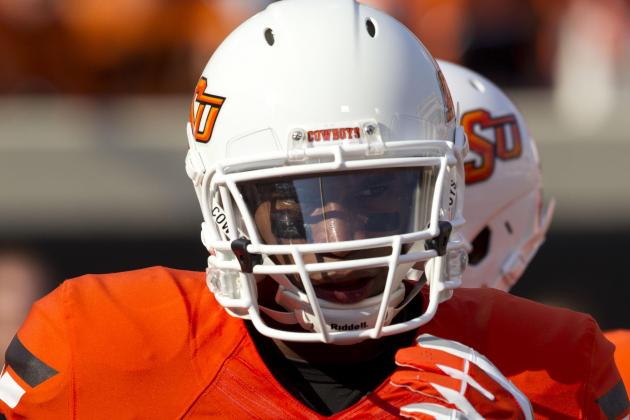 Richard Rowe-US PRESSWIRE

Is is possible for the Oklahoma State Cowboys to sustain such a dominant offensive performance after they obliterated Savannah State, 84-0?
Oklahoma State ran for 395 yards. Then they decided to pass for another 287. 682 total yards—are you kidding me? To top it off, their defense also limited the Tigers to 139 yards of total offense and just eight first downs.
It was 35-0 after the first quarter, and the Cowboys didn't need more than 90 seconds to score on more than three drives. That's a big wow.
Arizona, on the other hand, was underwhelming in coach Rich Rodriguez's debut. It took every second on the clock, plus overtime, for the Wildcats to overcome Toledo, 24-17. Let's say this week doesn't look bright for the folks in Tucson.
Oklahoma State: 49
Arizona: 13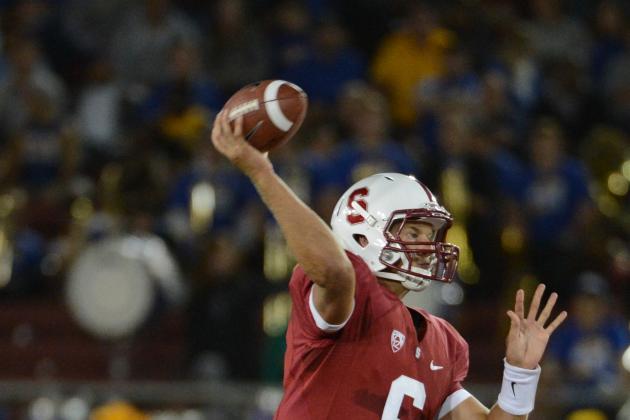 Kyle Terada-US PRESSWIRE

I can't believe I'm saying this, but the Duke Blue Devils actually looked good in their season-opening 46-26 victory over Florida International. Of course, this is Florida International, and the Blue Devils did give up 513 total yards, including 348 through the air.
Stanford didn't look good (at all) in their 20-17 victory over San Jose State. They were just 2-for-13 on third-down attempts and failed to score a touchdown after leading 14-0 at the end of the first quarter. That's not what people expected from a team that has fought tooth and nail to win each game the past four years. Of course, the catalyst of that team, Andrew Luck, is playing for the Indianapolis Colts now.
This one could be closer than expected.
Stanford: 24
Duke: 21