Big Ten Football Power Rankings Featuring Bon Jovi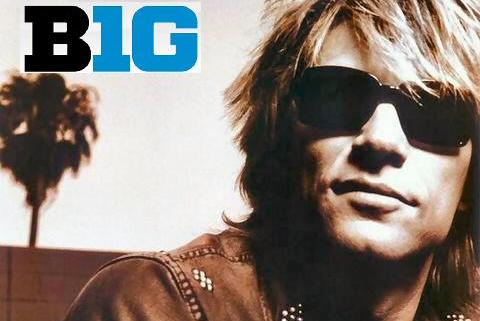 Courtesy spectacle.provocateuse.com
After a long offseason with a ton of controversy and a few coaching changes, it was refreshing to see the calendar turn to September and finally see some football on the field. The first week of play answered a lot of questions and added some new ones to watch as the schedule progresses towards conference play.
On the whole, a 10-2 start for the conference is about normal. That same mark was posted in the first week of 2011 against a schedule that was not quite as solid as the one faced this year. Although the blowout loss to Alabama was a bad sign, wins over the likes of Southern Miss, Boise State and Syracuse are a good set of wins.
Unlike professional leagues where lockouts can occur, college football is always here to guide us from the dog days of summer into the cold months. Thus, it seems appropriate that Bon Jovi covers the theme songs for Big Ten teams in Week 1, as "I'll Be There For You" plays in the background.
Let's take a look at how the conference shakes out after the limited returns of Week 1:
Begin Slideshow

»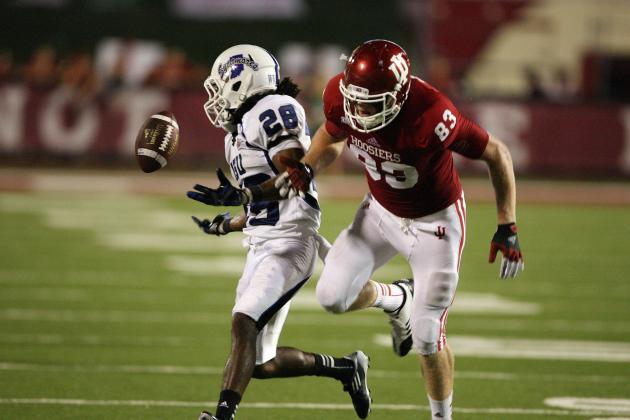 Brian Spurlock-US PRESSWIRE

Theme Song: "Keep The Faith"
The nine-game losing streak is over for Indiana after starting the season with a victory over Indiana State. However, wins at home over FCS division football teams do not really prove progress for the Indiana football program. The Hoosiers will need to show more competitiveness at the FBS level to show that Kevin Wilson has this program tracking upward in Year 2 of his tenure.
That being said, those Hoosier fans who kept faith were rewarded with a rare victory on Saturday night. Indiana racked up over 450 yards of offense including 280 passing by QB Tre Roberson. The offense also avoided turnovers and managed to convert 50 percent of third downs, promising numbers for the games ahead.
However, the defense surrendered a balanced 211 yards passing and 176 yards rushing to a relatively weak offense. The Hoosiers had serious trouble containing RB Shakir Bell, who is not up to the level of other running backs that the Hoosiers will face in conference play. The defense will need to improve, as usual, if the Hoosiers want to climb out of the cellar of this conference.
Next week Indiana travels to Massachusetts for an interesting road trip. The Minutemen are certainly a team that Indiana should defeat, but progress will need to be made in practice this week. This shapes up as one of the more compelling games on the Week 2 schedule.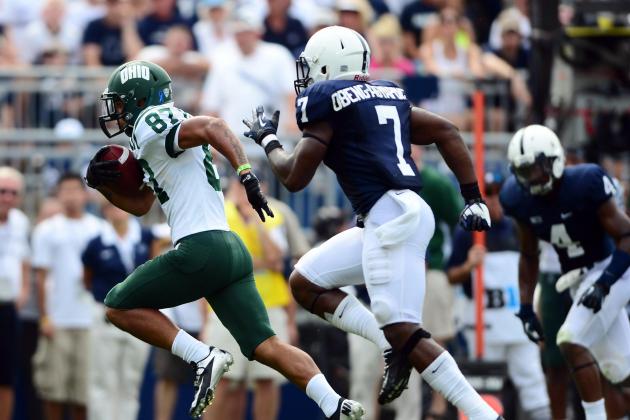 Andrew Weber-US PRESSWIRE
There Those Bobcats go Again...
Theme Song: "Wanted Dead or Alive"
Bill O'Brien needs to take the Penn State team that showed up in the first half against Ohio and bottle that for 60 minutes of consumption. If he can get that type of effort, especially on offense, then Penn State could make a respectable season out of 2012. One thing is for certain: O'Brien needs to motivate the team to avoid frustrations and additional early losses that could cause the team to quit on him.
The Nittany Lions offense had a look unlike any under Joe Paterno thanks to the emergence of Matt McGloin and a passing game focused on easy throws. By getting skilled players into open space against Bobcat defenders, the Nittany Lions were effective at moving the ball. Unfortunately, the running game without Silas Redd was dormant, and this was exacerbated by the injury to Bill Belton.
Meanwhile, the defense absolutely fell apart after coming up with big plays in the first half to shut down Ohio drives. Surrendering 499 yards of offense to a MAC offense, even a good one like Ohio, is a terrible sign for the Nittany Lions. If LB Gerald Hodges is dinged up for a significant amount of this season, the defense will lose the leader and anchor in the middle that holds a thin unit together.
Don't even get us started on using Hodges to return kicks and punts. That needs to stop immediately.
The depth issues were revealed to be an ugly situation in Game 1, and that will likely only get worse as the season goes along. The road game at Virginia will be a very tough assignment for a team trying to find its identity. Things will get much worse before they get better in Happy Valley, in all likelihood.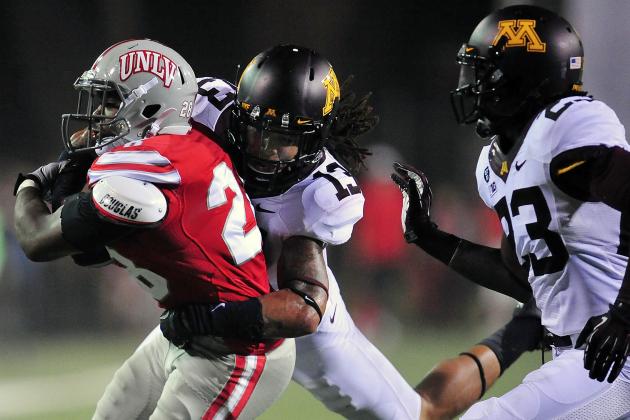 Gary A. Vasquez-US PRESSWIRE

Theme Song: "The Hardest Part Is The Night"
Minnesota kicked off the season late on Thursday night, and proved that sometimes the hardest thing to do is survive a hot night in Vegas. UNLV and Minnesota slugged at each other with well-timed miscues stifling most of the offense during regulation. After trailing most of the game, Minnesota took the lead on two field goals in the fourth quarter before watching UNLV tie it late in the game at 13.
Then the wild overtime opened up the touchdown scoring, as both teams succeeded in the first two overtimes. Minnesota then got a stop in the third overtime and won the game on a field goal, missing what would have been a deflating upset to begin the year.
Minnesota out-gained the Rebels by over 200 yards and won the turnover battle three to two. With the exception of committing eleven penalties, Minnesota really dominated every phase of this game but the score. Hence, it would have been a disaster to come away with an opening loss.
QB MarQueis Gray and his offense will need to do a better job of converting opportunities in the opposing side of the field, as 13 points is not going to be enough to win many games. Despite this, Minnesota achieved a great effort on defense before the first two overtimes that should not be overlooked. These are the types of improvement that need to happen for Minnesota to pull even or ahead of Iowa and Northwestern in the tough Legends Division.
Minnesota comes back home to play New Hampshire this weekend. The Golden Gophers should be more than aware of the threat a FCS school presents, but this game should be a breather before getting into tougher competition towards the end of the month. A solid start for Minnesota.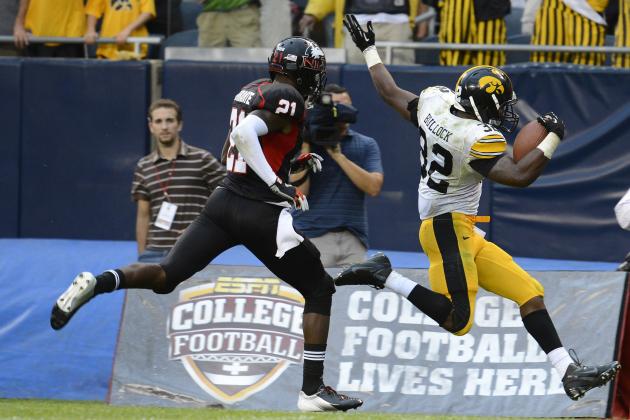 Mike DiNovo-US PRESSWIRE

Theme Song: "Livin' On A Prayer"
Sometimes a win is just a win, and nothing more. For the majority of the game, Iowa was stuck behind on the scoreboard and struggling to move the ball. Northern Illinois seemed to be a step ahead of the Hawkeyes at every opportunity. However, Iowa kept the Huskies in check long enough to win the game on the final drive with the first touchdown of the game, following four field goals.
The offense has to be disappointed with this effort against a MAC defense not known for great play. Offenses strive for balance on offense, but when that balance is 129 yards rushing and 139 passing, that is not good enough. The play-calling will need to get more creative and daring, as QB James Vandenberg cannot win every game while averaging less than four yards per pass completion.
However, the defense completely shut down Northern Illinois outside of the two touchdown drives. The Huskies got a 73-yard touchdown run in the third quarter, but only managed a paltry 128 yards for the remainder of the game. With Iowa basically playing keep away on offense, the defense had plenty of rest and looked like a great unit in this game.
The lack of turnovers and penalties is also a great sign of discipline in a first game. Despite all these positives, Iowa still was lucky to escape Chicago with a one-point victory. For that gaffe, the Hawkeyes end up starting the season pretty low in these power rankings. The Hawkeyes will have some upward mobility this week as they face always-dangerous rival Iowa State in Kinnick Stadium.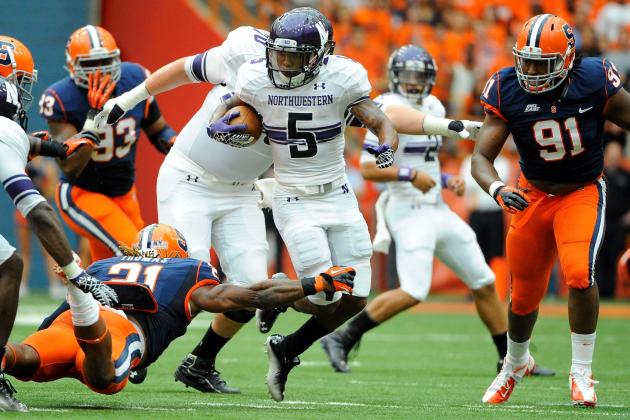 Rich Barnes-US PRESSWIRE

Theme Song: "It's My Life"
If it's the Northwestern Wildcats, it must be interesting. That should be the motto going forward as Pat Fitzgerald's team always seems to find a way to make life more interesting than it needs to be (both when getting blown out or when blowing out a team.) Backup QB Trevor Siemian led a gutsy 75-yard touchdown drive to win the game after Syracuse had stormed back with four touchdowns to erase a 22-point deficit.
And just like that, the Wildcats earned the conference's second one-point win escape on the weekend. The Carrier Dome is a tough place to play, especially in the sweltering heat of summer, but that does not excuse what happened to that big lead. Before getting injured, QB Kain Colter was leading a competent offensive attack with two touchdowns and no interceptions.
But the defense lapsed after starting well against the Orange and forcing a couple of turnovers. At the end of the game, Syracuse had racked up an astounding 596 yards of offense, including 470 yards passing by Ryan Nassib. The Northwestern defensive front will have to get better pressure throughout an entire game, or else Nassib will not be the only quarterback who picks the secondary apart.
Northwestern will play at home against Vanderbilt this week in a battle of smart schools. Vanderbilt played tough against one of the best teams in the SEC last week to open the season, so Northwestern will need to have a better performance to win this week. Vanderbilt cannot be allowed to dominate the line of scrimmage like Syracuse did, but that seems likely to happen.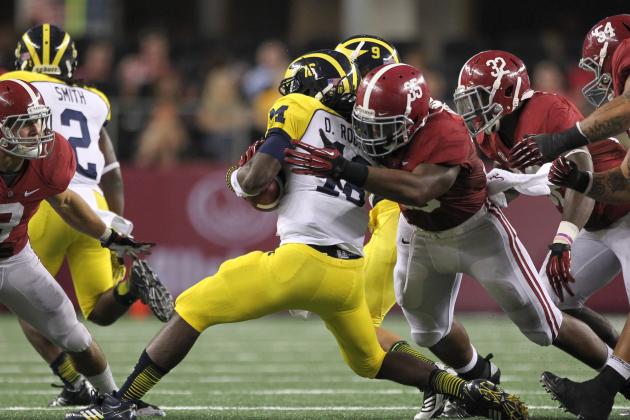 Matthew Emmons-US PRESSWIRE
You Stop Right There, Denard
Theme Song: "Say It Isn't So"
Just when you though the Big Ten might have a chance against the SEC, Alabama went out and put up one of the greatest first game performances seen in the last two decades against Michigan under the bright lights of Saturday Night Football. As a result of the 41-14 beatdown, the questions still linger about Michigan and the conference as a whole, at least as it compares to the truly elite programs like Alabama.
Michigan was shut down on offense in the first quarter, and the Wolverines defense failed to stop the Crimson Tide offense as Alabama rolled out to a 21-0 lead that would clearly be insurmountable. Michigan clearly missed the contributions of suspended RB Fitzgerald Toussaint, although he would not have found much running room through the Crimson Tide defensive front. QB Denard Robinson only completed 11-of-26 passes and was essentially the entire offense, with 227 of the team's 269 yards.
Meanwhile, the Wolverines defense could not stop either of the Alabama running backs T.J. Yeldon (111 yards on 11 carries) or Jalston Fowler (67 yards on 8 carries). Although the Crimson Tide struggled to pick up third down conversions, the offense was rolling so well in the first half that third downs were usually not necessary. This looked like the Michigan defense before Greg Mattison arrived, and the loss of CB Blake Countess for the season really opens up a weakness in the defensive backfield.
Despite all of these problems, it is hard to push Michigan way down the list because Alabama would have rolled any of the Big Ten teams last weekend. However, Mattison has another work in progress to figure out quickly against probably the toughest non-conference schedule any Big Ten team faces this year. This week brings Air Force into Michigan Stadium, which may be fortuitous considering Michigan needs time to fix the passing defense (Air Force rushed for 484 yards last week and will run most of the game).
For one week though, Michigan continued the sad tradition of SEC dominance, and so ends up on the bottom half of the power rankings to start the season.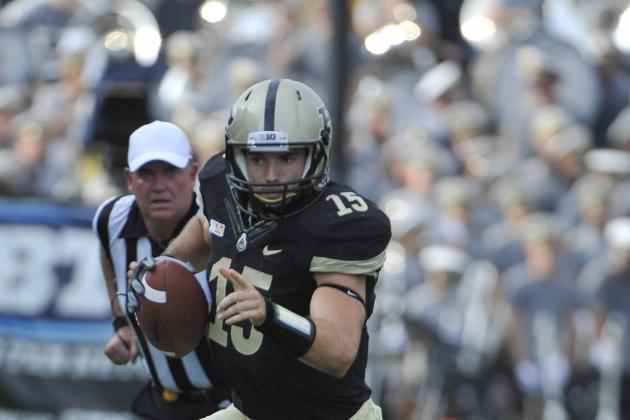 Sandra Dukes-US PRESSWIRE

Theme Song: "Have A Nice Day"
Well, it might not have gone entirely to plan for Purdue in the blowout of Eastern Kentucky, but one would have to look hard to find much fault with QB Robert Marve's effort standing in for the suspended starter Caleb TerBush. Marve found the going easy against the EKU defense, completing 30/38 passes for 295 yards and three touchdowns. He had a career day at a great time.
However, that apparently will not be enough to win the starting job away from TerBush. Marve will be headed back to the bench with his career day because, on the whole, he has been much more prone to mistakes and inconsistent play over the past year. It will be interesting to see if TerBush starts slow against Notre Dame this week, a tough task for the Boilermakers.
The Purdue defense also had little struggles against Eastern Kentucky, holding the offense to 190 total yards and ten total first downs. About the only problem Purdue had was committing five turnovers, a number which will need to drop down to zero or one against the stiffer competition this weekend. Of course, losing five turnovers is mostly negated when the defense makes four turnovers of their own.
For now, Purdue finds the middle of the power rankings with a mostly meaningless blowout win. A victory next week over Notre Dame could indicate that the Boilermakers are ready to compete with Wisconsin for the Leaders Division title.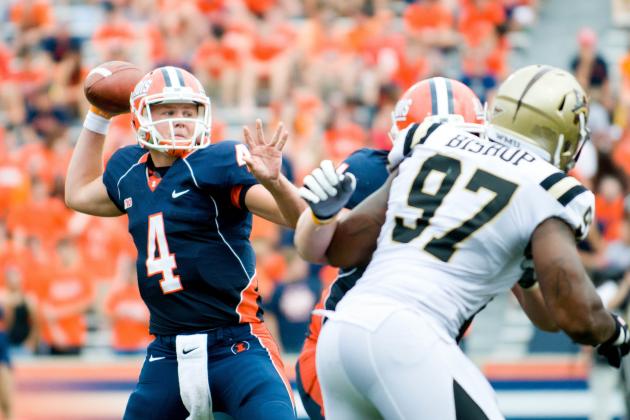 Bradley Leeb-US PRESSWIRE

Theme Song: "Runaway"
Illinois may not win games in the most convincing manner, but Tim Beckman inherited a team that knows how to deal with adversity after facing six straight losses and a fired coach to end last season prior to the bowl game. The Illini built a 17-point lead and looked to start salting away the game in the third quarter when QB Nathan Scheelhaase went down to an ankle injury. Then the offensive wheels fell off.
More specifically, Scheelhaase led the Illini to 240 yards of offense in the first half and a small portion of the third quarter. Illinois managed a whopping eight yards of total offense the rest of the game. Beckman will need to have better backup plans in place in the future, as Scheelhaase is not afraid to put himself at risk in the running game.
Western Michigan had a dynamic passing offense last season, and QB Alex Carder was shut down by the Illini defense for most of the game. Even when Carder had started to bring the Broncos back, Illinois came up with another big turnover when Ashante Williams returned an interception for a touchdown that restored the 17-point lead that would be the final margin. Anytime a defense holds an opposing running game to negative yardage, it usually bodes well for a win, just like on Saturday.
Illinois will look to continue to rely on the defense with a tough road trip out west to play Arizona State this weekend. The Illini forced the Sun Devils to be one-dimensional last season and will hope for the same result in 2012. If that happens, the Illini will start a surprising 2-0.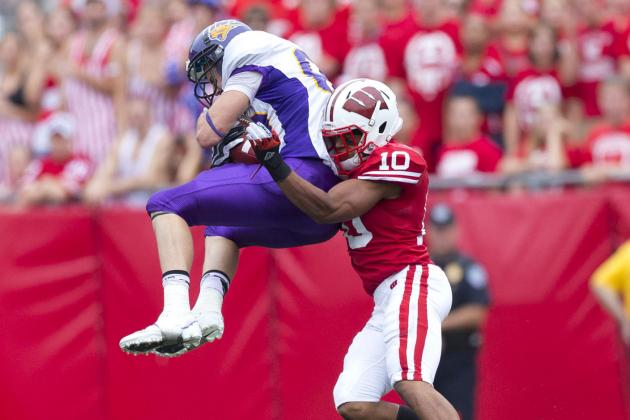 Jeff Hanisch-US PRESSWIRE

Theme Song: "Bounce"
Last season with Russell Wilson, we all became accustomed to watching Wisconsin blow away overmatched competition on a regular basis. However, that did not serve the Badgers well when it came time to play a close game, with come-from-ahead losses against Michigan State, Ohio State and Oregon in the Rose Bowl. The opener was going better than that with a 19-0 lead late in the third quarter.
Then Northern Iowa roared back into the game with three touchdowns in a ten-minute span. Although the Panthers' rushing game continued to be non-existent, Wisconsin's defense broke down and gave up a quick 200 yards in the passing game. That allowed Northern Iowa a chance to win the game only down by five and driving into Wisconsin territory late.
Wisconsin persevered and got the stop needed when the Panthers were threatening late in the game. Nevertheless, the defense should have never been put in that position to possibly lose the game. RB Montee Ball only managed 120 yards in heavy action, and James White only added 47 more. Danny O'Brien had a solid game with only four incomplete passes, so the running game will need to contribute more to put good teams away in future weeks.
As Bret Bielema stated after the game, sometimes you have to get burned to realize how to take care of business in the future. At least this time, Wisconsin did not lose a chance at a national championship with a loss to an FCS school. Look for a bounce back this week against Oregon State, which will be playing its first game of the season after a cancellation this weekend.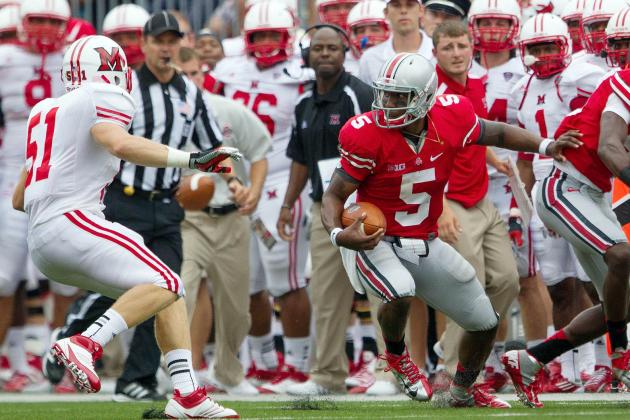 Rob Leifheit-US PRESSWIRE
Miller is a Juke Machine
Theme Song "Who Says You Can't Go Home"
Urban Meyer has come back home to where he began under Earle Bruce back in the 1980s, and the results are good so far. In a game that many prognosticators expected to be a moderately comfortable victory for the Buckeyes, Ohio State outdid itself by putting up a big 56 on the board. The result could have been even better, had the last play at the goal line in the first half gone for a touchdown.
That moment and the offense stalling out for the entire first quarter provide plenty of teaching moments this week for the Buckeye offense. QB Braxton Miller rushed for a record 161 yards, including a breathtaking 65-yard touchdown dash on an option play, and passed for 207 more. RB Carlos Hyde added 82 tough yards and looks to be ready to take on the majority of the carries until Jordan Hall returns from a foot injury.
Perhaps the best news of all was that Miller has a competent backup in Kenny Guiton, who is nearly as confident and dangerous as Miller. Unlike last season when Miller had no reliable second option behind him, he can feel confident running the ball and taking some risks when necessary for the betterment of the offense. While it remains alien to watch Ohio State play uptempo offense, the results speak for themselves, at least against the MAC.
The defense also put forward an admirable performance, generating three turnovers and holding Miami to negative yards rushing. This looked like the Ohio State of the past decade, when the Buckeyes ran roughshod all over the conference. Although that might not happen again this decade, Ohio State appears to be alive and well heading into a much tougher Week 2 against UCF.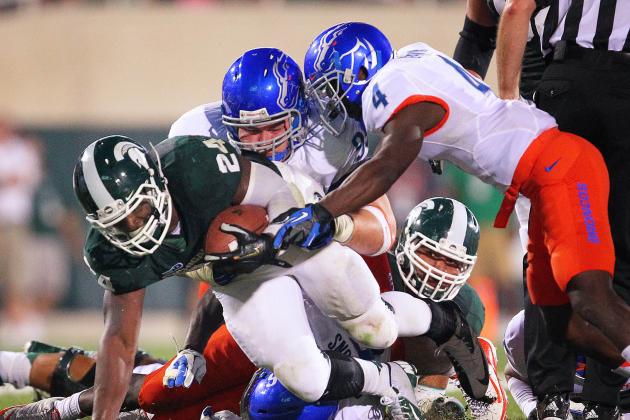 Mike Carter-US PRESSWIRE

Theme Song: "Misunderstood"
Michigan State won the Big Ten title two seasons ago, then lost in the Big Ten Championship last season, and still no BCS bowl invites have come for the Spartans. This year the team motto is to play for the Rose Bowl. That may seem silly looking with all the hype Nebraska and Michigan have while the Spartans have to replace Kirk Cousins.
Unfortunately, what most pundits do not understand is that conference championships are built on running games and defense, which is precisely where Michigan State shines in 2012. The defense is possibly the best in the country, and that was on full display in the marquee opener against Boise State. The Broncos have made a killing off BCS opponents in the past seven years, yet Michigan State won a hard-nosed game by holding Boise State to 206 yards of offense and 37 yards rushing.
The defense was so good that it was able to overcome four turnovers and ten big penalties, typical first-game jitters that the Broncos normally exploit. In addition, RB LeVeon Bell touched the ball fifty times, with 44 carries for 210 yards and another six receptions. New starting quarterback Andrew Maxwell threw for 248 yards, but had no touchdowns and three interceptions. That forced Bell to steal the show, and he did so gallantly.
As long as Bell stays healthy and Maxwell continues to mature, then Michigan State should coast through the next few games leading up to a big showdown at home against Ohio State. Boise State might not be a BCS buster this season, but do not be surprised if this win looks outstanding at the end of the season. In fact, it might be the difference in obtaining a BCS at-large berth, if a conference championship is not in the cards.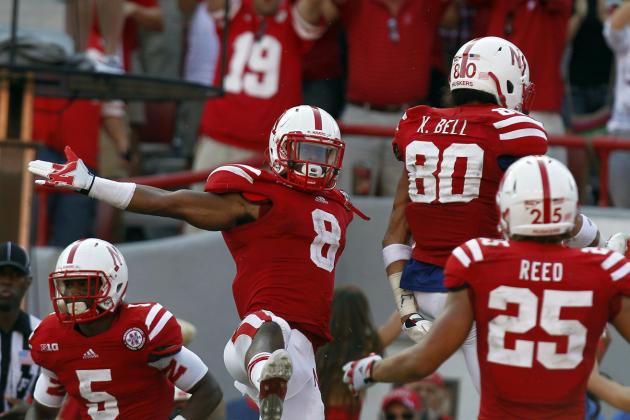 Bruce Thorson-US PRESSWIRE
Celebration Time in Lincoln! Debut No. 1!
Theme Song: "Bed of Roses"
Speaking of the Rose Bowl, Nebraska takes the top spot in the opening power rankings for 2012 and are right on track to appear in the Rose Bowl for the first time as a Big Ten member. The Ohio State and Michigan State wins were impressive in their own ways, but the Cornhuskers made a solid Southern Miss team look out of sorts in Memorial Stadium to start the 2012 season.
The Conference USA champion from a season ago only mustered 260 total yards, 75 of which was passing. The Blackshirts defense came out in the second half with fire and passion, using the crowd to disrupt the Golden Eagles and holding them to three second-half points. If the defense continues to play this well, people will quickly forget the three star players lost to the pros this past offseason.
Meanwhile, QB Taylor Martinez was putting on a passing exhibition. Remember that a Southern Miss defense with many of the same players shut down Case Keenum and the high flying Houston attack a season ago. Martinez threw for a career record 354 yards and five touchdowns, while also avoiding any turnovers.
He may need to keep up that level of production if RB Rex Burkhead is slow to come back from a knee injury sustained after just three carries. Ameer Abdullah managed to run for 81 yards and should be a suitable substitute while Burkhead gets healthy. However, if Martinez continues to play as well as he did on Saturday, the running totals will not matter until the tough opening duo of conference games against Wisconsin and Ohio State.
------
So that's it for Week 1! Check back next week, when we invite another big-time artist to come on down and give some themes following the Week 2 action. Thanks for reading!
Please follow David on Twitter, and keep the discussion going there and below!