Hot-Seat College Football Coaches: Winners and Losers from Week 1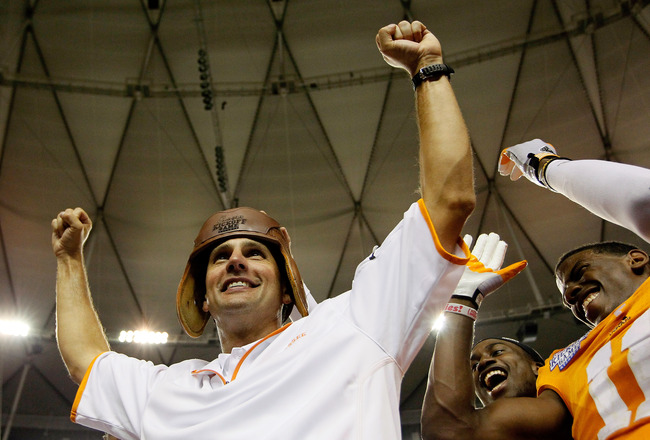 Kevin C. Cox/Getty Images
In the season opener, Derek Dooley might have bought himself some extra time at Tennessee with an impressive victory against NC State, but other coaches in the same boat weren't so lucky.
Being a coach is both a privilege and a curse. It's a privilege because these men get to lead a group of players onto the field in America's greatest game.
But because of the sport's popularity, these very same coaches are heavily scrutinized. Just look at Dooley following a 4-8 season. Two bad seasons in a row and you better believe that a coach will be placed on the hot seat.
So, after underachieving at their universities last season, here's how each of the hot-seat coaches' teams performed in the season opener.
Winner: Derek Dooley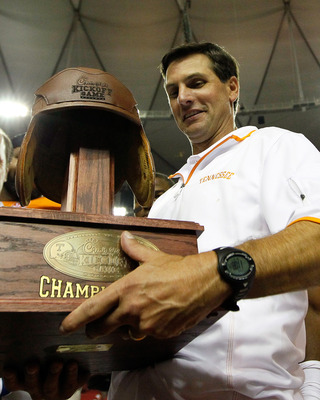 Kevin C. Cox/Getty Images
Mama Dooley must be so proud.
Dooley's Tennessee team didn't win an SEC conference game and didn't even beat a ranked team, but the Vols might have saved Dooley's job for the time being.
Tennessee not only looked great in their 35-21 victory against NC State, but they looked like a contender in the SEC East.
Why? Chalk it up to their athleticism and play-calling.
Dooley and his staff used Tyler Bray's skills to perfection. They stretched the field vertically with long passes, which allowed them to develop a rushing game with Raijon Neal and Marlin Lane.
The Vols defense was still shaky as they allowed 402 yards, but they made plays when they had to. And as long as this offense is racking up over 500 total yards, the Vols will be just fine.
Huge win for Dooley.
Loser: Frank Spaziani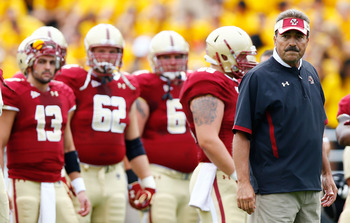 Jared Wickerham/Getty Images
Frank Spaziani needed a win against Miami in a bad way.
After an abysmal 4-8 season a year ago, Boston College needed to rebound forcefully, and a victory over a storied program like Miami would certainly give them a spark.
Unfortunately for Spaziani, that victory never came.
Despite out-gunning the Hurricanes, Miami defeated BC 41-32. The Eagles racked up 542 yards in the loss, but were upended by three costly turnovers.
After the loss, Spaziani is now 20-20 as the head coach of Boston College and it seems as if he'll be facing an uphill battle for the remainder of the season.
Winner: Tommy Tuberville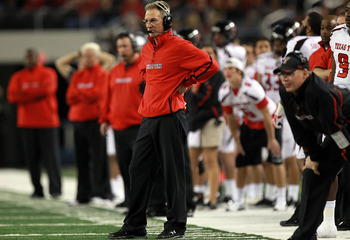 Ronald Martinez/Getty Images
Tommy Tuberville's impact at Texas Tech has been minuscule.
Tuberville holds a record of 13-12 as the head coach of the Red Raiders, which is not what the fans in Lubbock envisioned when they hired him.
For the sake of his job, hopefully he can make a bigger splash in 2012. His team certainly got off to a great start with a blowout victory against the Southland Conference's Northwestern State.
In the victory, the Red Raiders out-gained the Demons 500 to 84 in total yards and were in complete control for the entirety of the game.
This is still a win for Tuberville and his team, but because it was against an FCS opponent, it's a subtle one.
Loser: Jeff Tedford
Ezra Shaw/Getty Images
Jeff Tedford may be the the most successful coach in Cal football history, but his welcome is wearing thin.
Tedford is coming off of a 7-5 season, and that's following a 5-7 season with the Golden Bears in 2010. But with Zach Maynard and Keenan Allen returning to the offense, surely this team can make some noise in the Pac-12 this year, right?
Eh, hold the phone. Cal opened the season against Nevada, and they suffered a 31-24 loss to the Wolf Pack.
The worst part is Tedford's team has to rebound quickly in two weeks because his squad will face Ohio State and USC back to back.
All signs are pointing to another down-year for Cal, and that could cost Tedford his job.
Loser: Randy Edsall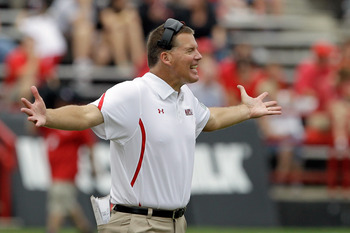 Rob Carr/Getty Images
Randy Edsall avoided a catastrophe.
Edsall and his Maryland club escaped by the skin of their teeth against William & Mary with a 7-6 victory.
Yuck.
Considering that Edsall is on the hot seat, one would think such a coach would take a win any way he can get it, but this looks terrible in the perception of your fanbase.
There's no reason why William & Mary should have a competitive game with Maryland, and there's absolutely no excuse for William & Mary gaining two more first downs than the Terps.
Maryland couldn't get their offense going and only managed to score seven points against the Tribe's defense, and quite frankly, that's embarrassing.
Keep Reading