Ohio vs. Penn State: What We Learned About the Nittany Lions from Week 1
Rob Carr/Getty Images
Penn State let a game slip away from them in the second half against Ohio.
Bill O'Brien's head coaching debut at Penn State started off well, but Ohio University rewrote the script in the second half to pick up the opening day victory, 24-14. While Penn State stalled and faltered against a solid Ohio team in sun-soaked Beaver Stadium Saturday, there may have been some positives to look fondly upon. Of course, the negatives still outweighed those positives in the end.
After just one week, there are no definitive takes on what Penn State is or isn't, but there are some questions that still need to be answered on both sides of the football.
Will any of these answers come in Week 2's matchup with Virginia?
Begin Slideshow

»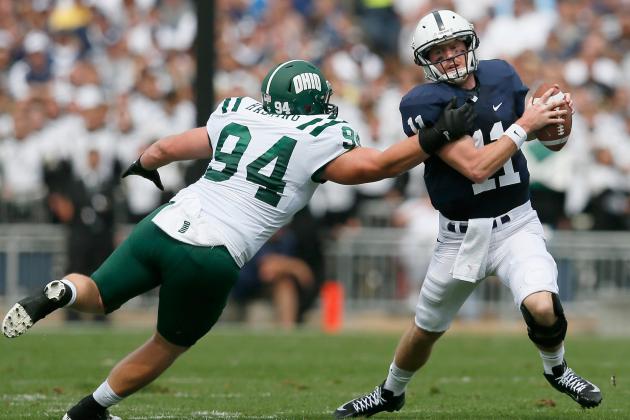 Rob Carr/Getty Images

Changing offensive philosophies was not going to be an overnight project for Penn State. While you can only do so much in practices, you cannot really know what you have to work with until going up against an opponent.
Penn State's offense showed some good things early on against the Bobcats, but stalled in the second half as though they ran out of steam or hit a brick wall. The principles for the Bill O'Brien offense were evident early, looking to pass early and often while spreading the football around. But it will take some time to get the tight ends more in the mix and to find some players who routinely can be counted on.
How much improves from Week 1 to Week 2 should be a good litmus test to see how O'Brien and his staff can make any necessary adjustments moving forward.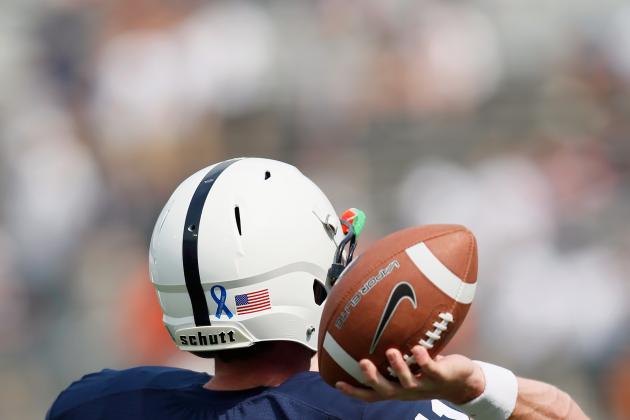 Rob Carr/Getty Images

The reason the offense got off to a decent start in the first half can largely be attributed to the production of quarterback Matt McGloin.
Over the past two seasons, McGloin has been an erratic player who takes some risks in trying to force a play to happen. That never seemed to be the case Saturday against Ohio, especially in the first quarter when McGloin passed for 130 yards and a touchdown.
But like the rest of the offense, McGloin's production dipped after the first half. He had one play where he may have tried to force something under pressure, but even the best quarterbacks will do that from time to time. By the end of the game McGloin had more pedestrian statistics in the box score, and he was held back by a number of dropped passes.
Overall, though, McGloin looked to be fitting in well with what the offense was trying to do. With young and inexperienced wide receivers trying to develop, this may have been expected.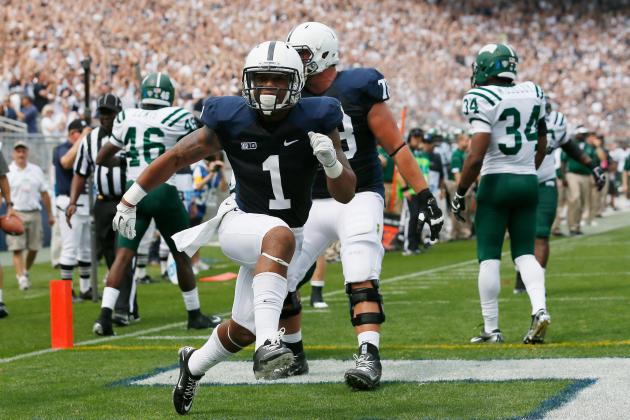 Rob Carr/Getty Images

The running game at Penn State took a big hit when Silas Redd decided to transfer to USC this season. With the departure, Bill O'Brien immediately and confidently started hyping up sophomore Bill Belton as his go-to guy running the football.
Belton showed some good moves Saturday, spinning away from a couple of tackles for extra yards along the way, but his hands were a visible problem in key situations.
Penn State's opening drive was killed as a result of Belton fumbling the football and Ohio recovering just as the Nittany Lions were about to move into the red zone, and a key dropped short pass prevented Penn State from picking up a first down at another point. Belton also had to leave the game with an ankle injury.
Will this undersized running back be able to bounce back and prove to be the best option to hand the football off to? Penn State sure hopes so.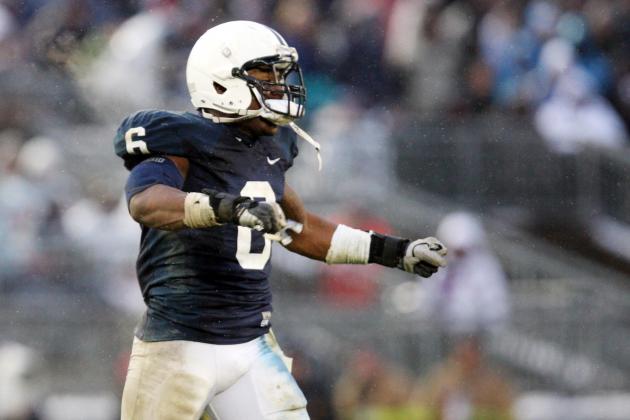 Rob Christy-US PRESSWIRE

Bill O'Brien kept mum on who would be returning kicks leading up to the season opener.
Maybe this was why.
Starting outside linebacker Gerald Hodges was used to return kickoffs and punts, although the results were less than desirable.
O'Brien said after the game they had been using Hodges to return kicks often in camp and mentioned that Hodges is a good athlete. He is right, having previously played quarterback and defensive back in high school and putting in the work to convert to linebacker.
Nobody questions the athletic ability of Hodges, but the need to use him returning kicks could say a couple of things about the special teams options.
First, the special teams returner pool is shallow, with depth issues in the defensive secondary, wide receiver and running back positions that usually send players to return kickoffs and punts. This would almost force Penn State to use a player who normally would not be tasked with the responsibility.
Second, whoever else has been tried out at special teams returns in Penn State practices has been nothing short of an abysmal failure. Why else would a team send out an All-American-worthy linebacker with NFL aspirations to return kickoffs and punts?
For what it is worth, Hodges fielded two punts for a loss of one yard and a lost fumble, and he returned one kickoff for 12 yards rather than opting for the touchback (which places the football at the 25-yard line this season).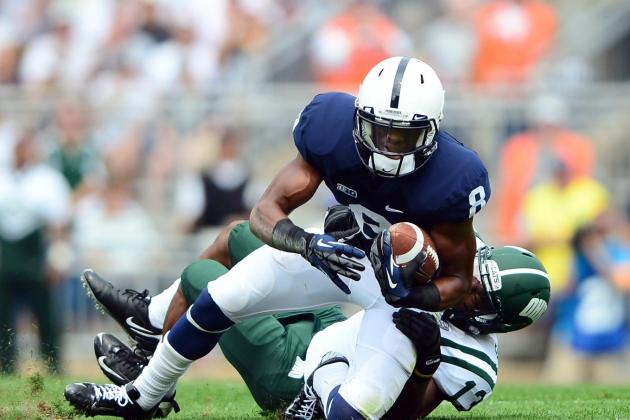 Andrew Weber-US PRESSWIRE

Allen Robinson caught nine passes for 97 yards on Saturday, emerging as the most likely candidate to become Penn State's go-to wide receiver.
However, dropped passes and an inability to keep things going in the passing game were signs that Penn State is still in search of finding its top playmakers to count on when needed.
At one point in the second half, McGloin completed two passes for forward progress, resulting in a total gain of one yard. Deep passes failed to result in big gains against Ohio's solid secondary.
Is there potential in the offensive passing game? Without a doubt, but right now Penn State does not know who its go-to guy will be on 3rd-and-long.
Add it to the list of questions that will be answered as the season progresses.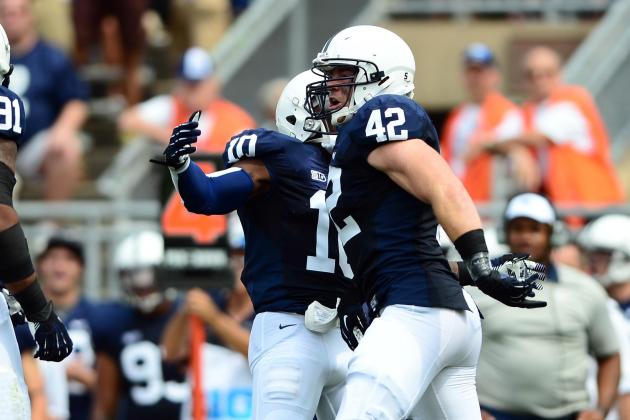 Andrew Weber-US PRESSWIRE

While the defense was disappointing for Penn State and unable to make the necessary adjustments in the second half when it seemed Ohio figured things out, the play of the linebackers was still the staple of what they do. The starting linebacker trio of Michael Mauti, Gerald Hodges and Glenn Carson combined for 31 tackles.
Mauti led the defense with 12 tackles, the fourth time he recorded double-digit tackles in his career. Hodges, in addition to playing special teams, made 11 tackles. It was the fifth time he recorded 10 or more tackles in a game.
The starting trio of linebackers was the only unit on the team that started together in last year's season opener, and Mauti showed that he is probably as close to 100 percent as he could be after missing most of the 2011 season with a torn ACL.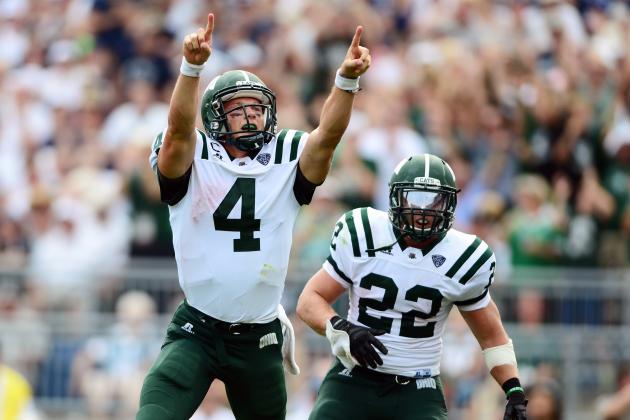 Andrew Weber-US PRESSWIRE

While Penn State losing to a team like Ohio sounds out of the ordinary, it probably should not be much of a surprise. Sure, this is just the second time ever Penn State has lost to a team from the MAC, but given the recent transfers and graduation losses at Penn State—not to mention the fact that Ohio was returning with a decent offense and defense with MAC championship aspirations—this was a good recipe for the visiting Bobcats.
Ohio QB Tyler Tettleton may be small (walking by him on the sideline I noticed he would have to look up to see me eye-to-eye), but he is as strong a competitor as any. He quietly put up some solid passing numbers before hitting his stride in the second half in helping Ohio rally and take control of the outcome. A lucky tip to a receiver ended up going for a long touchdown play that changed the momentum around and gave Ohio some confidence.
Tettleton's touchdown pass late in the fourth quarter also was the cherry on top of a strong opening game.
Now, Ohio's schedule gets easier with a favorable non-conference schedule and a MAC slate ahead of them. Can these MAC favorites go undefeated and maybe even make a case for a MAC team to get in to the BCS?
Well, let's not go quite that far just yet. Let's take things one game at a time for now.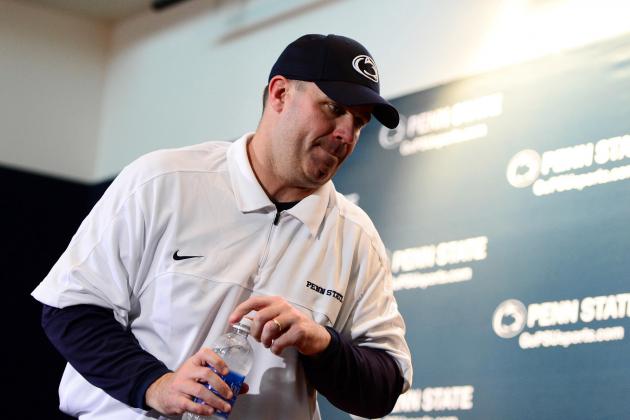 Andrew Weber-US PRESSWIRE

Nothing was put on a more clear display than the fact that Bill O'Brien absolutely, positively hates to lose.
Sure, every coach hates to lose, but O'Brien's postgame press conference was a demonstration of just how much it sickens him.
O'Brien was short with reporters looking for choice quotes for fluff news articles that had little to nothing to do with the actual game. O'Brien had little patience for questions like that, and he was quick to take the blame for the performance on his own shoulders. He understands what he is working with, and he is already tired of some writing off his program.
What O'Brien showed is that losing is not going to be accepted at Penn State, regardless of the situation and circumstances. O'Brien tried to get up and leave the press conference when he felt he was done, but a late question kept him in his chair. The look on his face was stern and determined.
O'Brien is going to lose games over the next nine years, and many suspect that things will continue to get tougher over the remainder of the four-year NCAA postseason ban. O'Brien has been through a lot in his personal life and in just nine months as a head coach at Penn State. If he was that sour after losing his coaching debut, it should tell you just how much he hates to lose.
If there is one bright spot in what seemed like a detestable situation, it is that Penn State has a coach who never wants to lose another game and will put in the work to ensure it doesn't happen again. Penn State will obviously lose again, but if the players and staff took note of O'Brien's reaction after one game, they won't want it to happen again any time soon.
Kevin McGuire is the host of the No 2-Minute Warning podcast, managing editor of Nittany Lions Den and a member of the Football Writers Association of America and National Football Foundation.