Fantasy Rankings for College Football?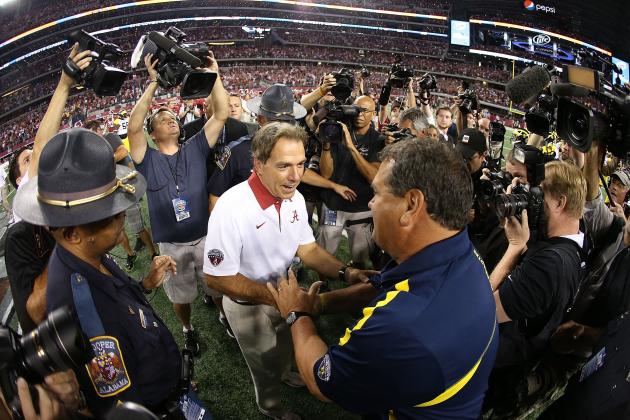 Leon Halip/Getty Images
Nick Saban and Brady Hoke
Imagine Matt Barkley (USC), Marcus Lattimore (South Carolina), De'Anthony Thomas (Oregon) and Sammy Watkins (Clemson) on the same team.
Fantasy football has gripped the imagination of our 30-something population like a hit tune. Just about every office space, teacher's lounge, plant lunchroom and corporate cafeteria is buzzing about fantasy team draft picks as the start of the NFL football season is less than a week away.
So, why not an NCAA fantasy football league? College football has already started this Labor Day weekend with 122 FBS teams, but the 2012 season will not be taken into account.
Let's get started.
Using a common format required for a starting lineup, here's one team:
Quarterback: Geno Smith (West Virginia)
Running Backs: Joseph Randle (Oklahoma State) and Rex Burkhead (Nebraska)
Wide Receivers: Keenan Allen (California) and Devin Street (Pittsburgh)
Flex RB/WR: Robert Woods (USC)
Tight End: Jordan Najvar (Baylor)
Placekicker: Chris Boswell (Rice)
Team Defense: Georgia
Of course, for entertainment purposes only, who would be on your fantasy roster?
The following slideshow lists the top 10 draft picks by position with help from ESPN's Blue Ribbon Yearbook Conference Predictions.
Begin Slideshow

»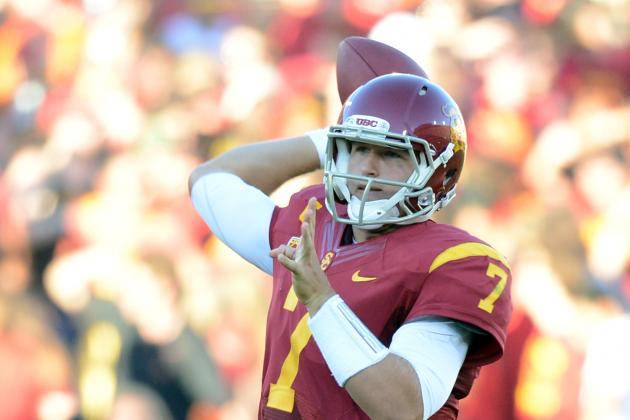 Harry How/Getty Images
Matt Barkley
Matt Barkley is one of the Heisman favorites. He is surrounded by talent at all the skill positions. Last season he passed for 3,528 yards and 39 TDs with seven picks. He completed 69.1 percent of his passes and was sacked only eight times.
Landry Jones is a steady performer. He is a three-year starter with career video-game numbers. Jones has thrown for 12,379 yards and 93 TDs. But he has thrown 41 interceptions.
If you are looking for a dual-threat quarterback, Denard Robinson is your guy. He passed for 2,173 yards and 20 TDs and ran for nearly 1,200 yards and 16 scores.
1. Matt Barkley, USC Trojans
2. Landry Jones, Oklahoma Sooners
3. Denard Robinson, Michigan Wolverines
4. Teddy Bridgewater, Louisville Cardinals
5. Tajh Boyd, Clemson Tigers
6. Tyler Wilson, Arkansas Razorbacks
7. Derek Carr, Fresno State Bulldogs
8. Alex Carder, W. Michigan Broncos
9. Geno Smith, West Virginia Mountaineers
10. David Piland, Houston Cougars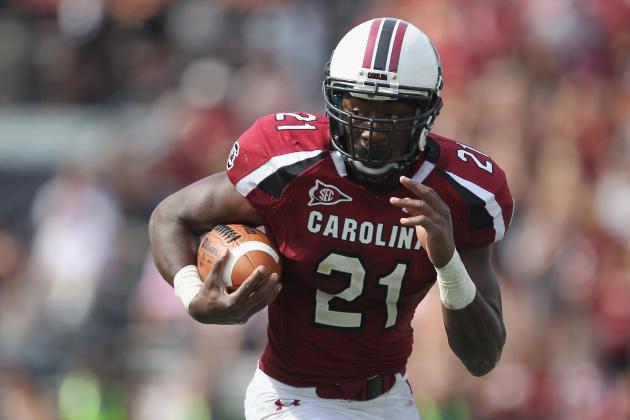 Streeter Lecka/Getty Images
Marcus Lattimore
Showing no ill effects from last year's knee injury, Marcus Lattimore is primed for a breakout season. He has career totals of 2,125 rushing yards and 29 TDs.
Montee Ball is one horse to let out of the stable. He rushed for 1,923 yards and 33 TDs, averaging a nifty 6.3 yards per clip. In addition, he caught 24 passes for 306 yards and six TDs.
If you need an all-purpose back, De'Anthony Thomas is the man. As a freshman, Thomas ran for 595 yards (10.8 per carry) and seven TDs. He also had 46 receptions for 605 yards and nine scores.
1. Marcus Lattimore, South Carolina Gamecocks
2. Montee Ball, Wisconsin Badgers
3. De'Anthony Thomas, Oregon Ducks
4. Rex Burkhead, Nebraska Cornhuskers
5. Joseph Randle, Oklahoma State Cowboys
6. Ray Graham, Pittsburgh Panthers
7. DeLeon Eskridge, San Jose State Spartans
8. Kedrick Rhodes, Florida International Golden Panther
9. Zach Line, Southern Methodist Mustangs
10. Kerwynn Williams, Utah State Aggies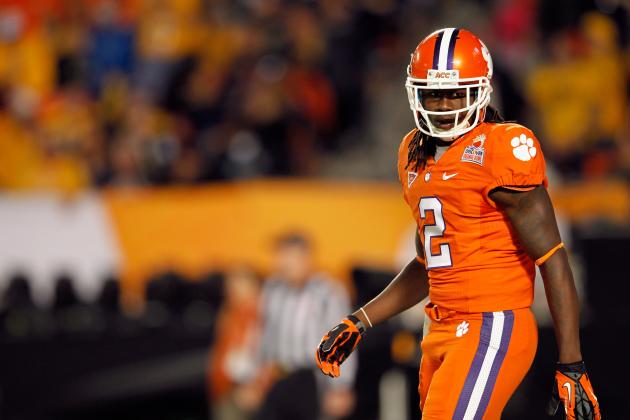 Mike Ehrmann/Getty Images
Sammy Watkins
Sammy Watkins is a game-breaker. Last year he had 82 receptions for 1,219 yards and 12 TDs. Watkins averaged 14.9 yards per catch.
Keenan Allen is a go-to receiver with huge numbers. He caught 98 passes for 1,343 yards and six TDs.
Tavon Austin has put up remarkable career stats and is projected to be one of the top receivers in the Big 12. He has 174 career receptions for 2,124 yards and 17 TDs.
1. Sammy Watkins, Clemson Tigers
2. Keenan Allen, California Golden Bears
3. Tavon Austin, West Virginia Mountaineers
4. Marquise Lee, USC Trojans
5. Robert Woods, USC Trojans
6. Kenny Stills, Oklahoma Sooners
7. Devin Street, Pittsburgh Panthers
8. Matt Miller, Boise State Broncos
9. Noel Grigsby, San Jose State Spartans
10. Martel Moore, Northern Illinois Huskies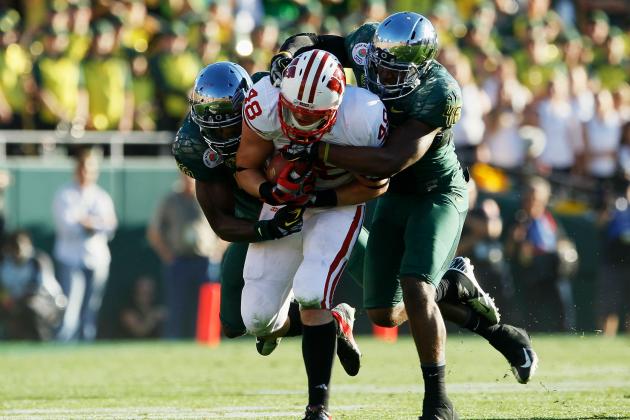 Jeff Gross/Getty Images
Jacob Pedersen
The tight end position isn't going to score a lot of points in fantasy football, but it is a key roster spot when it comes to blocking for the running backs and protecting the quarterback.
Jacob Pedersen isn't a highlight reel, but he can score in the red zone. Last year he caught 30 passes for 356 yards and all eight of TDs came in the red zone.
Jordan Najvar made 15 catches for 146 yards and two TDs.
Gavin Escobar had 51 catches for 780 yards and seven TDs as a junior.
1. Jacob Pedersen, Wisconsin Badgers
2. Jordan Najvar, Baylor Bears
3. Gavin Escobar, San Diego State Aztecs
4. Ryan Griffin, UConn Huskies
5. Matt Furstenberg, Maryland Terrapins
6. Jake Stoneburner, Ohio State Buckeyes
7. Philip Lutzenkirchen, Auburn Tigers
8. Jack Doyle, Western Kentucky Hilltoppers
9. Ryan Otten, San Jose State Spartans
10. Austin Seferian-Jenkins, Washington Huskies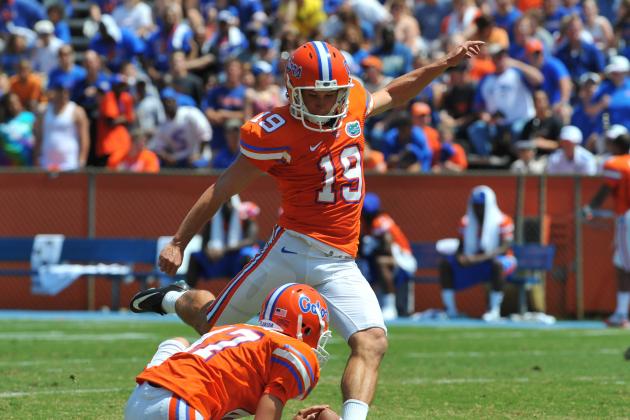 Al Messerschmidt/Getty Images
Caleb Sturgis
Kickers are like golfers. The key is staying down on the ball and following through. It's the only position where girls have tried to make the team (Mo Isam from LSU, and Lauren Luttrell out of Virginia Tech).
Caleb Sturgis is an accurate kicker with lofty career totals. He is 44-of-57 in field goals and 87-of-91 in PATs. He has scored 219 points.
Andre Heidari converted 15-of-17 field goals and 50-of-50 PATs, scoring 95 points last season.
Brett Maher scored 100 points, including 19-of-23 field goals and 43-of-44 extra points.
1. Caleb Sturgis, Florida Gators
2. Andre Heidari, USC Trojans
3. Brett Maher, Nebraska Cornhuskers
4. Quinn Sharp, Oklahoma State Cowboys
5. Dustin Hopkins, Florida State Seminoles
6. Maikon Bonani, South Florida Bulls
7. Matt Weller, Ohio Bobcats
8. Parker Harrington, Air Force Falcons
9. Chris Boswell, Rice Owls
10. Matt Nelson, Louisiana Tech Bulldogs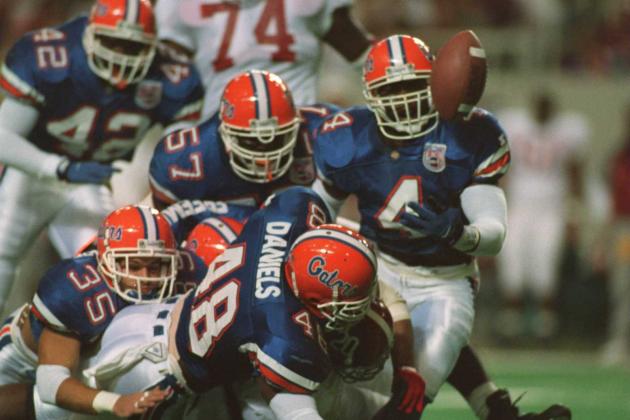 Doug Pensinger/Getty Images
Alabama Defense
Defense wins championships and can score points in fantasy football. Two points are awarded for a turnover, a safety and each blocked kick. Each sack is worth one point, and six points are awarded for each touchdown scored by the defense.
The Alabama defense was tops in the nation last year. Expect a similar performance this season. The Crimson Tide allowed a measly 8.8 points and 191 yards of total offense per game and made 13 interceptions.
The LSU defense is another stalwart unit. The Tigers allowed 10.5 points and 252 yards of total offense per game and made 18 interceptions.
Florida State allowed 15.2 points and 274 total yards per game and made 16 interceptions.
1. Alabama Crimson Tide
2. LSU Tigers
3. Florida State Seminoles
4. Wisconsin Badgers
5. Virginia Tech Hokies
6. Georgia Bulldogs
7. Michigan State Spartans
8. Michigan Wolverines
9. South Carolina Gamecocks
10. Mississippi State Bulldogs