Who Is More Likely to Win Next National Title, USC Trojans or Oregon Ducks?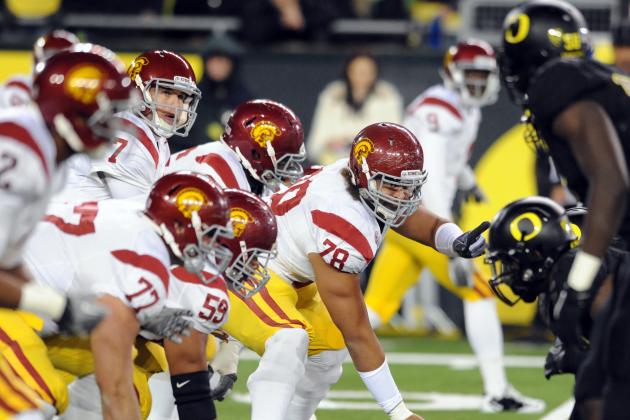 Steve Dykes/Getty Images

Who will win this year's national championship?
Well, if it is not going to be an SEC team for the seventh year in a row, there is a good chance it will be either the Oregon Ducks or USC Trojans. Both squads enter the year as top-five teams, both are considered the best two teams in the watered-down Pac-12 and many are receiving picks to represent the conference in this year's big game.
But who has the better shot at not only winning the Pac-12 title, but the national championship this season?
If I had to make a pick now in the month of August, here is the way I am leaning and the overall decision between these two teams.
Begin Slideshow

»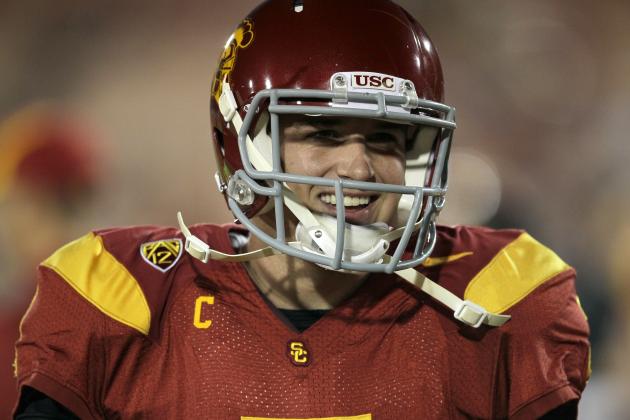 Stephen Dunn/Getty Images

USC
The Trojans will be led by quarterback Matt Barkley, who is an overwhelming Heisman candidate if you haven't heard of him. He completed 69 percent of his passes last season and threw for over 3,500 yards and 39 touchdowns. He is widely considered the best quarterback in the country by many and will likely be the first quarterback taken in next year's NFL draft.
Oregon
The Oregon Ducks went with redshirt freshman Marcus Mariota, who fits perfectly in this Chip Kelly offense. He is a dual-threat quarterback, who puts good velocity on the football and does a solid job of keeping his eyes downfield. While I believe he has a chance to be more successful than the guys before him, he is still a freshman and, of course, has things to learn before the Ducks even think about having an advantage at this position.
Advantage: USC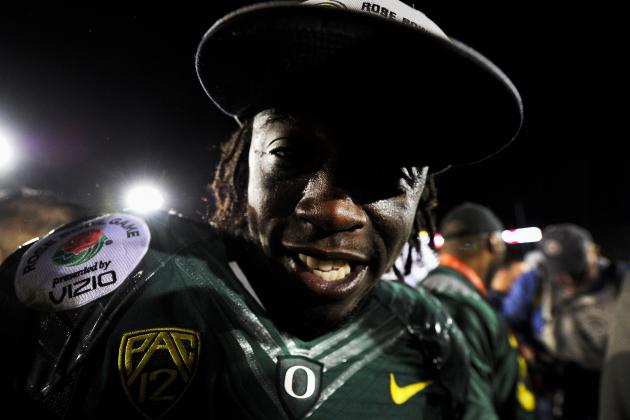 Kevork Djansezian/Getty Images

USC
The Trojans have a top-heavy backfield with two 1,000-yard rushers in Curtis McNeal and Penn State transfer Silas Redd. McNeal is the smaller back who is capable of breaking off long runs when he gets into the open field, while Redd is the tough-nosed back who will simply run you over, but he also has underrated quickness and agility. Although, like most positions on this USC roster, the depth isn't as great as it could be.

Oregon
With LaMichael James now gone, enter Kenjon Barner, who has averaged over six yards a carry in each of the last three years as a backup. He is a similar build to James and has the same quickness and big-play ability that the Ducks' former starter had.
Then, of course, the Ducks also have De'Anthony Thomas coming out of the backfield, who is college football's most explosive player. He led the country with a total of 19 runs over 20 yards last season.
Advantage: Oregon (If Tre Madden was not out for USC, the Trojans would receive the advantage, but that explosive combination for Oregon is just too good.)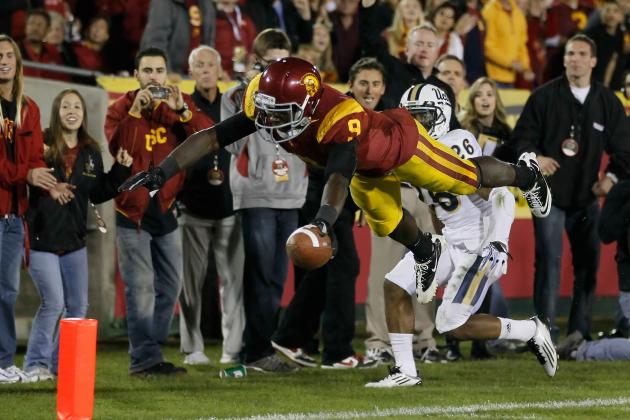 Jeff Gross/Getty Images

USC
Robert Woods finished fifth in the country last season with 111 receptions and was eighth with a 107.7 yards-per-game average. He has a connection with quarterback Matt Barkley unlike any other in college football, as he went a total of four games with double-digit receptions.
Marqise Lee may only be a sophomore, but with his leaping ability, sure hands and size, he will be a first-round pick in a future NFL draft. The kid is that good and finished his freshman season with 73 repetitions for 1,143 yards and 11 touchdowns.
The Trojans also have solid depth at this position with players such as George Farmer, Victor Blackwell and De'Von Flournoy.
Oregon
The Ducks will live off of the ground game this season, as depth at the receiver position is scary thin. Josh Huff returns as the leading receiver, as he caught 31 passes last year for 430 yards. You have to like the potential of Daryle Hawkins with his height at 6'4", but he only has nine receptions in the last two seasons combined.
Keanon Lowe is expected to be the third receiver, but much like Hawkins, he hasn't proven himself on the offensive side of the ball. Tight end Colt Lyerla will be used quite a bit in this offense, finishing last year with five touchdowns on only seven receptions.
Still, like the quarterback position, this is all Trojans by far.
Advantage: USC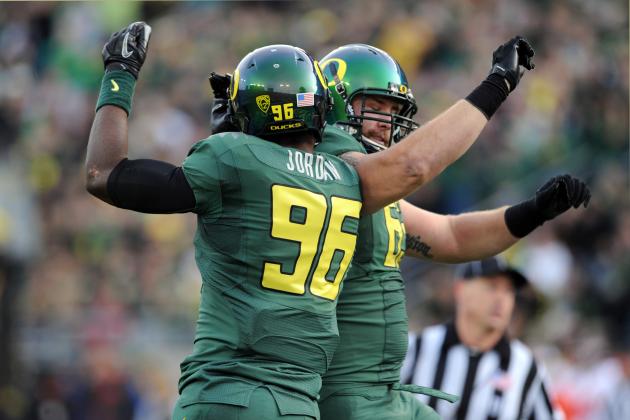 Steve Dykes/Getty Images

USC
Really, the only weakness when it comes to this USC defense is the defensive line. I'm not sure where the consistent pressure up front is going to come from. The linebacker position should be better off this season, as Lane Kiffin started three freshmen last year, all of whom are part of the starting unit heading into the opening game.
Led by safety T.J. McDonald, who was an All-Pac-12 and All-American selection last season, the secondary is the strongest part of this side of the ball. Jawanza Starling provides even more experience, and cornerback Nickell Robey is quickly developing into one of the premier shutdown corners in this league.
Oregon
Unlike USC, Oregon has a great defensive line that features three returning starters in Dion Jordan, Taylor Hart and Wade Keliikipi. The Ducks finished first in the Pac-12 last season and tied for third in the country with 45 sacks.
The linebacker position is also looking good, with starters Kiko Alonso and Michael Clay returning for another year. Fourth-year starter John Boyett remains in the secondary and there is depth at the corner position with Terrance Mitchell and Ifo Ekpre-Olomu leading the way.
Both of these offenses receive the majority of the credit, but it is the defense that will decide if either one of these teams can win it all. And because the Ducks can rush the passer consistently, I give Oregon the slight edge in this category.
Advantage: Oregon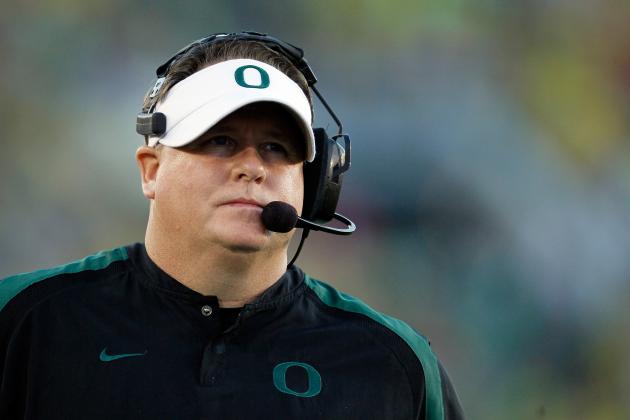 Jeff Gross/Getty Images

USC
When you first glance at the USC schedule, you would think the Trojans will be able to run the table. But taking a trip to Stanford, having back-to-back road games against Utah and Washington and an end-of-the-season showdown against Notre Dame are not easy tasks. Not to mention, the California Golden Bears are a team that heads into the 2012 season underrated as well.
Of course, the Trojans should enter all of those games as the favorite, but there are some trap games hidden in that schedule this season.
Oregon
Oregon, on the other hand, does not have to play a talented Utah team or Notre Dame this season. The Ducks will, however, have to play Stanford and Washington, but they were lucky enough for both of those meetings to be scheduled in Eugene.
Other than the road game against USC, there really isn't a game on this Ducks schedule that I see Oregon losing. The same goes for the Trojans, but there is a much higher possibility that the Trojans can slip up than there is with Oregon.
Advantage: Oregon
Steve Dykes/Getty Images

Oregon won the total advantages by a slim margin of 3-2, so they should have won the overall verdict, correct?
Wrong.
The media overwhelming picked USC to win the Pac-12, and I'm going to have to agree with them.
When breaking these teams down, you quickly realize they are very close in all categories. They both have offenses that will score oodles of points this season, the defenses are extremely underrated and they are both head and shoulders better than any other team in the Pac-12. These two teams will meet twice this year, which shouldn't disappoint anyone who is a college football fan.
But while trying to pick these two teams apart is like splitting hairs, there is one clear-cut advantage that the USC Trojans have, and that is quarterback Matt Barkley. Any time you are torn between two clubs, you always go with the better quarterback, and there is no question who that is in this matchup of two Pac-12 powerhouses.
Barkley is just such a difference-maker on the offensive side of the ball and is capable of leading his team to victory in any situation. It is so hard to pick against the Trojans with him being the leader of this team, but then again, ask me this question in November and you may have a different answer.
Verdict: USC