Michigan State Football: 7 Keys for Victory over Boise State Broncos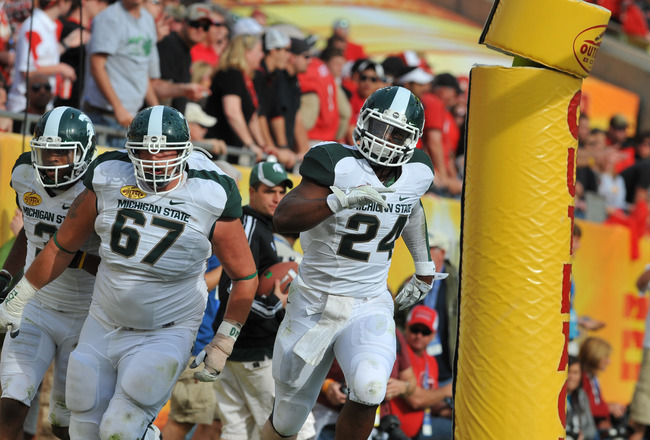 Michigan State ended last year with a win over Georgia in the Outback Bowl. Now, they're trying to win a Big 10 title after losing starting quarterback Kirk Cousins to the NFL.
Al Messerschmidt/Getty Images
Beat Boise State.
That's the mantra for the Michigan State Spartans this week as they prepare to meet the No. 22 Broncos Friday in East Lansing.
How does the game break down? What are the keys for the Spartans to come out with a victory?
Michigan State comes into the contest ranked No. 13 in the country but is missing a lot of talent from last year.
Gone are Kirk Cousins and Jerel Worthy, while Boise State has to get used to life without Kellen Moore.
All told, Friday's matchup should be very interesting. Here are seven keys for the Spartans' 2012 season opener.
Protect Quarterback Andrew Maxwell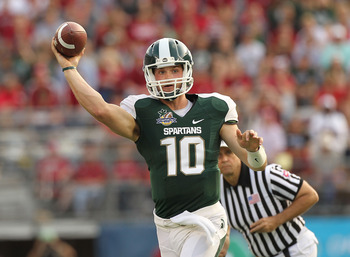 Andrew Maxwell is in his first season as the starter for Michigan State.
Mike Ehrmann/Getty Images
It seems simple enough, but protecting quarterback Andrew Maxwell will be the No. 1 key for a Spartans win.
Against Georgia last year in the Chick-Fil-A Kickoff Classic, the Broncos sacked Aaron Murray six times. The Spartans can't allow that right off the bat for Mawell. If so, they're in real trouble.
By keeping the pressure off Maxwell, it will allow him to settle into the game and get the Spartans out in front.
If there is a hole on the offensive line, it would be at left guard with Jack Allen, who is a redshirt freshman. Allen and his backup (Donavon Clark) have no experience and are going to be tested early.
An Effective Pass Rush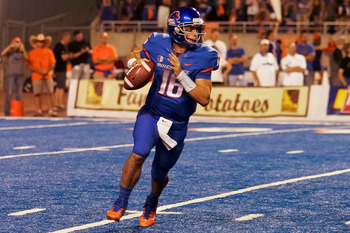 Joe Southwick takes over the reigns in Boise for Kellen Moore.
Otto Kitsinger III/Getty Images
When you sit behind a player like Kellen Moore, you're not going to get a lot of playing time.
Joe Southwick will now take over a Boise team that returns five starters on offense. It helps the Spartans that only two are on the offensive line.
If MSU can take advantage of that inexperience and get to Southwick, we could be in for a blowout.
The Spartans have six capable upperclassmen in the starting front seven, and I expect them to blitz early and often to welcome Southwick in his new role.
Let's see how well the young Boise offensive linemen hold up. If they crumble, it's going to be a long night.
Let Le'Veon Bell Be Your Workhorse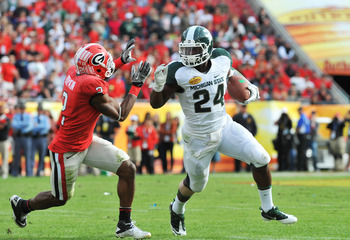 Le'Veon Bell rushed for 948 yards last year and should be the workhorse for the Spartans' running game this year.
Al Messerschmidt/Getty Images
The Big Ten is slowly becoming more of a running conference, and Michigan State will continue that push even more this year.
With Maxwell trying to get his feet under him, Le'Veon Bell is going to be asked to be a workhorse. Now, I don't believe he has to rush for 100 yards for the Spartans to win, but it would be nice.
Bell rushed for 948 yards and 13 touchdowns last year, but he was also good for 35 receptions and 267 yards out of the backfield, so the Broncos won't be able to simply load up the box.
Taking full advantage of Bell is a distinctly winning strategy, as Boise State has no starters returning in their front seven.
Also look for the Spartans to throw Larry Caper and Nick Hill into the mix to give the Broncos a different look.
Show Your Experience
The Spartans have 13 starters returning from last year.
Andy Lyons/Getty Images
With 13 returning starters, Michigan State has a big experience advantage—five on offense, eight on defense.
The Broncos return a strong group in the secondary with four of five starters returning. Outside of that, there's not much experience, especially on the defensive line and in the linebacking corps.
The game could come down to how well Michigan State's experienced offensive line blocks the inexperienced front seven of Boise State.
If those experienced players block the same way they did last year, Le'Veon Bell is going to have some huge holes to run through.
William Gholston Has to Feast in the Backfield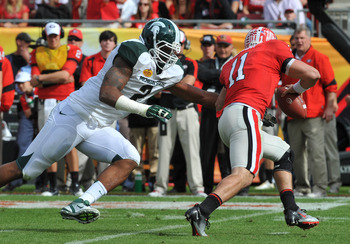 William Gholston was a beast last year on the defensive line as he garnered 70 tackles and five sacks.
Al Messerschmidt/Getty Images
William Gholston might very well be the leader of the defense this year for the Spartans.
The first step in taking that leadership role is by doing it on the field. His effort and play will trickle down to his teammates, possibly setting up a field day for the defense.
He's going to have to get into the backfield and cause havoc. With a green quarterback for the Broncos, that might not be hard to do.
Gholston racked up 70 tackles, five sacks and 16 tackles for loss last year. Those aren't bad stats for a defensive lineman.
The junior is expected to lead the front four for the Spartans and will be looking to start the season off with a bang.
I'm thinking at least two sacks and three more tackles for loss to start out. Wouldn't that be nice?
Don't Fumble the Football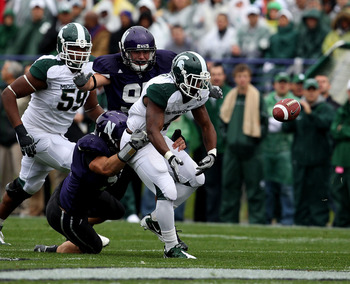 Securing the football is important in any football game.
Jonathan Daniel/Getty Images
Ball security is important in any football game, from pee-wee to the NFL.
For those who have seen the movie Remember the Titans, you'll remember a great quote from Coach Herman Boone (played by Denzel Washington):
We will be perfect in every aspect of the game. You drop a pass, you run a mile. You miss a blocking assignment, you run a mile. You fumble the football and I will break my foot off in your John Brown hind parts...and then you will run a mile. Perfection. Let's get to work.
Fumbling/turnovers is the No. 1 sin in football. If you can't maintain possession of the ball, not only have you committed the ultimate sin, but you have also hurt your team.
I know you're saying I'm simply stating the obvious, but ball security is a constant topic of conversation throughout the season.
By limiting any and all Boise State opportunities for points off turnovers, Michigan State can quickly suck the life out of an inexperienced squad.
Remember It's Four Quarters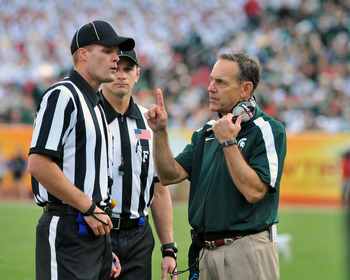 Michigan State head coach Mike Dantonio will have to be patient with his new starting quarterback this year.
Al Messerschmidt/Getty Images
Sometimes in a big game to start the season, teams will panic if they get behind early and don't score on their first few possessions.
If this happens against the Broncos, it's OK—the world isn't going to end for the Spartans.
Being down after the first quarter, or even halftime, wouldn't be a huge surprise. If they keep plugging away, they'll eventually catch up and pass the Broncos.
The main thing Michigan State has to remember is that it's four quarters of football. If you stick to the plan and execute, there's no doubt the Spartans will come out on top.
Keep Reading