Some may consider it unfair that a ton of the Michigan Wolverines' national championship hopes are riding on the season opener, but it's the reality.
If the No. 8-ranked Wolverines lose to the No. 2-ranked Alabama Crimson Tide, their chances to play for the ultimate prize will have taken a huge blow.
They would virtually have to run the table through the remaining 11 games just to be in the conversation. That schedule includes Michigan State, Nebraska, and of course Ohio State in the finale.
That is a ton of pressure for the Wolverines early in the season.
That said, I believe the aforementioned scenario will become Michigan's reality. I can't see the Wolverines knocking off the Tide—even on a "neutral" field.
Even with Alabama ushering in a young defense, man for man the Wolverines can't match Bama. Denard Robinson is becoming a more complete QB, but his speed is still what makes him special.
Against the athletes the Tide have on defense, he won't look as fast.
This isn't to say the Wolverines will be blown out. I don't believe that will happen, but I expect to see the Tide's speed on defense stifle Michigan in a close first half.
In the second half, the dominant Tide O-Line will control the line of scrimmage, and they will pound Michigan's fatigued front seven.
My prediction is a 21-10 victory for Bama, and an 0-and-1 start for the Wolverines.
Here are two other teams that will find the early going tough:
Auburn Tigers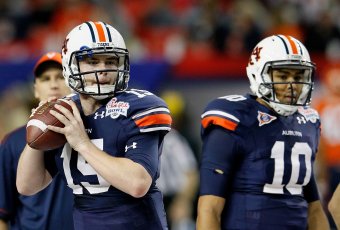 Kevin C. Cox/Getty Images
Auburn is set to take on a team that I consider to be a true sleeper for the 2012 season. The No. 14-ranked Clemson Tigers are a team to be reckoned with.
Auburn has some talent, but they are largely retooling. The QB-situation with Kiehl Frazier isn't exactly scary, and though I like Onterrio McCalebb, the team will miss Michael Dyer's power running style.
Will either of these teams win their opener?
The Auburn defense will be under tremendous pressure to stop a high-powered Clemson offense that averaged 33.6 points per game in 2011.
Clemson will be without suspended wide receiver Sammy Watkins per Andrea Adelson of ESPN, but the nation will find out how good the rest of the Clemson Tigers' receivers are.
Charone Peake is expected to start in Watkins' place, and he has some big-play ability of his own. The 6'3", 205 pound sophomore is ready for the challenge. He only had four receptions in 2011, but that was a result of playing on a deep and talented team.
An abundance of firepower will lead to a Clemson victory.
Boise State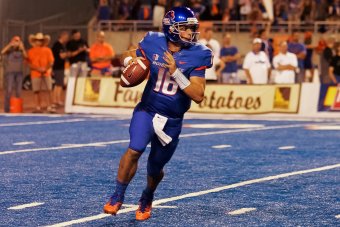 Otto Kitsinger III/Getty Images
The Broncos had good luck with their season-opener against a top-notch, out of conference foe in 2011. They knocked off Georgia before the Bulldogs had found themselves, and reeled off 10 wins in a row.
This year's season-opener against an elite program won't be as successful.
The Spartans defense is still as stout as the crew that allowed only 18.4 points per game last season. They did lose Kirk Cousins at QB to graduation, but the defense and the running of Le'Veon Bell will take pressure off first-year starter Andrew Maxwell.
I'm not sold on Joe Southwick's ability to engineer a seamless transition from the Kellen Moore era at Boise State. This is not the same Broncos offense that averaged 44.2 points per game in 2011.
To seal the Broncos' fate, the game is in East Lansing. The Spartans haven't lost at home since 2009.
The Broncos will fall in this game, and it could get ugly.
Follow Brian Mazique and Franchiseplay on YouTube and Twitter for reactions, analysis and news from the world of sports and sports video games