10 Reasons 2012 Will Be a Down Year for SEC Football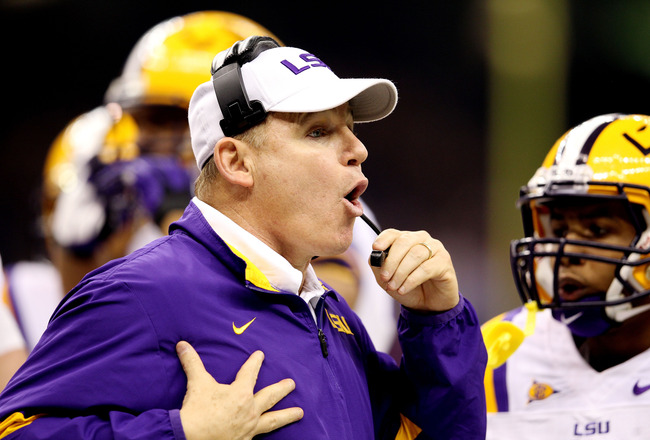 Andy Lyons/Getty Images
The SEC is the best conference in college football, bar none.
Right now, the conference is atop of the mountain and is home to some of the best teams in the nation. However, no team or conference is perfect. Like Rome and Constantinople, all great dynasties fall.
And though the SEC clearly represents the cream of the FBS crop, increased parity across the conference could affect it negatively. That is why the SEC could experience a down year, actually failing to claim the national championship. Hard to believe, right?
Here are a few potential scenarios and reasons as to why the powerhouse SEC could have a down year in 2012.
The Gap Is Closing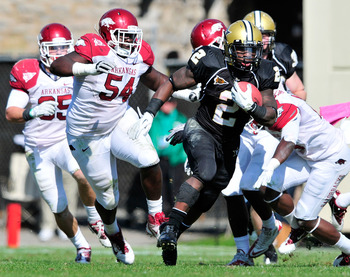 Grant Halverson/Getty Images
The margin is shrinking...within the conference that is.
While Kentucky and Ole Miss will continue to be irrelevant, teams like Vanderbilt are no longer pushovers. Head coach James Franklin is changing the nature of the program, and the Commodores present one of the finest trios in quarterback Jordan Rodgers, running back Zac Stacy and wide receiver Jordan Matthews.
And as for the division they play in, it shouldn't be bullied by the Western Division again. South Carolina and Georgia both have excellent teams, and Florida and Tennessee are back on the rise. Don't call it a comeback!
Let's face it: The SEC is going to be very competitive in 2012, and though LSU and Alabama are still the clear favorites, more teams will be able to compete with them this year, unlike last season. This could result into the conference beating itself up and driving itself out of the national-title picture.
USC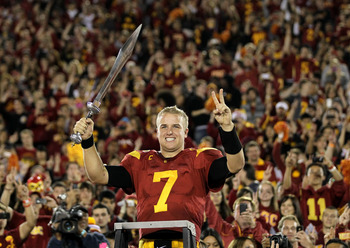 Stephen Dunn/Getty Images
Rarely should you believe in the preseason hype, but USC is an exception.
An exception indeed because of the return of Matt Barkley. Barkley is arguably the best player in college football and has two future NFL receivers to throw to in Robert Woods and Marquis Lee. In fact, both receivers topped 1,000 yards last year.
As if that wasn't enough to warrant recognition, the Trojans picked up Penn State's best player, RB Silas Redd, filling a potential missing link on offense in the process.
And while there are some question marks on defense, USC's offense is good enough to overcome any hurdles it faces in the Pac-12, including those Oregon Ducks. As a result, everyone outside of the SEC is begging and pleading that the Trojans can be the ones to take down the SEC.
How Wide Open This Season Is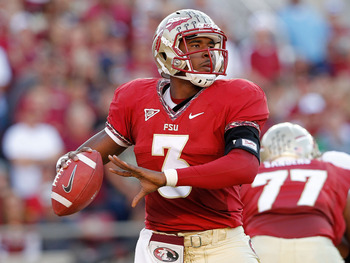 Mike Ehrmann/Getty Images
There's no clear No. 1 team in the nation.
Every team has its flaws, whether it be inexperience, replacing leaders or simple holes in a specific phase in the game. This makes for a wide-open season. And quite frankly, that's exciting—though the SEC might not share in that sentiment.
LSU lost its best player in Tyrann Mathieu and Alabama is having to replace key figures on defense, (and Nick Saban doesn't exactly run the simplest of schemes on defense). Can the two powerhouses figure it out by Week 1, or will other teams around the country capitalize on this?
Timing of Non-Conference Games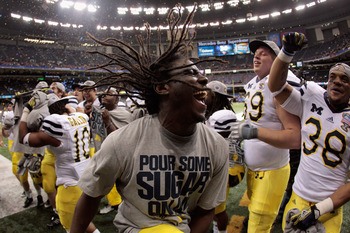 Chris Graythen/Getty Images
One of the teams that can capitalize on Alabama's transition in replacing of Dont'a Hightower, Mark Barron, Dre Kirkpatrick, Josh Chapman and Courtney Upshaw right off the bat is Michigan.
If you're Denard Robinson and the Wolverines, you have to pleased with the opportunity. Should the Wolverines pull off a remarkable upset against the Crimson Tide, the SEC's dominant run could be in peril immediately.
And what about Tennessee facing NC State after losing Da'rick Rogers. Or what about Auburn, facing the nationally-ranked Clemson for a season opener?
Mistakes are expected in the first week of the season, and if these teams can capitalize, the SEC's dominant reputation will be in jeopardy.
Rise of Other Power Conferences?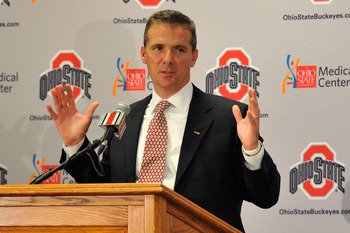 Jamie Sabau/Getty Images
Alright, Big Ten, Big 12 and Pac-12, now's the time to strike.
Should Michigan defeat Alabama, it'll change the entire dynamic of the season and the Wolverines would easily be considered a title favorite. Joining them in the Big Ten would be Michigan State, Wisconsin and an Urban Meyer-led Ohio State.
As for the Big 12, they have four teams that could make some noise. Oklahoma, Oklahoma State, Kansas State and Texas should all be solid.
The Pac-12 aren't as deep, but they do have two of the best teams in the country, USC and Oregon.
All three conferences pose legitimate national-title contenders, and it only takes one game to knock the SEC off of its high horse. Are any of these teams up to the task?
Missouri and Texas A&M Will Be Better Than Expected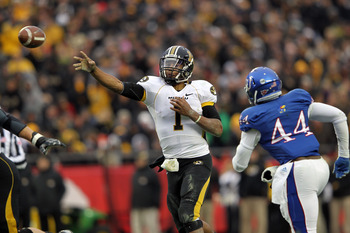 Jamie Squire/Getty Images
Many are banking on Missouri and Texas A&M to be pushovers in the conference. Don't cash that check just yet.
It doesn't matter what anyone says, Missouri and Texas A&M can still move the football. Now, will Missouri score 32.8 points per game, and Texas A&M score 39.1? Highly unlikely.
But with James Franklin orchestrating the Tigers offense, and Texas A&M returning an impressive receiving duo, outstanding running back and underrated offensive line, both squads will have top offenses.
One of these schools will upset one of the top-tier counterparts, and once that happens, "overrated" will be a frantic cry associated with the SEC across the country.
The Loss of Impact Players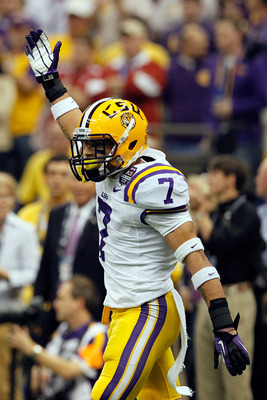 Kevin C. Cox/Getty Images
There's nothing pleasant about losing top players to the NFL draft and graduation, but having your best player removed from your roster for various off-field issues presents another major headache and obstacle altogether.
And that is the exact predicament LSU, Tennessee and Georgia face, however, with the respective losses of Tyrann Mathieu, Da'Rick Rogers and Isaiah Crowell.
Will these losses be detrimental to the teams' conference- and national-title aspirations?
More Players Breaking Team Rules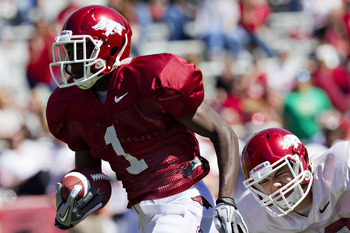 Wesley Hitt/Getty Images
Mathieu, Crowell and Rogers are the ones that have already served suspensions/been removed for breaking team rules, but who will follow in their footsteps?
In today's world of college football, these high-caliber athletes are treated as if they are already in the NFL and all too often it goes straight to their head.
That causes athletes to believe they are invincible, and that's when they start to make mistakes that eventually do them in. It's sad, but it's reality.
Like LSU's Spencer Ware, Mathieu and Tharold Simon serving a one-game suspension for failed drug tests last season, more teams may face the daunting task of suspending quality players for similar reasons.
The only difference between LSU's situation last year and any potential situation this season is the gap between the divisons' No. 1 and No. 6 teams.
Potential Investigations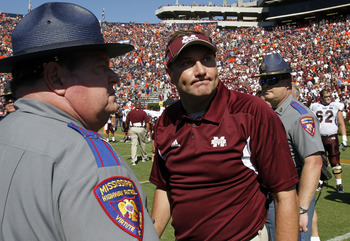 Butch Dill/Getty Images
It seems unavoidable. Year after year, SEC members seem to be hounded by NCAA investigations.
In fact, Mississippi State's investigation about "potential recruiting irregularity" is drawing to an end, according to ESPN.
Should a prominent SEC school ever fall for recruiting violations or any other act, the perception of the conference would take a turn for the worst and likely be costly.
The Cyclical Argument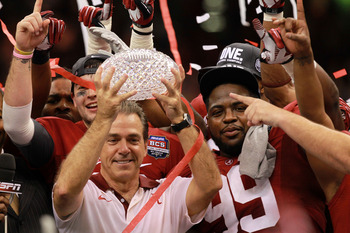 Ronald Martinez/Getty Images
The ol' cyclical argument is the most logical one that can be made here. Dynasties always inevitably perish and dominant conferences always see down years. Even the great SEC is subject to a darkened future.
Because of multiple reasons mentioned, the SEC's days as king of the college football world could be numbered. Who knows, teams like LSU and Alabama could become complacent and suffer a few major intra-conference upsets.
It's happened before. Just look at LSU losing to Kentucky in 2007. No dynasty lasts forever, and in a game that's defined by inches, it only takes one small marginal error to be stripped of royalty.
Keep Reading