20 College Football Teams That Wish Week 1 Was Later in the Season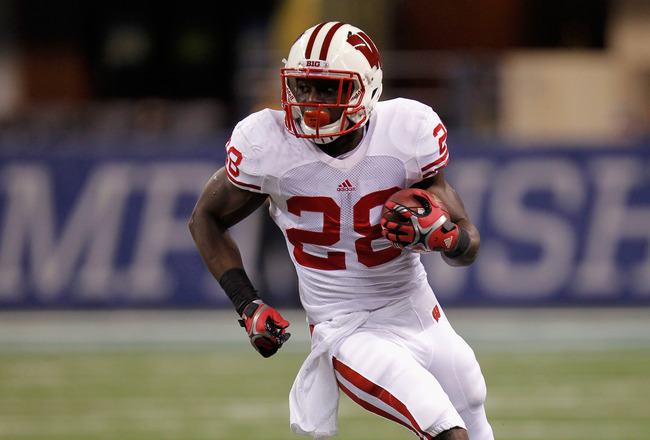 Gregory Shamus/Getty Images
Preparing to take the field for an upcoming football season takes hours and hours of dedicated work, film study and preparation.
And then fall practice starts.
The amount of time dedicated to this game is enormous, with good reason.
As the immortal Vince Lombardi told us: "Practice does not make perfect. Only perfect practice makes perfect."
Unless, of course, you prepare for those untold hours only to have a monkey wrench thrown in the works at the last instant: an injury, suspension or other loss of player could leave your squad reeling from having to cover unexpected gaps.
The teams on this list could all use more time for preparation, or just need more time to rest on their laurels before the season kicks off.
20. Murray State Racers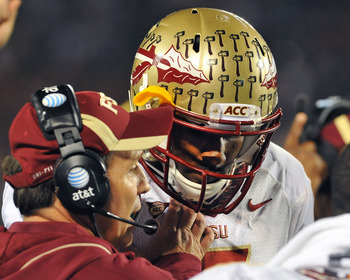 Al Messerschmidt/Getty Images
This practice of elite schools scheduling cupcakes has got to stop.
Hopefully the new playoff system will help with this. Until then, these are the kinds of matchups with which we are stuck.
A top-five program (Florida State) pays a sacrificial lamb to play them early in the season. Unless the players at the elite program are stoned or otherwise incapacitated, these are no contest.
Of course, Murray State is looking forward to the money they will receive for this meeting, but otherwise, it can't be a pleasant prospect.
19. Indiana Hoosiers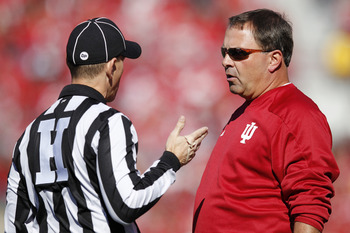 Joe Robbins/Getty Images
The Hoosiers, in spite of their standing as a member of a BCS conference, suck.
They have had only one winning season since 1995.
Kevin Wilson and company have another tough year ahead of them, as the talent is just not there to compete in the Big Ten. And while waiting for a few more weeks to get started would really not help much, it would give Wilson time to explore other potential jobs.
18. USC Trojans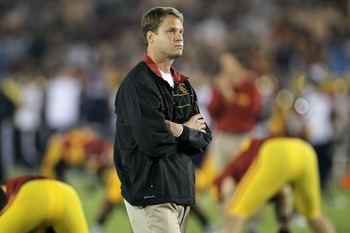 Stephen Dunn/Getty Images
For the past two seasons, the Trojans have been banned from postseason play.
That, of course, ends this season, in a year that has many pundits predicting a memorable season for Lane Kiffin's boys.
The pressure is on, and it's difficult to play under pressure, but under pressure is where champions are born.
The Trojans may be looking forward to a big season filled with great accomplishments, but a few more days to prepare for Oregon's offense and the rest of their schedule couldn't hurt.
17. Colorado Buffaloes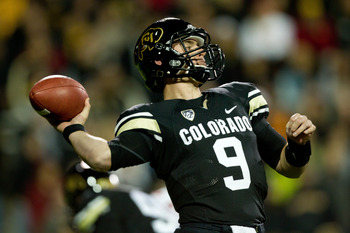 Justin Edmonds/Getty Images
The Buffaloes' first season in the Pac-12 last year wasn't pretty.
Sadly, there is not much more hope for this season.
More time to prepare might help, but it also might just be delaying the inevitable.
16. Notre Dame Fighting Irish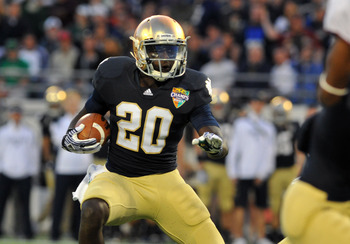 Al Messerschmidt/Getty Images
When does it stop for the Irish this offseason?
First, there was the quarterback controversy, ending when Brian Kelly named Everett Golson his starter.
Then there was the difficult pill to swallow that was Aaron Lynch's departure from the program for USF.
Now Cierre Wood, starting running back and the man slated to hold together the offense, is suspended for game one, along with quarterback Tommy Rees and linebacker Carlo Calabrese.
Given their recent penchant for underachieving, the Irish could use some extra time to figure out these gaps and make their adjustments.
15. Stanford Cardinal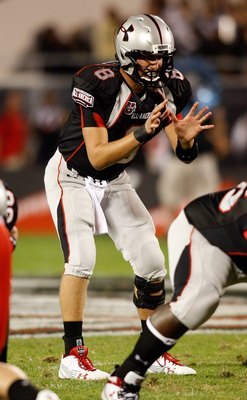 J. Meric/Getty Images
David Shaw and his squad have plenty of talent returning, particularly at linebacker and running back.
Where they have a rather large gap to make up is at quarterback. Andrew Luck is tearing up the NFL in preseason play, not making magic for the Cardinal anymore.
Josh Nunes was named as the next starting quarterback in a mildly surprising result, and doesn't have long to acclimate himself to being in charge of the offense.
14. Texas Longhorns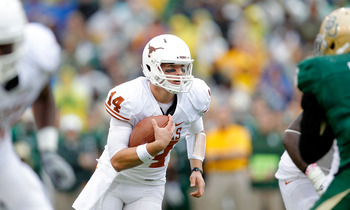 Sarah Glenn/Getty Images
I'm sure the majority of Texas fans would deny this one.
The team is ready to go, and ready to make their return into the top half of the BCS rankings by season's end.
But let's consider the facts. The 'Horns glaring weakness is at quarterback, where David Ash is set to start off leading the offense. Last season's stats do not exactly inspire confidence regarding his ability to help the run game flourish.
He finished 2011 with eight interceptions on 174 passing attempts, and only four touchdowns. That's approximately one interception for every 21 attempts, and one touchdown for every 42 attempts.
That's enough to make me, even as a casual observer, believe Mack Brown would like more time to get this guy ready to go.
13. Arizona Wildcats
Jayne Kamin-Oncea-US PRESSWIRE
Rich Rodriguez just couldn't be kept down, and is now the head man at Arizona. This is a great place for him, and a great for the floundering Wildcats.
Things aren't all rosy in Tucson, however, as the Wildcats lost the one decent player they had, quarterback Nick Foles. He is currently playing for the Eagles on Sundays.
Last season's rushing game was ranked 114th, and the defense struggled to stop just about everybody.
The transition to Rich Rod's system is going to be about as smooth as riding a camel, but given time, the team will get better.
12. Wisconsin Badgers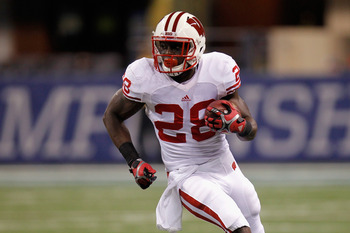 Gregory Shamus/Getty Images
The team that has won the Big Ten title each of the past two years is on track to be a serious contender again this year.
At least, they will be if Danny O'Brien is ready to start at quarterback.
But the personnel on the field is not even the biggest concern. The Badgers lost six coaches during the offseason, and while that is a good indicator that your coaching staff is solid, it leaves some questions about what the "new guys" will be able to accomplish in their first season.
With so many coaches taking over new positions and responsibilities, Bret Bielema's team could certainly benefit from a later start to the 2012 campaign.
11. Ole Miss Rebels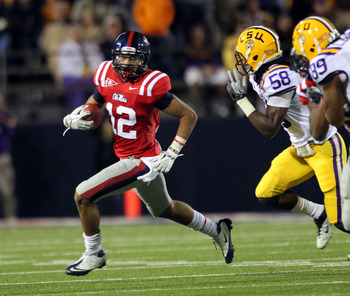 Joe Murphy/Getty Images
The SEC is the best conference in college football, but even they have their cellar-dwellers.
Ole Miss has been the epitome of that term over the past few seasons. Hugh Freeze has taken over, and will have this team back to respectability very soon. However, this season, the carnage is inevitable.
Competing in the ever loaded SEC West is not going to be fun.
10. North Texas Mean Green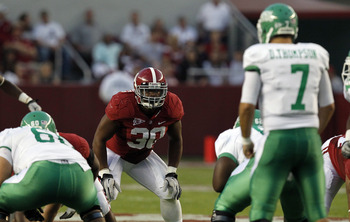 Butch Dill/Getty Images
In spite of LSU's big loss in the offseason, the team is still primed for a run at the SEC title.
If Zach Mettenberger is simply good, the Tigers are going to compete for the national title, running through the majority of their schedule, much like a hot knife through butter.
That starts with the Mean Green, who are probably hoping just to escape from this one with a little of their dignity intact.
9. Marshall Thundering Herd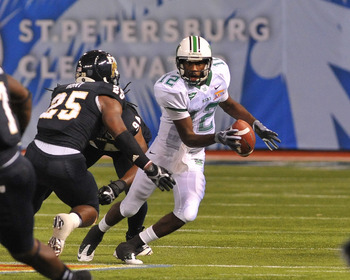 Al Messerschmidt/Getty Images
I love Rakeem Cato.
The Thundering Herd quarterback is dynamic, exciting and entertaining.
Even with Cato at the helm, Marshall is in for a brutal pummeling in their first game, an in-state rivalry meeting with West Virginia.
The two teams have met 11 times before, with WVU winning every one, some of them by an impressive margin.
This season's meeting is going to be the worst beating in the history of the matchup, as the high-powered Mountaineer offense looks to kick off their Big 12 tenure with a bang.
Marshall provides them the perfect opportunity to do so.
8. Texas A&M Aggies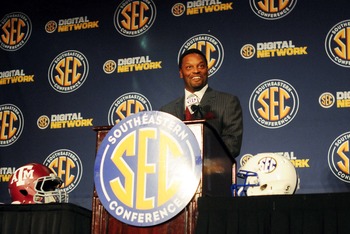 Kelly Lambert
A&M fans, we are not disrespecting your wonderful football program, nor the talent that they have been able to field.
The thing is, the SEC is the best conference in the nation.
Texas A&M, while coming from, arguably, the second toughest, is nowhere near the level of the elite, or even good teams in the SEC.
Fans and the school itself must be excited about this new affiliation with the premier football conference in America, but should be a bit leery of the transition, as it will not be easy.
7. Buffalo Bulls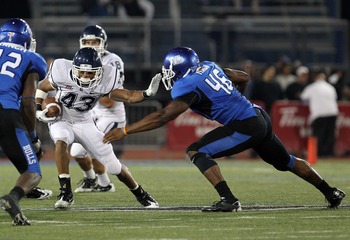 Timothy T. Ludwig-US PRESSWIRE
The Bulls don't have a ton of talent, but they do have Khalil Mack.
Mack is an outstanding linebacker, who dominates games with his ability to rack up tackles. But he has been suspended for Week 1, when the Bulls take on SEC title contender Georgia.
It's going to be difficult to replace that kind of production and leadership on such short notice.
6. Hawai'i Warriors
Kent Nishimura/Getty Images
While the prospect of having Norm Chow lead this team for the foreseeable future is pleasing to Warrior fans, the prospect of facing top-rated USC to open the season is not.
The game is in Los Angeles, and the Trojans will be ready to begin the first season in two years in which they can compete in the postseason.
For the Warriors, the potent passing attack of USC is going to be a nightmare.
Hawai'i ranked 85th last season in pas defense, but never faced a team with two receivers such as Robert Woods and Marqise Lee.
5. UTEP Miners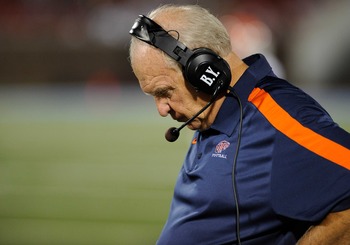 Jerome Miron-US PRESSWIRE
Mike Price is hanging onto his job by the skin of his teeth.
Price led the Miners to two consecutive winning seasons in his first two, 2004 and 2005. Since then, they have not had a winning season.
That's six straight seasons.
It's not going to start of well for Price and the Miners this year, with Oklahoma hosting them in the season opener.
4. Duke Blue Devils
Streeter Lecka/Getty Images
It's Duke, do we really need another reason to believe they are not looking forward to football?
Fans would rather skip the football and jump straight to the basketball, as the Blue Devils have had only one winning season since 1990.
3. Savannah State Tigers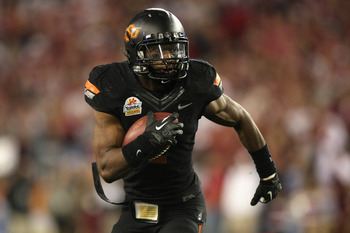 Donald Miralle/Getty Images
Why Savannah State?
Because the TIgers' Week 1 opponent is not going to be an easy one to handle.
Steve Davenport, State's head coach, has them scheduled to play Oklahoma State in Stillwater, the Tigers' first game against a major FBS opponent.
As if that wasn't a bold enough move, they are taking on Florida State the next week.
That right there is already a tougher schedule than the majority of the ACC and the entire Big East will face.
Some extra time would be nice, but probably not helpful in the least.
2. Boise State Broncos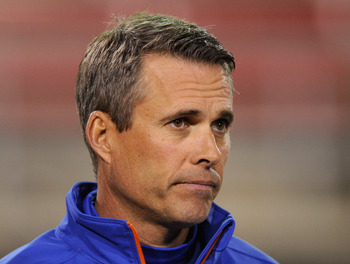 Ethan Miller/Getty Images
Phil Steele is the man.
He has been kind enough to compile a list of returning starters for each of the 120 FBS teams.
This is significant for BSU, because they have the fewest returning starters of any of those 120 teams.
Broncos fans would argue that the guys who are returning this season have more experience than first-year starters on other squads.
Even so, returning only five starters total is going to be a tough hill to get over, and any additional time that could be made available would be appreciated.
1. Penn State Nittany Lions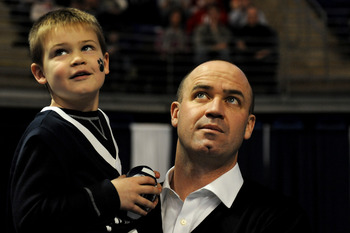 Patrick Smith/Getty Images
At first glance, it's easy to assume that the Lions could use some time to recover from the NCAA sanctions and all the transfers they have had to deal with to date.
From a purely football point of view, this is the case.
But for a program desperately struggling to move on from the long reign of its previous head coach, and the controversy surrounding Joe Paterno's tenure and dismissal, that opinion might change following another look.
The guys on this team have got to be ready to move into the actual football, while Bill O'Brien is ready to become the only man other than Paterno to lead the Nittany Lions in nearly half a century.
Keep Reading