College Football 2012: Hits and Misses of Kirk Herbstreit's Herbie Awards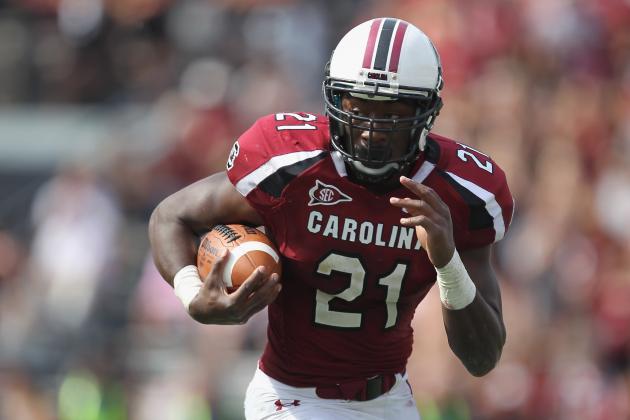 Streeter Lecka/Getty Images

Kirk Herbstreit is one of the most respected college football commentators there is. When he talks, people listen. He's so popular, and his opinion matters so much, that he was able to create his own awards: the Herbie Awards.
Seriously, what have you done with your life lately to where you are able to create your own award show?
With the college football season set to begin next week, Herbstreit has released the top five candidates for each award. Now, of course, the candidates could change with great performances from other players. But this is just a preseason list of proven stars that we believe will have a tremendous year.
Still, like us all, Herbstreit made a few mistakes on his list and may have underrated a few players as well.
Here are a few of the hits and misses of the 2012 Herbie Awards.
Begin Slideshow

»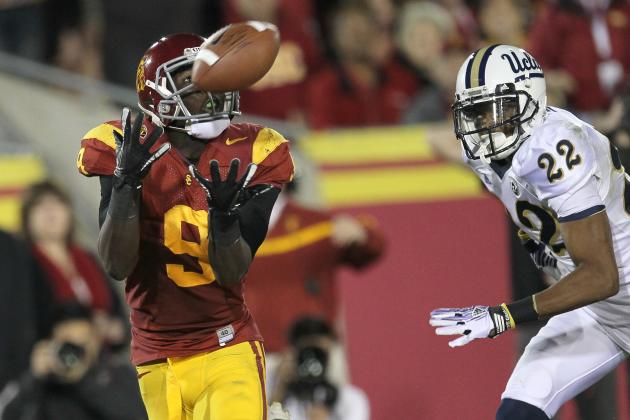 Stephen Dunn/Getty Images

Candidates
1. Marqise Lee, USC
2. Tavon Austin, West Virginia
3. Robert Woods, USC
4. Da'Rick Rogers, Tennessee
5. Marquess Wilson, Washington State
Teammate Robert Woods may have the bigger name, but Marqise Lee is the real deal at wide receiver. He caught 73 passes for 1,143 yards and 11 touchdowns as a freshman. With a year under his belt, there's simply no telling what this kid can accomplish at USC.
At 6'1", 195 pounds, Lee has the perfect combination of size and speed, and he's sure-handed enough to become a top pick in a future NFL draft.
Woods, Da'Rick Rogers and Tavon Austin are all great players, but it is Lee who deserves the ultimate credit at the wide receiver position.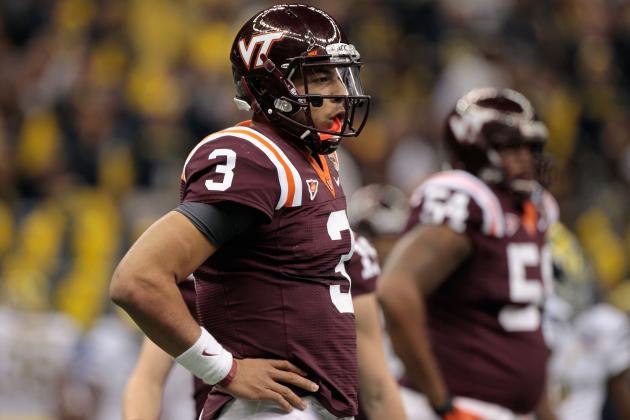 Chris Graythen/Getty Images

Candidates
1. Logan Thomas, Virginia Tech
2. Collin Klein, Kansas State
3. Denard Robinson, Michigan
4. James Franklin, Missouri
5. Braxton Miller, Ohio State
Who it should have been: James Franklin, Missouri
Maybe I just don't get it, but why is Logan Thomas receiving all of the hype as of late? And now Herbstreit is calling the Virginia Tech quarterback the best dual threat in college football? This is the same quarterback who completed fewer than 60 percent of his passes and rushed for under 500 yards.
Denard Robinson has been a more consistent passer over his career and has led the Wolverines in rushing yards the last two seasons. James Franklin from Missouri completed over 63 percent of his passes last season, threw for 21 touchdowns (two more than Thomas) and rushed for 981 yards on top of that.
The best dual-threat quarterback plays for the Missouri Tigers, and this will be proven soon enough with the Tigers switching to the SEC.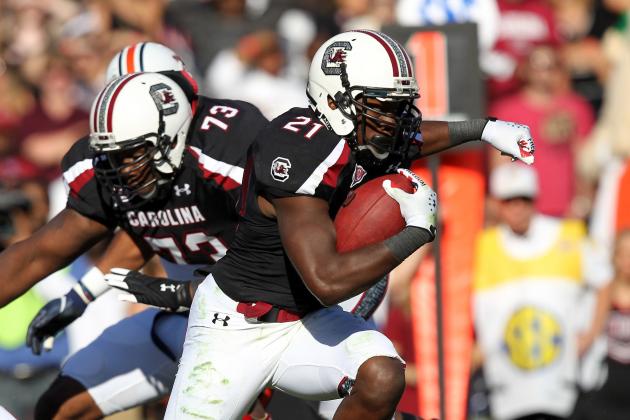 Streeter Lecka/Getty Images

Candidates
1. Marcus Lattimore, South Carolina
2. Montee Ball, Wisconsin
3. Knile Davis, Arkansas
4. Kenjon Barner, Oregon
5. Stepfan Taylor, Stanford
There are many great running backs in college football, but now that Trent Richardson is gone, it is Marcus Lattimore that is the best of them all. We are talking about a back who has rushed for over 2,000 yards and scored 30 total touchdowns in just one-and-a-half seasons.
He has the perfect combination of size and speed and will once again be the workhorse for this South Carolina offense.
You could make a strong case for Montee Ball and Knile Davis, but Lattimore seems to be more of a complete package.
If he is fully recovered from his ACL injury, there is a great chance Lattimore will receive an invite to New York.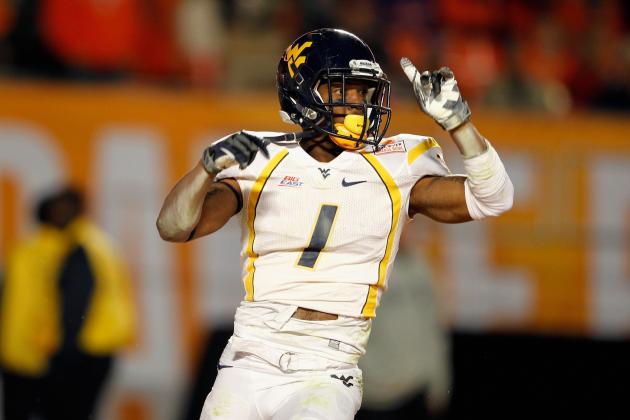 Streeter Lecka/Getty Images

Candidates
1. Tavon Austin, West Virginia
2. De'Anthony Thomas, Oregon
3. Denard Robinson, Michigan
4. Sammy Watkins, Clemson
5. Onterio McCalebb, Auburn
Who it should have been: De'Anthony Thomas, Oregon
Tavon Austin led the nation in all-purpose yards per game with 198, but De'Anthony Thomas had the most runs over 20 yards with 19. The Ducks' explosive player also scored three touchdowns in 2011 that covered at least 90 yards, which is just ridiculous.
Austin helps his team in all three areas of the game, but it doesn't get much more explosive than Thomas. He is the ultimate threat to take it the distance every time he touches the football, and I don't think there's anyone harder to tackle in college football.
Good luck catching him.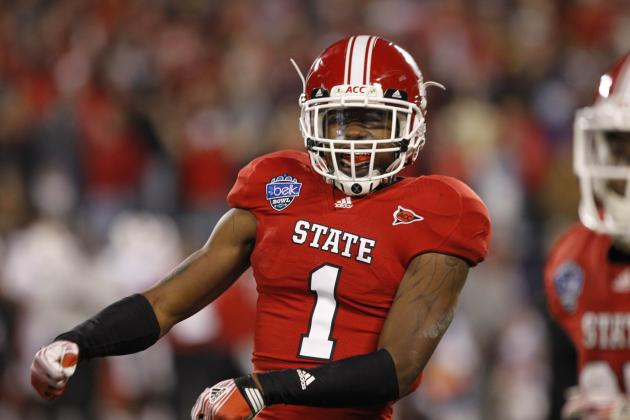 US PRESSWIRE

Candidates
1. David Amerson, NC State
2. Geno Smith, West Virginia
3. Johnathan Franklin, UCLA
4. Chase Thomas, Stanford
5. Bjoern Werner, Florida State
While everyone was giving all of the credit to Tyrann Mathieu of LSU, North Carolina State cornerback David Amerson was busy intercepting 13 passes and compiling five pass deflections. He led the country in interceptions and broke the single-season ACC record.
If the guy can't get any love after going nine games with at least one interception, something is seriously wrong with this picture.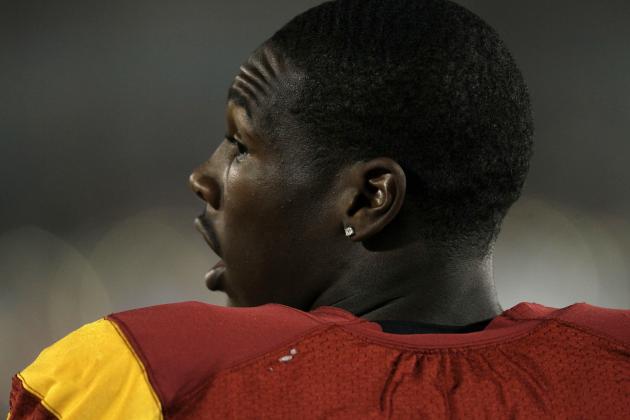 Stephen Dunn/Getty Images

Candidates
1. Marqise Lee, USC
2. Keith Price, Washington
3. Braxton Miller, Ohio State
4. Nico Johnson, Alabama
5. Cobi Hamilton, Arkansas
Who it should have been: Keith Price, Washington
We already talked about Lee and the off-the-chart numbers he put up last season. But how much more can a guy produce than that, especially with another great wide receiver in Robert Woods on the same team?
To me, Keith Price of Washington is just like Robert Griffin III of Baylor last season. He plays for a team that has pieces in place, but isn't quite there yet to be considered a contender. We want to believe in Price, but aren't ready to drink the kool-aid just yet.
Price has shown us glimpses of brilliance, but we still need that one special game to know he has arrived. Week 2 against LSU could really make the difference, just like the Baylor game against TCU last season made the difference for RG3.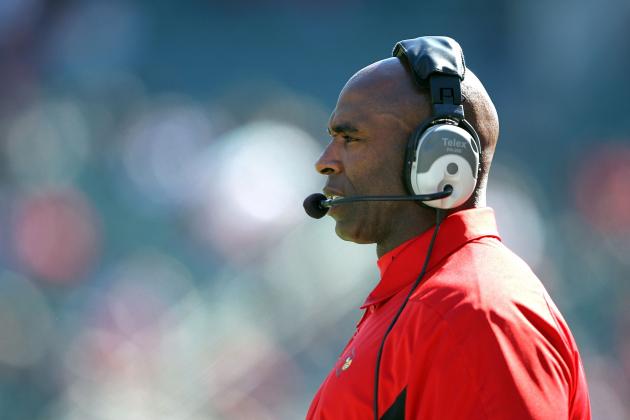 Andy Lyons/Getty Images

Candidates
1. Charlie Strong, Louisville
2. James Franklin, Vanderbilt
3. Skip Holtz, South Florida
4. Dave Doeren, Northern Illinois
5. Mario Cristobal, FIU
Charlie Strong took over a Louisville team that had not reached a bowl game in three years. In just two years of coaching the Cardinals, he has won seven games in each season, reached two bowl games and now has the program ranked in the preseason AP poll for the first time since 2007.
Strong is a tough-nosed head coach who learned a lot as defensive coordinator for the Florida Gators under head coaches Ron Zook and Urban Meyer. I'm not sure how long he plans to stay with the Cardinals, but with the program in the national spotlight, bigger programs are going to begin calling if they haven't already.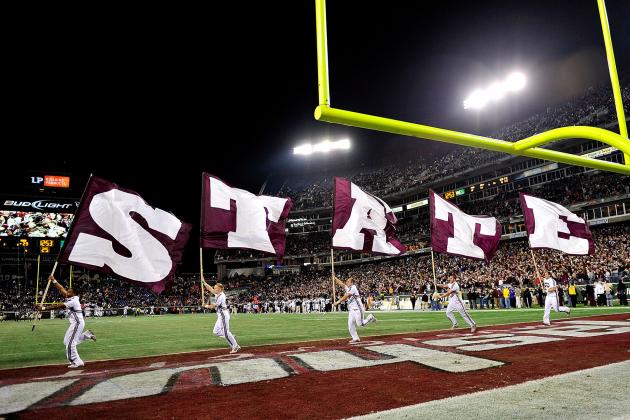 Grant Halverson/Getty Images

Candidates
1. Mississippi State
2. Purdue
3. Boise State (Chris Petersen!)
4. Tennessee
5. UCLA
Who it should have been: Tennessee
Mississippi State will not fall off the map like many believe it will, but if we are talking about surprise teams, it is certainly Tennessee. The Volunteers have not won a bowl game since 2007, did not even reach a bowl game last season and there are rumors flying around about head coach Derek Dooley and his job security.
But with Tennessee returning 18 starters from a year ago, including quarterback Tyler Bray and arguably the best wide receiver corps in the country, this team will win at least seven games. That is the most since 2009 when Lane Kiffin was head coach and should be good enough to buy Dooley at least another year in Knoxville.
Photo Credit: aol.sportingnews.com
Candidates
1. Marcus Mariota, Oregon
2. Andrew Maxwell, Michigan State
3. Michael Holmes, Virginia Tech
4. Trey Metoyer, Oklahoma
5. Matt Miller, Boise State
Oregon entered the 2012 offseason with a quarterback controversy after Darron Thomas surprisingly left for the NFL. Quarterback Marcus Mariota began competing with Bryan Bennett, who was last year's backup, and he is blowing the competition out of the water.
During the spring game, Mariota completed 69 percent of his passes for over 200 yards, rushed for over 100 yards and scored two total touchdowns. With his accuracy and playmaking ability, the redshirt freshman will provide the Ducks with another explosive offensive weapon.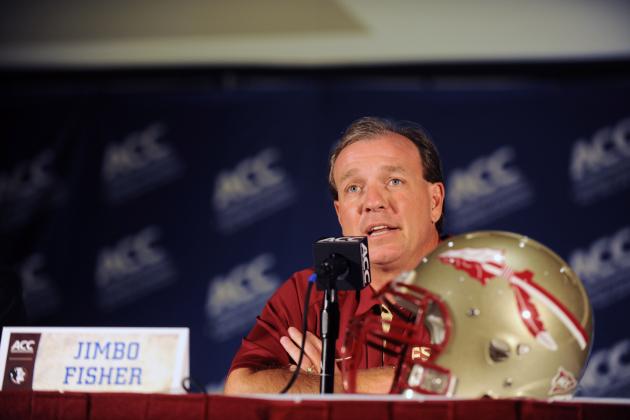 Sam Sharpe-US PRESSWIRE

What is wrong with this picture?
Is it the fact that he has Florida State winning the national championship, when this program hasn't even sniffed a BCS bowl since 2005? Or is it that he doesn't even have an SEC team playing in the big game, which would surprise even SEC haters?
The bottom line is that the SEC championship winner will likely earn an automatic bid in the national championship. And to have the Seminoles, a team that has let us down the past several years, winning it all, really takes guts.
But hey, that is what predictions are all about and what makes them so much fun.