10 College Football Teams Who Should Forfeit Punting/Kicking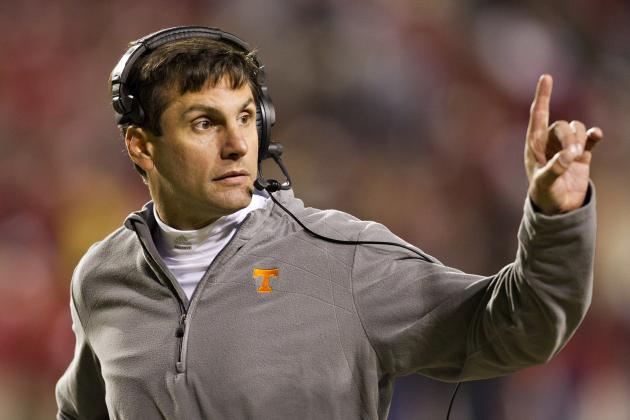 Wesley Hitt/Getty Images

The above picture appears to be of Tennessee head coach Derek Dooley telling his team to go for one after a touchdown.
Given his kickers' penchant for missing attempts at scoring points, he may want to reconsider.
The same is true of others on this list, which runs down the 10 teams that may want to change their methods when it comes to punting and/or kicking.
A missed field goal can be the difference between a win and a loss, and the longer the punt the better for the defense.
These are basic tenets of the game, which these programs have apparently forgotten.
Or, maybe they just need some instructions.
Begin Slideshow

»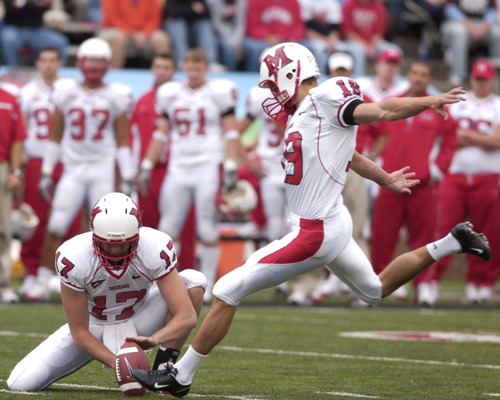 36 yards per punt places very near the bottom of the yearly punting stats in any season.
That's precisely where the Redhawks were in 2011.
Then there were the field goals.
Miami made only two all season long, attempting only six.
Talk about a lack of talent at the position.
Not only did they struggle to put the ball through the upright for three points, those dang one-pointers caused problems as well, with Redhawks' kickers missing four throughout the course of the season.
That is correct, they missed the same amount of extra points and field goals.
Fortunately for fans of the program, Mason Krysinski is back to try and improve on last season's numbers.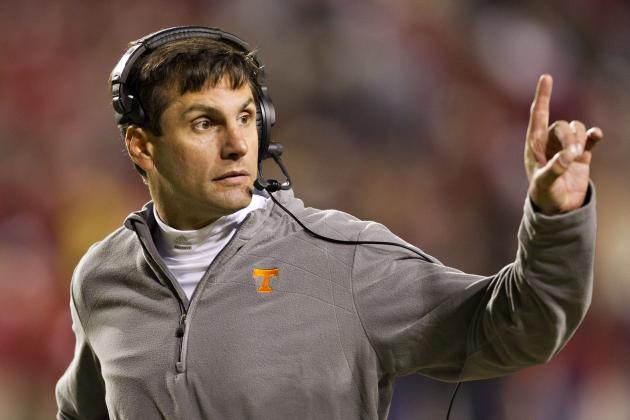 Wesley Hitt/Getty Images

Derek Dooley's squad missed five field goal attempts last season, which is slightly less offensive than his infamous orange pants.
That's bad enough to be 70th in the nation last season in field goal percentage, which by itself does not warrant a mention for ineptitude.
Yes, the Vols also made a bid with their abysmal punting, which only netted an average of 36 yards per punt.
To round out their foibles in the kicking game, Tennessee finished 2011 at 70th in kickoffs as well, kicking for an average of almost 63 yards, and kicking only six touchbacks all season.
On the bright side, the team is going to be much better in 2012, so maybe the kicking game will see an upswing as well.
Yes, I am aware that this video is from 2008.
I just wanted to illustrate the point, that while Bret Bielema has done an excellent job in several departments since arriving in Mad-Town, special teams has not been so special.
Last season, the Badgers finished 80th in kick return coverage, just ahead of North Texas, ULL and FIU.
The return game for the Badgers was better last season, but when five kickoffs go out of bounds, and fans routinely hold their breath every time you score, there is a problem.
On the bright side, punt coverage is in the top half in the nation, at 59th last season.
Alas, Johnny Hekker.
You gave us one of the worst punting fails of 2011.
Sure, the Beavers were a middle of the pack field when it came to actual punting and kicking statistics last season, but a punt like this make you wonder.
There was no pressure, little wind and the sun was not in his eyes.
What was the net on that punt, you may ask?
-4 yards.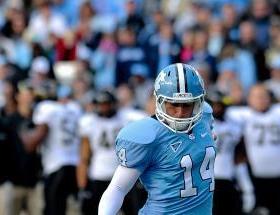 Between kickers Thomas Moore and Casey Barth, the Tarheels were a perfect 38 for 38 on extra point attempts.
Not so much for field goals.
The two went a combined seven of 11 on field goal attempts, which was bad enough to put the Tarheels at 86th in the nation.
Punting was even worse, with a 36.92 average, which is the equivalent of Tom Brady's average pass against Denver last season in the NFL Playoffs.
An overhaul of rather large proportions may need to be in the works for this team's kicking game.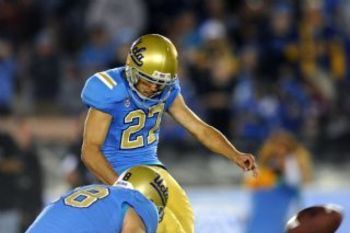 The Bruins were 79th in the nation last season in field goal average, making 11 of 17 tries.
The kicking game was obviously not a position of strength, as three guys, Tyler Gonzalez, Kip Smith and Jeff Locke took turns missing field goals, and extra point attempts.
Nobody is perfect, but between these three, they left 23 points on the field.
If they had all those points against USC, they still would have lost by 27.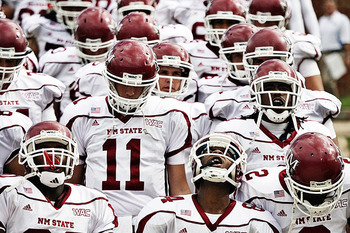 There is not much that the Aggies are good at when it comes to football.
But the kicking game was so bad in 2011, it should be the stuff of legends.
Not a touchback was booted, and NMSU finished 99th in kickoffs.
Tyler Stampler, the teams' placekicker, missed four extra points, and five field goals, two of those between 20 and 30 yards in length.
If he does not improve on those numbers in his senior season, the Aggies may be better off trying to convert on fourth down and going for two point conversions.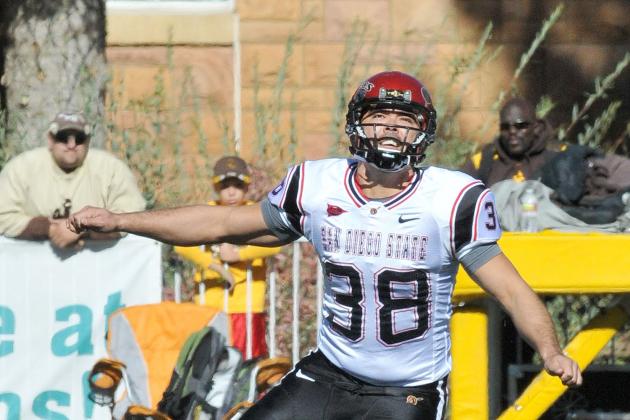 Usually, returning a starter to a key position is a positive for a squad.
In the case of San Diego State kicker Abelardo Perez, we might need to reconsider.
Perez made four of six attempts from 20 yards or closer.
Apparently, the range required to kick field goals at an FBS school has gotten shorter, as he was a whopping three for nine on anything over 20 yards.
So, on that fourth down and eight from the 31, instead of watching Perez hook another one wide, perhaps the SDSU coaching staff might consider punting or just going for it.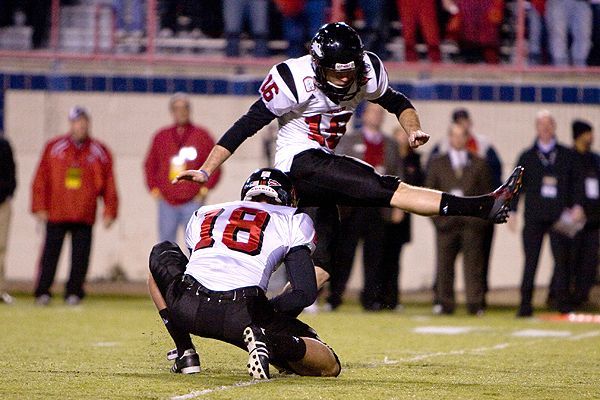 We are going to pick on the Huskies for one thing here: punting.
Ryan Neir, the teams punter of choice in 2011, and a senior heading into this year, was a disaster.
His average of 35.7 yards per punt was good enough for dead last in the nation.
This season, rumor has it the Huskies will heave a Hail Mary rather than punt on fourth down, with their receivers going for the defender that is dumb enough to make the interception rather than batting it down.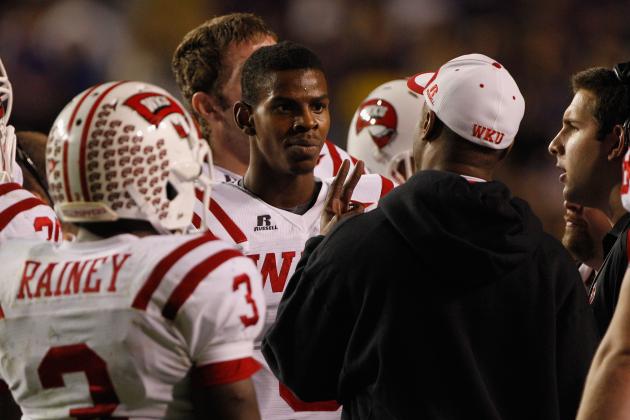 Chris Graythen/Getty Images

Let's cut the Hilltoppers a little slack, and at least remind everyone that they have only been an FBS program for five seasons.
Once you have digested that little bit of information, and can exercise some restraint, take a look at WKU's stats from last season.
If you are looking for a positive, it can be found in the fact that WKU was solid when punting the ball.
Now the negative: the Hilltoppers attempted 20 field goals last season, and made only five.
For those of you keeping track, that's slightly worse than Bryce Harper's batting average.
They also missed four extra point tries, which placed them at 111th last season.
At least the kickoff game wasn't...no it was.
It was all ugly.