62 Things You Have to Know Before the New College Football Season Kicks off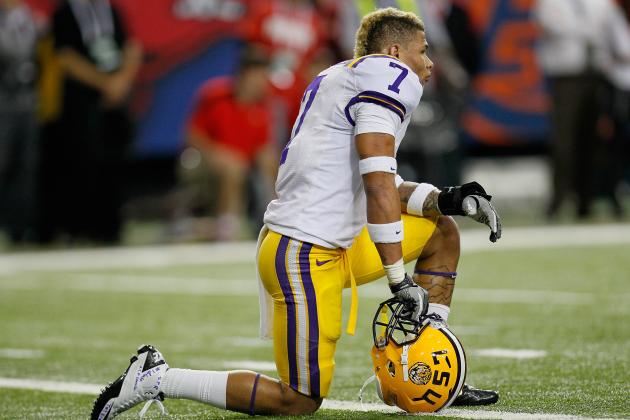 Kevin C. Cox/Getty Images

When we last had a chance to soak up some college football, Alabama was avenging its regular season loss to LSU by beating it in the national championship. Seven months later, the 2012 season is set to kickoff again, and a lot has changed since January.
From players transferring to teams moving conferences and new coaches being shuffled around the nation, there has been a lot to keep up with.
With all of the changes that have gone on, here is a look at 62 things that every fan needs to make sure they know before the 2012 season gets underway.
Begin Slideshow

»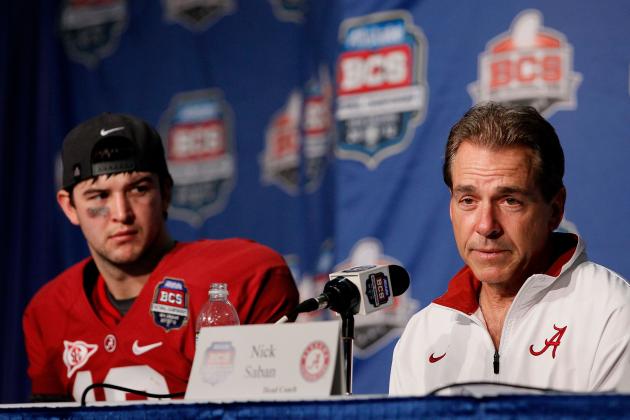 Chris Graythen/Getty Images

With all of the excitement about the new college football playoff system, fans need to remember that we still have two more years with the current BCS system. The playoff will not begin until 2014, so while a playoff system is on the way, it is not here yet.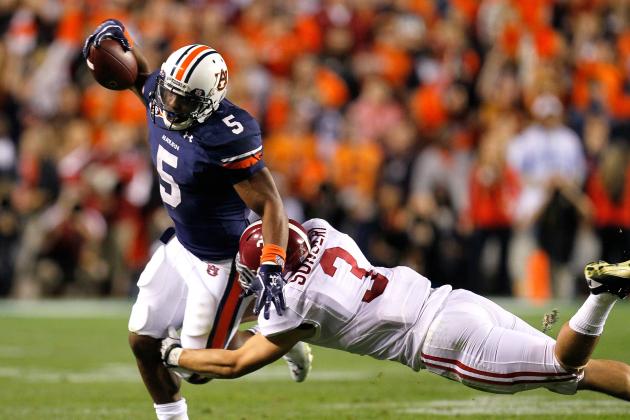 Kevin C. Cox/Getty Images

After two strong seasons at Auburn, the Tigers have lost their running back after he transferred to Arkansas State. After transferring, Dyer has run into some off the field issues that has now left his career in limbo, as Arkansas State has dismissed him from the program.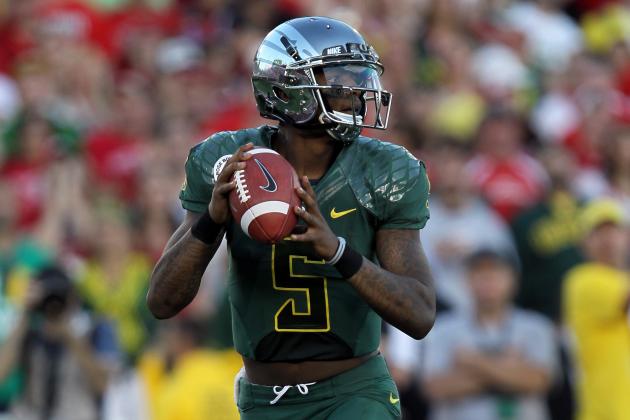 Stephen Dunn/Getty Images

While it was a shock to many, Darron Thomas made the choice to leave Oregon with a year left in eligibility and head to the NFL. The downside for Thomas is, he was not drafted and is still trying to fight his way onto a NFL roster.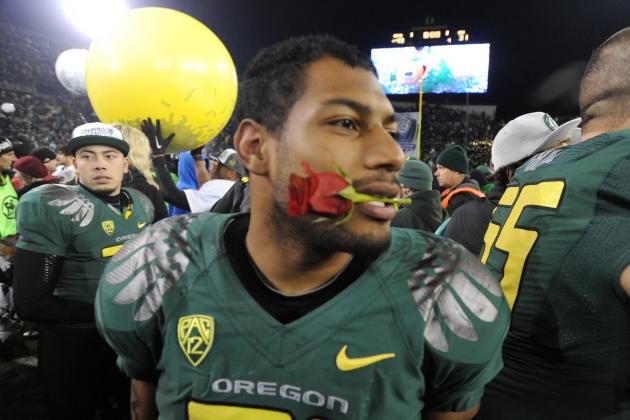 Steve Dykes/Getty Images

One of the most unique aspects of the Pac-12 title game is the fact that the game is played at the home stadium of the team with the best record. While other conferences have a neutral field location, the Pac-12 rewards their best team with a leg up in the title game.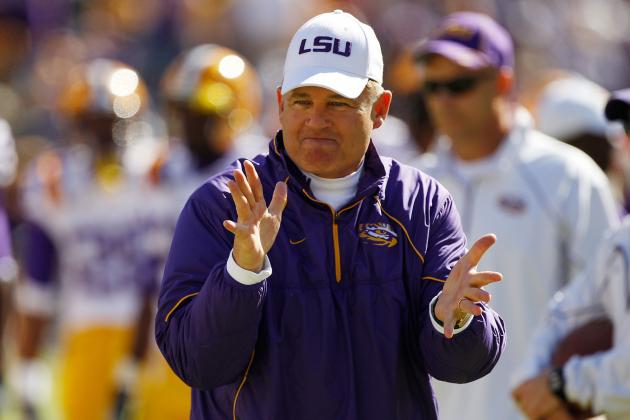 Chris Graythen/Getty Images

Last year, LSU went on the road and upset Alabama in overtime. After losing the rematch in the title game, the Tigers will be out for blood in early November when the two teams square off in Louisiana.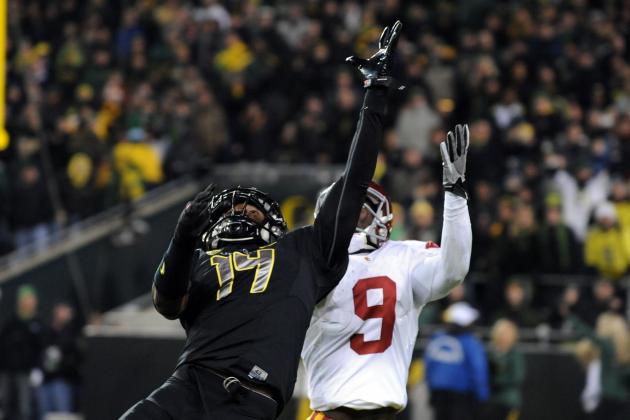 Steve Dykes/Getty Images

As if LSU vs Alabama wasn't enough, Oregon heads on the road to play USC on the same day. Last year, USC ended Oregon's home winning streak, and this game could very well determine which team will have home-field advantage in the Pac-12 title game.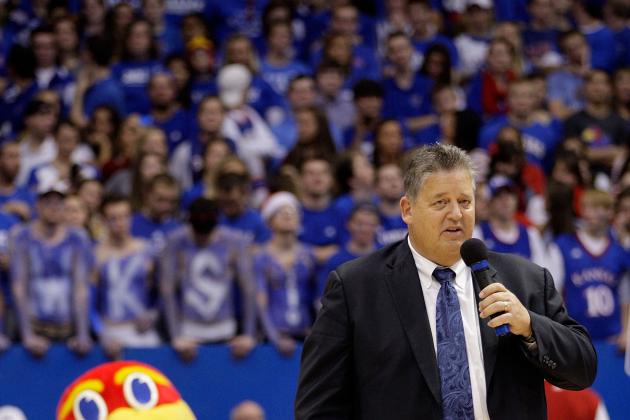 Jamie Squire/Getty Images

After being an assistant coach at Florida, Charlie Weis has been hired on at Kansas to be the new head coach. Despite his success in the NFL, Weis has yet to separate himself at the college game and will have more then he can handle with the Jayhawks.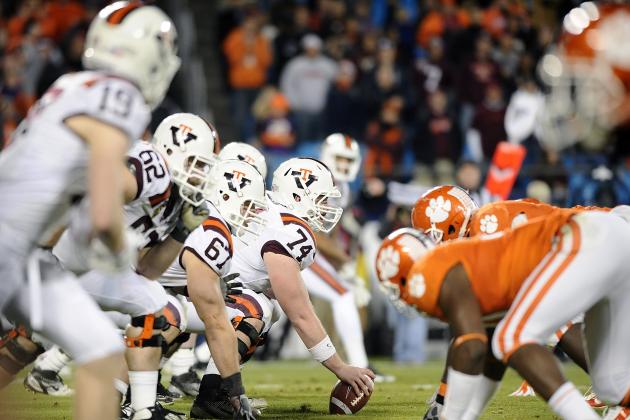 Jared C. Tilton/Getty Images

In 2011, Clemson went on the road and also played Virginia Tech in the ACC title and handled them in both meetings. With both teams having aspirations of a conference title or more, the Hokies have to head on the road this year and are hoping to avoid the fate they suffered last year.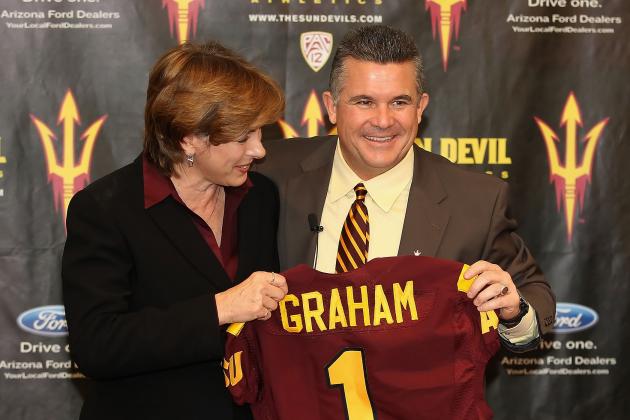 Christian Petersen/Getty Images

After holding two different jobs in two years, Todd Graham has made it three different jobs in three years by moving on to Arizona State. While it appeared that the Pitt job was one he planned on keeping, Graham made the move south, and only time will tell if he sticks around for a second season.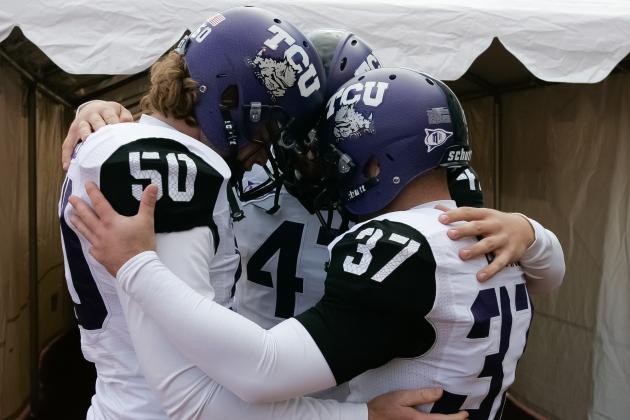 Otto Kitsinger III/Getty Images

One of the first moves that starts this year is the inclusion of TCU in the Big 12. TCU has been a strong team over the past two years, but never gained a lot of respect due to its schedule. This year, the Horned Frogs can prove they are for real after going through a year in the Big 12.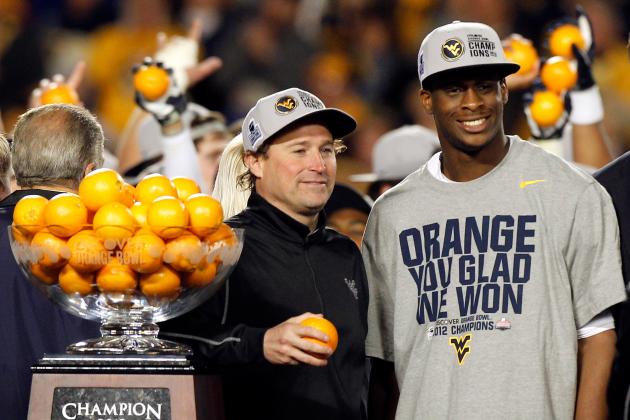 J. Meric/Getty Images

Joining TCU in the Big 12 is West Virginia. West Virgina has a strong team coming into 2012 and looks to be a serious threat to win the Big 12 in its first year. If Geno Smith and the rest of the team can handle the amount of travel they will have to undertake, they should be fine in their new home.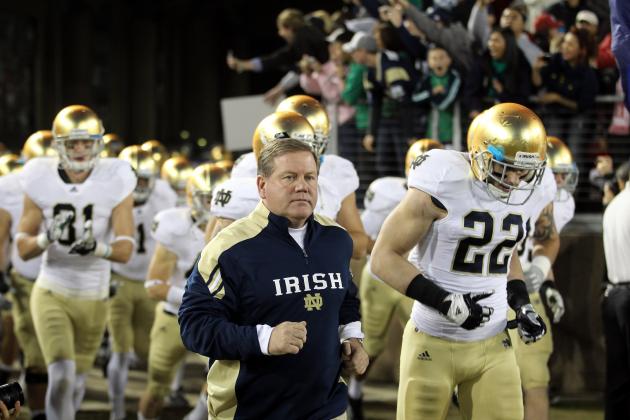 Ezra Shaw/Getty Images

To kick off the 2012 season, Notre Dame and Navy are making a trip across the pond to play their opener in Ireland. This is an extremely unique start to the season, but it will be interesting to see how the travel affects both teams in the weeks following the game.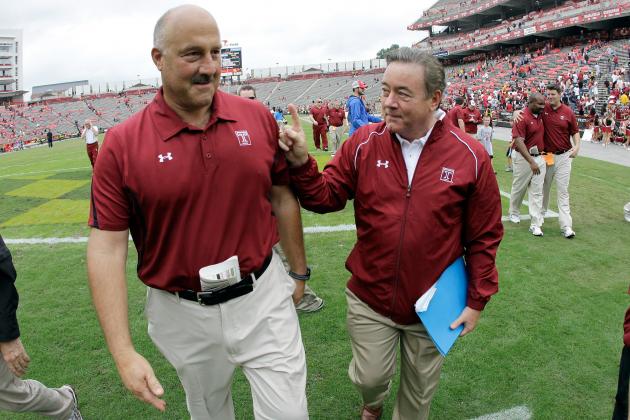 Rob Carr/Getty Images

After a strong 2011 season, Temple is making the jump to the Big East. While it may take it a year or two to get used to the increased competition, the Owls don't have to deal with West Virginia anymore since it is now in the Big 12.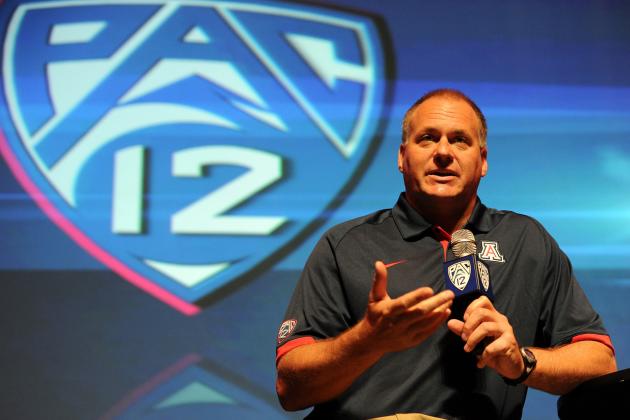 Jayne Kamin-Oncea-US PRESSWIRE

After spending a year out of football after being fired by Michigan, Rich Rodriguez is back and has landed at Arizona. Last year, Mike Stoops was fired after a horrible start, and Rodriguez has been given control and is hoping to lead a quick turnaround for the Wildcats.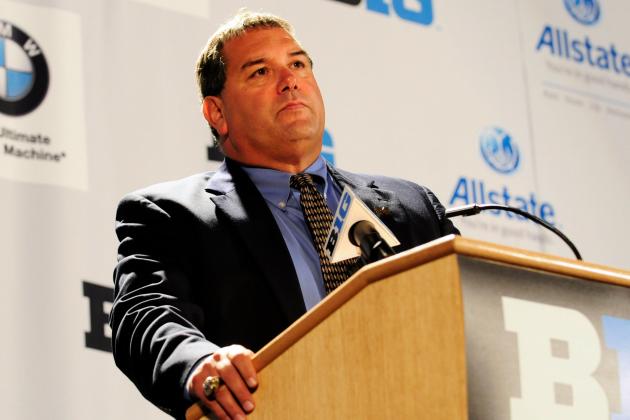 Reid Compton-US PRESSWIRE

One of the biggest games of the opening weekend will be the game between Michigan and Alabama that is being played in Dallas. For Michigan, this will be a chance for it to prove it is truly back, and for Alabama, it is a way to show it is focused on defending its national title.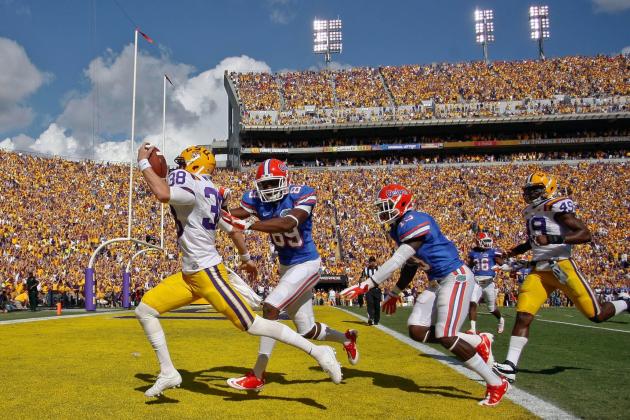 Derick E. Hingle-US PRESSWIRE

Last year, the NCAA instituted a rule that prevents players from celebrating before crossing the goal line. The penalty is a spot foul and actually erases the touchdown that is scored. The rule is still active, and it will be interesting to see if players still slip up on this in 2012.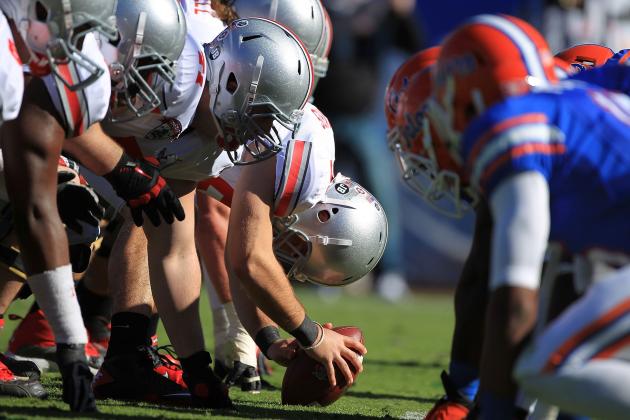 Scott Halleran/Getty Images

With the issues that went on at Ohio State a couple of years ago, it was finally announced that the Buckeyes would suffer a one-year bowl ban, which is scheduled for this season. While it will be different to not see Ohio State in a bowl, it will be a short stint and will likely not affect the program at all.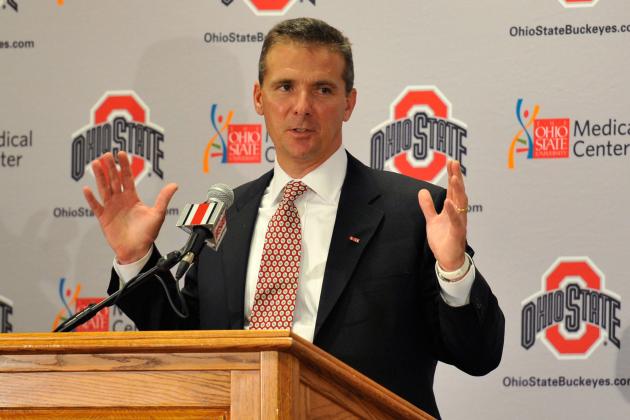 Jamie Sabau/Getty Images

While the bowl ban will hurt, Buckeye fans will get over it, as Urban Meyer is their new head coach and is taking over this year. Meyer took time off to address his health and family, but has bounced back and is ready to lead the Buckeyes in 2012.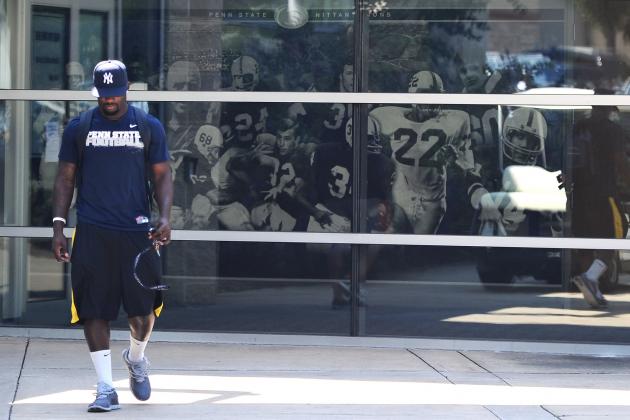 Patrick Smith/Getty Images

Unless you live under a rock, it is hard not to know that Penn State was dealt a ton of penalties, but one that will impact the 2012 season is the inability to go to a bowl game. A truly strange feeling is knowing that not only will Joe Paterno no longer be on the sidelines, but Penn State will not be a part of the postseason.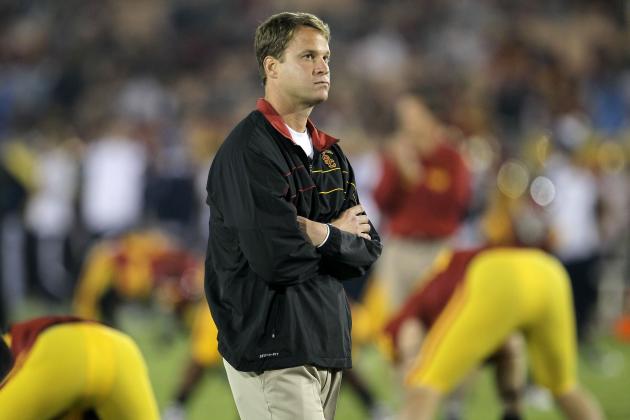 Stephen Dunn/Getty Images

While Penn State and Ohio State are dealing with not being eligible for the postseason, USC is back to being eligible and will be back in the hunt for a conference and national title. Despite being bowl-eligible, the Trojans will have to deal with the limitations on scholarships and find a way to fight through the lack of depth.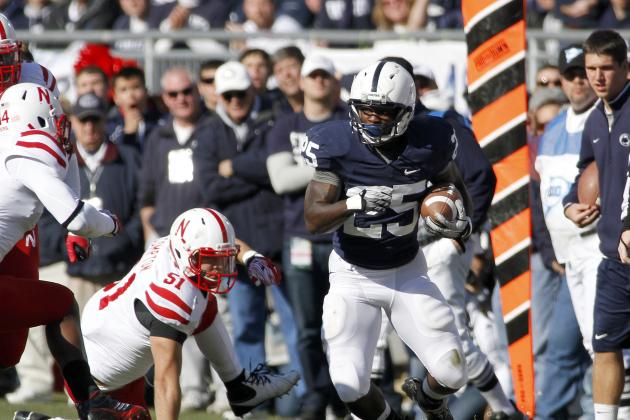 Justin K. Aller/Getty Images

When the penalties were announced against Penn State, it was also made known that Penn State players could transfer without penalty. One of the players that took the NCAA up on that offer was starting running back Silas Redd, who decided to make USC his new home.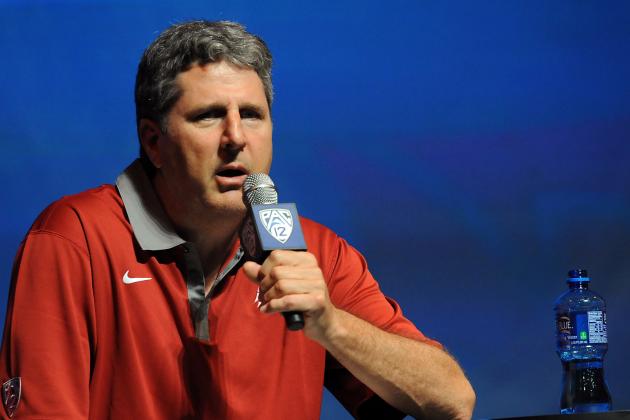 Jayne Kamin-Oncea-US PRESSWIRE

Mike Leach has been out of the spotlight for a couple of years, but is back and is the new head coach at Washington State. Leach is a coach that is hard to predict, but could help lead the Cougars back to being an extremely competitive team in the Pac-12.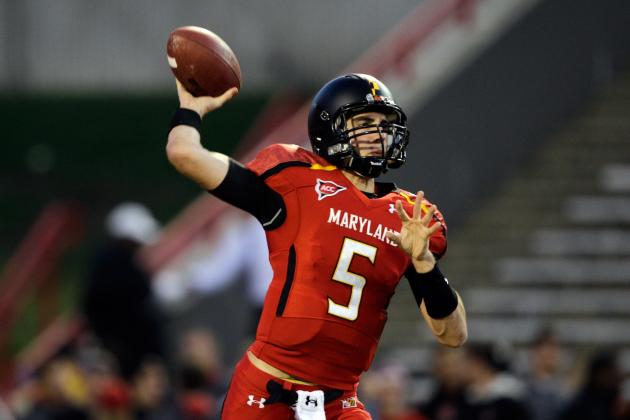 Rob Carr/Getty Images

Wisconsin has won the transfer lottery again this year. After having Russell Wilson join them for one year in 2011, the Badgers welcome in Danny O'Brien from Maryland and will continue to make a run at another Big Ten title.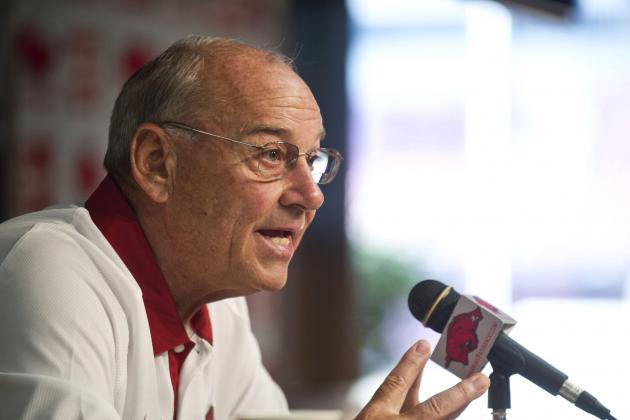 US PRESSWIRE

After an offseason full of turmoil that led to the dismissal of Bobby Patrino, the Razorbacks have turned to John L, Smith to lead them through the 2012 season. While it appears this is a one-year run for Smith, Arkansas is a strong contender in the SEC and should provide LSU and Alabama with a challenge.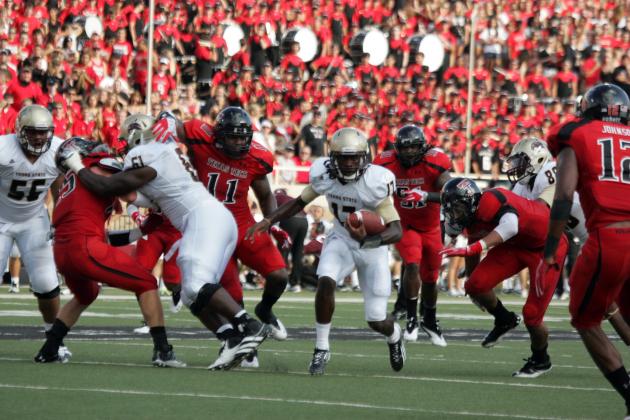 Michael C. Johnson-US PRESSWIRE

With already 120 teams in the FBS division, the NCAA has expanded the field to 124 teams. New to the FBS this year are Texas State, Massachusetts, UTSA and South Alabama.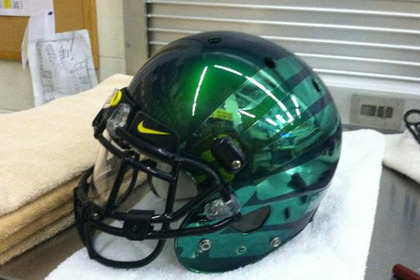 nikeblog.com
While this no longer shocks anyone, the Ducks are continuing with their trend of creating new uniforms by debuting a new set for the 2012 season. So far, there have only been some leaked photos of the jerseys; they will be debuted on August 22 and the Ducks will wear them for likely the next three seasons.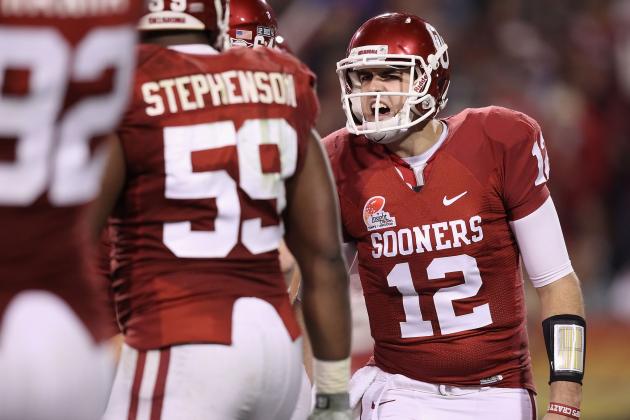 Christian Petersen/Getty Images

With an opportunity to go to the NFL staring him in the face, Landry Jones decided to return to Oklahoma and play out his senior season with Oklahoma. Jones is a key part to the Sooners offense, and they will need his leadership to return to the top of the Big 12 conference in 2012.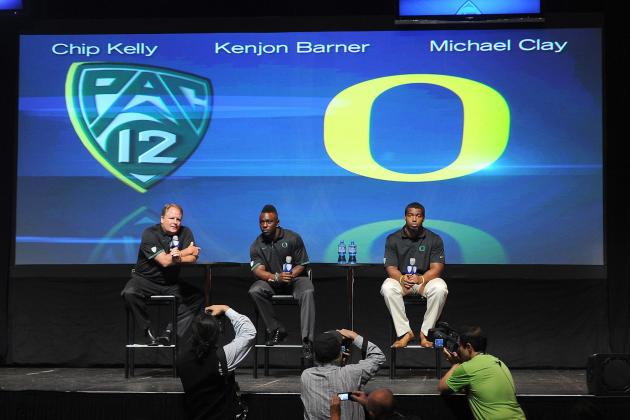 Jayne Kamin-Oncea-US PRESSWIRE

The Pac-12 continues to try and expand their brand out from the West Coast, and new to this year will be the Pac-12 network. The network will have continuous coverage of the conference, and if you are a fan of one of those teams, this channel is a must for the 2012 season.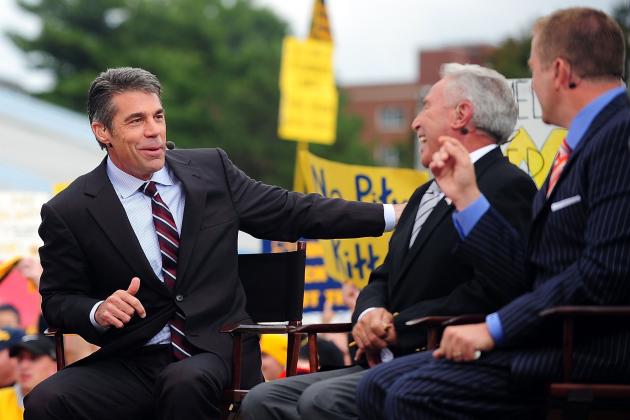 Andrew Weber- US PRESSWIRE

While it was never in doubt, the best college football show on television is back for another season. College Gameday will continue to tour the nation, stopping off at big games along the way and providing fans with a way to kill time before games kick off at noon.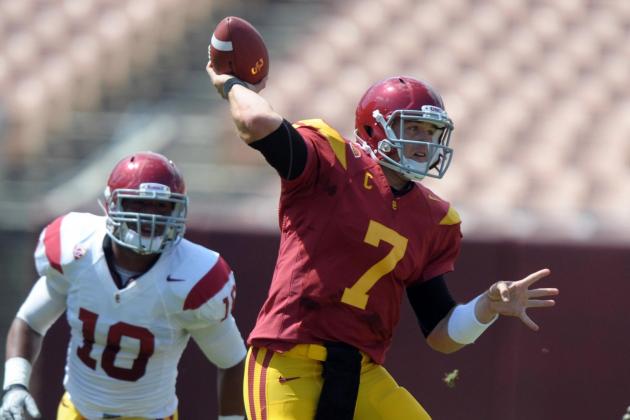 Kirby Lee-US PRESSWIRE

Along with being bowl-eligible again this year, the Trojans received great news when Matt Barkley announced he would be returning for his senior season at USC. With Barkley back, the Trojans immediately have jumped towards the top of people's preseason rankings and are believed to be a serious threat for the national championship.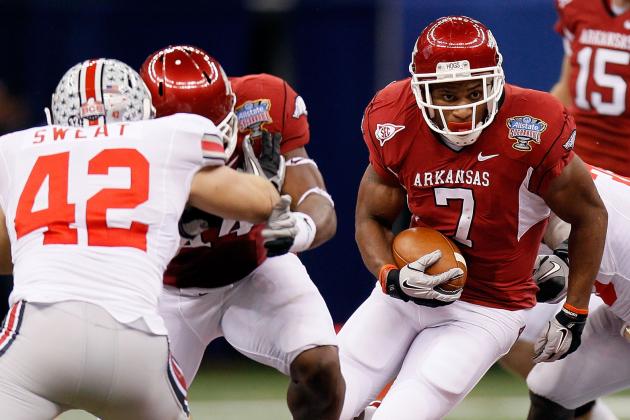 Kevin C. Cox/Getty Images

At the start of fall camp last year, Arkansas had a huge blow delivered when Knile Davis suffered an injury that ended his season before it started. This year, Davis is back and should add an additional element to the Razorbacks' offensive attack.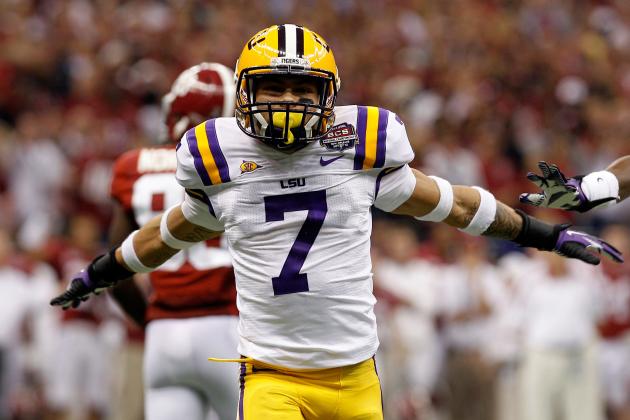 Chris Graythen/Getty Images

Tyrann Mathieu broke team rules for the third time at LSU, and his third strike was his last. LSU has kicked the corner off the team, and instead of transferring, he is going to head to rehab and try to get better.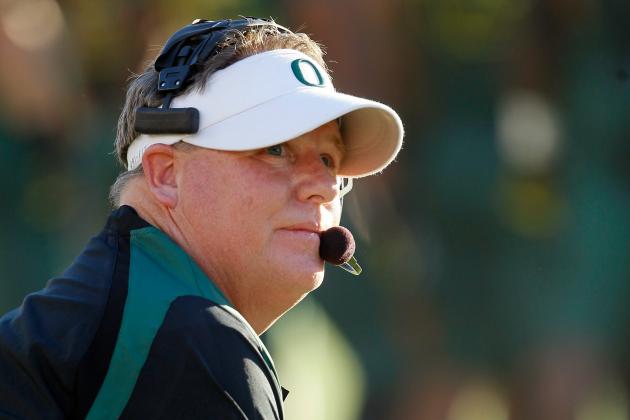 Jeff Gross/Getty Images

While it has fallen out of the headlines for quite some time, the NCAA has still not brought the investigation into Oregon to an end. While many believe the penalties will be minimal, this is a cloud that is still hanging over the Ducks and their program.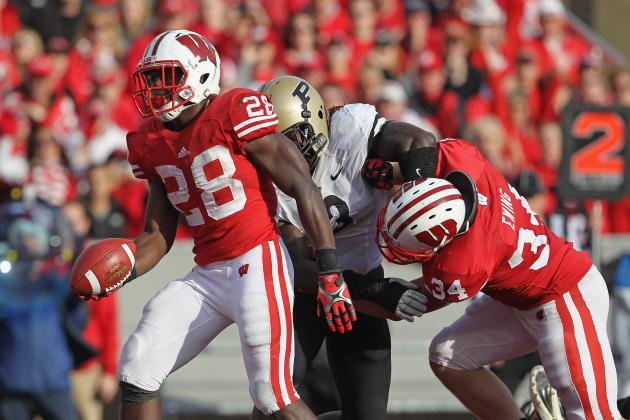 Jonathan Daniel/Getty Images

At the start of this month, Montee Ball was assaulted off the field, and it has left his season in jeopardy. The running back suffered upper-body injuries as well as a concussion. Due to the attack, Ball and the Badgers are still not sure when he will be back on the field for his senior season.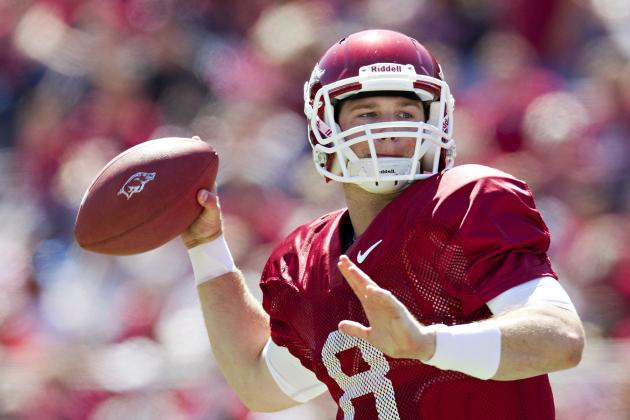 Wesley Hitt/Getty Images

Along with getting Knile Davis back, the Razorbacks also have Tyler Wilson back for his senior season. The quarterback had an outstanding junior season, and with his return for 2012, the Razorbacks are ready to make a run at the SEC title.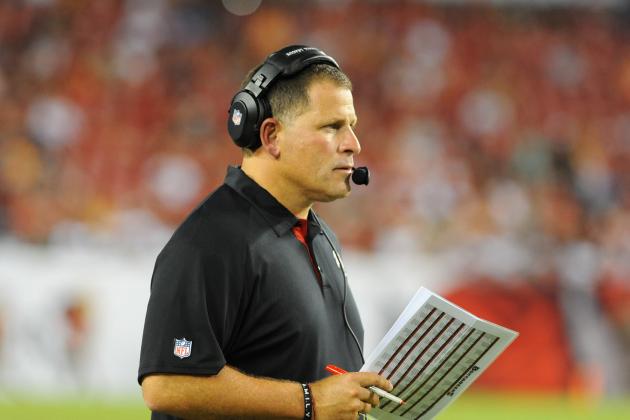 Al Messerschmidt/Getty Images

After spending years with Rutgers, Greg Schiano finally made the move to the NFL and is the new head coach of the Tampa Bay Buccaneers. With the move, Rutgers will turn the program over to Kyle Flood and hope he can continue where Schiano left off.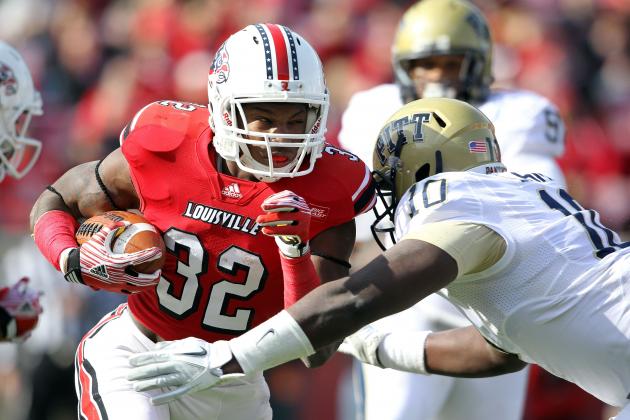 Andy Lyons/Getty Images

Despite the loss of West Virginia, the Big East will continue to have their status as an automatic qualifier to a BCS game. Even with the Mountaineers, people had an issue with the lack of talent in the conference, but this year could be even worse.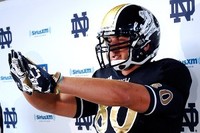 AP Photo/Joe Raymond
Much like Maryland's helmet from last year, the Irish have developed a split helmet look, and many Irish fans are probably turning in their graves. For a school so rich with history, these uniforms may not be as well-received as other schools have seen with their redesigns.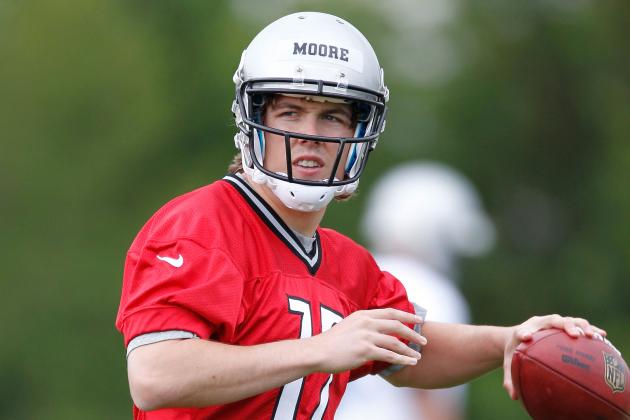 Gregory Shamus/Getty Images

While it seems like he has been there forever, Boise State's offense is no longer going to be led by Kellen Moore. Moore graduated after last season and is now a member of the Detroit Lions. He will be missed greatly by Boise State.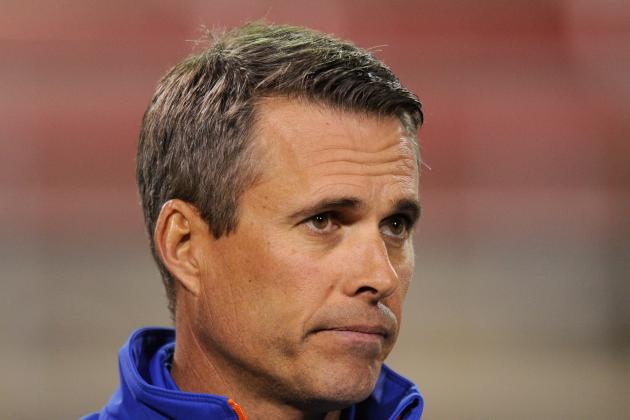 Ethan Miller/Getty Images

While Boise State is used to big games to open the season, it has had Kellen Moore under center for most of them. This year, Moore is gone and the Broncos are heading to East Lansing to open the season against Michigan State and its stellar defense.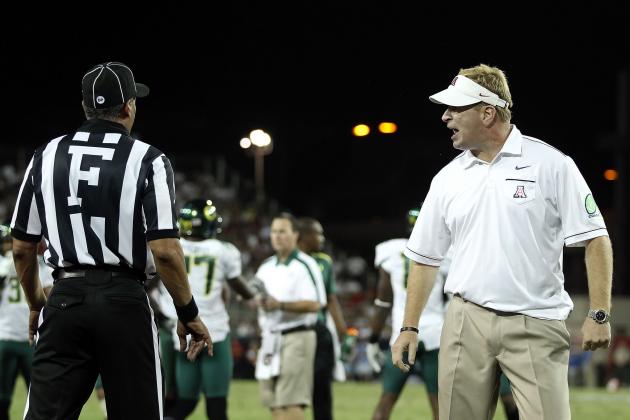 Christian Petersen/Getty Images

After a disastrous start to the 2011 season, Mike Stoops was fired from Arizona. In the offseason, Bob Stoops hired his brother to help improve the Sooners defense. While he may not be the head man anymore, expect to see Mike blowing up on the Sooners sideline.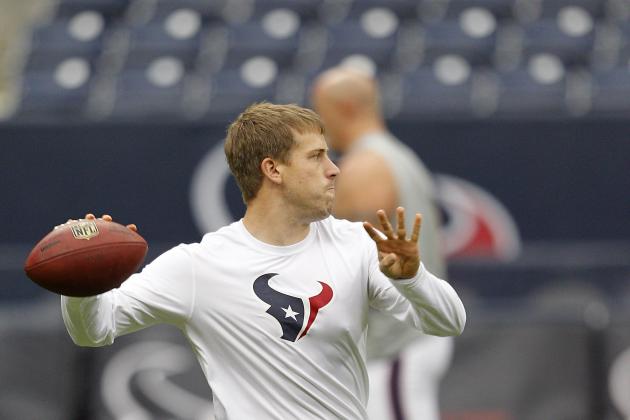 Bob Levey/Getty Images

After spending a lot of time at Houston, Case Keenum made it through the 2012 season and has finally graduated from Houston. With Keenum now gone, the Cougars need to find a replacement at quarterback and will certainly struggle to recapture last year's magic.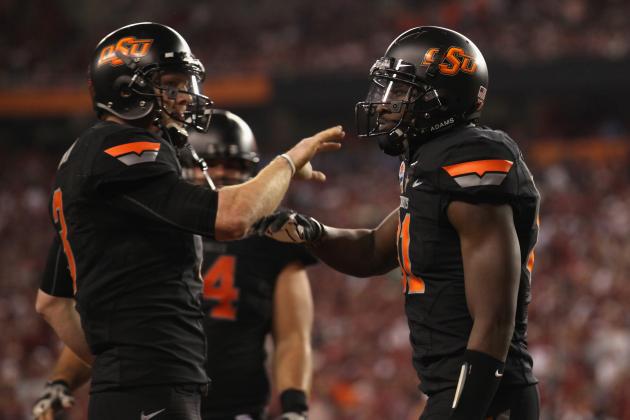 Donald Miralle/Getty Images

Speaking of replacing people, Oklahoma State has the tall task of replacing both Justin Blackmon and Brandon Weeden. The two were a dynamic pairing last year and helped the Cowboys make a run at going undefeated. If the Cowboys are hoping to defend their Big 12 crown, they must replace these two players, and do so quickly.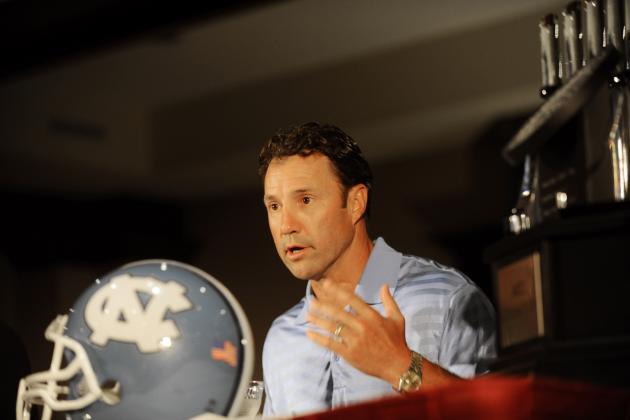 Sam Sharpe-US PRESSWIRE

After leading Southern Miss to a strong season in 2011 and upsetting Houston in the Conference-USA title game, head coach Larry Fedora made the move to North Carolina to become its new head coach. It will be interesting to see how Fedora handles the job at a larger program and facing stiffer competition.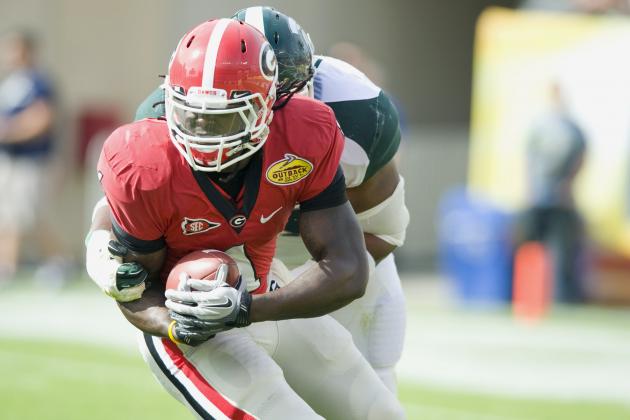 Jeff Griffith-US PRESSWIRE

After a promising first year at Georgia, Isaiah Crowell ran into some off-the-field issues, which has led to his dismissal from the Bulldogs program. While the loss may hurt Georgia, they should have enough offensive firepower to overcome it and try to get back to the SEC title game.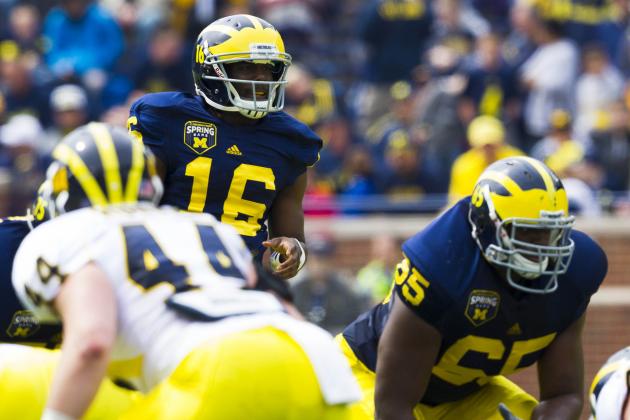 Rick Osentoski-US PRESSWIRE

While other big-name quarterbacks returned for their senior seasons, so did Denard Robinson. Robinson is a shifty playmaker that makes up for his lack of passing ability with speed and elusiveness. As a senior, Robinson has a chance to show his critics that he can be an effective passer and should be considered by the NFL.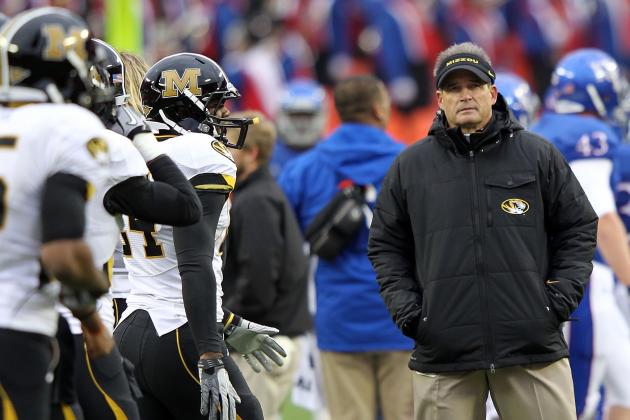 Jamie Squire/Getty Images

After spending time in the Big 12, Missouri is making a big move and is going to the SEC. Missouri will join arguably the best conference in the nation, and at least in their first season, the Tigers could struggle from start to finish.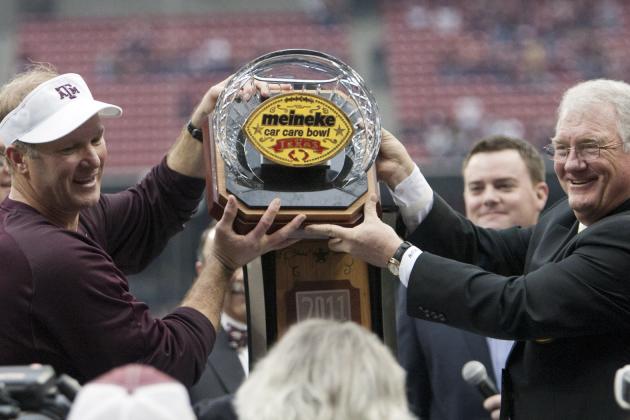 Bob Levey/Getty Images

Joining Missouri in the SEC is Texas A&M. The Aggies will also need some time to adjust to their new home, and without Ryan Tannehill at quarterback, they could struggle just as much as Missouri will.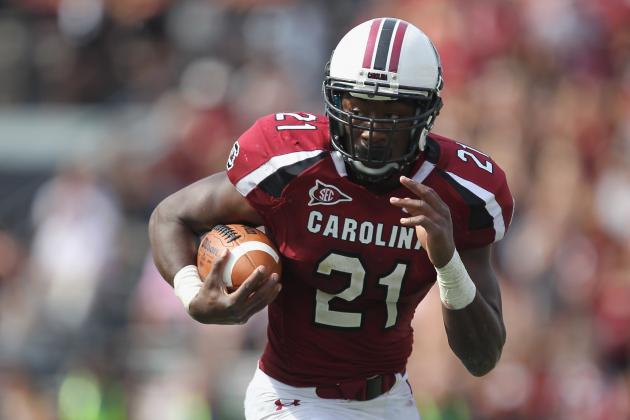 Streeter Lecka/Getty Images

After getting off to a great start in his second year at South Carolina, Marcus Lattimore suffered a knee injury that cut his season short. With a offseason to recover, Lattimore is back and looking to make sure that he does not miss a beat.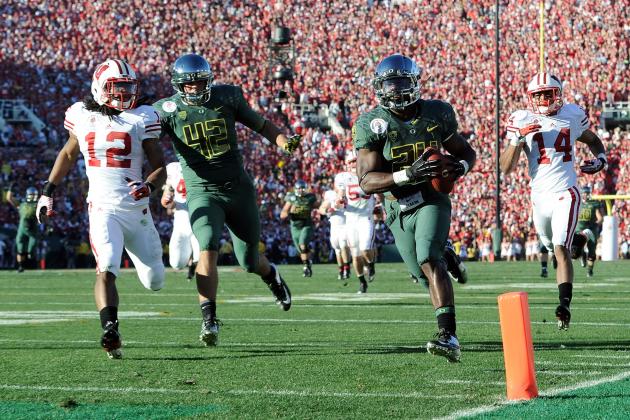 Harry How/Getty Images

Over the past three seasons, LaMichael James has been running wild in the Oregon offense. After last year's performance, the Duck back headed to the NFL opening the way for Kenjon Barner.
Barner is now the go-to back in Oregon's offense, and only time will tell if the Ducks can make another smooth transition at running back.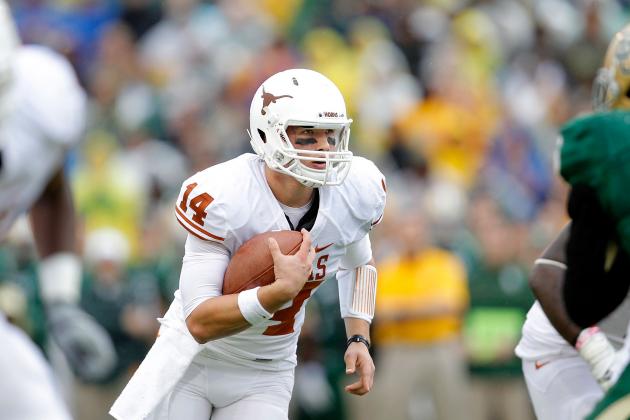 Sarah Glenn/Getty Images

Last year, the Longhorns bounced back and forth between Case McCoy and David Ash. The two quarterbacks failed to separate themselves, so Texas is still looking for one to emerge and be the leader of the offense in 2012.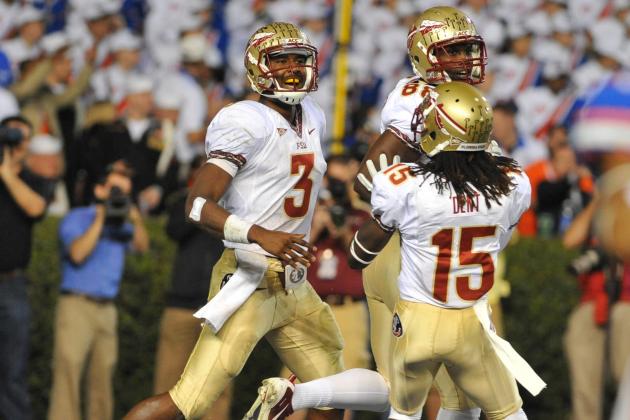 Al Messerschmidt/Getty Images

Despite the letdown that Florida State has had the past two years, the Seminoles are entering the season as the ACC favorite once again. They appear to be loaded on both sides of the ball, but will need to contend with both Clemson and Virginia Tech this season.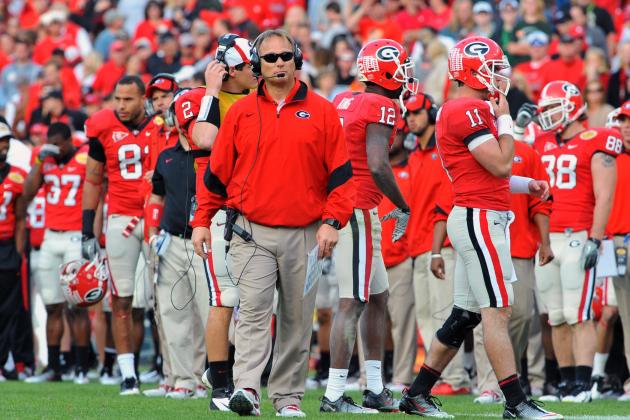 Al Messerschmidt/Getty Images

Coming into the 2011 season, many believed that the 0-2 start would finish Mark Richt's career at Georgia. Instead, the head coach and team bounced back to win 10 straight games and go to the SEC title game. Richt is back with a talented squad and is looking to return to the SEC title game in 2012.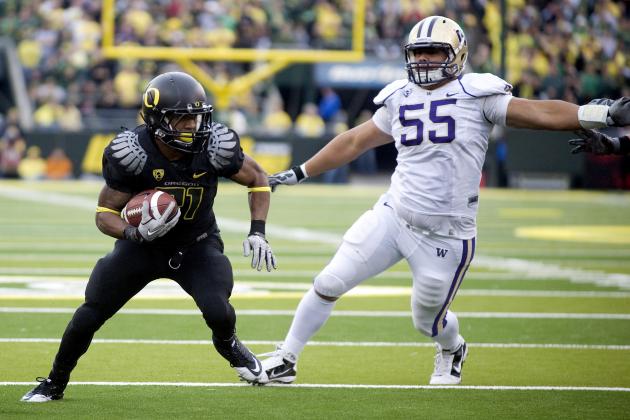 Steve Dykes/Getty Images

For anyone who watched Baylor and Washington square off during the bowl season, the Washington defense was bad at the end of last year and appears to be heading down that same road. While the offense led by Keith Price will score plenty of points, the Huskies defense will struggle to keep them in games all year.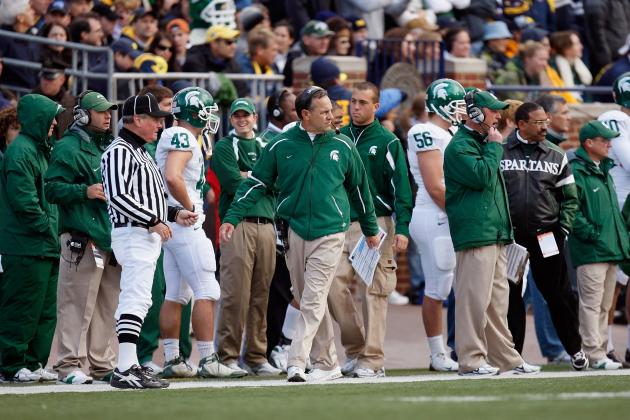 Gregory Shamus/Getty Images

For the past four years, Michigan State has owned its battle with Michigan. Under Mark Dantonio, the Spartans have begun to win back the state of Michigan, and despite having to head on the road this year, the Spartans are looking for a fifth straight win in this series this year.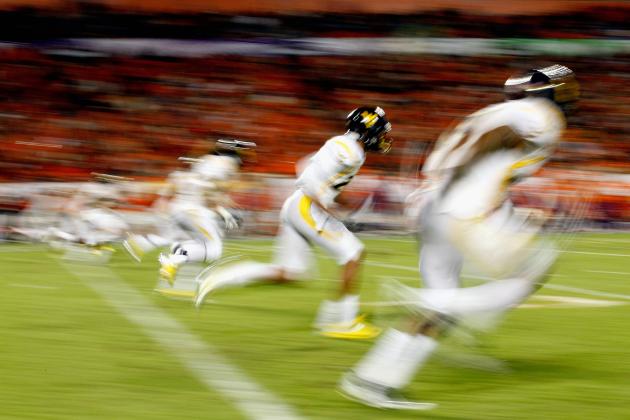 Streeter Lecka/Getty Images

While some people may not notice it, kickoffs have been moved up this year from the 30-yard line to the 35-yard line. While it may seem insignificant, this could have a impact on players who specialize in making big plays in the kick return game, but the hope is that it will help cut down on injuries.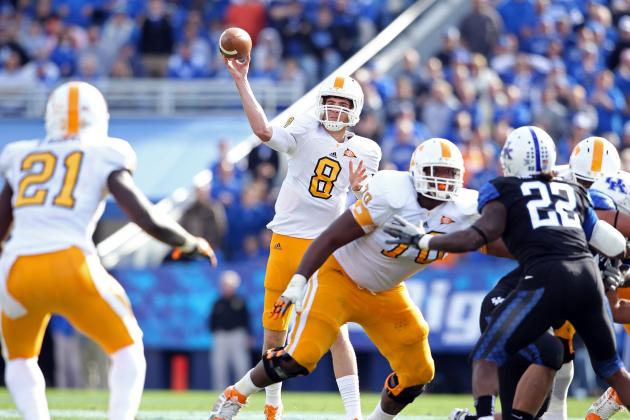 Andy Lyons/Getty Images

Last year, the Volunteers looked good at the start of the season, but took a turn when Tyler Bray started to run into injury issues. With a healthy Bray back for 2012, Tennessee could be the surprise team in the SEC with the talent it has on the offensive side of the ball.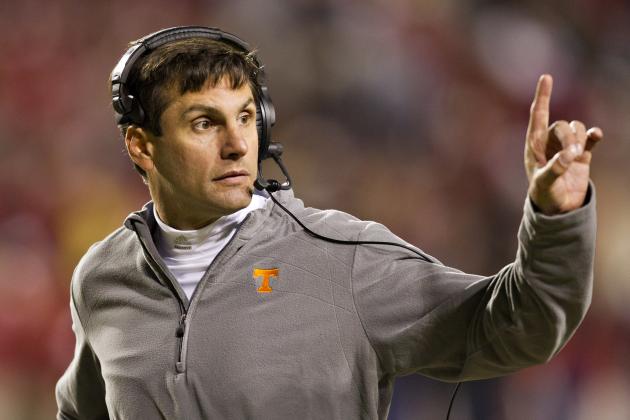 Wesley Hitt/Getty Images

Speaking of the Volunteers, head coach Derek Dooley is coming into the season sitting squarely on the hot seat. Dooley has a lot of talent, but the wait for Tennessee fans has been too long. If they fail to step it up in 2012, Dooley could be quickly sent out of town.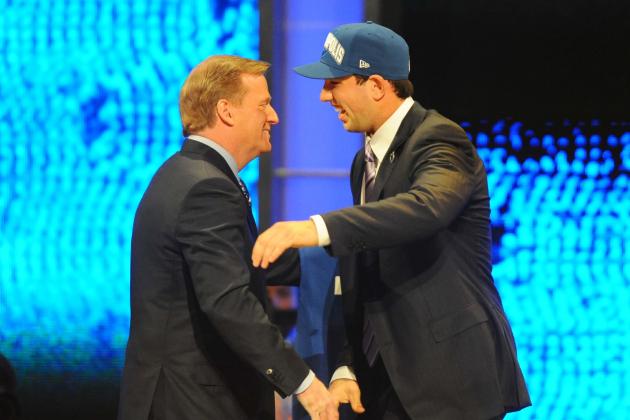 James Lang-US PRESSWIRE

One of the biggest losses from last year is what Stanford is going through, playing without Andrew Luck this year. Last season, Luck was like having another coach on the field, as he helped the offense to another outstanding season. It will be interesting to see how the Cardinal move on without his leadership.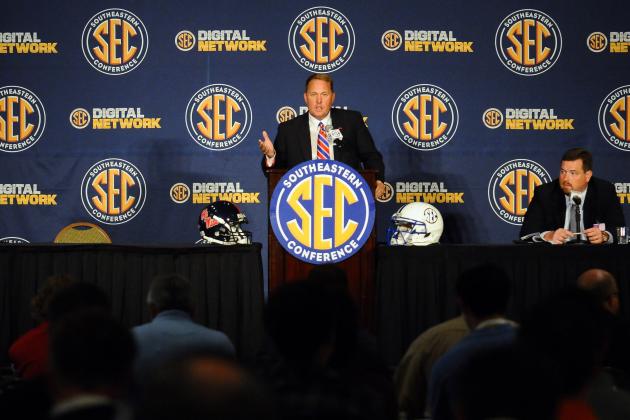 Kelly Lambert

Things have been going poorly at Ole Miss, and the Rebel fans are hoping that Hugh Freeze can get things turned around. Ole Miss has been at the bottom of the SEC, and if Freeze can't turn things around, things could get even worse.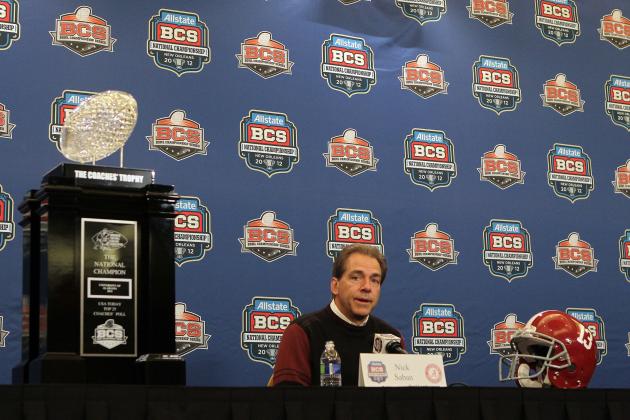 Andy Lyons/Getty Images

Something that has become abundantly clear this season is that every outlet is putting out their own top 25 preseason poll. While only certain polls impact the season, everyone engages in debate every time a new poll is released.
While there may be a lot of them, it is one of the unique aspects of the college game.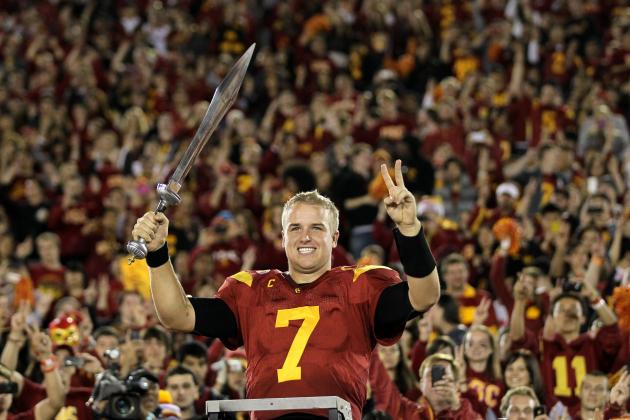 Stephen Dunn/Getty Images

One of the most notable awards in sports is the Heisman Trophy. When Matt Barkley declared his return to USC, he immediately became the favorite to win the Heisman. If Barkley can stay healthy for the entire season, you will likely see him with the trophy at the end of the season.