College Football Predictions: 5 Favorites That Will Disappoint in 2012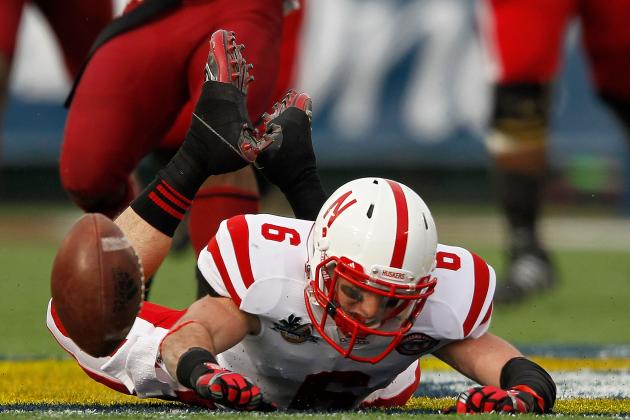 Mike Ehrmann/Getty Images

Can you feel it in the air?
We are nearing closer and closer to the 2012 college football season and the excitement is building throughout the country as dozens of fan bases get ready for another season of college football, with aspirations for a dream season next year.
However, while some will assuredly have an outstanding season and find themselves in BCS games in early 2013, others who are expected to have success by many, will falter.
Here is a look at five teams I see disappointing in 2012.
Begin Slideshow

»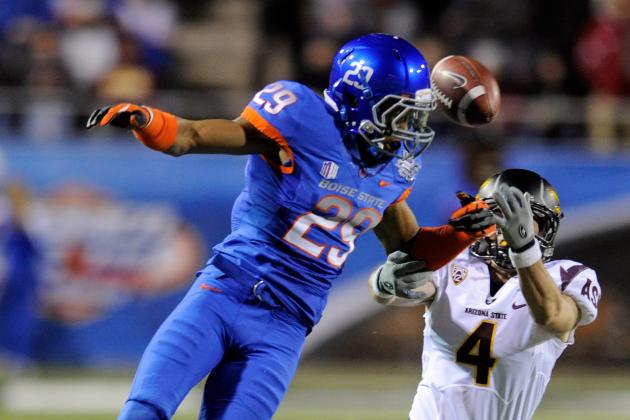 Ethan Miller/Getty Images

Boise State seamlessly made the transition into the Mountain West last season finishing the year 12-1, but without Kellen Moore returning once again, they may find it difficult to obtain the same level of success they have gotten used to over the last several seasons.
Boise State is ranked in the Top 25 to start another season, at No. 22 in the USA Today preseason poll.
It has now gotten to the point where people are expecting success from a school like Boise State every season, and for the most part Chris Petersen has shown tremendous consistency.
But replacing a Heisman Trophy-caliber quarterback like Kellen Moore will not be something that they will easily be able to replace.
Not to mention, the Broncos must also replace Doug Martin, Shea McClellin, and the team's entire defensive starting line.
I'm not suggesting Boise will fall off the map this year; I expect them to still be near the top of the standings in the MWC. However, every team has to rebuild every once in a while, and for Boise State it will be in 2012.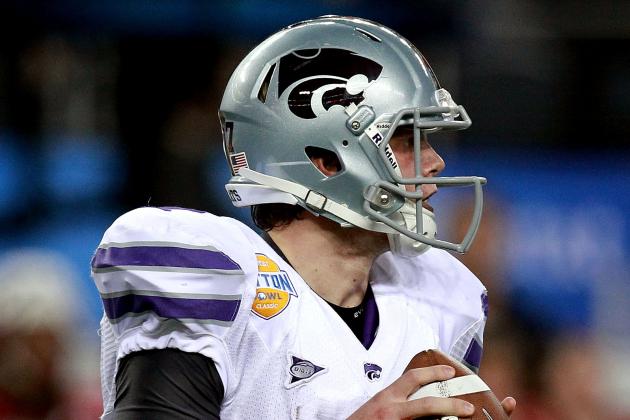 Ronald Martinez/Getty Images

Let me start by saying this, Collin Klein is an outstanding college football player and if Kansas State does falter next year, it will not be because of his lack of success.
However, when you look at what is around him, it may be difficult for K-State to repeat their 10-3 performance from last year.
The Wildcats come into the season 21st in the country in the USA Today preseason poll, however with tough games all around on their schedule, Kansas State could be falling out of that top 25 before the year ends.
Last season, Kansas State played extremely well in close games going 8-1 in games decided by a touchdown or less, but to expect that kind of success in toss up games again is far-fetched.
The Wildcats must contend with Miami in the non-conference, plus they catch Oklahoma, West Virginia, and TCU all on the road next season. Not to mention Texas, Texas Tech, and Oklahoma State at home.
Kansas State's passing game was last in the Big 12 a year ago, and as great as Klein is, their one-dimensional offense can only take them so far.
Also on D, their defensive line struggles to get after the QB, recording a measly 22 sacks a year ago, which was tied for 71st in the country.
Kansas State will be competitive, but to expect them to be in the BCS hunt again seems unlikely in 2012.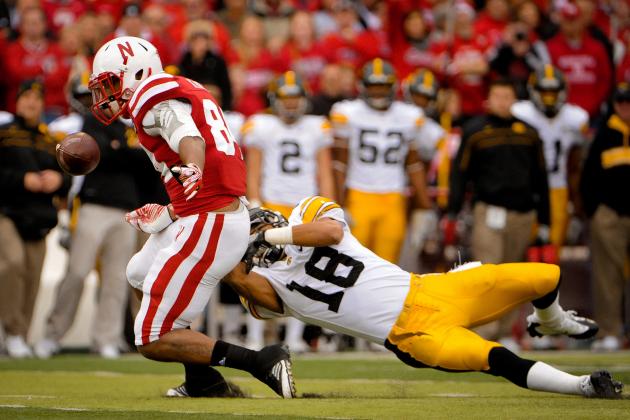 Eric Francis/Getty Images

Like many teams on this list, Nebraska's lack of success in 2012 will be a result of their schedule more than anything else.
While they have talent, to expect a team who essentially cannot pass the ball with any sort of efficiency, and who has serious questions in their pass rush and secondary, to win nine or 10 games does not seem realistic.
Taylor Martinez needs to take huge steps forward now in his third year as a starter. He has not shown the ability to avoid costly mistakes and make big passes when they need him. Also, Nebraska's receiving core is especially lackluster, which won't help him out much.
Nebraska doesn't even have an easy slate in the non-conference, they could easily slip up against defending Conference USA champs Southern Mississippi in the opener, UCLA on the road, or defending Sun Belt champions Arkansas State.
Then in conference play, road games with Iowa, Michigan State, Ohio State, and Northwestern are added in with home meetings against Wisconsin and Michigan.
Despite being 16th in the preseason poll, 8-4 or 7-5 seems much more reasonable when you factor in all of the Cornhuskers shortcomings and their tough schedule.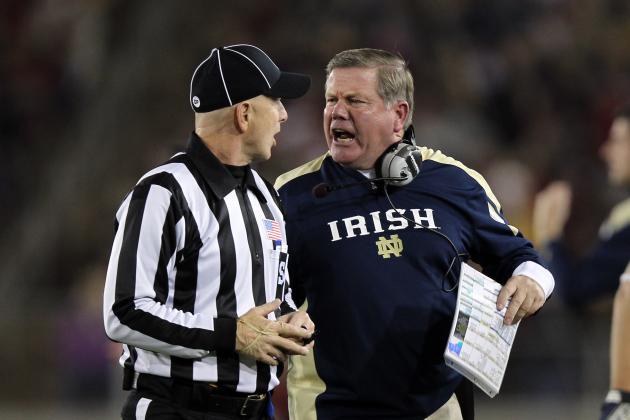 Ezra Shaw/Getty Images

Versus Navy in Ireland, vs. Purdue, at Michigan State, vs. Michigan, vs. Miami (FL), vs. Stanford, vs. BYU, at Oklahoma, vs. Pittsburgh, at Boston College, vs. Wake Forest, at USC.
Quite frankly, it is unfair to expect any team in the country outside of maybe the top three or four really elite teams to navigate that schedule without several blemishes along the way.
There are almost no let ups for the Fighting Irish in 2012. Even the "weaker" teams on their schedule are still BCS conference schools who easily have enough talent to pull off an upset if Notre Dame doesn't bring their A-game each and every week.
Not to mention, Notre Dame will be going into this year coming off a team with an 8-5 record, having the 118th ranked team in turnover-margin from a year ago. They also have little experience on defense, and serious questions at quarterback after the presumed starter Tommy Rees was suspended for the opener against Navy, and may not even get his job back when he returns.
In a different year, with a different schedule, Notre Dame could sneak up on people and make it into a BCS game with their current roster, but not with that daunting 12-game schedule in front of them.
Nevertheless, Notre Dame fans will still expect 10 or 11 wins and then call for the firing of Brian Kelly when they don't get there.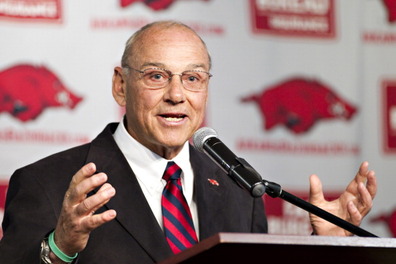 Wesley Hitt/Getty Images

How much do coaches really matter in college football?
Perhaps there is no better place to look for the answer than Arkansas in 2012.
John L. Smith comes in to coach the 10th ranked Razorbacks after the firing of Bobby Petrino in one of the off-seasons biggest scandals that didn't take place in Happy Valley.
Even with Petrino, the great college coach that he is, gone, expectations are still sky high in Arkansas that this will be the year the Hogs overtake LSU and Alabama as the team to beat in the nations top conference, the SEC.
As unfortunate as it may be, a 9-3 season will simply not be acceptable to Arkansas fans with dynamic players such as Tyler Wilson and Knile Davis on offense, to go along with one of the nation's top defenses.
However, even with LSU and Alabama at home this season, the gap between those two teams and Arkansas, especially without Petrino on the sidelines, will be too much to overcome.
Not to mention, the Razorbacks have struggled on the road in recent years, and they must go to Texas A&M, South Carolina, Auburn, and Mississippi State in 2012, and it is not unreasonable to think they could slip up in one of those games, or in a trap home game against Rutgers.
I am not denying Arkansas's talent, but when your expectations are a national championship, there is little room for error. Without Bobby Petrino to coach 'em up next year, I can't see the BCS trophy going to Fayetville in 2013.