College Football Predictions: 10 Hardest Places to Play in 2012
Gregory Shamus/Getty Images

Every Saturday during the fall, sleepy little towns turn into bustling centers of activity as football stadiums fill to capacity.
These stadiums are nearly as important as the players themselves on those days. They have become part of the pageantry of collegiate football, but more importantly, these stadiums have a direct impact on the game.
No other sport at any level is as influenced by home-field advantage as college football. For some teams, their home stadium is an impenetrable fortress where they simply cannot lose.
For their noise level, passionate fans and host team strength, these stadiums will be the toughest to play in this season.
Begin Slideshow

»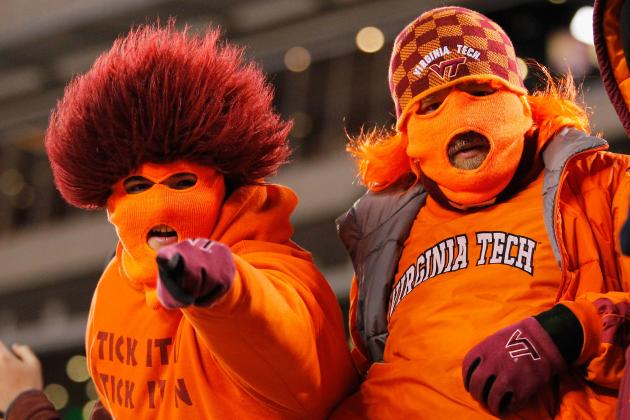 Geoff Burke/Getty Images

Despite its marginal size, Lane Stadium is one of the most rocking stadiums in the country.
Virginia Tech fans really get into their football, and Lane's unique design helps amplify the sound.
That, paired with a disciplined and talented Tech team, makes playing in Lane Stadium a nightmare for a lot of teams.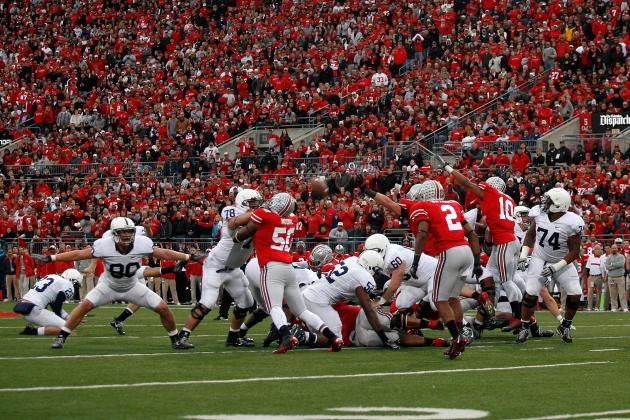 Kirk Irwin/Getty Images

Ohio State's massive stadium holds well over 100,000 rowdy Buckeyes—more than enough to strike fear into opponents.
With Urban Meyer patrolling the sidelines, Ohio State will only get scarier as the years go on. Their home-field advantage has been enough to help keep them in contention for a Big Ten championship every year.
This year should be no different.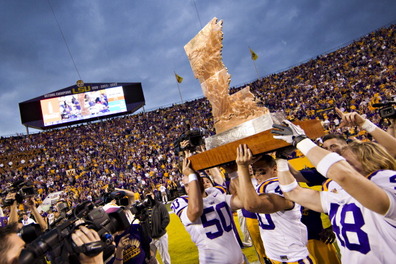 Wesley Hitt/Getty Images

Last year, LSU was simply dominant at home. A great deal of credit goes to the stadium itself. After all, Tiger Stadium is nicknamed "Death Valley" for a reason.
Filled to the brim with over 90,000 rabid LSU fans, Tiger Stadium comes alive at night. No stadium in the country is more intimidating during prime time.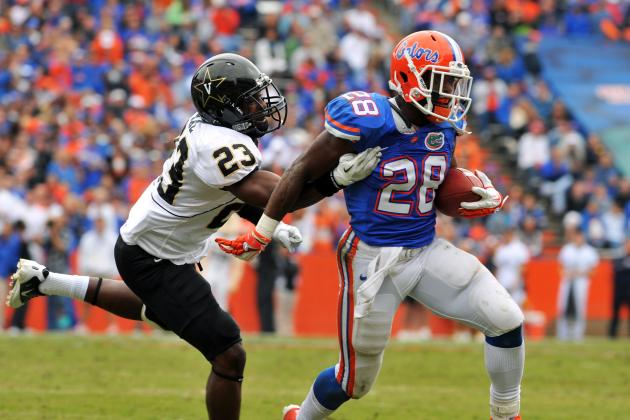 Al Messerschmidt/Getty Images

Ben Hill Griffin Stadium, better known as "The Swamp," has been eating teams up and spitting them out for decades.
This stadium is built so that fans have an up-close and personal experience. Visiting teams get to experience the home fanbase here in a more unique way that often leads to Florida victories.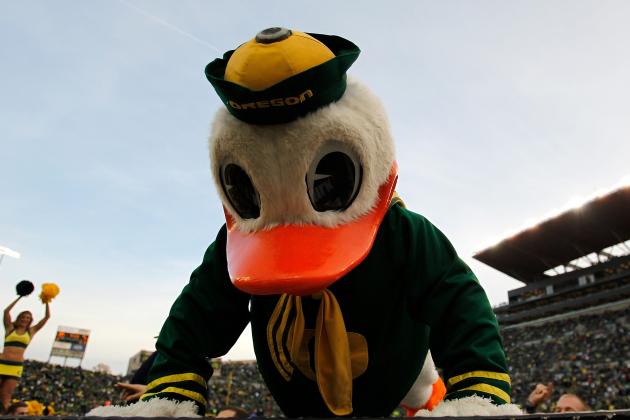 Jonathan Ferrey/Getty Images

A beloved mascot, a rabid fanbase and a unique stadium designed to reverberate sound leads to one of the most intimidating venues in the country.
That, paired with Oregon's incredibly fast offense, often leads to teams being absolutely bewildered when visiting Oregon. Few escape with a win.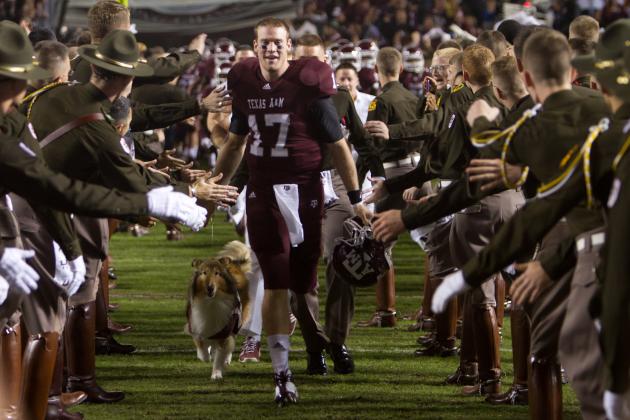 Darren Carroll/Getty Images

Texas A&M fans are known best for their practice of standing the entire game.
The way they fill Kyle Field on game day to intimidate opponents is just as impressive. The huge stadium is intimidating to behold, and with the 12th man present, playing in Kyle Field is always a daunting task.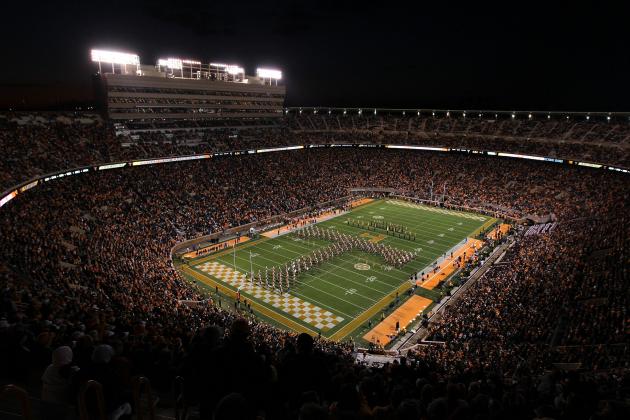 Andy Lyons/Getty Images

Both enormous and full of rabid fans, Neyland Stadium is renowned for holding Tennessee's distinctive cheers and deafening roar.
As Tennessee football continues to regain its glory, Neyland Stadium will grow in stature as one of the country's most fearsome venues.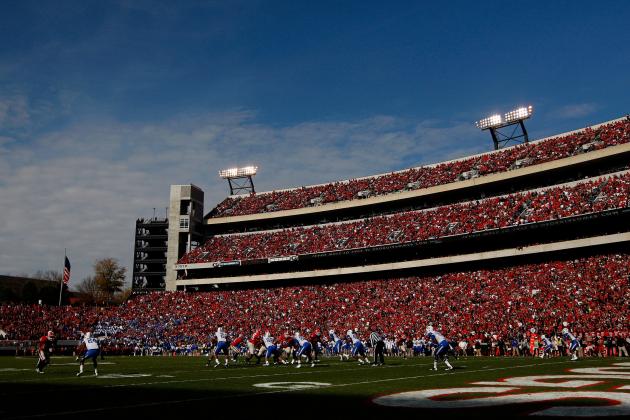 Kevin C. Cox/Getty Images

The SEC makes another appearance on this list with Georgia's venue, and like all the others, this is well deserved.
Sanford Stadium is one of the more unique pieces of architecture on the list with a very distinctive shape. Paired with Georgia's many traditions and rabid fanbases, this makes Sanford Stadium one of the best and most intimidating places to play in the country.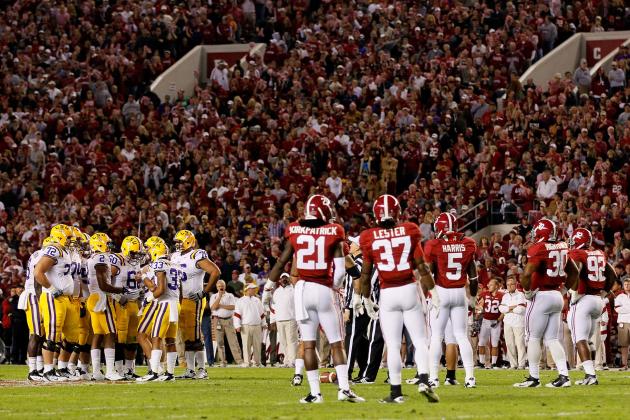 Kevin C. Cox/Getty Images

The reigning national champions will continue their reign of terror at Bryant-Denny Stadium. Despite their loss to LSU at home last season, Alabama's stadium is massive and fearsome to behold.
With Bama's talent and excitable fanbase, Bryant-Denny Stadium will only be more intimidating this year.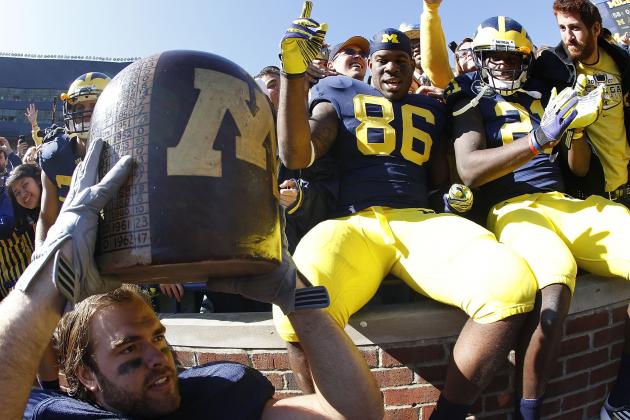 Leon Halip/Getty Images

With Michigan's football program once again resuming its place as a national power, it's only appropriate to recognize the stadium that makes it all possible.
Michigan Stadium is the biggest stadium in the country and also one of its loudest. With almost 110,000 screaming Wolverine fans in their ears, opposing teams often struggle to do anything in "The Big House."
Now that Michigan's team matches the ferocity of its stadium, the Wolverines have asserted themselves into national title contention.