College Football: Alabama, Stanford & the Easiest QB Gigs of 2012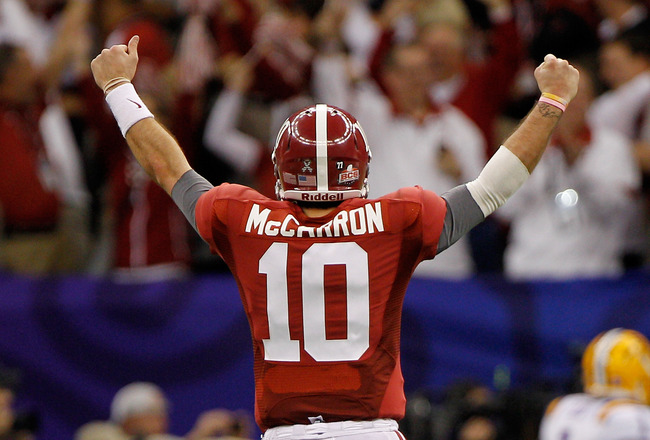 Chris Graythen/Getty Images
From a college football QB's perspective, what's even better than having a stable of speedy, agile and strong handed receivers?
Well, that's easy…many times for a QB, it's even more advantageous to have a prolific running game and/or a stifling defense on your side than a bunch of gifted guys to throw to.
And when you get handed a perfect balance of defense and rushing yards…watch out.
The following slideshow pinpoints nine 2012 QBs who have the incalculable benefit of both a running game and a top tier defensive unit, making their lives behind center a little less fraught than other guys with similar job descriptions.
Sure, these gunslingers will still have to throw the pill every once in a while, but the personal pressure to win through the air won't be near as bad as it will for say Seth Doege, the QB at Texas Tech.
Yes, Doege is the lucky duck who is saddled with the No. 87 nationally ranked rushing game and the No. 117 rated scoring defense from a year ago.
LSU
Kevin C. Cox/Getty Images
Even though there is much hoopla regarding junior QB Zach Mettenberger's role at LSU in 2012 (and now Penn State transfer QB Rob Bolden), this is still a team that simply did not win through the air in 2011.
Yes, Jarrett Lee was definitely underwhelming as a passer in the Tigers 13-1 bid for a title that fell just one game short, but he had the No. 22 nationally ranked rushing game and the No. 2 rated scoring defense backing him up.
Looking ahead to 2012 either Mettenberger or Bolden will have the top four rushers from 2011 back on the field as well as the top two tackle earners.
Either guy will have a much easier go of his "rookie" season under center at LSU with a fabulous support system.
Wisconsin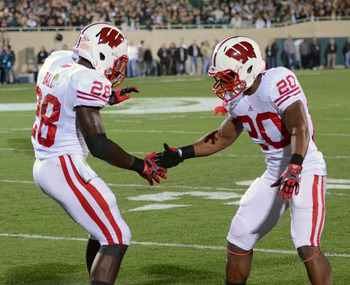 Wisconsin's dynamic rushing duo, Montee Ball and James White
Mark Cunningham/Getty Images
Maryland transfer Danny O'Brien, like his predecessor and fellow ACC transfer Russell Wilson a year ago, will have a fabulous supporting cast to make his job at Wisconsin easier in 2012.
Wisconsin's top two rushers (Montee Ball of 33 TD land and James White) are back from their No. 11 nationally ranked rushing attack as are three of the top five tacklers from their No. 13 scoring defense.
Though O'Brien won't likely rack up the rushing yards like Wilson did a year ago (O'Brien netted 57 yards rushing in 2011 vs. Wilson's 338 yards that made him the Badgers No. 3 rusher), he won't be expected to carry this team.
What's makes O'Brien's future, from a Big Ten standpoint, even rosier (pun intended) is the fact that Wisconsin is the leader in a Leaders division that includes postseason banned Ohio State and Penn State.
TCU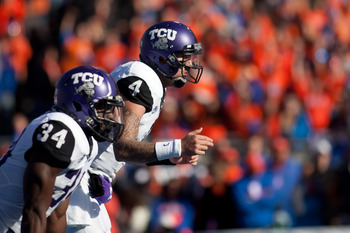 Otto Kitsinger III/Getty Images
TCU's incoming junior QB Casey Pachall might not have the bulwark of defensive and rushing support as others on this list, but he's got a strong enough case to deserve inclusion.
Pachall and the Frogs return the top five rushers from an attack that ranked No. 19 nationally in 2011, but things become dicier defensively where the Toads bring back seven starters overall but only two of the top five tacklers from the No. 28 scoring unit in the land.
Still, this is a team that won 11 games in 2011 with a rushing offense that ranked No. 19 and a passing attack that ranked No. 64.
What's interesting for Pachall in 2012 is TCU's foray into the Big 12 which will up the stakes and change the dynamics of the Horned Frogs needs.
Regardless of all this, Pachall won't be expected to completely carry the load with his arm.
Stanford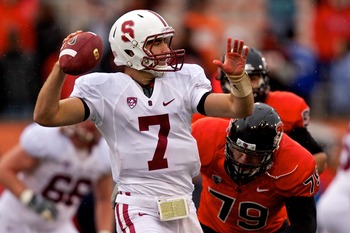 Brett Nottingham, candidate to replace Andrew Luck at Stanford
Craig Mitchelldyer/Getty Images
What could possibly make being the guy who follows Andrew Luck as the QB at Stanford any easier?
Well, how about having the top three rushers back from the No. 18 nationally ranked rushing offense from a year ago and three of the top four tacklers from the No. 30 ranked scoring defense?
Sure, there are huge hits in the trenches and yes, it won't be easy to replace Andrew Luck, but whether it's Brett Nottingham or Josh Nunes, they'll have lots and lots of support.
Ohio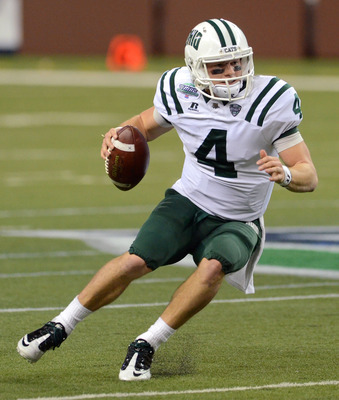 Mark A. Cunningham/Getty Images
A team that we will likely hear more about in 2012, Ohio returns 15 starters in 2012 from their 10-win product from a year ago.
Though Bobcat QB Tyler Tettleton played well enough to lead Ohio to a No. 43 ranking in passing yards last season, he also relied on the services of the No. 24 nationally ranked rushing offense and the No. 31 rated scoring defense.
Coming in 2012, Ohio loses No. 1 rusher Donte Harden who accounted for 986 yards but the Bobcats return their No.3, No. 4 and No. 5 guys.
What's a bit misleading in the case of Tettleton (and honestly it somewhat hurts his "easiest gig" bid) is the fact that he was the Bobcats No. 2 rusher in 2011 with a whopping 658 yards.
Defensively, the Bobcats return eight of their top 10 tacklers from a year ago which should make Tettleton's life much easier.
Overall, Tettleton doesn't have near the help as others on our list, but if the younger rushers can take over where Harden left off, he's a blessed man.
Missouri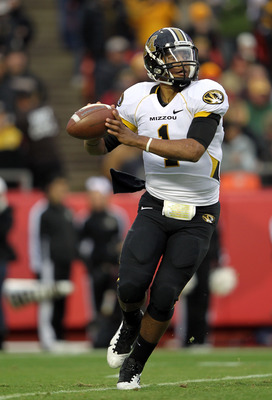 Jamie Squire/Getty Images
Similar to the situation at Ohio, Missouri is led by a running QB backed by a good defensive unit, but what separates the Tigers from Bobcats is the fact that they have two backs coming back who accounted for nearly 2,000 yards last season.
Yes, returning junior QB James Franklin was the No. 2 rusher in Missouri's No. 9 nationally ranked rushing offense from 2011, but back also are the No. 1 guy Henry Josey and the No. 2 man Kendial Lawrence.
Defensively speaking, Missouri returns six of the top 10 tacklers from its No. 43 ranked scoring defense, but, the Tigers' No. 94 ranked pass defense will need to improve to really give Franklin a break (this is less of a concern given the switch from the pass happy Big 12 to the run-centric SEC).
South Carolina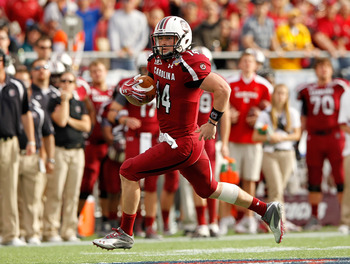 Mike Ehrmann/Getty Images
Though it certainly must be a good feeling for Gamecocks fans to have a definite starter under center for 2012, South Carolina is yet another team that doesn't require its QB to throw for a zillion yards.
Incoming junior Connor Shaw definitely earned his stripes in Carolina's 11-2 campaign last season, but keep in mind that his support system consisted of the No. 26 nationally ranked running game and the No. 10 ranked scoring defense.
Yes, Shaw did well, but the reality is that passing game ranked No. 95 nationally in yards per game.
For 2012, the Gamecocks return their top four rushers from a year ago (a number that includes Marcus Lattimore and then Shaw himself who was the No. 2 guy) and then three of their top five tacklers.
Though Shaw will likely continue to mature, he's got lots of help, including a slew of top 25 rated recruits at his disposal to take the heat off.
Oregon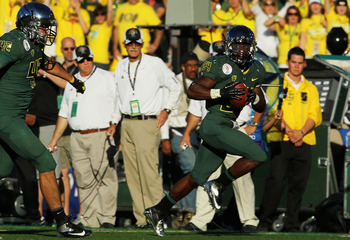 Oregon's Kenjon Barner
Stephen Dunn/Getty Images
Even though super-back LaMichael James has left Oregon's No. 5 ranked rushing offense, whoever wins the QB battle for the Ducks will have the services of No. 2 man Kenjon Barner (971 yards, 11 TDs in 2011) and the No. 3 guy De'Anthony Thomas (608 yards, seven TDs in 2011).
Indeed, whether its sophomore Bryan Bennett or freshman Marcus Mariota that wins the starting job, he won't be expected to win Oregon's fourth straight Pac-12 crown through the air.
To illustrate, the Ducks ranked No. 5 in rushing yards in 2011 vs. No. 68 in passing yards; and keep in mind that the net result was a No. 3 national ranking in scoring.
Even though the Ducks return three of the top five tacklers from last season, this is a defense that ranked No. 52 in scoring, No. 54 against the run and a questionable No. 88 vs. the pass.
The bottom line is that for the new Ducks starter to be "living the dream" in 2012 there will need to be continuity in the running game (i.e. nobody losses a step) and the defense will have to step it up a notch.
Either way, the Duck under center will be among only a handful of guys that won't be forced to throw the ball with wild abandonment.
Alabama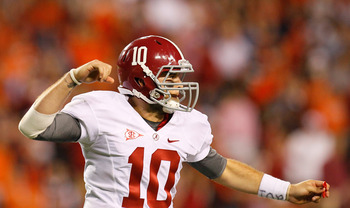 Kevin C. Cox/Getty Images
The statistical resume that underscored the Crimson Tide's national championship run in 2011 was anchored by a running game that ranked No. 16 nationally and a scoring defense that ranked No. 1.
This perfect combo made Tide QB AJ McCarron one of the luckiest guys in college football last season.
Moving forward McCarron will be a junior in 2012 which, along with the infusion of a talented group of receivers, means that Alabama will more than likely improve on its No. 69 national ranking in passing yards from a year ago.
The concern with McCarron in his bid to repeat as an "easy gig" candidate (and for the Tide to repeat as a team) is the fact that only seven starters return on offense and a mere four come back to campus on the defensive side of the ball.
Among the losses to attrition are the top back and the top three tacklers.
But that said, Alabama has recruited and stockpiled the type of top tier talent which puts them in the unique position to absorb the personnel hits and still play at a championship level.
If nothing else it will be interesting to revisit these numbers and this concept in regards to Alabama and McCarron in January.
Keep Reading