9 College Football Teams with the Worst Home-Field Advantages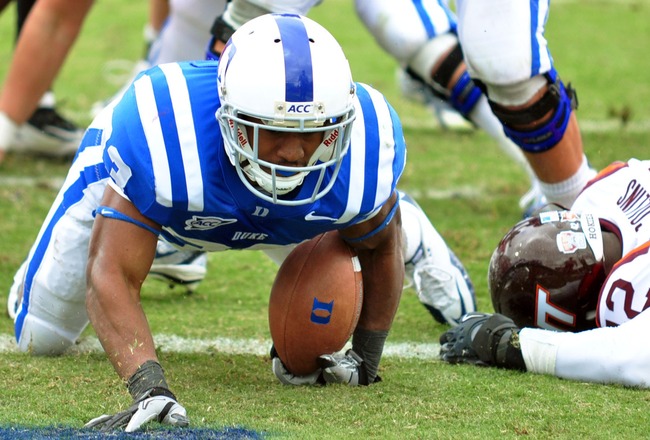 Rob Kinnan-US PRESSWIRE
Did you know that of the current 124 FBS teams, only 26 have a losing record at home over the last decade?
That means only 21 percent of FBS teams are under the .500 mark at home in the last 10 years, while a whopping 79 percent of the field has a winning record.
Of the 26 teams that don't own a net home-field advantage over the last 10 years, nine call AQ-BCS conferences home, while the other 17 are from non-BCS leagues.
And of the 11 FBS conferences (not including Independents) currently in the mix, all but one is represented on the list, with the exception being the current Big 12 wherein every program is above the .500 mark.
Breaking down the total number by conference, the MAC leads the way with five teams hitting the list, followed by C-USA, the Sun Belt and WAC with three members apiece.
Next in line is the large group that includes the Big East, the Big Ten, the Mountain West, the Pac-12 and the SEC, which each have two representatives. Finally, the ACC and Independents tie for last with one member each.
The following slideshow focuses on the bottom of the group from an individual standpoint and ranks the nine FBS teams with the worst record at home over the last 10 years. In a sport where the home-field advantage is so very real, it's amazing how these programs have struggled within the confines of their own stadiums that are often located on their own campuses.
9. North Texas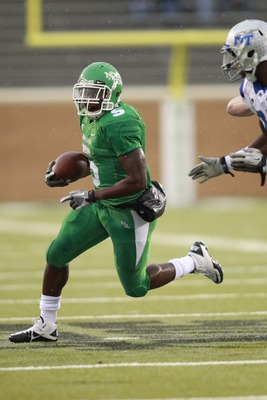 Tim Heitman-US PRESSWIRE
Home Record since 2002: 22-31 (41.51 percent)
One of the three members of the Sun Belt Conference with a losing record at home over the last decade and the only one to make our top nine, North Texas is 22-31 at home since 2002.
Though the Mean Green posted winning records at Fouts Field in 2002, 2003 and 2004, they were a miserable 5-21 in Denton from 2005-10, earning them a spot on our dubious list.
Fouts Field, which had served North Texas since 1952, was replaced by Apogee Stadium in 2011. The Mean Green posted a 4-2 home mark, snapping the painful six-year losing streak.
8. Tulane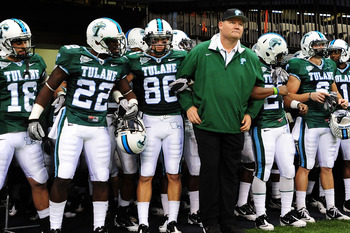 Stacy Revere/Getty Images
Home Record since 2002: 25-36 (40.98 percent)
Tulane is one of three C-USA programs with a losing record at home over the last decade, but it is the only one to earn a spot in the top nine.
The Green Wave haven't enjoyed a winning record at home since 2006, and their last win at the Mercedes-Benz Superdome in New Orleans came in their 2011 opener versus FCS Southeastern Louisiana.
It certainly doesn't help that Tulane's overall record in the last decade is a dismal 39-81.
7. UNLV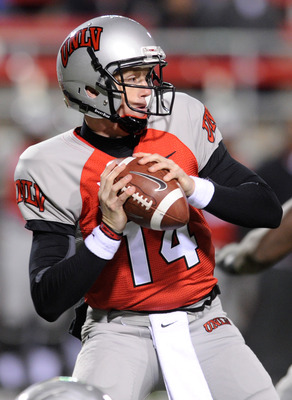 Ethan Miller/Getty Images
Home Record since 2002: 23-36 (38.98 percent)
The sole, current Mountain West Conference member in our top nine, UNLV has only posted winning records at home twice in the last decade, a feat it pulled off by going 4-3 in both 2008-09.
UNLV is just 33-86 overall in the past decade and 4-21 over Bobby Hauck's first two seasons in Vegas, making it easier to understand why the Runnin' Rebels have struggled mightily at Sam Boyd Stadium.
6. Idaho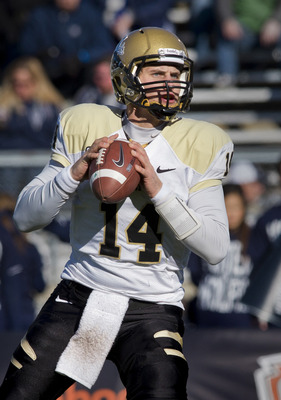 Douglas C. Pizac-US PRESSWIRE
Home Record since 2002: 20-32 (38.46 percent)
The only current WAC program in our unsavory top nine, Idaho hasn't won a home contest since it walloped FCS North Dakota 44-14 during Week 2 of the 2011 campaign.
The Vandals have had more recent success at home than others on our list; they went 4-2 at the Kibbie Dome in both 2009 and 2010.
Other than this blip, however, it's been a losing effort at home since 2002.
5. Vanderbilt
Jeremy Brevard-US PRESSWIRE
Home Record since 2002: 25-41 (37.88 percent)
One of two SEC teams that have a losing record at home since 2002 (the other is Mississippi State), Vandy's 25-41 mark in Nashville gives them the honor of being one of only two AQ squads in our top nine.
The Commodores dazzled to a decade-high 5-3 record at historic Dudley Stadium in 2011, but other than that (and 4-4 and 4-3 marks from 2007-08) it's been slim pickins at home.
Vanderbilt obviously has the burden of playing in what is arguably the toughest conference in college football, making wins at home or away substantially more difficult to come by.
4. Eastern Michigan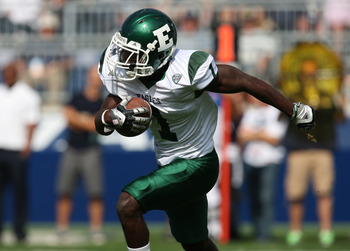 Rob Christy-US PRESSWIRE
Home Record since 2002: 19-32 (37.25 percent)
One of two MAC teams in our top nine, Eastern Michigan was a mind-bending 14-31 (or 31.11 percent) at home since 2002 going into last season.
In fact, coming into 2011, the last home game the Eagles had won was way back on Nov. 28, 2008 when they edged Central Michigan 56-52 in the season finale.
After that, both 2009 and 2010 were completely devoid of a home win for Eastern Michigan.
All this data puts into perspective the Eagles' glorious, triumphant 5-1 home mark in 2011—a mark that took them from being No. 2 on this list to No. 4.
What's interesting about Eastern Michigan's place on this list is that it has played only 51 home games since 2002, a number that is well below the average of 57.2 shared by the group of teams found here.
3. Army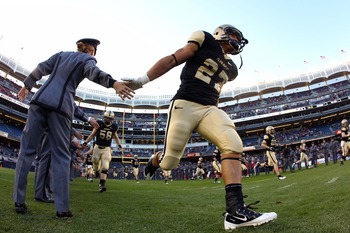 Danny Wild-US PRESSWIRE
Home Record since 2002: 18-36 (33.33 percent)
The sole Independent in our top nine—and the only representative in the larger list of 26—Army has only five fewer road wins (13) than home victories (18) over the last decade.
Army is another squad that improved at home last season (it went 3-1 in 2011, which accounted for all three of its wins), but starting out the decade 0-12 at home (from 2002-03) certainly didn't help matters, as far as this list is concerned.
2. Buffalo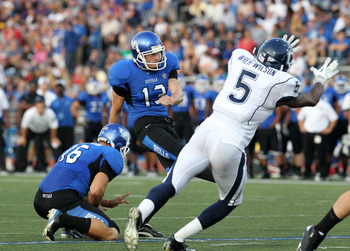 Timothy T. Ludwig-US PRESSWIRE
Home Record since 2002: 18-38 (32.14 percent)
The MAC team with the worst record at home since 2002,—and that's saying a lot since it's the conference with the most members under .500 in the last decade—Buffalo simply struggles everywhere it plays.
The Bulls' 5-22 mark at home from 2002-06 is what really hurts them in this unseemly competition. They'll need to keep posting records such as 2011's 3-3 mark if they are ever to drop down, and then eventually off this list.
1. Duke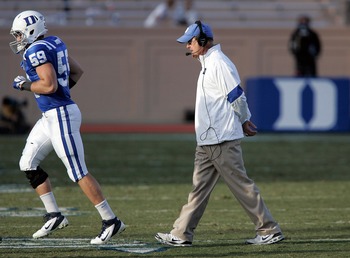 Mark Dolejs-US PRESSWIRE
Home Record since 2002: 15-48 (23.81 percent)
Hailing from the ACC, Duke wins the prize for the worst home record in the last 10 years.
The Blue Devils' 15 home wins since 2002 are not only the least in the FBS, they also were achieved against the total of 63 home contests—second only to Vanderbilt's 66 on our list.
The bottom line is that Duke has had the second-most opportunities to win at home, versus the other nine teams on this list, and the Blue Devils have won the least number of these games.
They haven't posted a winning season at home in the last decade and won nary a game at Wallace Wade from 2006-07 when they were 0-12.
Duke's last home win was a 48-27 drubbing of Tulane on Sept. 24, 2011, and the last time they went over .500 at home was way back in 1994 when they went 5-1 in Durham and 8-4 under then-coach Fred Goldsmith.
The Blue Devils are therefore honored with having the worst home-field advantage at the FBS level of college football.
Keep Reading