Ranking Every College Football Conference Champ's Chances of Repeating in 2012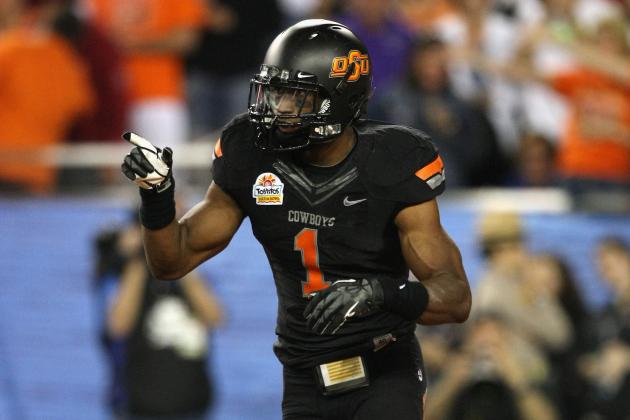 Donald Miralle/Getty Images

Repeating as champions of a college football conference is no small feat.
Oklahoma, USC, Oregon, Wisconsin and Virginia Tech are all teams that have won consecutive conference titles at some point in the past decade, and Wisconsin and Oregon are looking for their third and fourth straight conference titles, respectively.
So, which of last season's conference champs actually has a chance at repeating?
This list judges each team that won a conference title last year and ranks their shot at repeating from nonexistent to excellent.
While prognostication is an uncertain profession at best, it always provides an interesting discussion point and bit of football talk to keep the mind off the seemingly incessant baseball replays cluttering the screen these days.
So as you suffer through this last month of college football withdrawal, take a few minutes to review these predictions for 2012's potential repeat conference champs.
Begin Slideshow

»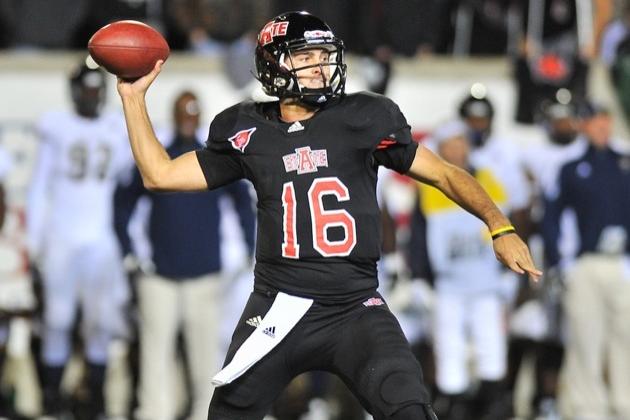 Returning Starters: 9
Gus Malzahn finds his team ready to take another title heading into the 2012.
Quarterback Ryan Aplin is poised for a big season, and even though Michael Dyer found himself booted from his second team in less than a year, the Red Wolves have plenty of talent to compete for the Sun Belt title in 2012.
The Troy Trojans are primed to compete with ASU for the crown, but with Aplin at the helm and a deep team roaming the sidelines, the Red Wolves are in good shape within the conference.
Repeat Chances: Solid
2012 Winner: Arkansas State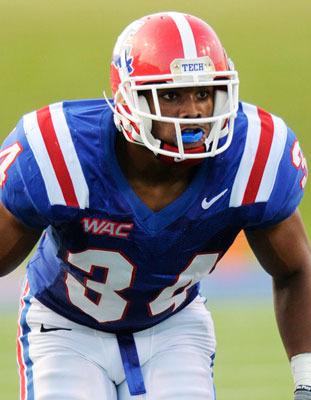 Returning Starters: 14
The WAC does not have a whole lot of terribly talented teams to compete with the Bulldogs.
The team also returns 14 starters from last season's conference championship team and has an explosive offensive attack.
It's like USA men's basketball used to be in the good old days: simply far better than the competition.
While the Bulldogs are not that dominant, they don't have many competitors that will be up to the task of challenging them.
Repeat Chances: Excellent
2012 Winner: Louisiana Tech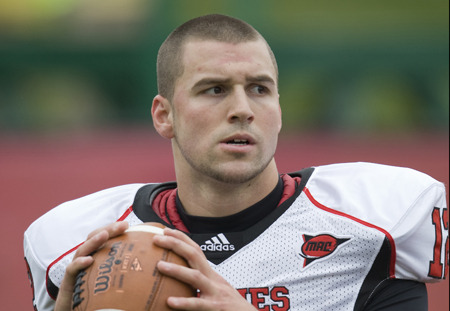 Returning Starters: 11
Dave Doeren is going to be in his second season at head coach of NIU, and he should see some improvement to a defense that ranked 88th in the nation in total offense.
Quarterback Chandler Harnish has been the heart and soul of the offense for the past three seasons, but he is not around anymore, having departed for the greener pastures of the NFL.
Couple that with the upswing in the recent talent at Ohio, and the Huskies will have a very difficult time duplicating last season's success.
Repeat Chances: Not Good
2012 Winner: Ohio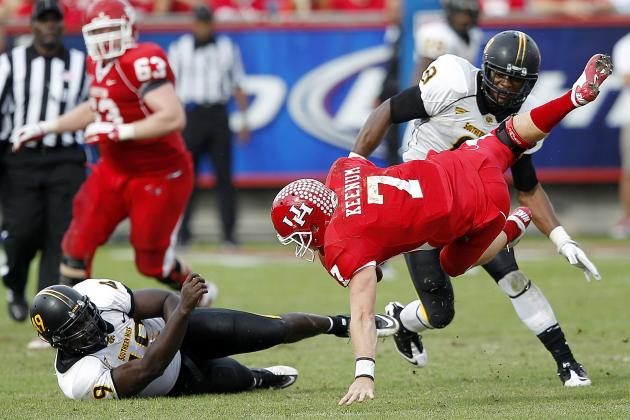 Bob Levey/Getty Images

Returning Starters: 11
USM might be able to repeat as champs of C-USA East if it can beat out a very talented Marshall team.
However, the loss of talent on both sides of the ball makes me hesitant to place a firm pick on this team to repeat, especially with a new head coach.
Star quarterback Austin Davis is gone, along with five starters on defense.
Nose tackle Khyri Thornton returns, and his imposing presence is scary for any offense to face, but the Eagles are going to have a tough time repeating in 2012.
Repeat Chances: Not Good
2012 Winner: SMU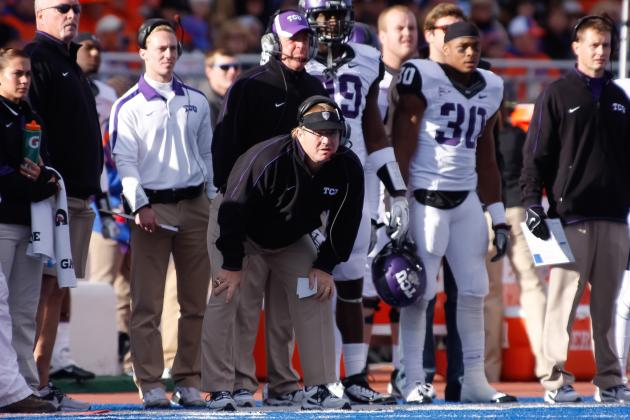 Otto Kitsinger III/Getty Images

Returning Starters: 13
With their move to the Big 12 conference in 2012, the Horned Frogs lose all chance they had of continuing to dominate the conference.
Led by Casey Pachall at quarterback and the ever-talented Gary Patterson doing his thing as head coach, they do, however, have a decent shot at finishing near the top of the Big 12.
Obviously, the conference move makes it rather difficult to repeat as MWC champs, but you better believe Patterson and company would be just as happy with a shot at the Big 12 title.
Repeat Chances: Nonexistent
2012 Winner: Boise State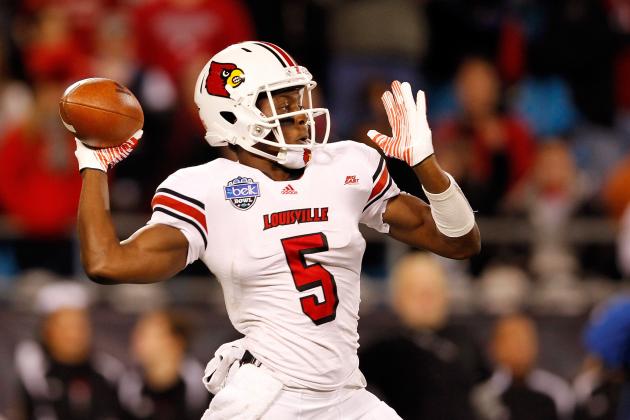 Streeter Lecka/Getty Images

Returning Starters: Louisville 14, Cincinnati 10, West Virginia 14
This is a simple matter of elimination.
West Virginia left the conference, so it is out of contention for the Big East.
Don't write the Mountaineers out of the Big 12 race too early, though.
Cincinnati has 10 starters returning, but quarterback Zach Collaros and running back Isaiah Pead are gone, making it difficult to believe the Bearcats offense will be nearly as effective as last season.
That leaves a Louisville squad that has an exciting young quarterback in Teddy Bridgewater, along with 13 other returning starters.
The Big East is down again this year, and with the Mountaineers gone, the Cardinals will take advantage, becoming the conference's sacrificial lamb in the BCS.
Repeat Chances: Cincinnati, slim; Louisville, excellent; West Virginia, nonexistent
2012 Winner: Louisville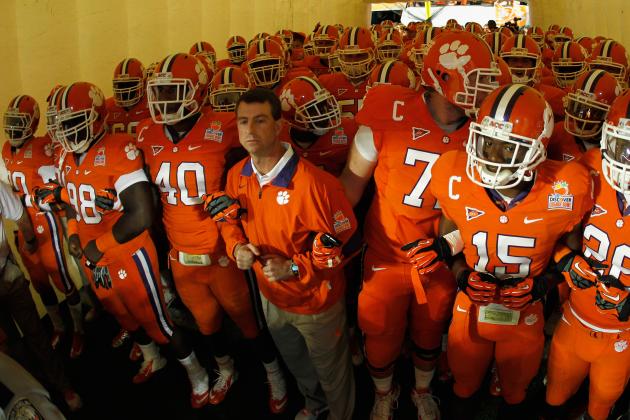 Mike Ehrmann/Getty Images

Returning Starters: 13
The Tigers have some major concerns along both the offensive and defensive lines, but they are loaded at all the skill positions.
Tajh Boyd has a legit shot to stay in the Heisman conversation until late in the season, while receiver Sammy Watkins and running back Andre Ellington are two of the best in the ACC at their positions.
The Tigers' biggest competition appears to be Florida State and Virginia Tech again this year, and the issues along the line may prove to much to overcome against the stout defense the Seminoles will field.
Clemson will undoubtedly perform well, and the Tigers are one of the top three teams in the ACC going into fall practice.
Repeat Chances: Solid
2012 Winner: Virginia Tech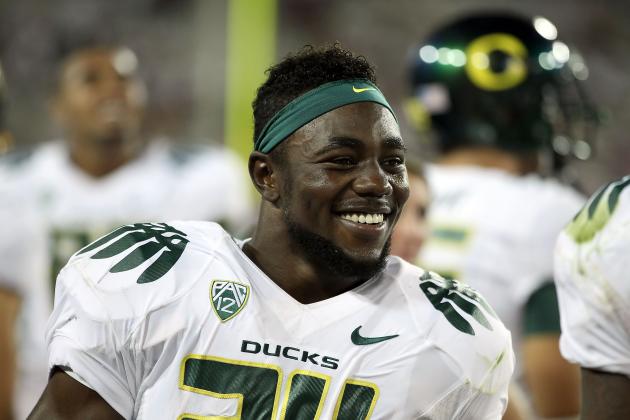 Christian Petersen/Getty Images

Returning Starters: 11
These Ducks are going to be good, regardless of losing LaMichael James and Darron Thomas.
Kenjon Barner and De'Anthony Thomas make up the most exciting, fastest, scariest backfield in football, and the defense returns plenty of depth.
The problem for the Ducks, while not insurmountable, is USC, which is eligible for postseason play this year.
That means, for those of you who were too buried in SEC football to pay attention last season, the Ducks must go to L.A. and beat the team that took them out in Autzen last season.
Not an easy proposition.
Repeat Chances: Slim
2012 Winner: USC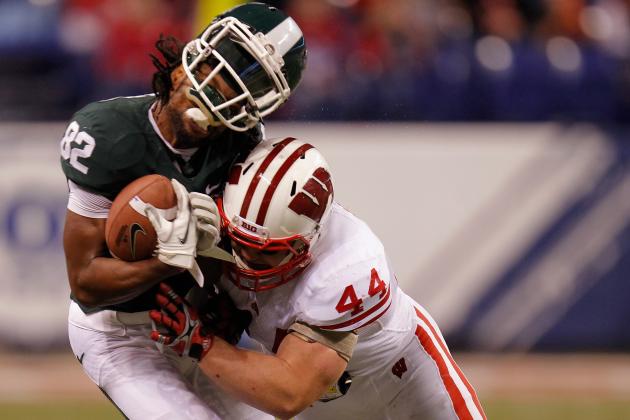 Gregory Shamus/Getty Images

Returning Starters: 10
If Wisconsin does not win whichever division of the Big Ten it's in (who really pays attention anyway?), it will be a travesty.
Much like UCLA in the Pac-12 last season, the Badgers are the huge beneficiary of their biggest roadblock suffering harsh NCAA penalties.
Both Ohio State and Penn State are banned from postseason play, so even if the Badgers finish third behind these two teams in the conference, they still get to go to the Big Ten title game.
I don't think that will happen, as the Badgers return stud running back Montee Ball, two excellent linebackers in Mike Taylor and Chris Borland and a plethora of excellent blockers at the tight end and offensive line positions.
If they do make the Big Ten title game, it's a toss-up whether they have the firepower to beat one of the Michigan schools.
Repeat Chances: Solid
2012 Winner: Michigan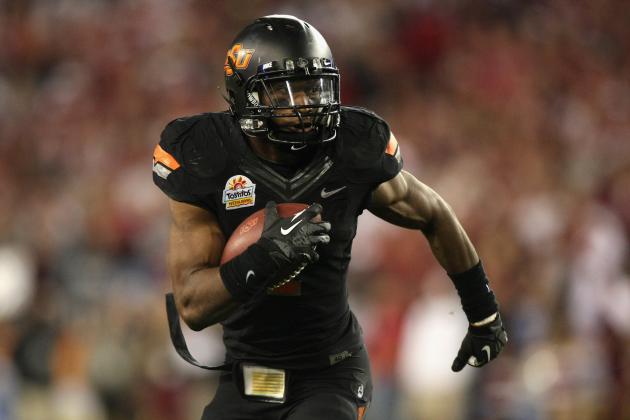 Donald Miralle/Getty Images

Returning Starters: 14
The Cowboys return an excellent number of starters to the 2011 Big 12 title team, but the guys that are gone will make a bigger impact than the players that remain.
All-world wide receiver Justin Blackmon and excellent leader and experienced quarterback Brandon Weeden are both in the NFL, leaving their positions of strength somewhat up in the air.
Mike Gundy still has the talent to lead this team to a respectable season, but to win two Big 12 titles in a row after never winning before is a bit too much to ask.
Repeat Chances: Slim
2012 Winner: West Virginia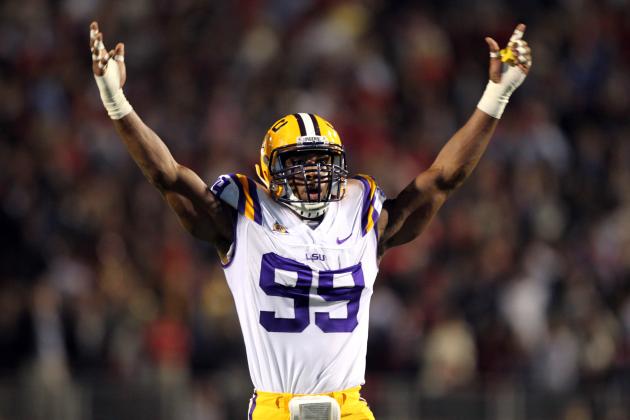 Joe Murphy/Getty Images

Returning Starters: 12
The Tigers were easily the best team in college football for the entire regular season last year, and they have an extremely good group of returnees to contend again this season, especially on the defensive side of the ball.
Zach Mettenberger will get his chance to shine at the quarterback position, and the Tigers are loaded at the other offensive skill positions.
But as already mentioned, the return of stars at every level of the defense is what makes this team a threat to take home another SEC title.
Barkevious Mingo, Sam Montgomery and, yes, Tyrann Mathieu are all elite-level defenders that are only going to get better this season.
Sure, the Tigers must contend with Alabama and a trip to Arkansas, but those are nothing Les Miles and his squad can't handle.
Repeat Chances: Excellent
2012 Winner: LSU