Big Ten Media Days: Day 2 Report Card Grades for Teams, Coaches and Players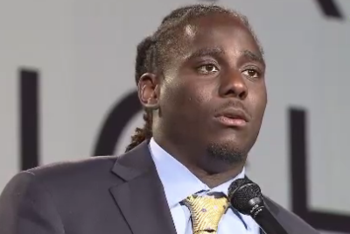 Screencap via MGoBlue.com
The Big Ten Media Days have finally come and gone, and Friday's session with athlete interviews and the Big Ten Kickoff Luncheon was full of thrills, chills and spills. Okay, there was none of that, but at the very least it was a great opportunity to get to know a lot of high-profile players even more.
So who graded out best on Friday? Who acquitted himself the best to the conference's press? Who's the head of the class? Read on and find out—and yes, that banner image above is something of a spoiler alert.
But you probably knew that already.
Denard Robinson: A+
Obviously, Denard Robinson was the star of the show on Friday, delivering a keynote speech at the Big Ten luncheon that followed Kirk Cousins' now-legendary speech the only way possible: by not trying to follow it at all.
Instead, Robinson opened up about the tough life he had growing up, around drug use, poverty and tragedy—he lost a brother at the age of 10, and held recruiting visits at his grandparents' house, ashamed of the neighborhood where he lived.
It was impressive to see a man that young lay bare all his insecurities in front of an audience like that, right down to his fear of public speaking.
But if Denard Robinson's truly turning the corner and becoming a leader of the Michigan football program, this would be a pretty strong indication that that's going well.
In a lot of ways, it's more courageous for Robinson to speak about his upbringing than it is for him to step on the field every Saturday. He's been preparing for the football for the majority of his life. He's as genetically gifted as you could possibly be to take on football.
The speaking, though?
That's something he's only been preparing for since a few months ago.
Michael Mauti: A
The Penn State players were a little later than the rest of the athletes at Friday's one-on-one interview sessions, but once Mauti was in the house, he was the single-most forceful speaker there. The video posted above is just a snippet of the strong case he made in Penn State's defense, and his comments about Illinois were jaw-dropping (in a good way).
Penn State needs players like Mauti. It needs a lot of players like Mauti, and it's a shame for the health of that program that Mauti's a senior and (barring further betrayal by his knees) due for a productive NFL career. With any luck, though, his example will lead to a defense full of Mike Mautis: tough-minded, as loyal to Penn State as humanly possible, and not afraid to tell the world about it.
(Personal note: Mauti was looking me square in the eyes on that "I know for a fact" answer. It was like looking into the eyes of Jules Winnfield. I'm just happy to be alive.)
Bret Bielema: B+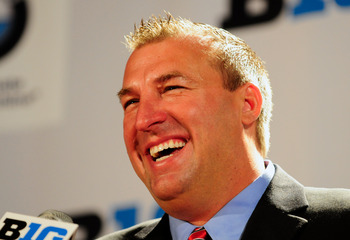 Reid Compton-US PRESSWIRE
In a conference full of staid, yawn-inducing personnel experts, Bielema shined on both days of the session. On Thursday, he opened up the proceedings by talking about his new marriage ("19 weeks, five days," he intoned several times), and even took a friendly shot at Kirk Ferentz by reminding him that he's old.
It was a nice reminder that these coaches are in something of a fraternity with each other, although as fraternities go, this one is pretty boring.
Little did we know at the time that Bielema's appearance would be the best of the 12 coaches on Thursday, so when Bielema was available for one-on-one interviews on Friday, Adam Kramer made sure not to lose the opportunity.
Other things learned about Bielema this time around: he says he's a religious studies professor whenever anyone asks him what he does, he met his wife at a blackjack table at the Wynn (and he's "been winning ever since," which, rock on), and whether he likes wearing his Big Ten championship ring or wedding ring better "depends on who's asking."
Look, say what you will about Bielema, but the Big Ten could use a few more coaches like him. He's youthful, gregarious, and has no qualms about running up the score—think the Florida-era Steve Spurrier of the Midwest.
Montee Ball: B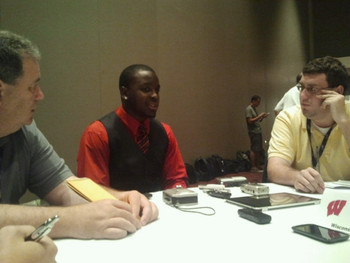 Photo via Adam Kramer's Twitpic
We asked for Montee Ball to incorporate his own school colors into his wardrobe after Thursday's stellar purple ensemble, and as the picture above shows, Ball came through in spades.
Ball also wasn't shy about his and his team's high expectations for 2012.
He wants to break performance records. He wants the team to go back to the Rose Bowl for the third straight year. He's thinking about the Heisman. He's also thinking about winning every game first.
This is all fine and good, but this is how thoroughly Robinson and Mauti ruined the curve for everyone else at the Big Ten Media Days: The 2011 Heisman Finalist who ran for 39 touchdowns last year dresses like that, talks about the Heisman, and talks about a third straight Rose Bowl...and gets a B.
So it goes.
Andrew Maxwell: F-Minus, but Also A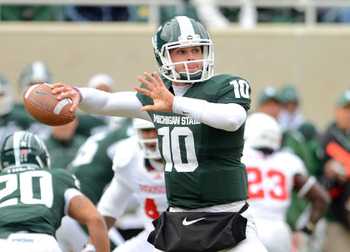 Mark A. Cunningham/Getty Images
While chatting with local reporters on Friday, Andrew Maxwell's discussions got a little off the topic of Michigan State football (it was late in the morning, it happens), and talk of his high school athletic exploits came up. Maxwell is a heck of an athlete, by the way, so expect to see him make some plays happen with his feet this year.
Maxwell talked about coming in second in the state meet in the high jump while in high school, clearing 6'7" (his personal best by three inches up to that point, which is basically the stuff miracles are made of), and he also could dunk a basketball from a pretty early age.
In fact, he said he once dunked on his own hoop in a high school game. And not on a rebound or tip type of situation. We'll let his recollection of the event—which we were beyond fortunate to get on tape—take over from here.
"I once dunked on the wrong hoop. This is true. I was a freshman, we were playing Saginaw High—which is where (former Michigan State forward) Draymond Green's from—and we were running an inbounds play under our hoop. So we set the picks, did whatever. So I catch the ball at the free-throw line, and I easily could have just put it on the ground and (mimics a finger-roll) taken a layup.

"But—I don't know what I was thinking—kinda did like a drop step, and started going the other way. I was like, 'this is it, gonna get my dunk, gonna get my dunk!' And I dunked it, and turned around, and everybody's laughing. And I looked at the ref and said, 'that was on the wrong hoop, wasn't it?' He was like, 'yep.' So that's one I'll never live down."
At the very least, Maxwell can be sure of this: there is nothing, nothing he could possibly do on the football field that's worse than that. Or so we hope, anyway.
It would be doing sport as we know it a disservice to give that anything better than a horribly failing grade, and we're sure Maxwell would take no issue with that. But for telling possibly the best anecdote of the entire media days, we're going to give Maxwell an honorary A as well.
Nebraska: N
Normal grades can't express our horror at Nebraska's new alternate uniforms for its game against Wisconsin this year, courtesy of Adidas. These are real. The video's on the official Adidas YouTube page. Bo Pelini confirmed it.
What...we just...we can't.
It's like if the Noid and Alvin the Chipmunk collaborated on outfits.
The N stands for FAIL.
All red looks like pajamas, and Nebraska can't call ignorance on that one, because Wisconsin tried it a few years ago and it looked like pajamas too (bonus: the guy in the picture is P.J. Hill. P.J. in p.j.'s!). That's the team Nebraska's going to be playing! Do the research on this!
This video was leaked on a Friday, while all the relevant media was off distracted by the media days.
You know who takes care of announcements like that? People with terrible news to announce. Classic media strategy.
This is terrible. This is a travesty. This is a desecration of one of football's all-time iconic uniforms. It's wailing guitar riffs inserted randomly into Beethoven's Fifth. It's putting Justin Bieber hair on Jesus.
Nebraska, you get an "N" on our report card, because you're so far beyond "F" you've ripped a hole in the grade-space-time continuum. We hope you're happy with yourselves.
Keep Reading