College Football Recruiting 2012: The Top 11 Most Attractive Destinations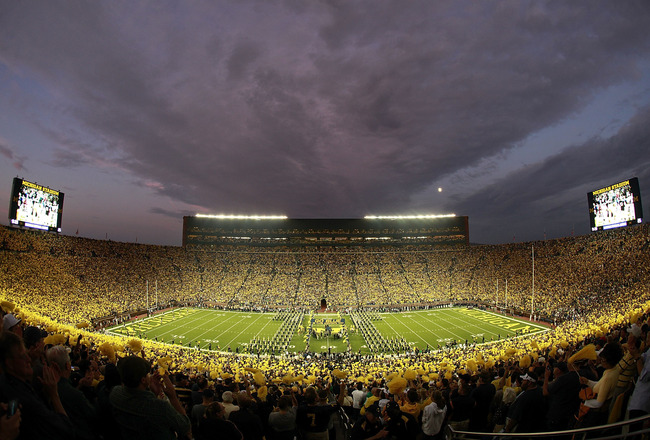 Leon Halip/Getty Images
In recruiting, you have to be able to attract talent to your campus in a variety of ways. From boasting good academics, a winning tradition, a good coach and other qualities, attracting talent is key.
One of the main factors in drawing in talent is how attractive your program looks. This is meant from location, campus, fanbase, atmosphere and specific city.
For this read, I'm going to give you the Top 11 most attractive destinations for recruits.
No. 11: Clemson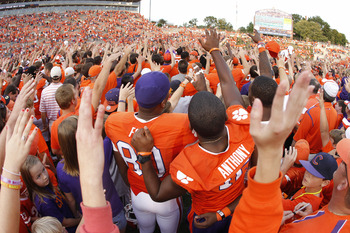 Joe Robbins/Getty Images
Clemson is noted for its supreme beauty, as many recruits who go there for the first time come back in awe of how gorgeous the campus looks.
The area is a bit secluded, as a player can go there and get away from many distractions. It has a family atmosphere around the town and even a small-town feel to it, according to various recruits.
Nos. 10-9: Cal and Stanford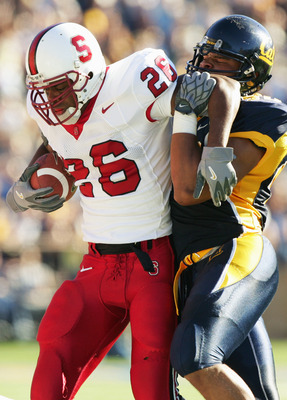 Jed Jacobsohn/Getty Images
I've personally been to both campuses, and they are both very gorgeous. They sit in Northern California, and their nearest metro area is the San Francisco-Oakland Bay Area.
Stanford sits in an upscale, ritzy area with gorgeous, old-fashioned homes. Cal is closer to the city, yet sits in what is almost a residential area.
The facilities may be a bit more upgraded at Stanford, but Cal's football stadium also has a nice view of the surrounding area.
No. 8: UCLA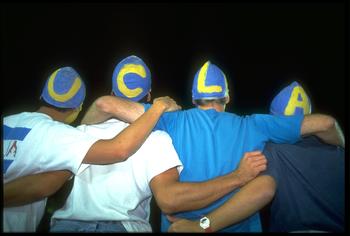 Al Bello/Getty Images
There's a reason why Ricky Seals-Jones is interested in UCLA.
Well, mainly it's the thought of playing basketball and football for the Bruins, but the location is great, too.
I've been to UCLA numerous times, as it is in Westwood which is in West Los Angeles. The campus is close to the beach, Beverly Hills, Santa Monica and not far from all Los Angeles attractions.
Jim Mora is certainly going to use the beauty of the campus to recruit well for the Bruins.
No. 7: Auburn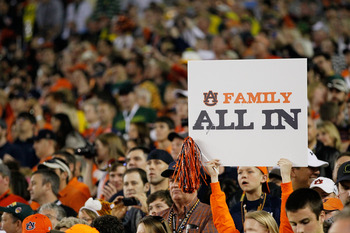 Kevin C. Cox/Getty Images
Auburn is in a nice town, and has passionate fans and good traditions.
You want to go to a small-town-feeling area with a good atmosphere?
Auburn is a good choice to fulfill your needs.
The Tigers stick together, walk through the town on Saturdays to get to the stadium and the fans are always behind you. Plus, the campus is very pretty, based on what recruits tend to say.
That's pretty attractive, if you ask me.
No. 6: Florida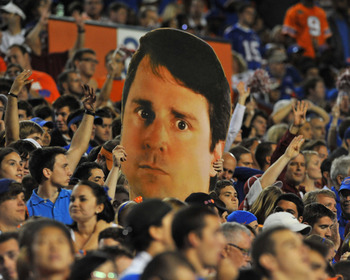 Al Messerschmidt/Getty Images
Another SEC school, Florida sits in Gainesville, and I hear it's a great college town to be at. Of course, they heavily support the Gators and are as passionate a fanbase as they come.
Gainesville isn't too far from Jacksonville, and you can always hit up Orlando, too.
Football, a great college town full of supporters and Disney World not too far away? I'm in.
No. 5: Oregon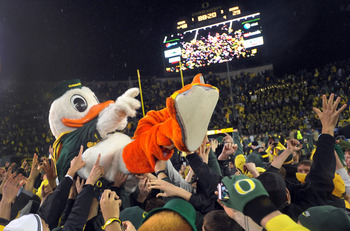 Steve Dykes/Getty Images
Oregon gets on this list due to many recruits coming back blown away by its facilities. It's no secret that Phil Knight and NIKE pump a lot of jack into the Ducks program, and it shows.
Of course, you have the gazillion different uniforms, but Oregon has amazing and futuristic facilities, great support around the classic college town of Eugene and Autzen Stadium gets ablaze on Saturdays in the fall.
No. 4: Alabama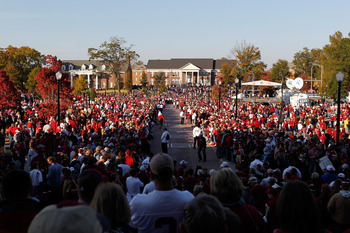 Streeter Lecka/Getty Images
Alabama is in Tuscaloosa and is said to also have very, very good facilities. However, let's face it: Players come here to play for Nick Saban and get to the NFL.
Take great facilities, a super-passionate fanbase and a community that treats the football players like rock stars.
Add in a legendary head coach and the NFL feel of the program, and you see why the Crimson Tide are a recruiting juggernaut.
No. 3: Texas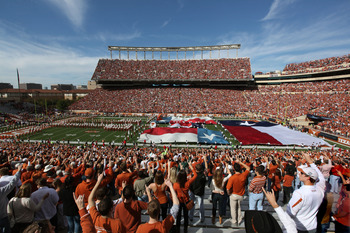 Erich Schlegel/Getty Images
I visited some family in San Antonio this past holiday season, and they couldn't stop talking about how cool Austin is, which is where Texas' campus is.
The city is growing by the day and has a lot going on around the Longhorns program.
Toss in excellent facilities, a building solely for the football program, indoor bubbles, Mack Brown's genuinely cool grandpa charm and the winning tradition, and it's easy to see why Texas is, well, Texas.
No. 2: USC
Stephen Dunn/Getty Images
Some will say that USC's location doesn't sit in the best area of Los Angeles, but others will point to the specific location of the campus and it's sheer beauty.
The Trojans' campus is only a few miles south of Hollywood, right next to Downtown Los Angeles and not far from the beach. It's the second-biggest market and area in the country, and that alone attracts talent.
The area treats USC like an NFL team, the weather is great, facilities are undergoing a serious upgrade on campus and there's a ton of tradition around the Trojans program.
Recruiting can get pretty easy here.
No. 1: Notre Dame
Jonathan Daniel/Getty Images
Even if you are not an admirer of Notre Dame at all, it is said that if you call yourself a true college football connoisseur, you must visit the Irish campus in South Bend.
It's like the Mecca of college football and is said to have a wonderful mystique to it.
The Irish program sits on perhaps the richest tradition of any sport operation in the United States. The facilities are spoken highly of, the beauty of the campus is marveled at and, of course, Touchdown Jesus is a beautiful sight.
Notre Dame may not be what it once was, but it still is an attractive destination for recruits.
Edwin Weathersby has worked in scouting/player personnel departments for three professional football teams, including the New York Giants, Cleveland Browns and the Las Vegas Gladiators of the Arena League. He spent a year evaluating prep prospects, and writing specific recruiting and scouting content articles for Student Sports Football (now ESPN Rise-HS).
A syndicated scout and writer, he's also contributed to WeAreSC.com, GatorBait.net and Diamonds in the Rough Inc., a college football and NFL draft magazine.
Keep Reading