College Football Preview: 3 Coaches Who Will Push Their Teams to Victory in 2012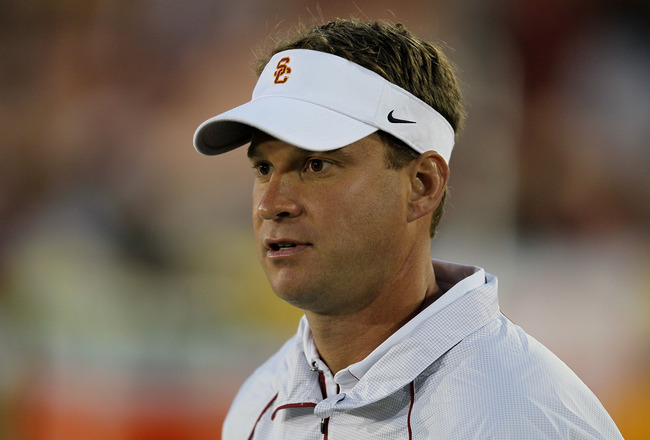 Lane Kiffin has risen through the ranks and become one of the best football coaches in the nation.
Stephen Dunn/Getty Images
Nearly every head coach in college football is the most important figure of the program, but there are some guys that give their teams a certain edge when game day comes around.
Whether it be their X and O philosophies, their uncompromising thirst for perfection from their players or their sense of calm that permeates throughout the team, these coaches are special.
Here are three coaches that give their teams huge advantages on game day and will lead their squads to victory in 2012.
Lane Kiffin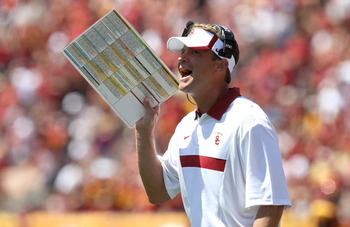 Stephen Dunn/Getty Images
For being just 37 years old, Lane Kiffin has had himself quite a career.
After holding the offensive coordinator job at USC for two years, the Oakland Raiders hired Kiffin to be the head coach. Kiffin stayed in Oakland for two seasons and had an unimpressive record of 5-15.
However, Kiffin quickly found work. The Tennessee Volunteers hired the then-33-year-old to be their new head coach—making him the youngest coach in Division I FBS. Kiffin spent just one year in Knoxville and improved the team's record from 5-7 in 2008 to 7-6 in 2009.
In 2010, USC hired Kiffin after the tumultuous departure of Pete Carrol. In his first season as the Trojan's head coach, he led the team to a 8-5 record. However, last season the Trojans improved further and finished the season with a 10-2 record.
Due to the sanctions put upon USC's football program, the Trojans have been ineligible for bowl games the past two seasons. However, with those bans now lifted, the Men of Troy are expected to be one of the major contenders for a national title in 2012—and Kiffin will be the one who leads them there.
Kiffin's care-free attitude is perfect for Southern California—people love to hate USC—and has permeated throughout the program.
Urban Meyer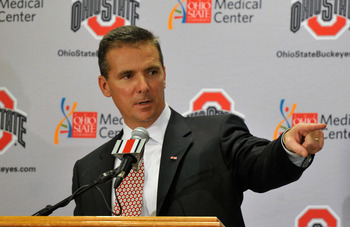 Jamie Sabau/Getty Images
Entering his 11th season as a college football head coach and his first at Ohio State University, Urban Meyer has one of the best coaching records among active coaches.
In his 10 seasons, Meyer has a ridiculous winning percentage of .819 and has never won fewer than eight games in one year—which has only occurred twice.
Meyer is also one of the best big-game coaches in the nation. He has coached eight bowl games in his career, winning seven. Of those eight, four of them have been BCS Bowl Games, including two National Championships.
Meyer will be a huge, if not the biggest, part of the Buckeye's success in 2012—and they are expecting success in Columbus. He will implement his infamous spread offense and seems to already have perfectly-fitting personnel, most notably quarterback Braxton Miller.
Remember, Meyer won his first national championship in just his second season at Florida—something Buckeye brass and fans are surely aware of.
Nick Saban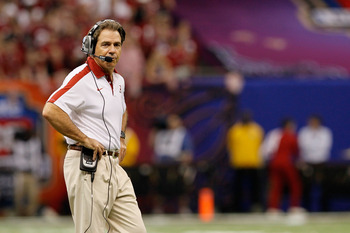 Kevin C. Cox/Getty Images
Nick Saban is often regarded as the best coach in college football. Since taking over at Alabama, Saban has led the Crimson Tide to a 50-12 record—one of the best in all of college football over that time.
Saban has also led Alabama to four straight seasons of 10 or more wins and his two National Championships in the past three years puts him in rare company.
What separates Saban from other coaches is the extremely high level of play he demands from his players. There's no doubt that a man nicknamed "The Nicktator" is going to be tough to play for, but there's also no denying that he knows what it takes to succeed at the college level.
After winning another national title in 2011, that makes three total championships for Saban—one at LSU in 2004 and two at Alabama in 2009 and 2011. Furthermore, he has an outstanding winning percentage of .722 and has only led one team to a losing season in his 16 years of coaching.
Expect more of the same from Saban and Alabama in 2012 as the Crimson Tide are expected to be ranked in the Top 5 to start the year—which would mark the fourth consecutive season of being ranked in the top 5 of the AP Preseason Poll.
Keep Reading