9 College Football Stars in 2012 Who Will Go Down as One of the All Time Greats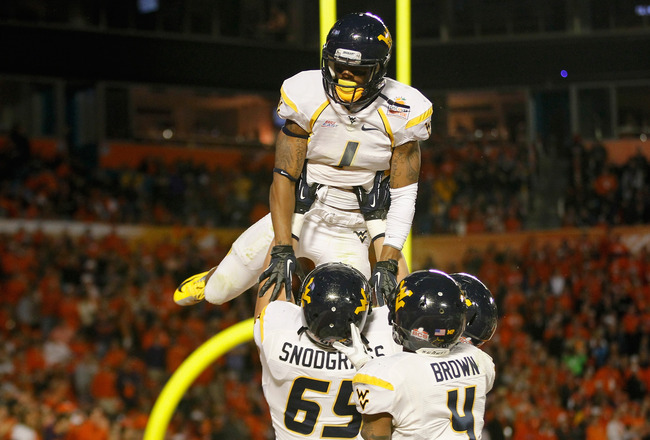 Streeter Lecka/Getty Images
What individual players are on track to leave a permanent mark on the game of college football in 2012?
Though we could list Heisman hopefuls, national championship contenders and award watch list members to answer this question, why not take an alternate route?
Yes, why not look for the guys, stars or not, who are in a position to set all-time statistical high marks during the 2012 season?
The following slideshow does just that by highlighting nine athletes who have an opportunity to break current NCAA FBS records with their individual performances in the upcoming college football campaign.
Some you will heard of while others may be complete strangers, either way these are the guys who we should keep a collective eye on this season as they attempt to get their names into the book that honors the best of the best in college football.
Denard Robinson, Michigan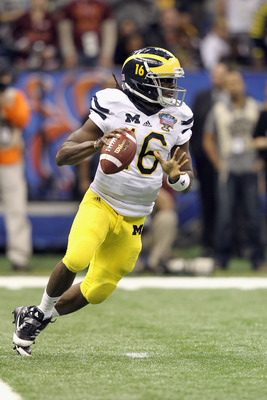 Matthew Stockman/Getty Images
If the Wolverines can capitalize on the opportunities that the 2012 season presents, Denard Robinson may be the first guy from Michigan to win the Heisman since Charles Woodson took home the big prize in 1997.
Though Robinson already holds the NCAA FBS single-season record for rushing yards by a QB (he reeled off 1,702 yards in 2010), he's in a very good position to also take home the career honors in the same category.
The current career rushing mark for a QB is held by West Virginia's Pat White who banged out 4,480 from 2005-08.
Robinson currently has 3,229 yards on the ground leaving him a mere 1,251 yards away from the all-time mark.
This specific mark won't be easy as Robinson will need to top his 1,176 yard rushing performance from 2011, but at least he won't have to reset the single-season record to achieve the career honors.
Nordly Capi, Colorado State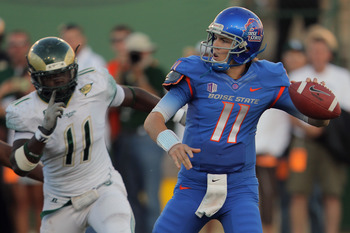 Doug Pensinger/Getty Images
DL Nordly Capi set an NCAA FBS single game record as a sophomore in 2011 by virtue of forcing four fumbles in Colorado State's opening win over New Mexico.
In all, Capi racked up seven forced fumbles giving him the No. 2 spot nationally for the season and leaving him just three off the pace of the all-time record mark for a single season.
The current NCAA FBS record for forced fumbles in a season is 10, a feat which Louisville's Elvis Dumervil pulled off back in 2005.
If Capi can top his performance as a junior, he'll find his name in the record book twice; regardless of how this works out, if he keeps up even a portion of his current pace he'll be on track to break the career mark of 14 forced fumbles.
Montee Ball, Wisconsin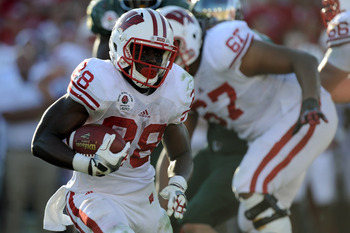 Harry How/Getty Images
Wisconsin's Montee Ball came in fourth in last season's Heisman sweepstakes, and though he's likely to be back in New York City this December, Ball also has other potential avenues of being branded an "all-time great."
Ball has rushed for 55 TDs in his three years as a collegiate back, and is just 18 end zone trips away from breaking the NCAA FBS record for career rushing TDs.
The current mark is held by Travis Prentice of Miami (Ohio) who ran for 73 TDs from 1996-99.
If 18 TDs in a season seems like a pipe dream, don't forget that Ball rushed for a mind-blowing 33 scores in 2011, effectively meaning that a little more than half of last year's production would earn him the all-time career mark.
Matt Hogan, Houston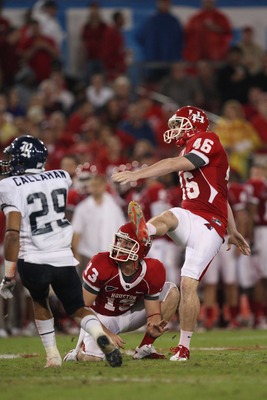 US Presswire
Cougar kicker Matt Hogan has amassed 300 points since he started booting the ball in Houston in 2009, a number that puts him just 140 points away from an all-time mark.
The NCAA FBS record for career points scored by kicking is 439, set by Kyle Botzman of Boise State from 2007-10.
Hogan's career high for points in a season came last year when he achieved 130 which means that he'll have to top that by 10 to beat out Botzman for the record.
Even with a new coach and a new starting QB, Houston may score enough TDs and be in field-goal position often enough to push Hogan to the top of the charts.
Brian Wagner, Arizona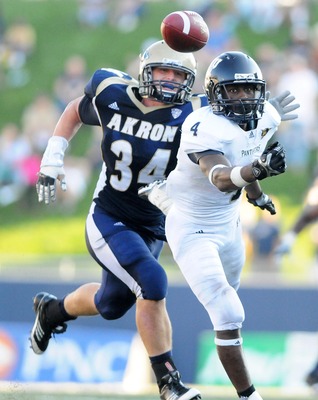 Eric P. Mull-US PRESSWIRE
LB Brian Wagner transferred from Akron to Arizona during the offseason and brings his solid play to a unit that needs help after ranking No. 107 nationally in scoring defense in 2011.
Wagner registered a whopping 216 assisted tackles over his three seasons as a Zip, leaving him just a mere 43 assists away from breaking the all-time FBS career record.
Wagner co-led the nation in assists as a junior with 91, meaning that a record setting performance is well within his reach in 2012.
The current mark of 258 career assists is held by Daniel Holtzclaw who played at Eastern Michigan from 2005-08.
Travis Freeman, Ball State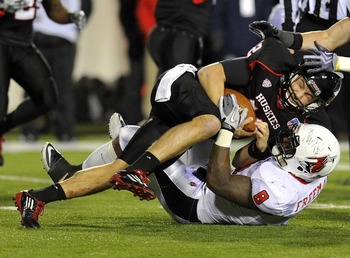 Mike DiNovo-US PRESSWIRE
The second gentlemen to be in contention to break the all-time NCAA FBS record for career assisted tackles is Ball State's LB Travis Freeman, who has 211 assists over the first three years of his collegiate career.
Freeman needs 47 assists to break Holtzclaw's all-time record and he also co-led the nation in 2011 with 91 assists, a mark that tied him with Brian Wagner from Akron.
Tavon Austin, West Virginia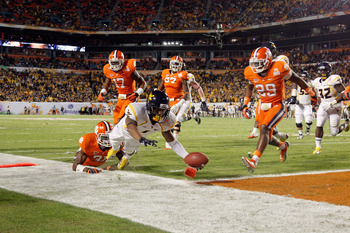 Mike Ehrmann/Getty Images
It will be intriguing to see what West Virginia's move to the Big 12 will do to its statistical resume, a compilation that offensively speaking got a serious bump from the arrival of Dana Holgorsen in 2011.
Regardless of what happens next, the Mountaineers' Tavon Austin racked up a nation-leading 2,574 all-purpose yards as a junior in 2011, and if he improves on this number as a senior, he'll have a shot at the record books.
The current mark for NCAA FBS all-purpose yards in a single season is held by Oklahoma State's Barry Sanders who blazed for a whopping 3,250 yards total back in 1988.
Austin will obviously have to find an additional 675 yards in 2012 to get it done, but this all becomes more than a fantasy when you remember that West Virginia will continue to grow into Holgorsen's offensive scheme in 2012 and that QB Geno Smith is back on board.
This one's a reach, but it certainly could happen.
As far as the all-time career mark for all-purpose yards, Austin is 3,422 yards shy of that 7,796 yard record set by Tulsa's Damaris Johnson from 2008-10.
David Amerson, NC State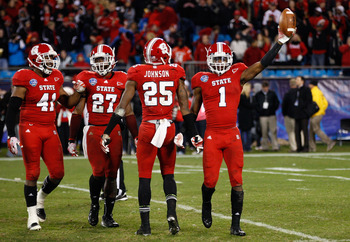 Streeter Lecka/Getty Images
One of the key components in NC State's defensive improvement from 2010 to 2011, DB David Amerson set the ACC all-time record for INTs in a season last year with 13.
Amerson's 13 picks were just one INT short of the all-time FBS record of 14 which was set by Al Worley of Washington back in 1968.
Worley's record has stood firm for almost 45 years which makes it hard to believe that Amerson will be the one to break it, but since he's only a junior in 2012, perhaps he can set his sights on Illinois' Al Brosky who has held the career pick record of 29 since 1952.
Margus Hunt, SMU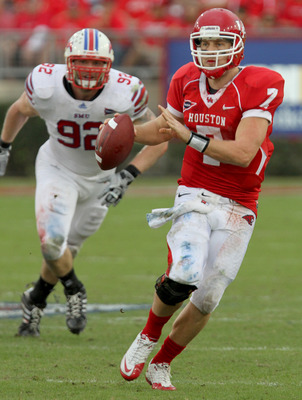 Thomas B. Shea/Getty Images
SMU DL Margus Hunt has managed to block 14 kicks/punts since he started playing for the Mustangs back in 2009.
This high mark has Hunt a mere five blocks shy of matching the NCAA FBS record for most combined blocked kicks in a career.
The record currently sits at 19 and is held by James Ferebee from New Mexico State who blocked five punts, six PATs and eight FGs in a career that lasted from 1978-81.
Hunt would need five or more blocks to get his name in the books, but this is a guy who racked up seven blocks as a freshman, three as a sophomore and then four as a junior, so anything's possible.
Keep Reading