2012 SEC Media Days: Day 2 Report Card Grades for Teams, Coaches and Players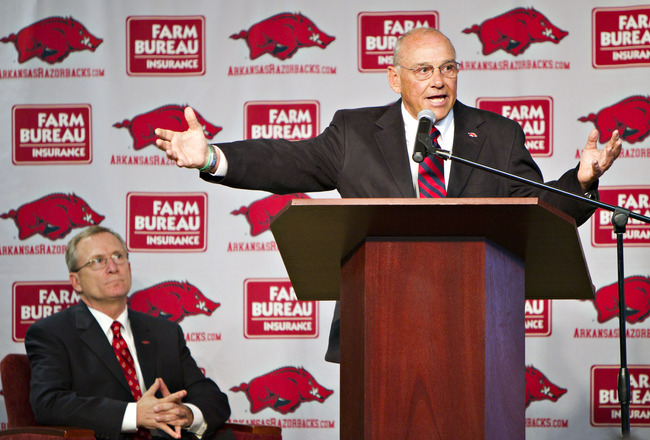 Arkansas head coach John L. Smith
Wesley Hitt/Getty Images
With Day 2 in the books, it's time to hand out grades to the six teams that made the rounds at the Wynfrey Hotel for SEC Media Days.
It was clear that Arkansas' players and coaches hit the books hard in preparation for the event, while LSU's group coasted, hoping to rely on reputation and knowledge of the landscape.
How do the six SEC teams that made the rounds at SEC Media Days grade out? We examine that in this slideshow.
Arkansas Razorbacks: A+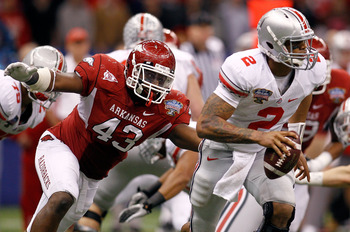 Arkansas LB Tenarius Wright
Chris Graythen/Getty Images
Whether it was John L. Smith explaining the meaning of the phrase "get your piss hot," Tenarius Wright tipping us off to its existence in the first place, or Knile Davis discussing his conversation with former Arkansas head coach Bobby Petrino, the Hogs brought their A-game on Wednesday.
Arkansas' contingent knew what was expected of them and delivered with flying colors.
If you're a Hog fan, you hope that plan translates to the season. Despite Petrino's departure, Arkansas still has the talent and staff to make a legitimate run at the national title.
They acted like it on Wednesday.
Mississippi State Bulldogs: B+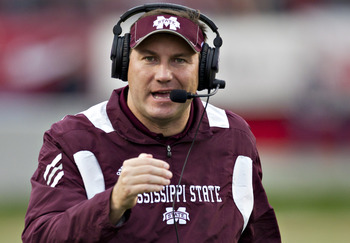 Mississippi State head coach Dan Mullen
Wesley Hitt/Getty Images
Dan Mullen is usually good for a good one-liner or two, but it was a different, more friendly, Mullen at SEC Media Days on Wednesday.
He looked relaxed and was in a good mood, but spoke mostly in cliches.
That approach worked well with quarterback Tyler Russell as well, and the rising junior signal-caller seemed confident in explaining his skills and how the offense will look with him as the unquestioned quarterback.
"I have a lot of weapons, and all I have to do is get the ball in the playmakers' hands, and everything should take care of itself," Russell said.
Cornerback Johnthan Banks had the swagger.
Banks told ESPN that he's the best cornerback in the SEC—better than LSU's Tyrann Mathieu.
Hey, if you believe it, own it.
Auburn Tigers: B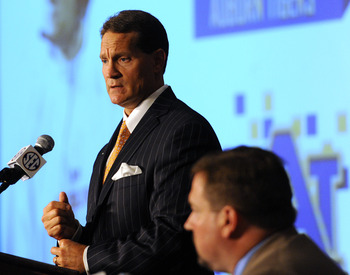 Auburn head coach Gene Chizik / Photo Credit: Auburn University/Todd Van Emst
Auburn head coach Gene Chizik is well-versed on saying a lot without saying anything, and that strategy emanated through Corey Lemonier, Emory Blake and Philip Lutzenkirchen.
Lemonier does get credit for the bow tie and his advice on where to buy men's attire.
The star of the day was Lutzenkirchen, who said a lot without saying anything.
The Auburn tight end was asked if Dabo Swinney's post-game interview after Clemson's win over Auburn last season in Death Valley plays on a continuous loop in the Auburn football complex.
"Yeah…we remember that a little bit," Lutzenkirchen said.
Subtlety is key.
Florida Gators: C+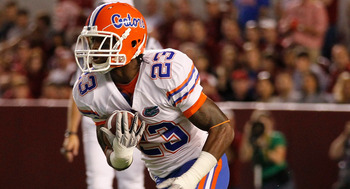 Florida RB Mike Gillislee
Kevin C. Cox/Getty Images
Florida head coach Will Muschamp didn't entertain like many thought he would, but running back Mike Gillislee, linebacker Jon Bostic and linebacker Lerentee McCray were more informative than entertaining.
Gillislee set the bar high for himself, expecting 1,500 yards and 24 touchdowns this season, but other than that, it was purely educational, mixed in with a little question dodging.
Speaking of the quarterback position, Bostic didn't offer much:
It's hard to tell which one [of the quarterbacks] is the best. It's going to be a tough decision. They all bring something different to the table that you can really go along with. Jacoby [Brissett] has got the strong arm so you can throw it down field. You even have Tyler Murphy who is ready to be an immediate manager. He just brings that mentality and the smarts with a lot of plays. He can recognize defenses right off the back. You've got Jeff [Driskel] as well that can kill you with his feet. He is one those quarterbacks that can keep plays alive all day and really gets the coverages he wants because he can run.
Nothing.
Kentucky Wildcats: C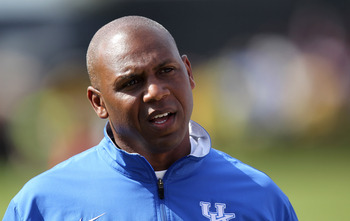 Kentucky head coach Joker Phillips
Streeter Lecka/Getty Images
Kentucky's appearance on Day 2 went mostly unnoticed.
Save for a few questions about Joker Phillips being on the hot seat, the Wildcats came and went about as fast as the pop-up thunderstorm that rocked the Wynfrey this morning.
Phillips did approach the hot seat talk with a solid play on words:
I'm not sitting down right now, so there's nothing hot. I don't have time to listen to that stuff. All we have time to think about is doing all the productive things in our program that we need to get it back to the level that we want to. I don't have time to think about those things.
Other than that, the Wildcats seemed mostly absent.
LSU Tigers: C-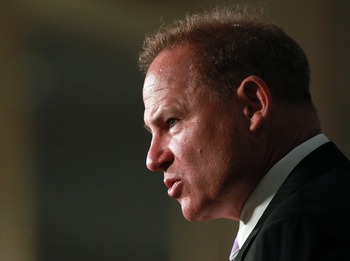 LSU head coach Les Miles
Marvin Gentry-US PRESSWIRE
The assembled media was expecting a show from LSU—head coach Les Miles, in particular.
Maybe it was because his appearance was right after lunch or it's a change in approach to these events, but Miles wasn't as quotable as he has been in years past.
No funny one-liners. No clever anecdotes. Nothing.
Quarterback Zach Mettenberger was friendly, but he spoke in coach speak as well.
Every day, I try to get better. Definitely, being third string and knowing that you're not going to get a lot of reps in practice and that you won't play on Saturdays unless something happens, being the starter is something I've been looking forward to all my life, and I'm just trying to give it my all every day.
Letdown.
Keep Reading