10 College Football Coaches Who Will Be Out of the Business in 5 Years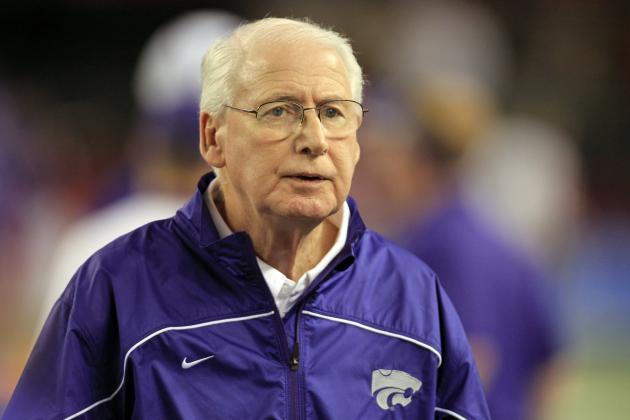 Jeff Gross/Getty Images

By 2017, we will have seen three more Olympiads, two Presidential elections and countless reality television shows filled with mindless drivel.
The men on this list will also be out of the business of coaching.
The majority of the head honchos featured here have enjoyed great success, only to slow down due to age.
Others are just plain bad at what they chose as a day job.
Whatever the case, the 10 men on this list will be out of the business by 2017.
And Les Miles will have moved on to eating turf instead of grass,
Begin Slideshow

»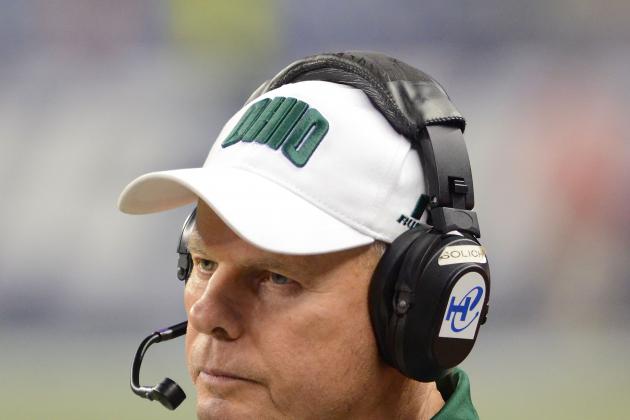 Mark A. Cunningham/Getty Images

Solich has done a great job in recent seasons with his Ohio squad, including a great season in 2011.
From the low point of his seven years at Ohio, a 4-8 2008 season, the team has had an eight-win season, a nine-win season and a ten-win season.
The Bobcats have a shot at being the next school from a non-automatic qualifying conference to make some noise and finish close to undefeated, especially given the talent Solich has heading for the field in the next few seasons.
But alas, the man is aging.
At 67, this project with the Bobcats could well be his last hurrah before a pleasant retirement.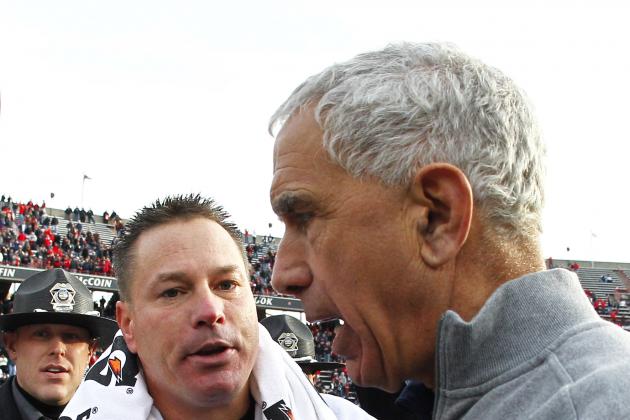 Tyler Barrick/Getty Images

Pasqualoni took over at UConn last season, a year after the team won the Big East.
After a terrible 2011 and a 2012 that appears to be heading the direction of miserable rather quickly, Pasqualoni's future is going to be in question.
Even if he sustains some immediate level of mediocrity, it's difficult to see a program willing to keep him around, especially one such as UConn in a conference that is starving for some respect and needs winners to earn it.
His age also will play a factor, as he will be approaching his 68th birthday in five years.
It's not likely another program will pick up an aging coach with a mediocre head coaching track record.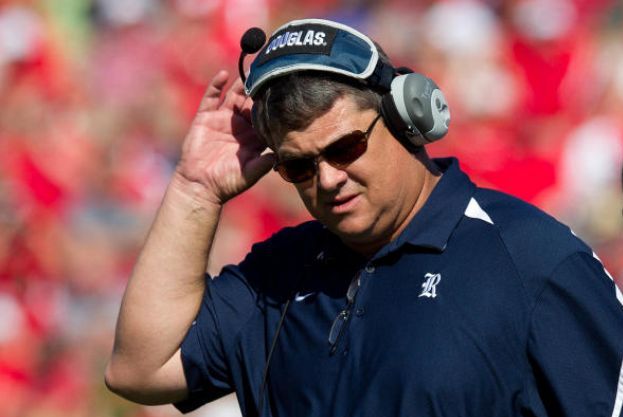 Rice is not known as a football power, but Bailiff's struggles have been epic in proportion.
He left Texas State for the greener pastures of Rice in 2007.
Since his arrival, he has had one year, 2008, in which the Owls have posted a winning record.
If he hangs around the program for another couple of years, he will be nearly 60 years old.
It will be tough to find a program that's willing to pick up a guy that can't win games.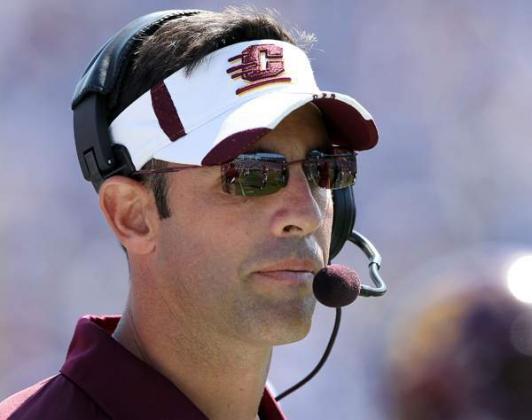 Yes, Enos is younger than the rest of the guys on here, but when you lose this often, that's how the chips fall.
He took over at Central Michigan in his first head coaching gig and has since led the team to a 6-18 record.
Prior to his arrival, the Chippewas had won at least eight games for each of the last four seasons.
Not good news.
Five years is long enough for him to leave Central Michigan, get picked up somewhere else and foul that up before being done as a head coach.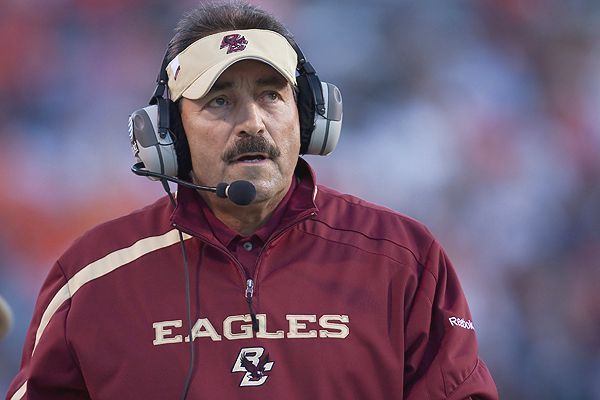 Spaziani has had the Eagles trending in the wrong direction each of the past two seasons and his seat is extremely warm at BC.
Boston College will not have a winning season in 2012, especially since their schedule is less than full of cupcakes and Spaziani will be out if that is the case.
Even that epic 'stache isn't enough to save his job and it's unlikely another program will give him a shot after his failures with BC.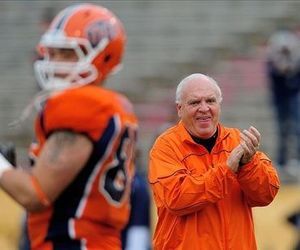 Let's face it, it's just about time for Mike Price to call it a career.
At 66, after six consecutive losing seasons, it's difficult to see him hanging around much longer.
If the Miners have another miserable 2012, last season might have been the last time we see him roaming the sidelines.
Even if it is not, whichever "lower-tier" school picks him up will not have him for long, given his direction toward advanced age.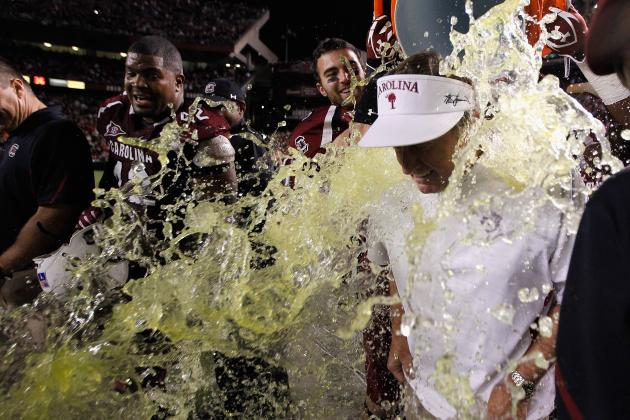 Streeter Lecka/Getty Images

"The Ol' Ball Coach" is a fixture, a staple of college football as sure as tailgating, rivalries and College Gameday.
But he is getting old.
The man has had some incredible recruiting classes recently and is still offering up gems to the media on a regular basis.
However, in five years, he will be 72 and, while he appears to have a fountain of boundless energy, it would not be surprising to see him bow out before then, especially if he leads the Gamecocks to an SEC title in the next few seasons.
Brian Bahr/Getty Images

O'Leary has been an enigma at UCF in recent seasons.
The team has been up and down, winning only five games last season with much of the same personnel that won 11 the previous season.
Add into the mix for O'Leary his ripe, old age, 65, as well as the cloud of controversy that has been surrounding him since the tragic death of player Ereck Plancher and it's easy to see why this could be O'Leary's last stand.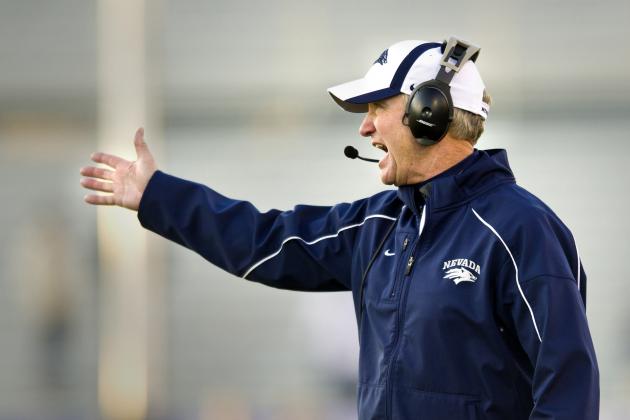 Douglas C. Pizac-US PRESSWIRE

Ault is the current epitome of loyalty and longevity.
From 1976 to 1992, he coached the Wolf Pack.
In '94 and '95, he came back and took over the program, yet again.
During those first two stretches with the program, he guided it from a Division II team to Division I-AA, to today's current status as an FBS squad.
He also served as athletic director from 1986 until 2004.
His current stint with Nevada began in 2004 and he has had several solid seasons during that time, including 2010's 13-1 season.
So there is really no reason for him to retire, except on his own terms.
With his 70th birthday rapidly approaching, thoughts of hanging up the cleats and retiring must have started to enter his mind.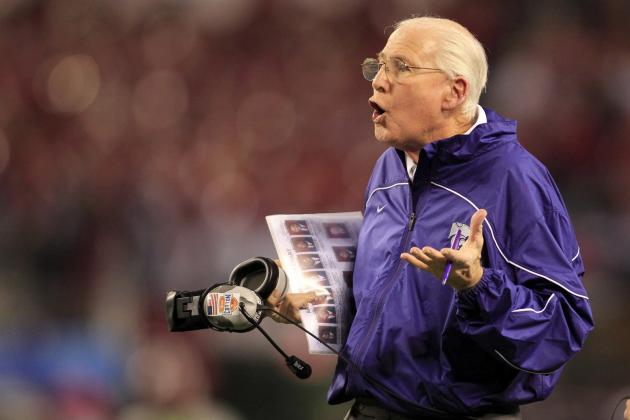 Tim Heitman-US PRESSWIRE

Bill Snyder is a wizard of a program builder, so respected by his program that the facility in which his team plays already bears his name due to his earlier retirement from the program.
The man that turned around "Futility U" has earned the right to coach as long as he wishes to stay at Kansas State after his return to the program in 2009 after a four-year hiatus.
However, given his age, 72, it's not too far-fetched to see this venerable gentleman of college football leave the sidelines forever sometime in the next five seasons.