SEC Media Days: 7 Questions Head Coaches Simply Don't Have the Answers To
Kevin C. Cox/Getty Images
The SEC Media Days are less than a week away from taking place in Hoover, Ala.
This is a chance for players and coaches to answer several questions and keep us up to speed before we head into fall ball and the regular season.
But there are some questions that just can't be answered. These are usually questions that have to do with the team and need more time to be answered, or they are just odd questions that don't usually receive an honest answer.
Whichever category these questions may fall under, here are a few that head coaches just do not have an answer to right now.
Who Is Your Starting Quarterback?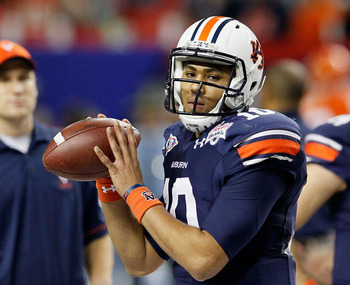 Kevin C. Cox/Getty Images
There are some SEC teams that are already set on the quarterback position such as Tennessee, Alabama and LSU, but teams like Auburn and Florida have yet to have somebody step up and take over for the 2012 season.
Quarterback is without question the most goldfield position in sports, and making the right decision could make all the difference in the world. However, it takes much more than a few spring practices and a spring game to decide who the quarterback will be.
These decisions are often made about a week before the first game of the season begins, but it seems to be the first question asked during media days.
When Will so-and-so Be Back on the Field?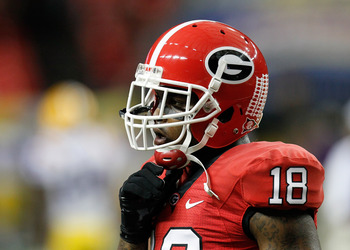 Kevin C. Cox/Getty Images
It never fails.
Every offseason there are a handful of players who can't stay out of trouble for whatever reason, and their football life is a big question mark.
Most of these players are suspended for a game or two, others for a quarter or so, but the coach will not be able to tell you in July when his star player will be back on the field. Coaches have an order of steps that need to be followed for that player to earn the right to participate once again.
Even if the coach knew the date that he will bring that player back, he won't tell you, as that is something that is usually handled behind closed doors.
Will so-and-so Be Ready for the Season Opener?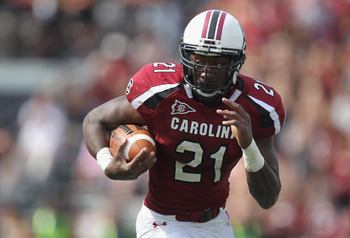 Streeter Lecka/Getty Images
There are many key players who are coming off major injuries in the SEC this season. South Carolina running back Marcus Lattimore, Arkansas running back Knile Davis, Tennessee wide receiver Justin Hunter and Texas A&M running back Christine Michael, just to name a few.
Several of those injuries involve ankles, knees and ACL tears.
Coaches are not doctors and can only tell you what they hear from the trainers. The players continue to work hard and are hoping to get back onto the field, but none of those players above are 100 percent right now with less than two months before the season begins.
We can tell you that they will all participate at some point this season, but when will remain the question heading into the fall.
Which True Freshmen Will See Immediate Playing Time?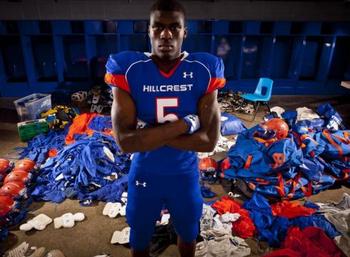 Photo via: usatoday.com
We have a good idea of which true freshmen will see quality minutes this season, but there isn't a coach in the country who can tell you exactly what players will play where and how much. Things like injuries, current starters not playing well and depth play a huge factor in these decisions.
And besides, how can a coach tell you that so-and-so will play a lot this season, when most of these kids have yet to even step foot on the football field? It takes a special kind of player to see a lot of minutes in the SEC during his first season, and much like the quarterback position, coaches will have to see a little bit more before answering this question.
How Important Has This Offseason Been?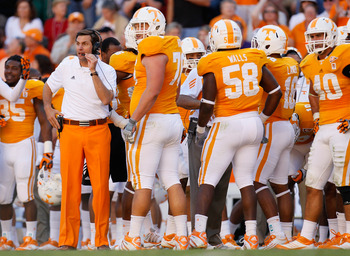 Kevin C. Cox/Getty Images
This question always kills me, and although you will get an answer, it is always the same.
"Coach, how important has this offseason been for your team?"
The coach will usually give an answer like: Oh, we have a bunch of new players, a couple of new assistant coaches, we are experimenting with a few things, so overall, this offseason has been extremely important.
The bottom line is that every offseason is important to any team in any sport. Every college team has new players and coaches changing in and out every season; it's part of the business. There is really no point in asking this question, especially when we all already know the answer.
Would You Rather Play Tough Teams in the Beginning of the Schedule?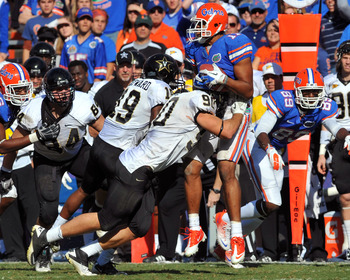 Al Messerschmidt/Getty Images
Another question that falls under the stupid category. Every time a coach gets asked this question, there is always a slight pause before he begins to try and dissect it.
What does it matter?
The schedule is the schedule. There is nothing the coaching staff, the players or the program as a whole can do about it. Whether you play a team like Alabama in the beginning of the season or the end, guess what, you are still going to have to play them.
It is the coach's job to have his team prepared week in and week out. As long as he takes care of his responsibilities, it shouldn't matter when the more difficult teams show up on the schedule.
Is This Team Really Ready to Contend?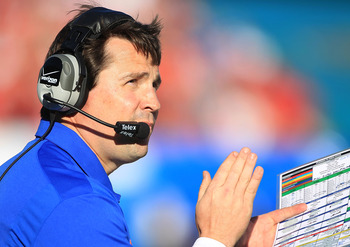 Scott Halleran/Getty Images
Who in the world knows?
I'm sure the coaching staff would love to think so, but until players actually put the pads on and go out there, I'm not sure anyone can truly answer this question. We have seen the most talented teams fall on their faces and teams that don't even have a 5-star recruit compete for conference titles. We just truly don't know until the season begins.
And if there was an answer to this question, what coach in his right mind would say his team wasn't ready?
Every team enters the season with the mindset of competing for a conference championship, even if that idea may be a little far-fetched for some teams. The first step in accomplishing a goal is truly believing in it.
So, yes, my team is ready to contend. Next question!
Keep Reading