Clemson Football: Which 2013 Recruits Will Be Household Names for the Tigers?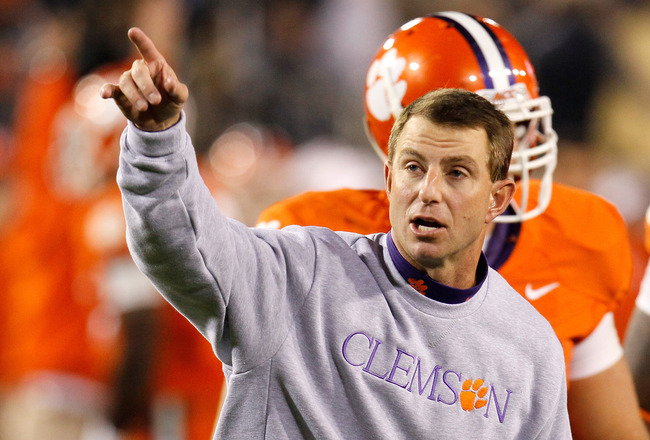 Who from the Class of 2013 will shine under the direction of head coach Dabo Swinney?
Kevin C. Cox/Getty Images
Clemson University head football coach Dabo Swinney is one of the nation's best recruiters. Since 2009—Swinney's first full season as head coach—the Tigers' classes have all been ranked inside the Top 20 nationally, according to ESPNU.
Five months into the Class of 2013 recruiting cycle, Clemson has earned ESPNU's No. 12 overall ranking. Based on Swinney's track record, expect the final class to rank somewhere around the top 10 in the country.
Consistently strong recruiting classes will allow Clemson to build on its historic 2011 season, in which the Tigers won their first ACC conference championship since 1991.
The 2013 class has some marquee high school talent that should shine in orange and purple over the next few seasons. Let's take a look at five future Tigers who will be household names by the time they move on from Clemson.
Robert Nkemdiche
On June 14, Clemson nabbed Robert Nkemdiche, the No. 1 overall recruit in the country.
Nkemdiche will likely play the defensive end in college, but the 6'5", 265 pounder also played running back in high school.
Mike Farrell of rivals.com had this to say about Nkemdiche's commitment to Clemson:
"Dabo Swinney and company are recruiting at a ridiculous level and landing the nation's No. 1 player from out of state—a prospect many felt would end up at Alabama or LSU—will bring dividends this year and down the line…there's reason to celebrate in Clemson after yet another five-star has committed to the Tigers, who could be assembling a roster capable of competing for a national title sooner rather than later."
College football scouts are very interested in Nkemdiche's all-around skill set because of his size.
Swinney could use Nkemdiche's experience as a high school running back in situations that require tough running between the tackles, in addition to his primary role as a defensive lineman. Who knows, maybe he will even block field goals for the Tigers.
As the top recruit in the nation, college football fans will want to see Nkemdiche on the field as soon as possible.
At defensive line, though, the Tigers are young, which suggests depth is not an issue there. Aside from senior Malliciah Goodman, everyone on the defensive line has either freshman or sophomore eligibility.
Considering Nkemdiche's versatility and potential as the No. 1 overall recruit, he should see time early for Clemson, despite a deep defensive line group. The college football world will keep their eyes on Nkemdiche, based on his hype coming out of high school, if nothing else.
Why, then, did Nkemdiche commit to Clemson? Familiarity. According to Jim Halley of USA TODAY:
"Nkemdiche's coach at [Grayson High School in Loganville, Ga.,] Mickey Conn, is a former college roommate of Clemson coach Dabo Swinney, when the two played for Alabama. Two of Nkemdiche's teammates, defensive back David Kamara and tailback Wayne Gallman, had already committed to Clemson."
Nkemdiche should fit right in at Clemson, wherever that may be on the field.
Dorian O'Daniel
Dorian O'Daniel, an outside linebacker recruit from the Washington, D.C. area, is the No. 76 overall player in ESPNU's Class of 2013.
O'Daniel is the second-highest ranked recruit in Clemson's 2013 class, behind No. 1 overall recruit Robert Nkemdiche.
O'Daniel comes from an elite high school defense at Olney (Md.) Good Counsel High School, so he has already played with Division I talent. This will surely help him transition to the college game.
Clemson has more experience at linebacker than at defensive end, so in terms of class year, O'Daniel would see the field quicker than Nkemdiche would. Since O'Daniel is one of the best linebackers in the Class of 2013, though, he should see the field relatively early.
Elijah Daniel
Clemson scouts had to travel all the way up to Indiana to find Elijah Daniel, but the trip should have been well worth it.
ESPNU ranks Daniel, a defensive end, as the No. 85 overall recruit in the Class of 2013.
As mentioned previously in the slide about Robert Nkemdiche, Clemson has a lot of defensive linemen who will still be on the roster once the Class of 2013 takes the field. The Tigers like big defensive ends, though, and Daniel is at 6'3" and 250 pounds and still adding bulk.
A player of Daniel's size and pass-rushing ability is a good asset.
If paired with Robert Nkemdiche, Daniel and Nkemdiche could make, in a few years, one of the nation's best defensive-end tandems in the country.

Nkemdiche and Daniel seem to be the next generation of great Clemson defensive ends. They would be following in the footsteps of the generation that included Gaines Adams, Ricky Sapp, Da'Quan Bowers and Andre Branch.
Ben Boulware
Like Dorian O'Daniel, Ben Boulware will add depth to Clemson's linebacker group. ESPNU ranks Boulware as the No. 133 overall player in the Class of 2013, as well as the third-best inside linebacker.
Boulware may not play as early as O'Daniel and he needs to spend more time in the weight room before he mans the middle for Clemson. Once he adds weight to his 6'1", 225-pound frame, Boulware will help the Tigers stop the run and in pass coverage.
As seen from the video above, Boulware could put a nice hit on the ball-carrier.
Jordan Leggett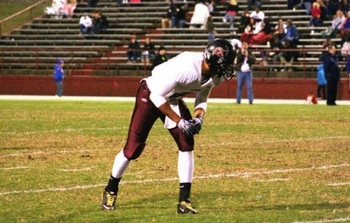 http://cdn0.sbnation.com/imported_assets/1002745/1207.jpg
As the previous four players suggest, Clemson's 2013 class is more loaded on defense than on offense. Jordan Leggett, though, could be a great player on the offensive side of the ball.
Leggett is a tight end/h-back recruit from Navarre High School in Florida. At 6'6" and 225 pounds, Leggett could do a lot of his damage in the red zone. He would be the tallest tight end on the roster.
Leggett could be another offensive target alongside budding superstar wide receiver Sammy Watkins. Leggett was a wide receiver in high school and his catching ability as a big man could reap benefits across the middle for Clemson.
Outlook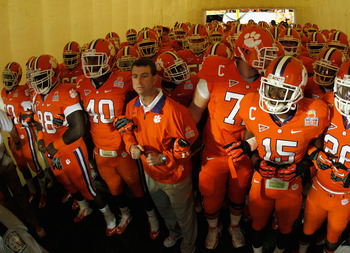 Time will tell how these recruits fare in Death Valley.
Mike Ehrmann/Getty Images
With seven months remaining until 2013's National Signing Day, and over a year remaining until the Class of 2013 enters college, a lot can happen with these recruits, as well as with Clemson's football program.
Right now, college football fans can only judge these players based on recruiting rankings and potential. Their impact on the collegiate level might not be seen for another two years.
Robert Nkemdiche will likely have the most immediate impact from the Class of 2013. As the No. 1 overall high school player in the country, Nkemdiche clearly has a lot of skill and potential, which could cause Clemson to use him from day one.
Considering the Tigers are within reach of a top 10 class nationally, this group of players should have success on the college level. Until 2013 arrives, though, Clemson must concern itself with repeating as ACC champions and competing for a national championship.
Keep Reading

Clemson Football: Like this team?