Arkansas Football: What You Need to Know About Razorbacks' Talented O-Line
July 3, 2012

Ronald Martinez/Getty Images
Although future first-round pick Tyler Wilson grabs headlines for his stellar play at quarterback, the Arkansas Razorbacks offense couldn't have generated an SEC-leading 36.8 points per game without a solid offensive line.
With a diverse mix of veteran interior linemen and talented youngsters, including a potential stud left tackle, this year's group has a chance to be much better than that of 2011.
Strength up the middle
While the group doesn't feature any big-time talents for the 2013 NFL draft, it does have good depth across the line and a leader at the center position in Travis Swanson.
The 6'5" redshirt junior is NFL Draft Scout's top-rated center of the 2014 class and was one of 50 players named to the 2012 Rimington Trophy Spring Watch List. As the most experienced player on the front five, Swanson acts as a field general and emotional leader while bringing a needed nasty streak from his center spot.
Playing to the left of Swanson is the intimidating 6'5", 315-pound Alvin Bailey. The fellow redshirt junior is highly respected in the draft community, coming in as the second-ranked guard of the 2014 class by NFLDraftScout.
Because of Bailey's strong run-blocking and pulling skills, he was named to the All-SEC second team in 2011.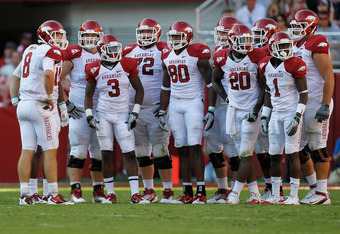 Kevin C. Cox/Getty Images
The intense interior force looks poised to become a star this season.
Competition at guard
Beyond Swanson and Bailey (sounds like a future law firm to me), Arkansas will feature plenty of competition at the other spots, particularly at left guard.
The list of candidates includes a former walk-on in senior Tyler Deacon and a pair of talented sophomores in Mitch Smothers and Luke Charpentier.
Smothers became the first freshman in school history to start on the offensive line after coming to Arkansas as a 4-star offensive tackle. The 6'4", 296-pounder will be battling fellow 2011 signee Charpentier, who has a 10-pound weight advantage over the former Springdale High star.
Whoever wins the starting spot will surely have earned it, but there will be quality depth along the interior.
Emerging left tackle
For a program that's produced some good NFL offensive linemen like Bobbie Williams, Shawn Andrews and even Tony Ugoh, left tackle hasn't always been a strength for the Razorbacks.
That should change in 2012 as towering sophomore Brey Cook looks poised to lock down Wilson's blind side.
Blessed with an ideal left tackle body (6'7", 310 pounds), quick feet and a high motor, the Springdale, Ark., native should help solidify an offensive line that surrendered 28 sacks in 2011.
Cook starred at Har-Ber High and came to the Razorbacks as Scout's Inc.'s sixth-best offensive tackle in the country.
Although he came down with mononucleosis late last season, Cook did gain some valuable playing time at both tackle and guard. And with Cook healthy and stronger than ever, Wilson should be given ample time to make plays in 2012.
Uncertainty at right tackle
Jason Peacock, the team's one-time starting left tackle, has made headlines for the wrong reasons as of late.
The 6'4", 305-pounder was arrested for theft on March 16 and was sentenced to 10 days in jail, as reported by the Associated Press on ESPN.com. Consequently, Peacock was suspended indefinitely by then-coach Bobby Petrino, but has since been reinstated.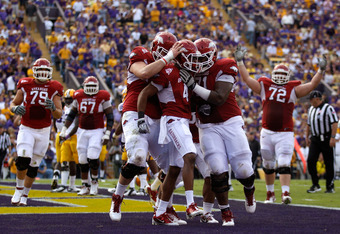 Chris Graythen/Getty Images
Because of his lack of length, Peacock fits better as a right tackle and should be in the mix for the starting job. However, the former JUCO standout will have to beat out David Hurd, a former walk-on who stands 6'6", 300 pounds, and Grady Ollison, a converted defensive end who comes in at 6'5", 286 pounds.
Peacock has the talent and experience to beat out both players, but he'll need to prove he can be trusted. 
With star running back Knile Davis back in the fold, the Razorbacks' O-line should be plenty motivated to pave the way for the 1,000-yard rusher. 
Having a potential No. 1 pick in Wilson at the helm should provide some extra juice for one of the SEC's more talented groups.