Rutgers Football: 3 Big East Teams the Knights Don't Match Up With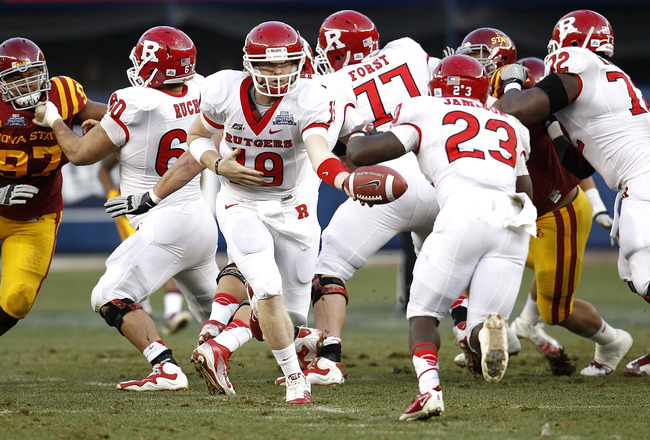 Jeff Zelevansky/Getty Images
While the Big East will be going through a bit of alteration in the coming season—Temple will be joining the conference and West Virginia will be leaving for the Big 12—Rutgers football will undergo its own fair share of turnover in 2012.
Last year's head coach Greg Schiano made the leap to the NFL, where he will lead the Tampa Bay Buccaneers. Longtime assistant Kyle Flood is replacing Schiano as the head coach. Rutgers also lost wide receiver Mohammad Sanu, who was drafted by the Cincinnati Bengals in the third round of the 2012 NFL Draft, as well as several other key offensive players.
Despite the loss of talent, the Scarlett Knights will look to succeed in the Big East before the conference expands to include Boise State, Houston, SMU, UCF, Memphis and San Diego State in 2013 and Navy in 2015.
Last year's major contenders are standing in the way of Rutgers' Big East success. While no team dominated the competition last year, the conference had a lot of level talent and eventually ended in a three-way tie for the lead. West Virginia, Cincinnati and Louisville all posted 5-2 records in conference play. Rutgers and Pittsburgh each finished a game behind at 4-3.
In a conference where every game is up for grabs, matchups are extremely important. While the Knights will contend in every game in 2012, it does not hurt to point out the Big East teams they don't match up well against.
Louisville Cardinals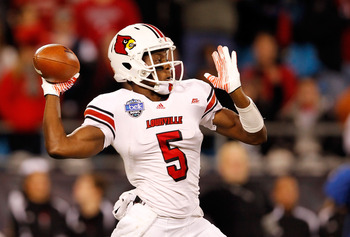 Streeter Lecka/Getty Images
At a glance, Louisville's 7-6 overall record in 2011 was not impressive, but do not count them out of the equation just yet. Louisville stepped up their play when facing in-conference opponents, including Rutgers, who they ousted 16-14.
The Cardinals were an incredibly young team in 2011. On the offensive side of the ball, Louisville fielded a freshman quarterback in Teddy Bridgewater as well as three freshman receivers, who combined for 94 catches and upwards of 1,100 yards. That passing attack will be another year older in 2012, making the Cardinals all the more dangerous.
Head coach Charlie Strong is now entering his third season with the squad and is finally working with more of his own recruits. If Strong can lead his young group to a successful start in 2012, that could spell trouble for the Knights when the Cardinals come to Piscataway for the season finale.
South Florida Bulls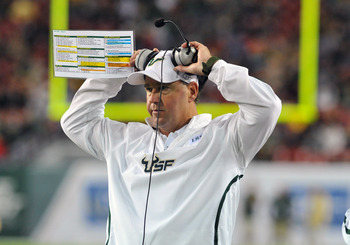 Al Messerschmidt/Getty Images
South Florida got out to a hot start in 2011, winning their first four games of the season. From there, the Bulls went on a terrible slide, losing seven of their final eight games on their way to posting the team's worst overall record since joining the Big East in 2005 (5-7).
Rutgers came dangerously close to dropping their matchup with the Bulls last season. South Florida made the trip up to New Jersey only to come away with a disappointing 20-17 overtime loss. That game should have the Knights worried about their Thursday night matchup with the Bulls on September 13.
South Florida dominated many statistical aspects of last year's matchup. The Bulls were able to dominate the Knights on the ground with 221 yards compared to Rutgers' negative seven.
South Florida's powerful rushing game allowed them to control the pace of the game, but Mohammad Sanu kept Rutgers in the game, breaking out for 113 yards on 11 grabs. Without a game-changer like Sanu in the receiving game, the Knights could have trouble when they face South Florida in 2012.
USF is poised to bounce back from their disappointing season in 2011, making the possibility for a Scarlett Knight victory in Week 3 a bit slimmer. The Bulls are returning more starters than any other team in the Big East, and they all plan on washing the sour taste of last year's final eight games from their mouths.
With head coach Skip Holtz entering only his third season with the team, the Bulls have tremendous upside and may end up being Rutgers' stiffest competition of the year.
Connecticut Huskies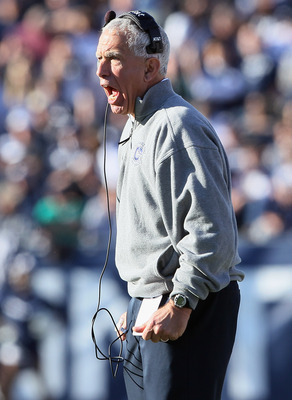 Elsa/Getty Images
UConn was a team that struggled for the majority of the 2011 season. Their 3-4 conference record placed them ahead of only Syracuse and USF, who both only mustered out one conference victory.
One game in which the Huskies did not struggle was their November 26 matchup with the Scarlett Knights. Connecticut jumped out to a 14-0 lead by the end of the first quarter. They were able to build that lead up to 40-10 by the end of the third before winning by a final score of 40-22.
Once again, Rutgers posted negative rushing yardage when they faced the Huskies (-9). That being said, turnovers were the true reason behind the Knights' 2011 demise in East Hartford. Rutgers fumbled the ball four times, losing three, and quarterbacks Chas Dodd and Gary Nova combined for three interceptions.
The Knights clearly lost their focus against UConn and ended up playing down to their competition. If Rutgers displays a repeat performance in 2012, it could get even more ugly, as second-year head coach Paul Pasqualoni plans on turning Connecticut back into a bowl-caliber team.
Keep Reading

Rutgers Football: Like this team?