Erin Andrews: Fox Sports Needs More Than Andrews to Compete in College Football
July 2, 2012

Christian Petersen/Getty Images
If you follow any of the media news surrounding college football, then you've heard the news about former ESPN personality Erin Andrews.
As reported by Sports Illustrated's Richard Deitsch, Andrews' contract expired with ESPN, and the former sideline reporter is moving on to take on a bigger role at Fox Sports. She'll be working MLB and the NFL beat, but her big new position will be as the studio anchor for the new Fox Sports college football prime-time show.
It is a big move for Andrews. Someone who has become a fixture in the college football world as a sideline reporter is now stepping into a larger role, albeit with Fox. For many folks this is a good thing.
As my good friend Aaron Torres writes at Crystal Ball Run, college fans can breathe a sigh of relief of sorts. Kevin McGuire, a featured columnist here at Bleacher Report, writes over at Examiner that it is proof Fox is going to force its way into college football.
Me? Not so much.
Kevin and Aaron are two guys I've worked with and I absolutely respect, but in this case I have to disagree. Perhaps it is because I'm not in the gang of guys who just view Andrews as some eye candy to ogle. I think she has done a decent job at her craft. She was a sideline reporter, and she handles the role quite well.
Ultimately, what it boils down to is an assessment of the product, and with ESPN/ABC and CBS as the clear leaders, Fox is in need of a strong push to grow its spot in the marketplace. By acquiring Gus Johnson and Erin Andrews, it would seem that it is making that sort of a play.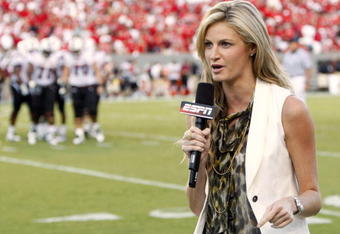 Streeter Lecka/Getty Images
Except neither of them does much, if anything, for what college football fans want. Johnson, for all of his fanboy followers from college basketball, did a terrible job on the college football product. It was often unclear that Charles Davis was in the booth with him as Johnson hooted and hollered over the analyst and attempted to make every two-yard gain a big deal. 
For Andrews, she's at least operated and been successful in the college football space. However, Fox is asking her to do the job of Chris Fowler, Rece Davis and Tim Brando—the three best studio hosts we see on a weekly basis.
Fowler owns it on College GameDay in the mornings, steering that massive ship of raging fans, ranting Lee Corso, human interest pieces and Kirk Herbstreit info nuggets.
Davis controls the Mark May and Lou Holtz circus with quips, knowledge and a guiding hand.
Brando pops into our homes and not only brings his own knowledge but paces a team of guys that are really no-nonsense.
Can Andrews do it? I don't know. I've never seen her get in-studio and host a show or steer the ship. So Fox is taking a gamble on a name that it hopes draws eyeballs while Andrews tries to figure things out for herself.
The Fox Sports model is pretty clear: Be exciting. That's what Johnson and Andrews bring to the table—a measure of initial excitement. As we saw this year, college football fans are far less impressed with Johnson than college basketball fans were. In a world where most folks have grown accustomed to Fowler, Davis or Brando being strong, knowledgeable guides, it will be interesting to see how Andrews stacks up against them.
Ultimately, if Fox is going to succeed in this college football venture, it needs to recognize how to achieve success.
Two big names that have almost zero to do with the real product are not the rousing start you'd expect from someone looking to gain momentum in the space. The broadcasts have to be cleaned up: better HD quality, better producers handling the look and feel of the game and better analysts working the games.
Putting a paint job and pretty shutters on a house dresses it up all right, but in the end you need a solid foundation and good bones for the product to sell. CBS and ESPN have these. Fox needs to rebuild its model from the ground up, not basing it on its NFL product.
Rather, college football requires a college football approach, and attempting to cut corners to get market share is not going to work—regardless of how many Erin Andrewses or Gus Johnsons they hire.