USC Football: Is Sophomore Andre Heidari the Best Placekicker in the Nation?
July 2, 2012

It's hard being a placekicker for Lane Kiffin's USC Trojans. Kiffin regularly eschews the PAT for a go at a two-point conversion, and the team's aggressive play and high-powered offense leaves relatively few opportunities for field goal attempts.
Yet, while it would seem that USC might not need to invest valuable recruiting time and scholarship offers in a placekicker, two years ago the Trojans locked up the services of one of best young high school kickers in the country: Andre Heidari of Bakersfield, Calif. 
In his very first game, USC scored a touchdown just six minutes into the first quarter, but Heidari remained on the sideline as Kiffin called for a two-point conversion that failed. Almost three minutes into the second quarter, Robert Woods caught a 43-yard pass from Matt Barkley, and once again Heidari stayed put while Kiffin called for another failed two-point conversion. Finally, Heidari got his shot when Woods scored again seconds before halftime, and he chipped in his first career extra point.
Since that first game, Heidari has converted on every extra point opportunity given to him and made field goals at a higher rate than all but two Division I-A players with at least 19 attempts.
Heading into the 2012 college football season, much of the national special teams-related focus has centered on three senior kickers: LSU's Drew Alleman (one of the two with a higher percentage than Heidari), Nebraska's Brett Maher and Florida's Caleb Sturgis. The focus on Alleman is understandable, as he was one of the two kickers whose field goal success rate exceeded Heidari's in 2011, though his longest kick of 44 yards is six yards shorter than Heidar's longest. Maher and Sturgis each had lower field goal success rates than Heidari, though all of Sturgis' misses came on 40-plus-yard attempts.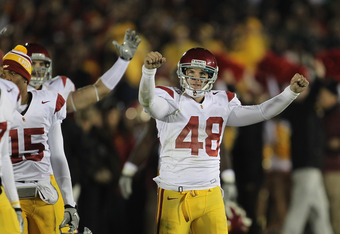 Jonathan Daniel/Getty Images
Field goals and extra points are the glamorous parts of a placekicker's job—if the word glamorous can ever be uttered in the same sentence as the word placekicker—but also important is the kickoff. Heidari finished 34th in the nation in average kickoff length (65.03), trailing Maher (sixth at 67.38) and Sturgis (13th at 66.40), while Alleman was out of the top 100. Heidari also made touchbacks only 13.16 percent of the time, as compared to Maher's 27.78 percent and Sturgis's 17.24 percent (Alleman made no touchbacks).
As the youngest of the quartet, Heidari appears to have the most upside. Sturgis is a senior who first kicked for the Gators when Heidari was 15 years old, Maher is in his final year of eligibility after serving as holder for his first two years, and Alleman was limited to kickoffs and punting until last season. Heidari, meanwhile, has three seasons of eligibility ahead of him and is coached by John Baxter, one of the finest special teams coaches in the country.
If Heidari could keep up with the nation's best kickers as an 18-year-old true freshman on a team with severe scholarship restrictions, Trojan fans should expect to have the nation's finest kicker this season—as long as Lane Kiffin gives him the chance to kick.