College Football Playoff: Assessing Winners and Losers of a 4-Team Showdown
June 27, 2012

College football officially has a playoff.
Is this thing on? I said, COLLEGE FOOTBALL OFFICIALLY HAS A PLAYOFF.
There we go; that's better.
We knew this day would come given the months leading up to this point, and now we know a good chunk of the details.
Although financials are still being decided (good luck with that), we know that a selection committee will choose four teams, and these four teams will play one another on New Year's Eve and New Year's Day. It's a 12-year deal, and six bowls will rotate hosting semifinal games. The first title game in the new format will be held Jan. 12, 2015.
There are certainly some folks that walk away winners with this deal, but there are also those who aren't thrilled with the outcome. Let's examine a bit of both.
Winner: Fans of This Glorious Game (aka You)
There are a few traditionalists out there that will somehow defend the BCS to the very end. There are even some that will scream and clamor for "the good ol' days" and life before the BCS. These are likely the same individuals that thought the Internet was a "fad" and choose not to upgrade to HD television because the "picture isn't that much better."
As for the rest of us who enjoy progression and fun, well, we all can embrace one another in a massively awkward hug while dousing ourselves in cheap champagne. Is this new playoff perfect? Probably not. Is it a massive step forward? Absolutely.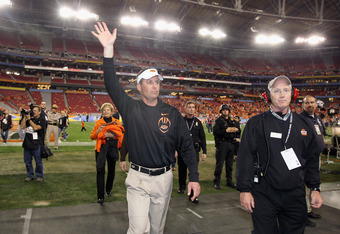 Christian Petersen/Getty Images
This will turn into one of the most exciting two-week stretches on the calendar whether you're a football junkie or not. And even better, college football will keep its regular season incredibly meaningful while allowing teams (lookin' in your direction, 2011-12 Oklahoma State) a shot at the title that might be ever so slightly out of the Top Two.
It's going to be madness, and I absolutely cannot wait.
Loser: Harvey Perlman
The Nebraska chancellor pushed hard to make the "plus-one" a realistic playoff option despite the fact that few would listen. Although at times throughout the past few months it seemed frustratingly possible that this could indeed happen, in the end, it wasn't to be. And thankfully, I might add.
Perlman pushed this cause up until the very end, and this topic surfaced probably longer than it should have. Although Pac-12 commissioner Larry Scott fought for this idea initially as well, it was Perlman that went down with the ship once it finally died out.
This shot from the Tuesday press conference announcing the four-team playoff really says it all. If you could possibly tell someone to "do the opposite of making a smiley face," I think he nailed it.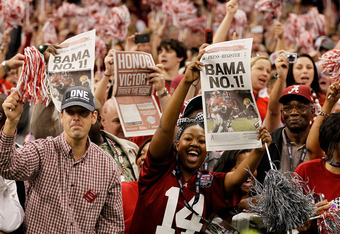 Kevin C. Cox/Getty Images
Winner: The SEC
SEC commissioner Mike Slive can return to his camp a happy man, and he'll likely be greeted with cheers and a parade when he steps off his private plane made entirely of championship banners, recycled national-championship rings, ACC tears and gold. 
Following the 2011-12 season—where we witnessed an all-SEC title game—the nation's most powerful conference made it clear that it did not want conference champions to be the focus of this new playoff format. It got its wish; a selection committee means that the SEC will once again have the opportunity to enter multiple teams in the four-team playoff if the committee believes they belong that year.
They'll still have to get the teams in, but at least they'll have that chance. They're that guy you know that always lands the hot chick at the bar. Annoying, but you have to respect their game.
Loser: The Selection Committee Members (Yes, Already)
I can tell you right now that this will not be a fun group to be a part of. It sounds great; you'll raise your hand claiming how much you would love this job, and then reality will set in. This group will likely be somewhere around 15 members, although we still don't know if this will consist of ex-players, ex-coaches, NCAA officials, members of the media or perhaps a combination of personalities.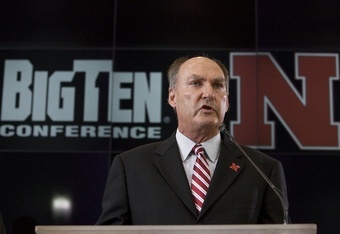 They will have set guidelines in place that they follow, but it really won't matter when a prominent team or an undefeated mid-major with a good argument—something that will likely happen most years—is left out. You can burn that checklist before someone else does it for you.
Hate mail, yelling (lots and lots of it), death threats, craziness, conspiracies, oh, just you wait. College-football fans have proved to be passionate (some well beyond it), and this group will have to have thick skin and even thicker windows to simply do its job.
Winner: Parties Involved That Enjoy Money
The NCAA, the teams, the conferences, the bowls and other members are about to get a massive raise of sorts that's going to dramatically change the outlook of the game.
This is going to be an event that pads the pockets of the many parties involved, and a taste of this could eventually drive this playoff to eight teams sooner than later. I'm not saying I agree with this right now—still processing this whole four-team thing—but dollar signs can dramatically change things and change them quickly.
Just what kind of money are we talking about? Well, Sporting News reported that the new television deal could be as much as $5 billion over 10 years. That could buy, like, a hundred iPads or something like that. Cha-ching.
Loser: Wives That Love New Year's Eve (and Day) and Don't Enjoy Football
There are some women out there who will gladly celebrate the New Year in front of a television, drinking cheap beer, screaming at large men while they hit other large men. Not all of them feel this way, however. I really don't need to tell you this.
The college football semifinal games will be played on Dec. 31 and Jan. 1, which is so incredibly awesome. Honestly, there is no better way I'd rather fire open a new calendar than by experiencing 48 hours of postseason (a term that still does not truly register) college football. It does, however, create some intriguing situations and potential clashes with wives down the road.
That party she wanted to go to? Well, we'll have to see about that, and this could be an issue. Big plans the next day? You already told her Jan. 1 was untouchable, and it will remain that way.
Buckle the chinstrap, gentlemen. The battle for New Year's Day (between you and your loved ones) has only just begun.