SEC Football: Ranking the SEC Punters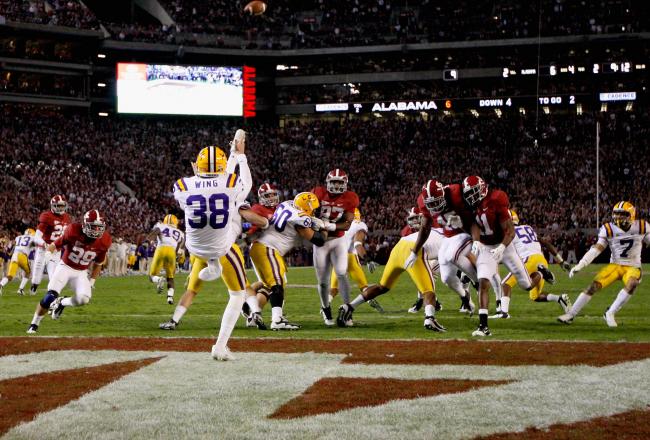 LSU punter Brad Wing
Streeter Lecka/Getty Images
Every Tuesday, The SEC Blog will rank the top player at each position for each team in the SEC. Today, we rank the best punter at every school in the conference.
14. Patrick Fish, South Carolina
Fish is a 6'0", 193-pound sophomore that is battling junior Mike Williamson for the right to replace Joey Scribner-Howard at South Carolina. Scribner-Howard finished ninth in the SEC in punting a year ago, so there's plenty of room for improvement for either Fish or Williamson.
13. Joe Mansour, Kentucky
Junior Joe Mansour and sophomore Jay Wilmott are battling for the opportunity to step in for the recently departed Ryan Tydlacka. Neither player attempted a punt last season. Mansour was a decorated high school kicker and punter who handled kickoff duties for Kentucky in each of the last two seasons.
12. Collin Barber, Georgia
Barber is a true freshman that is stepping into the big shoes of former Georgia punter Drew Butler. The Cartersville, Ga. native was the nation's No. 6 punter in the class of 2012, according to 247Sports.com.
Drew Kaser 2010 scouting video
11. Drew Kaser, Texas A&M
At 6'3", 220 pounds, Kaser is one of the larger punters in the country. He emerged as the favorite to win the job this spring for the Aggies, showing off a strong leg under first-year head coach Kevin Sumlin. Kaser had two punts last year for a total of 91 yards.
10. Matt Darr, Tennessee
Of the returning punters in the SEC, Darr finished with the lowest average at 38.13 yards per attempt. Darr is listed as one of two options at punter on Tennessee's depth chart, along with Michael Palardy. With Palardy handling kickoffs and field goals, expect Darr to get the majority of the attempts at punter in 2012.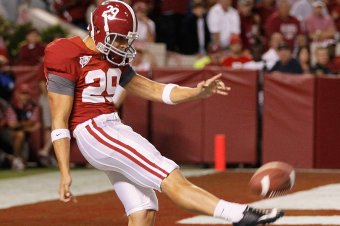 Kevin C. Cox/Getty Images
9. Cody Mandell, Alabama
Mandell has locked down the starting punter spot ever since he stepped on campus two years ago. The rising junior punted 39 times last season for an average of 39.9 yards per kick. Eleven of his punts were inside the 20-yard line.
8. Kyle Christy, Florida
Christy averaged 40.9 yards per kick as a sophomore last season. He had a long of 67 yards in his debut as a starter vs. Auburn, and pinned opponents inside the 20-yard line in 10 of his 30 punts.
7. Baker Swedenburg, Mississippi State
Swedenburg handled all of the punting responsibilities last season for the Bulldogs, and finds himself atop the depth chart heading into 2012. He averaged 41.83 yards per punt as a sophomore last season.
6. Richard Kent, Vanderbilt
The SEC is still a field position conference, and Richard Kent has his role in Nashville locked down. Kent averaged 42.5 yards per punt and pinned opponents inside the 20-yard line in 23 of his 64 punts. He had three punts that traveled more than 50 yards and his long last season was a 67-yard bomb vs. UConn.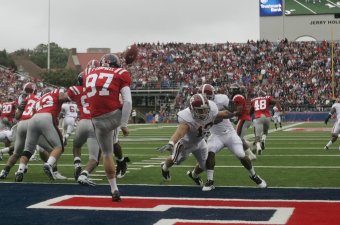 Dave Martin/Getty Images
5. Tyler Campbell, Ole Miss
Of the returning punters in the SEC, Campbell finished third last season with an average of 43.57 yards per punt. Campbell received honorable mention All-SEC honors last season from the Associated Press.
4. Trey Barrow, Missouri
Barrow was a second-team All-Big 12 performer last season according to the Associated Press. He averaged 44.8 yards per punt last season with a long of 74. He's got a big leg, but only 10 of his 62 punts were downed inside the 20-yard line.
3. Dylan Breeding, Arkansas
Breeding is probably one of the most underrated punters in the SEC. He finished last season with the top punting average in the SEC with a whopping 45.28 yards per punt. The rising senior was a second-team All-SEC performer according to the Associated Press a year ago.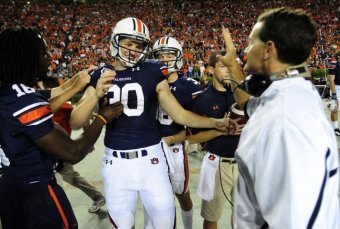 2. Steven Clark, Auburn
Clark's average of 40.85 yards per punt last season isn't impressive, but that isn't his strong point. Only 10 of his 72 punts were returned, he dropped 33 punts inside the 20-yard line, forced 34 fair catches and only allowed three touchbacks all season.
1. Brad Wing, LSU
Wing emerged as one of the most valuable pieces to LSU's 2011 SEC Championship puzzle last season. Wing averaged 44.1 yards per punt, had 18 punts of 50 or more yards and kicked a 73-yard bomb against Alabama in the first Game of the Century that had a major impact in the final outcome.
He led the SEC in percentage of punts inside the 20-yard line at 46 percent (23-of-50).
LSU punter Brad Wing's fake punt vs. Florida in 2011
This article is
What is the duplicate article?
Why is this article offensive?
Where is this article plagiarized from?
Why is this article poorly edited?