Power Ranking the Top 10 Coaches Recruits Want to Play for Right Now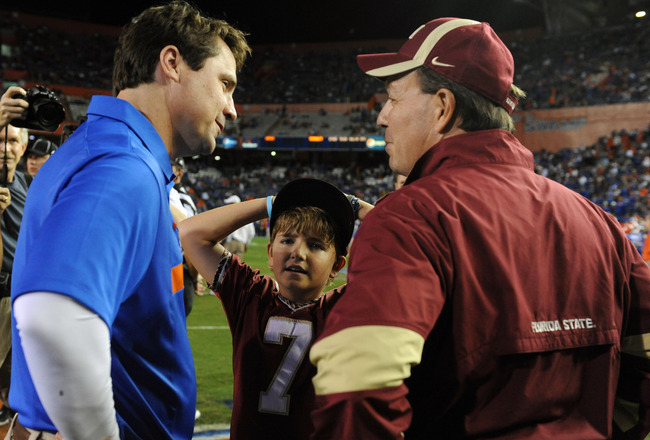 Al Messerschmidt/Getty Images
Prospects are recruited by coaches, so they have an excellent idea on who they'll be playing for. As I always say, the head coach is the face of the program, and prospects always take into account of who the head man is before they make a decision.
For the following read, I'm going to rank the top-10 head coaches that recruits want to play for right now. Some coaches on this list may shock you, and others may be on this list that you thought would be on it.
Yet, these are who recruits want to play for right now.
10. Jimbo Fisher (Florida State)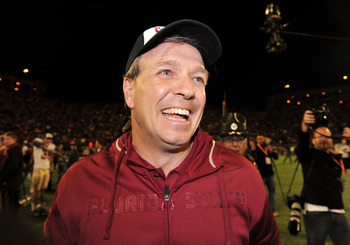 Al Messerschmidt/Getty Images
Fisher has been flat-out getting it done on the recruiting trail since he's taken over in Tallahassee. He holds the ninth-ranked recruiting class per ESPNU and has six ESPNU 150 prospects.
Fisher and his staff do a great job of evaluating prospects, and he comes from the Nick Saban school of recruiting. A thorough and detail-oriented approach leads recruits to believe they will get properly coached, looked after and educated academically at FSU thanks to FIsher.
9. Urban Meyer (Ohio State)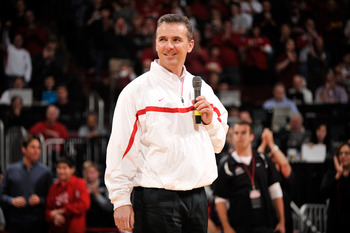 Jamie Sabau/Getty Images
Meyer is a legendary recruiter who really does a great job of recruiting the player and people around the player.
Recruits want to play for him because Meyer has won everywhere he's been. How can you turn down a coach, as a teenager, whom you've seen on TV winning tons of games, bowls and championships?
Recruits want to play for Meyer because he wins. A lot.
8. Mark Richt (Georgia)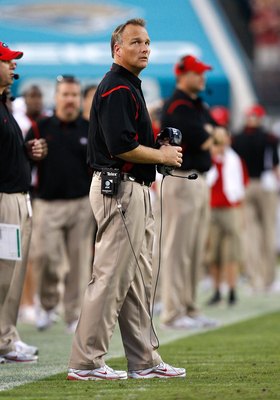 Kevin C. Cox/Getty Images
Now, some view Richt as transparent, but it doesn't seem to affect his recruiting. He goes all-out to get a recruit, even going to church with them.
Richt is personable, available and really helps make a recruit comfortable.
Add the fact that he's at a big-time SEC program like Georgia, has won a lot of games and has done some great things and you start to see why he already has 19 commitments for 2013.
7. Kevin Sumlin (Texas A&M)
Fox Sports Southwest
Sumlin comes to A&M as it moves into the SEC. Combine that with his offensive prowess and you see why recruits want to play in College Station for him.
He has 21 commitments already, with five being inside the ESPNU 150.
Sumlin comes from Houston, via Oklahoma, so recruits who do their homework know he comes from a big-time, winning program and has experience in big games.
6. Mack Brown (Texas)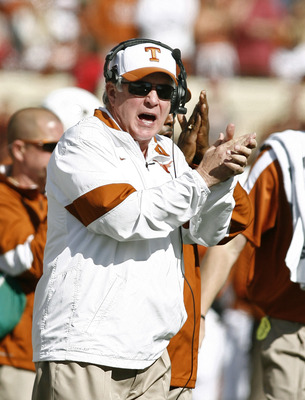 Erich Schlegel/Getty Images
Outside of USC, Texas may have the best recruiting advantage of any school in the country. I say this because the Longhorns can basically build recruiting class after recruiting class of players from their state and still finish in the top-five each year.
Texas high school football players want to play for Brown. He's the leader of the largest, most high-profile program in their home state, and he really is personable and comfortable.
This really puts recruits and their families at ease and makes them want to come to Austin to be a Longhorn.
5. Will Muschamp (Florida)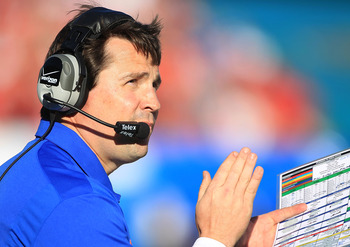 Scott Halleran/Getty Images
The Gators made a great hire in replacing Urban Meyer, as Muschamp has shown that he can maintain the elite recruiting prowess for Florida.
Recruits want to play for Muschamp because he comes off as honest, works hard and really evaluates players well. Plus, I mean, it's Florida!
The Gators reel in talent each February, and Gainesville is a great place to play college ball. Muschamp plays to all of the strengths of the program and lures talent after talent.
4. Lane Kiffin (USC)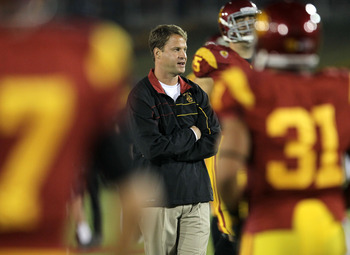 Stephen Dunn/Getty Images
It is said that the monotone and boring Kiffin we see on camera is far from what you get off camera and in person.
Kiffin is spoken of as a funny guy who is laid back and relates well to the players. He's smart and charismatic, and this seems to work well with recruits.
Add a great recruiting work ethic and the machine of USC's recruiting advantages behind him and you see why there is a line of top recruits signing up to play for him.
3. Nick Saban (Alabama)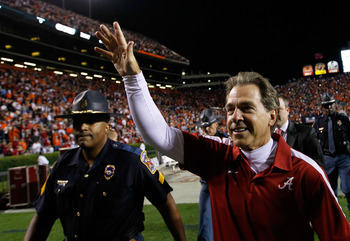 Kevin C. Cox/Getty Images
Saban is a living legend, a coach who recruits view as a conduit to the NFL. He runs the Crimson Tide program like an NFL team, and recruits feel he prepares them best for the pros.
Saban coaches his players hard, demands they not only excel on the physical techniques of the game but also, and even more so, in the mental aspects of the game.
Recruits seem to dig this and flock to Tuscaloosa to play for him.
2. Dabo Swinney (Clemson)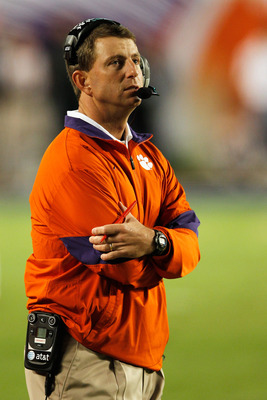 Streeter Lecka/Getty Images
It seems that Clemson's recruiting picked up after Swinney took over the program full time a few years back.
He was a staunch recruiter as an assistant, but with the allowance to run the ship his way and put in some practices he controls, recruiting for the Tigers has escalated.
The atmosphere he has created around Clemson is said to be fantastic. He really looks after his players, as does his staff.
Everyone is personable and easy-going, and they know when to be laid back and turn it on to compete on the field.
1. Brady Hoke (Michigan)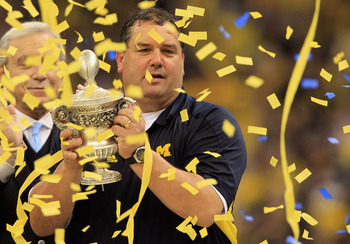 Matthew Stockman/Getty Images
Hoke has 22 commitments—11 are inside the ESPNU 150 and four more are in the ESPNU 300.
I think it's the tradition of Michigan that he's brought back that has recruits wanting to be Wolverines. Hoke's honest, family-oriented and values tradition, yet he is also hip enough to relate to modern-era recruits of today.
He's also shown that he can win ball games, which matters most. He's a hot name right now and recruits seem to be liking Michigan a lot because of what he's selling.
Edwin Weathersby has worked in scouting/player personnel departments for three professional football teams, including the New York Giants, Cleveland Browns and the Las Vegas Gladiators of the Arena League. He spent a year evaluating prep prospects & writing specific recruiting and scouting content articles for Student Sports Football (now ESPN Rise-HS). A syndicated scout and writer, he's also contributed to WeAreSC.com, GatorBait.net and Diamonds in the Rough Inc., a College Football and NFL Draft magazine.

Keep Reading