Jerry Sandusky Trial: Guilty Verdicts Represent Our Chance to Move On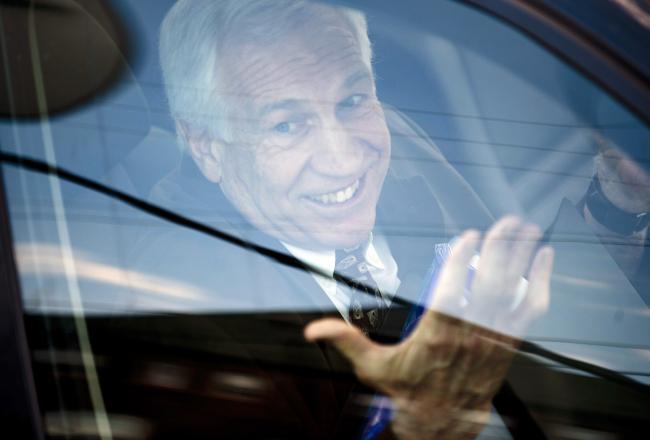 Jeff Swensen/Getty Images
Jerry Sandusky was declared guilty on 45 of 48 child-sex charges by a jury of his peers in a Centre County court on Friday evening, per The Patriot-News. The verdict was hardly a surprise, considering the litany of victim testimony against Sandusky and the staggering amount of charges he was up against. Sentencing will take place within the next 90 days; he faces a maximum of 442 years in prison.
There are victims in this case. They were there in court. The Sandusky family, the families of the abused and, yes, even the Paterno family are all victims as well; their lives will never be the same because of Sandusky and his actions, and they're going to need mountains of ongoing support in the coming years.
But the general public is not a victim. You, us, the newsmakers and the newsreaders—we are not the aggrieved party here. And that's good, because that means we have one very important privilege at this point: We can move on.
So let us move on. Let us not forget, of course, and let us certainly retain lessons about not staying silent when we suspect abuse has happened. Sandusky was allowed to continue this pattern of behavior for so long because of people staying silent or just doing enough to the point that they felt it wasn't their problem anymore. Do not be such a party to an ongoing tragedy the next time it happens.
But let us move on.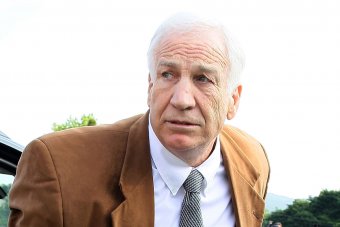 Mark Wilson/Getty Images
We can put this sad chapter behind us. We can let the victims and the Penn State community heal. They don't need this attention anymore. Jerry Sandusky is guilty and he is going away forever. To prolong the attention, to try to squeeze more drama out of this, to continue to pry in an open moral wound is sick and dehumanizing, and we can hold ourselves to much higher standards.
We'll be the first to move on right here, as a matter of fact. Goodbye, Jerry Sandusky trial. You were mercifully brief and free of the worst media excesses, so at least there's that.
Goodbye, Joe Amendola, you glib scumbag. It's one thing to defend someone accused of sexually assaulting children; that we have no problem with because this is America and everybody deserves the freedom to be defended in a court of law. It's another to crack All My Children jokes and play to the press like you did over and over. May we never see or hear from you ever again.
Goodbye, guy in a Pedobear suit (via The Patriot-News) and guy wearing a "tickle monster" t-shirt (via Deadspin). How nobody pushed either of you jackasses into oncoming traffic is its own tragedy. If you're truly compelled to wear pedophilia jokes to the scene of the Sandusky trial or any other child-sexual-assault case, then something is dead inside of you.
And goodbye, Jerry Sandusky. You're guilty of molesting children over and over, and your adopted son says he was one of them. You're not a tickle monster, you're an actual monster, and you got what you deserve—justice.
This article is
What is the duplicate article?
Why is this article offensive?
Where is this article plagiarized from?
Why is this article poorly edited?