College Football Recruiting: Complete List and Overview of Elite 11 Finalists
June 22, 2012

There is only one place to catch all the best quarterback recruits in the 2013 recruiting class, and that is the Elite 11 final on July 18-22 in Redondo Beach, California.
25 quarterbacks will be on hand and under the tutelage of a team led by one-time Super Bowl winner, former NFL QB and current ESPN NFL analyst Trent Dilfer.
We took a look at the 12 signal-callers who already had invites yesterday, but now it is time to take a look at the 13 (yes, Dilfer broke the rules and couldn't say "no" to adding another) that were invited last night.
As expected, ESPN's top-ranked signal-callers are well represented.
Austin Allen, Fayetteville, (Fayetteville, Arkansas) -- Committed to Arkansas
The Razorback commit threw for a ridiculous 4,150 yards and 46 touchdowns last season. That type of output is something that has Arkansas super excited for the 6'1", 202-pounder.
He doesn't possess prototypical size, but that didn't stop the likes of Auburn, North Carolina, Notre Dame and Stanford from offering either.
Zach Allen, Temple, (Temple, Texas) -- Committed to Syracuse
The 6'2", 185-pounder didn't receive a ton of interest from major programs, but the Orange are overly happy to have him.
He's deceptively athletic and can make plays with his feet in addition to his arm.
Allen is a wild card in this competition and could impress many when all is said and done.
Shane Cockerille, Gilman (Baltimore, Maryland) -- Committed to Maryland
This is the guy Dilfer added at the last minute—he simply couldn't help himself. The future Terp checks in at 6'2", 207 pounds and also holds offers from Michigan, Navy, Temple and Virginia.
He's a gamer and not a technician by any means, but that is why Dilfer loves him. We'll get a chance to see if the head honcho is right about him.
Joshua Dobbs, Alpharetta, (Alpharetta, Georgia) -- Committed to Arizona State
Dobbs has a great combination of size and upside at 6'3", 190 pounds. He's still scratching the surface of his potential and is a legitimate dual-threat player who can make things happen on any given play.
He's also a baseball talent to watch, and you'll see the ball jump out of his hand in this competition.
Danny Etling, South Vigo (Terre Haute, Indiana) -- Committed to Purdue
Etling is far from a big name, but he has some big game. He stands 6'3", 212 pounds and doesn't get a ton of opportunities in his high school offense, but he works from under center and understands how to control games.
This is a great opportunity to showcase his talents as a passer.
Riley Ferguson, Butler, (Matthews, North Carolina) -- Committed to Tennessee
The Volunteer commit is one of the better gamers in this class and will do anything and everything it takes to win. He threw for 3,345 yards and 48 scores last year and is still getting better with each game.
At 6'2", 190 pounds, he's still growing and could become a huge talent.
Jared Goff, Marin Catholic (Kentfield, California) -- Committed to California

Another guy with huge statistics (3,210 yards and 45 scores) this California native possesses prototypical size at 6'4" and still has a ton of room to fill out at only 175 pounds.
He drew a lot of interest out in the Northwest, and the Bears are lucky to have him heading their way.
Christian Hackenberg, Fork Union Military Academy (Fork Union, Virginia) -- Committed to Penn State
The top-ranked passer in the ESPN 150, this Nittany Lions commit has everything you look for in an early starter.
At 6'4", 215 pounds, the signal-caller possesses a big arm and an astute understanding of the game. He was the first to commit to Penn State in this class and is a huge get for them.
Look for him to impress in the competition. 
Johnny Stanton, Santa Margarita Catholic (Rancho Santa Margarita, California)  -- Undecided
Stanton is a true dual-threat who is just as effective on the ground as he is in the air. He's yet to make a college choice but is being pursued by the likes of California, Air Force, Navy, Nebraska, Oregon State, San Diego State, Utah and Washington.
He's a better football player than quarterback right now, but he's got a ton of potential and should impress here.
Cody Thomas, Heritage (Colleyville, Texas) -- Committed to Oklahoma
There is so much potential here with Thomas, who stands 6'5", and it shows in his offer list. His production, arm and style will fit in great with the Sooners and don't be surprised at all if he works his way onto the field sooner rather than later.
He deserves to be here.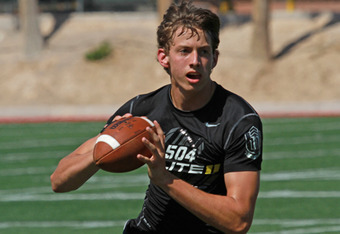 Davis Webb, Prosper (Prosper, Texas) -- Committed to Texas Tech
Webb is another big, growing signal-caller with upside. At 6'5", 205 pounds, this Red Raider commit still has a lot of filling out to do and will get better with each passing year.
He's a guy that likes to work the ball downfield so expect him to impress in this competition.
Troy Williams, Narbonne (Harbor City, California) -- Committed to Washington
The to-be Husky signal-caller is a dual-threat player but wants to beat you with his arm first—his athleticism is really a bonus.
He doesn't possess great size at 6'1", 185 pounds, but that is more than enough to succeed at this level.
Asiantii Woulard, Winter Park (Winter Park, Florida) -- Committed to South Florida
This Florida native earned a ton of interest from Big East schools but is choosing to stay in-state with the Bulls.
Woulard possesses a good combination of size and athleticism at 6'3", 204 pounds. He's built like a position player, not a quarterback, but he has a strong arm that will get better over time.
He may lack the consistency to dominate in this competition, but he'll flash his great talent every now and again too.
(You can see the write-up on the other 12 QBs listed below here.)
J.T. Barrett, Rider (Wichita Falls, Texas) — Committed to Ohio State
Cooper Bateman, Cottonwood (Salt Lake City, Utah) — Committed to Alabama
Max Browne, Skyline (Sammamish, Wash.) — Committed to USC
Luke Del Rio, Valor Christian (Highlands Ranch, Colo.) — Committed to Oklahoma State
Zack Greenlee, Lincoln (Stockton, Calif.) — Undecided
Anthony Jennings, Marietta (Marietta, Ga.) — Committed to LSU
DeVante Kincade, Skyline (Dallas, Texas) — Undecided
Shane Morris, De La Salle (Warren, Mich.) — Committed to Michigan
Kevin Olsen, Wayne Hills (Wayne, N.J.) — Committed to Miami
Brice Ramsey, Camden County (Kingsland, Ga.) — Committed to Georgia
Tyrone Swoopes, Whitewright (Whitewright, Texas) — Committed to Texas
Malik Zaire, Archbishop Alter (Kettering, Ohio) — Committed to Notre Dame