College Football Playoff: 5 Biggest Problems to Solve About a 4-Team Playoff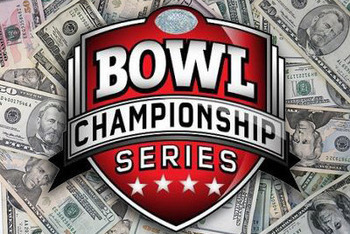 thetribunalbar.wordpress.com
If you haven't heard yet, the BCS is one step closer to being shown the door, while college football looks like it will have a playoff sooner rather than later. The BCS commissioners and Notre Dame athletic director Jack Swarbrick all have agreed on a four-team playoff format that will take place in 2014, when the BCS cycle is up.
But while this seems like great news, there are still things that must be figured out before we can completely rejoice. When you have a change this drastic and this many people trying to decide, there are many things that can go wrong in an instant.
With several meetings still scheduled and many hours of more talking, here are five things that must be hammered out for this playoff to gain even more steam.
Where Will These Games Be Played?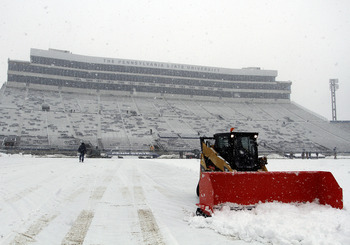 Justin K. Aller/Getty Images
Now that we know four teams will likely participate in a playoff, the next step is finding out where these games will take place. Will these matchups take the place of the BCS bowls, will they take place on neutral sites or will the highest seeds be awarded a home playoff game?
Many fans would like to see home playoff games, as Big Ten schools feel it would give them a significant advantage. Can you imagine an SEC team having to travel to Happy Valley to play in several inches of snow? But then again, neutral sites would give both teams a fair advantage and the best team would likely win the contest on an even playing field.
You could make an argument for either side, but only one choice can be made.
When Will These Games Be Played?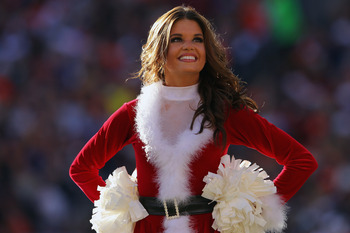 Doug Pensinger/Getty Images
Another important factor is finding when these games will be played.
We can start before Christmas (about two weeks after the conference championship games), which would give the winners about two weeks of preparation for the national championship game. After Christmas would allow time for the student-athletes to finish final exams and would give the winners about a week to prepare for the national championship.
And the other option would be to start on New Year's Day. Remember when college football owned New Year's? Well, last season there were no bowl games whatsoever on January 1. This would give the other bowl games a chance to live a little bit, which should build more excitement leading up to the playoff games.
I'm sure fans don't care when these games happen, just play the games, but this is kind of important as far as revenue and TV ratings are concerned.
How Will Teams Be Picked?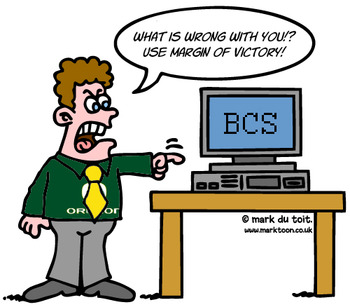 Photo via: offthepond.net
While we have the four teams in place, nobody is quite sure how these teams will be decided. Will it be a selection committee that watches the games and decides who the best teams are? And if so, how do we know that bias won't play a part in those choices?
Will we stick to the BCS standings and have computers spit out the top four teams? Sure, this is what fans have been complaining about all along, but it is a system that everybody is familiar with. Trust me; it could be a lot worse. We can also adjust the computer ratings by allowing things such as margin of victory and strength of schedule to be added to the formula.
This may probably be the most important factor left to be determined, because if you don't correctly pick the top four teams, what's the point of having a playoff to begin with?
Who Gets In?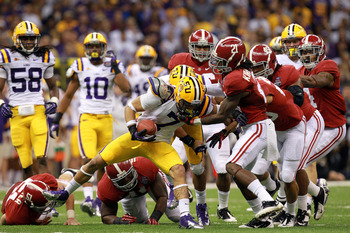 Ronald Martinez/Getty Images
Last season sparked a lot of controversy when Alabama made the national championship, despite losing to LSU earlier in the year and not winning its conference. Many agree that you must win your conference in order to participate in the national championship game. But is that fair to teams in the SEC who may actually have the top four teams in the country? After all, only one team can win a conference.
Then you have the Pac-12, where only two teams are legitimate championship contenders, should they get an automatic spot in the in the playoffs for beating teams like UCLA, Washington and Washington State?
Having only conference winners in the playoffs would keep the importance of the regular season, but would it really decide the top four teams in the country?
I'm glad I'm not the one that has to make that decision.
Don't Turn Back Now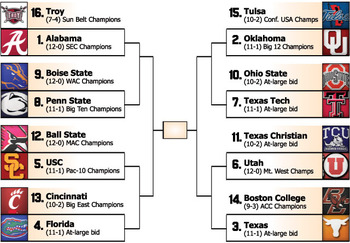 photo via: brokenstainedglass.typepad.com
Now that we know everybody has agreed on a playoff format, it is time to hammer out these final details. We don't need anybody getting cold feet or the BCS presidential oversight committee to turn anything down.
I'm sure all of the I's and T's won't be crossed and dotted. Pac-12 commissioner Larry Scott said. The presidents just have to decide whether they want to go in this particular direction that we're coming out with. Every other detail, I feel comfortable can be worked out. (Via ESPN)
This is the final stretch to making our dreams a reality, it is time for everybody to unite as one and get this thing done.
Keep Reading