BCS Meetings: Now That a Playoff Is Here, Who Will Decide Its Participants?
June 21, 2012

Christian Petersen/Getty Images
The college football landscape shifted dramatically on Wednesday, when the leaders of the 11 Football Bowl Subdivision (FBS) conferences and Notre Dame athletic director Jack Swarbrick announced that they have agreed on a four-team seeded playoff, according to CBSSports.com. If approved by the presidential oversight committee, the participants for that playoff will be decided by a selection committee with an emphasis placed on conference champions.
My colleague over at Your Best 11 Michael Felder already opined that a playoff committee, if properly executed, is the best way to go.
But who is going to comprise that committee?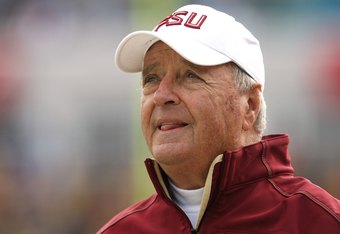 Doug Benc/Getty Images
Humans are inherently biased, and even if we use computer rankings as some sort of guidelines, those computers are programmed by humans who are inherently biased.
Bias is unavoidable, and the goal for the committee should be to limit the bias with transparency. 
Some people have suggested that ex-coaches be involved. That's fine, to a point. But coaches have existing relationships that can get in the way of their decision-making just like anyone else.
The committee should be a mix of ex-coaches, media members and possibly even people that program ranking systems, as long as they don't rely on their programs as their only method of judgement.
But here's the most important part—being a part of the selection committee should be treated like a job. Not a part-time job, a role in addition to other duties or something that's done as a hobby to kill time during the fall.
A full-time job, paid for by the BCS.
Part of the contractually mandated job requirements for this job will be to provide as much transparency as possible. Mandatory blog posts explaining votes, mandatory television and radio appearances and required viewing of every relevant game either live or recorded.
I'd prefer this process to start after Week 1, if possible.
I know, preseason polls are awful and part of the problem. But if we make this debate healthy, and hold people accountable from the day that the season starts, it will—at least theoretically—minimize the impact of early-season voting.
The worst thing that could happen in this new format is to create a committee that goes into a smoke-filled room after the season to decide playoff participants. 
Make it a transparent process, not just a meeting.