11 College Football Teams That Will Get More Exposure Than They Deserve in 2012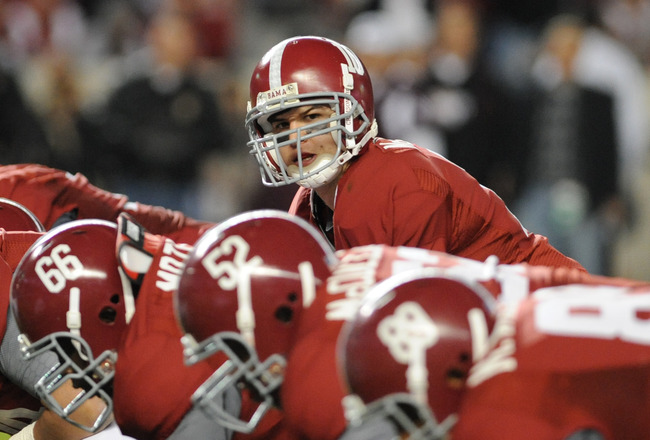 Al Messerschmidt/Getty Images
Remember the Twilight craze?
That time period in our past, when everywhere we turned we were confronted with posters, signs and media exhorting us to choose "Team Jacob" or "Team Edward?"
And every time you heard Twilight mentioned, every female in the room uttered a collective sigh?
It was overbearing, annoying and seriously overexposed—somewhat like the teams on this list.
Every season, you sit innocently on your couch with chips and buffalo wings in hand to watch college football to your heart's content.
Every season, you are forced to watch coverage of team you don't really care about, but ESPN feels are relevant.
This is a list of the teams that will be forcing their way onto a television screen and into a conversation near you, especially early in the season, whether you want to hear about them or not.
11. Boise State Broncos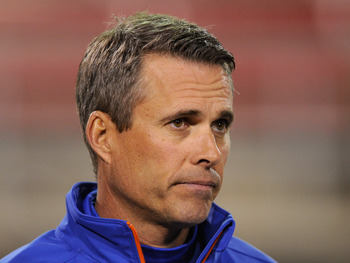 Ethan Miller/Getty Images
Once again, the Broncos start of their season against a solid opponent from a BCS conference.
And once again, if Chris Petersen's squad pulls off the win at Michigan State, we will be treated to an entire football season filled with insinuations that they are ready for the national title.
I've said it before, and I will say it again: When you get a real schedule against more than two (at maximum) top-level squads, then we can talk about your chances of a BCS game.
Oh wait, the current BCS model is going away; now we can hear 27 reasons every week that the Broncos should be included in the four-team playoff.
10. Missouri/Texas A&M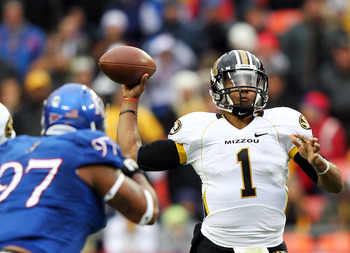 Jamie Squire/Getty Images
Missouri is good.
Quarterback James Franklin has the potential to score 30-plus touchdowns in 2012.
That is, he would if the Tigers were still in the Big 12.
The move to the SEC will prompt even more coverage of both Missouri and Texas A&M, while neither team actually does anything great on the field.
9. Georgia Bulldogs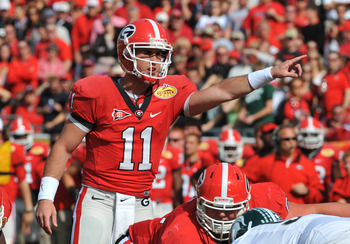 Al Messerschmidt/Getty Images
Athlon has them ranked fourth in its "Early Top 25."
It's true Aaron Murray is returning, and the Bulldogs defense is going to be absolutely ferocious.
However, somebody other than Tavarres King needs to step up at receiver, while Mark Richt needs to come up with a running back that will stay out of trouble and perform on a consistent level.
Offensive linemen Cordy Glenn and Ben Jones will be missed, and it will be apparent against the incredibly difficult schedule the Dawgs face.
Oh wait, I made that part up.
Georgia will have a great record next season, no doubt, but when the toughest test you face is a trip to South Carolina, your schedule is suspect.
8. Clemson Tigers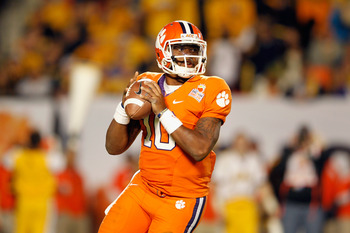 Mike Ehrmann/Getty Images
Clemson showed us last season why it's Clemson.
The team tanked at the end of last season, losing four of its last six games by a combined score of 172-76.
Sure, Tajh Boyd, Sammy Watkins and Andre Ellington return and will produce in a big way on offense.
That said, after the Tigers' ACC title last season, we will have coverage of the their quest for a second consecutive conference title shoved in our faces all season long.
The problem is that three starting offensive linemen and four key defensive linemen are gone.
Expect a step back this season, followed by immense improvement in 2013.
7. Wisconsin Badgers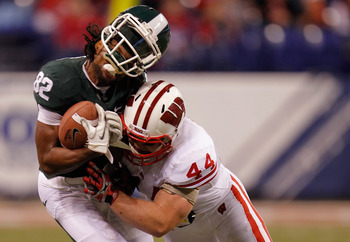 Gregory Shamus/Getty Images
The Badgers have finished atop the Big Ten for the past two seasons.
Last season, that was thanks to the incredibly spectacular play of quarterback Russell Wilson.
Wilson is now gone, and even though Montee Ball is returning to try and improve on his 40-touchdown 2011 performance, things are going to be a little tougher.
They should be in their second Big Ten title game, but not every one of their games ends like the first meeting last season with Michigan State, so let's move on.
6. Notre Dame Fighting Irish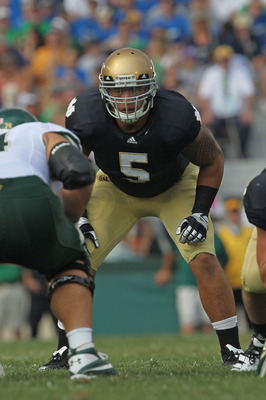 Jonathan Daniel/Getty Images
This is a given.
As long as Lou Holtz is covering college football, we will hear about Notre Dame's BCS chances, even with four losses.
Maybe if analysts predict a good season and then never talk about them again, the Irish won't fold under pressure this season.
Seriously, this team is talented and definitely has the potential to win 10 games.
That said, potential doesn't win games, execution does, and this team's execution was awful in 2011.
5. Texas Longhorns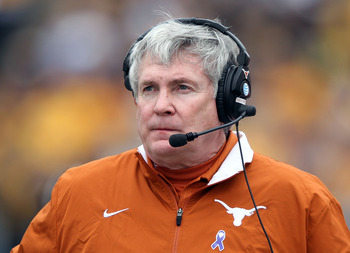 Jamie Squire/Getty Images
The 'Horns are going to be intimidating on defense.
Jackson Jeffcoat and Alex Okafor are the best defensive end tandem in the nation.
Kenny Vaccaro is a top-flight safety.
However, football has two sides, offense and defense, and without an excellent quarterback to lead the team, Mack Brown struggles.
The Longhorns have won only two conference titles under his watch, in 2005 and 2009, when his team was led by Vince Young and Colt McCoy, respectively.
Sure, Texas has tons of fans, and yes, it's one of the most prolific programs in history, but the Longhorns are going to struggle again this season, and we will hear about it constantly.
4. Florida State Seminoles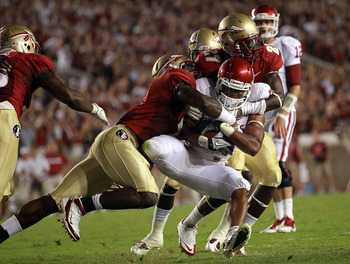 Ronald Martinez/Getty Images
Last season, we heard the 'Noles were back.
Then they fell apart.
First there was a tough loss to Oklahoma, followed by consecutive losses to Clemson and Wake Forest.
Eventually, they wound up tied with a 5-3 record in the conference, tied with three other squads with the third-best record in the ACC.
Expect more of the same type of coverage this season.
The hype will build, expectations will soar sky high, and then the 'Noles will lose a game they are not supposed to, leading to the realization that Bobby Bowden is gone, and FSU is not elite anymore.
3. Michigan Wolverines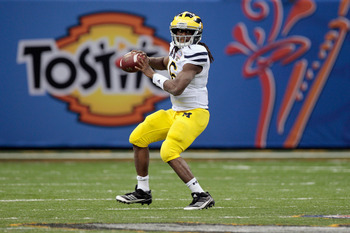 Chris Graythen/Getty Images
I'm sorry, is there a player who gets more hype only to fail to live up to it than Denard Robinson?
As a friend recently said: "Denard leads the country in September Heisman Trophies."
For the past two seasons, the build up for this guy to win college football's ultimate award has been incredible.
And then he tries to pass the ball against a decent defense.
Michigan has some of the best history in the sport, but that's exactly what it is.
Brady Hoke has the Wolverines headed in the right direction, but it will take at least another season before this team is ready for the spotlight it will get in 2012.
2. Oregon Ducks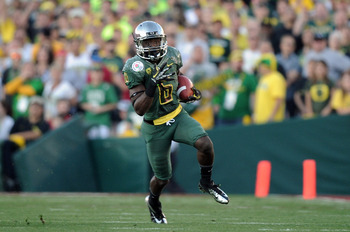 Harry How/Getty Images
Check out this schedule: vs. Arkansas State, vs. Fresno State, vs. Tennessee Tech, vs. Arizona, at Washington State.
The Ducks don't face a team in the top 50 until Washington on Oct. 6.
And while they are running up the score on hapless opponents, we will all be regaled with tales of what a genius Chip Kelly is, losing Darron Thomas and LaMichael James, and still keeping the offense rolling.
All that illusion will be dispelled the first time the Ducks face a top-tier opponent.
They belong in the top 25, but nowhere near the top 10.
1. Alabama Crimson Tide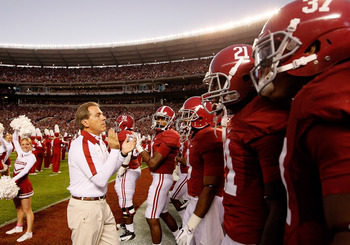 Kevin C. Cox/Getty Images
Yes, the Tide won the title last season, and to the victors go the spoils.
However, those people telling you the Tide are going to run to a consecutive title are nuts.
A. It hasn't happened in the BCS era, and only once since '80.
B. Even though Nick Saban and his staff are the consummate recruiting machine, you don't replace seven major contributors on defense—as well as Trent Richardson and Marquis Maze on offense—without some bumps in the road.
The Tide will come together into a formidable unit by late in the season, but chances are that it will be after a loss or two.
Keep Reading