Big Ten Forecast: Montee Ball Leads Elite Group of Top 10 Running Backs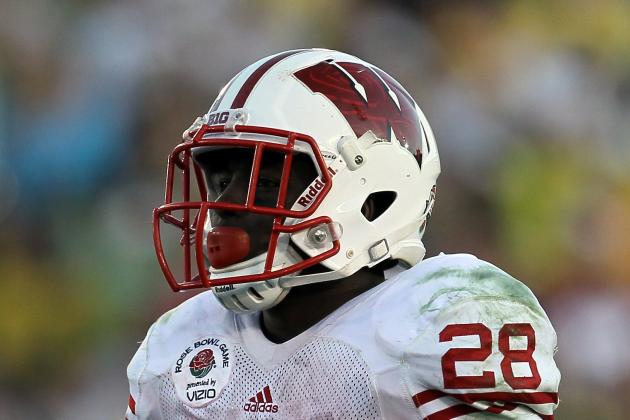 Stephen Dunn/Getty Images
Montee Ball of Wisconsin is the best of a talented group of running backs in the Big Ten.
The top 10 rushers in 2011 are returning to play Big Ten football this season.
That's right. They were all underclassmen last year and three of them were quarterbacks (Michigan's Denard Robinson, Minnesota's MarQueis Gray and Nebraska's Taylor Martinez).
Factor in an additional group of five to 10 players and you have a conference that is rich in running back talent.
Here's an early look at the 10 best running backs in the Big Ten as we draw closer to the 2011 season. It wasn't easy, as I reviewed the rankings at six different college football sites.
Begin Slideshow

»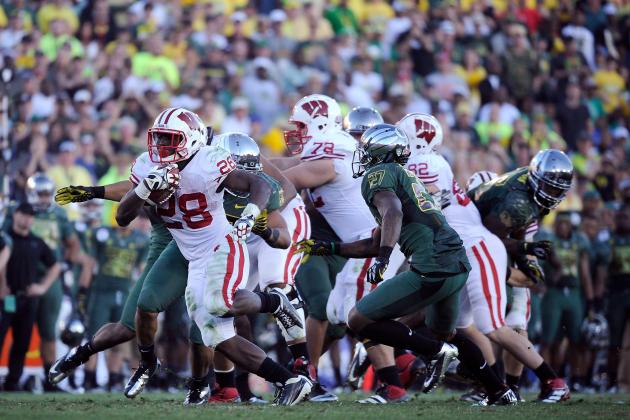 Kevork Djansezian/Getty Images
Montee Ball is far and away the best running back in the Big Ten.
Oh, Montee Ball lost half of his offensive line. Montee Ball doesn't have Russell Wilson to hand him or throw him the football. Montee Ball is playing for a new offensive coordinator.
Toss all that nonsense aside. Monte Ball is a "gamer" and is just as likely to run over defenders as run around them. Can he rush for 1,923 yards and tack on 306 yards as a receiver again? Sure.
It will be Ball's senior year, and first and foremost ,in his mind is another Big Ten championship. So I expect with a new starting quarterback and a young offensive line out to prove itself, we are going to see plenty of Ball and teammate James White running left, right and up the middle.
By the way, did you know Montee Ball has 617 career carries without a fumble? And he's one tough Badger to bring down.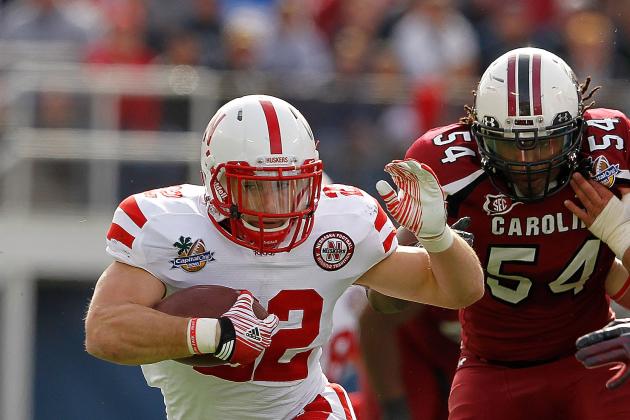 Mike Ehrmann/Getty Images
Rex Burkhead is the all-purpose back that is a difference maker for Nebraska.
If you ask the Michigan State Spartans, who made their lives miserable in their 24-3 loss to Nebraska last year, I bet they will say running back Rex Burkhead.
Burkhead had 35 carries for 130 yards and two touchdowns against MSU. He finished the season with 1,357 yards rushing, which put him third behind Ball and Iowa's Marcus Coker.
Like Wisconsin's Montee Ball, it will be Burkhead's senior year. If the Cornhuskers have any hope of getting past the two Michigan schools for the Legends Division title and a berth to the Big Ten championship game, they will need their steady, hard-nosed running back to carry the ball 25-30 times a game.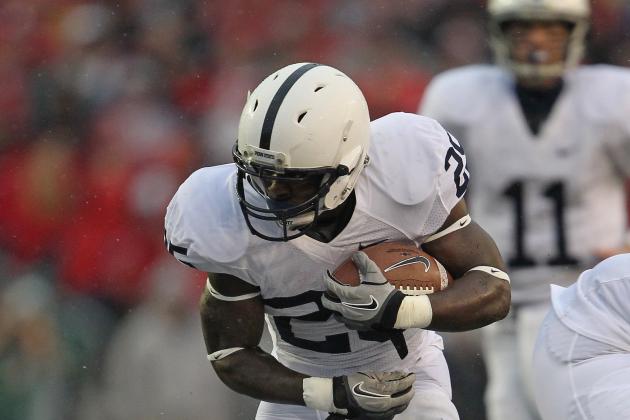 Jonathan Daniel/Getty Images
Silas Redd needs to be the workhorse for new Penn State head coach Bill O'Brien's offense.
In his first full season as a starting running back, Silas Redd rushed for over 100 yards in each of his first five Big Ten games. Penn State won all five games.
Bill O'Brien, the new head coach of the Nittany Lions, would be wise to give Redd plenty of opportunities to carry the football. He ran for 1,241 yards and seven touchdowns last year.
Redd averaged over 140 yards rushing per game in October, but there is one major concern. Penn State has only one returning starter on the offensive line.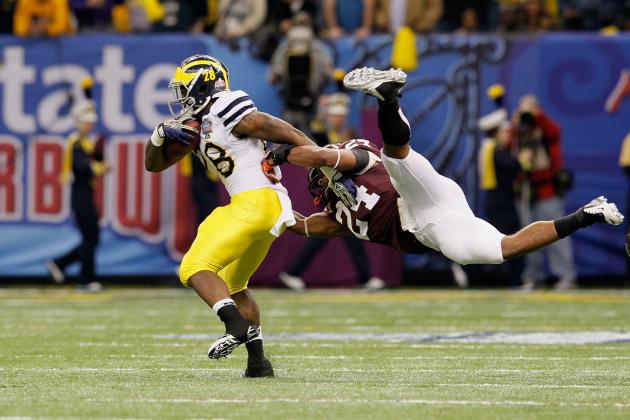 Kevin C. Cox/Getty Images
A Virginia Tech defensive back discovers it is not easy to bring Wolverine running back Fitzgerald Toussaint down.
It was late October 2011 and Michigan head coach Brady Hoke was looking for a reliable running back to take some of the heat off of star quarterback Denard Robinson.
He turned to Fitzgerald Toussaint, who carried the ball 20 times for 170 yards and two touchdowns in a 36-14 win over Purdue. Toussaint was Michigan's first 1,000-yard rusher since Mike Hart in 2007.
The Wolverines' top running back was consistently listed as among the top five backs in the Big Ten in numerous preseason college football sites.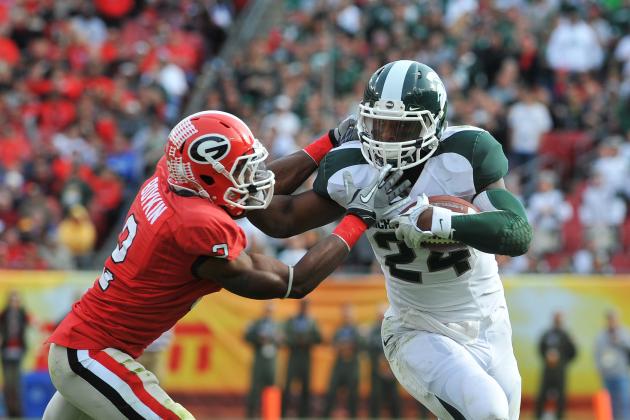 Al Messerschmidt/Getty Images
Le'Veon Bell will strive to break the century mark in rushing yards this fall.
Let's see. Starting quarterback Kirk Cousins is gone. All of the experience wide receivers graduated, too. What do you do?
You hand the ball to Le'Veon Bell, who fell 52 yards short of 1,000 yards rushing last year. The 6'2", 240-pound running back enters his junior year with 21 career touchdowns
Bell should be able to carry the ball 20-30 times behind what could be the most experienced offensive line in the Big Ten.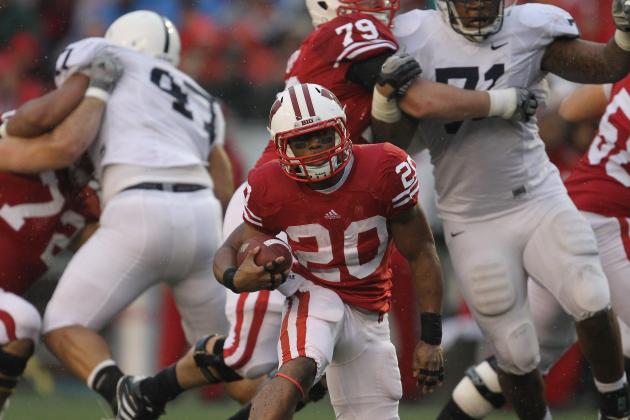 Jonathan Daniel/Getty Images
James White, the No. 2 running back for Wisconsin, is No. 6 in this Big Ten fall forecast.
James White is closing on 2,000 yards, which isn't too shabby for Wisconsin's No. 2 running back.
New offensive coordinator Matt Canada is looking for ways to get both White and Montee Ball on the field more often. They are experimenting with two-back sets at Camp Randall and that could lead to plenty of trouble for the Badger's opponents.
White has scored 20 touchdowns in two seasons, so just imagine a backfield that could tally a total of 30 or more touchdowns on the ground. Wisconsin lost three offensive line starters to the NFL draft earlier this year, but it seems to find the replacements when they need them.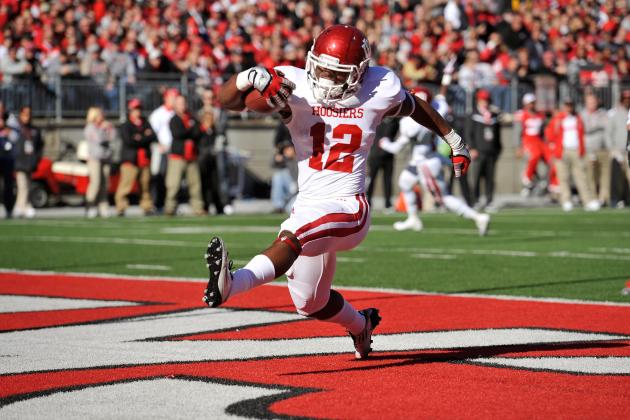 Jamie Sabau/Getty Images
Stephen Houston of Indiana will try to highstep his way to 1,00 yards rushing this year.
It gets interesting when you are selecting the No. 7 through No. 10 running backs in the Big Ten, but Stephen Houston appears on more preseason lists than the Ohio State's Carlos Hyde, Purdue's Akeem Shavers and Northwestern's Treyvon Green.
After a slow start last year, Houston managed to finish with 802 yards rushing and eight touchdowns. He averaged 5.3 yards-per-carry and will run the ball with dual-threat Tre Roberson who will return as Indiana's quarterback.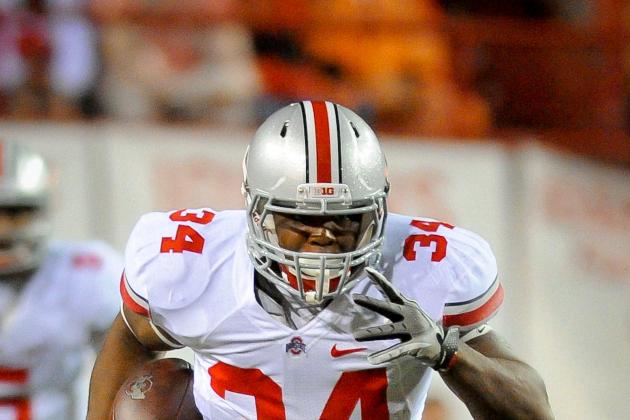 Eric Francis/Getty Images
Carlos Hyde is expected to be the leading rusher for the Buckeyes in 2012.
The Ohio State rushing attack is supposed to be so multidimensional that it is hard to pick a dominant Buckeye running back.
Carlos Hyde seems well-suited to fit nicely into Urban Meyer's offense. He is a sturdy 235-pound running back who carried the ball 106 times for 588 yards and six touchdowns in 2011.
The Buckeyes have depth at running back with Jordan Hall, Rod Smith and freshman Bri'onte Dunn, so the challenge may be getting Hyde enough carries to be in the top 10 in rushing.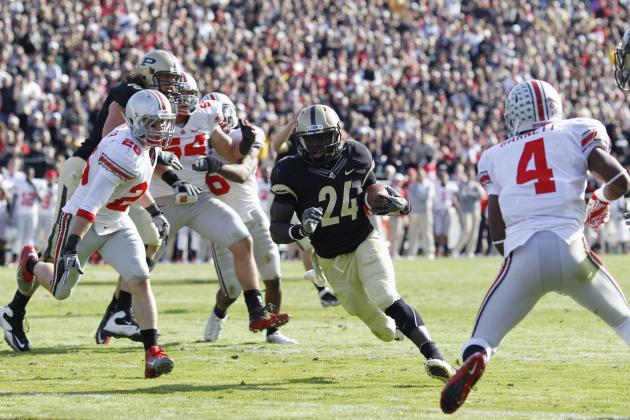 Joe Robbins/Getty Images
Akeem Shavers runs between two Buckeyes in a Big Ten game from 2011.
A spot in the top 10 could have gone to Purdue's Ralph Bolden except he suffered his third torn ACL in the 2011 regular season finale. Akeem Shavers proved to be a solid alternative to Bolden last year and now assumes the role of top Boilermaker running back for 2012.
Shavers averaged more than five yards-per-carry and scored six touchdowns. He carried the ball 22 times for 149 yards in the Purdue victory over Western Michigan in the Little Caesars Bowl.
The Boilermakers have a large number of returning lettermen on offense, so Shavers should get plenty of support from his teammates.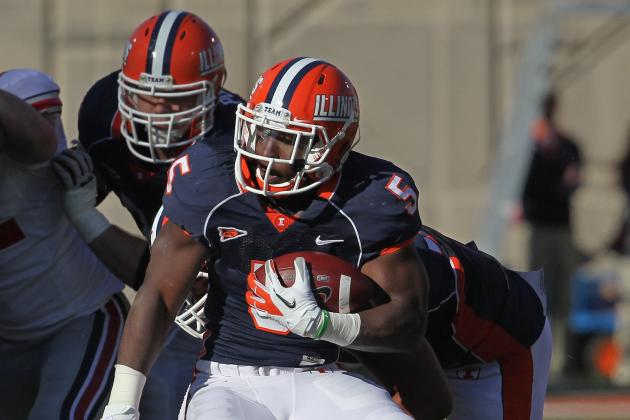 Jonathan Daniel/Getty Images
Donovonn Young should be the featured back in new head Illinois coach Tim Beckman's offense.
Donovonn Young has big-play ability as he led Illinois in carries, rushing yards and touchdowns last year. He also appeared in the same number of preseason top 10 lists as Indiana's Stephen Houston.
Young only caught eight passes, but expect him to see the ball thrown to him more often in Tim Beckman's offense. The 6'1", 215-pound running back should double the 451 yards he ran for in 2011.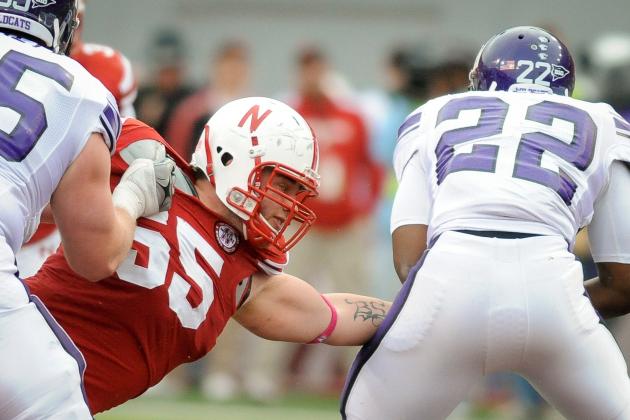 Eric Francis/Getty Images
Northwestern's Kain Colter will probably spend more time at quaterback, so Treyvon Green will get more carries in 2012.
The competition to select the top 10 running backs in the Big Ten was so intense that if anyone listed on the previous pages of this story should stumble, there are a number of talented running backs ready to move up.
Here is the cream of the "almost made the top 10" group of backs:
Treyvon Green, Northwestern - It was difficult for Green to get a lot of carries with Kain Colter playing running back, wide receiver and quarterback in 2011. This year Colter is starting quarterback, so Green should have more carries and more opportunities to accumulate chunks of yardage as the Wildcats' No. 1 running back.
Greg Garmon, Iowa - Garmon seems to be the likely candidate to replace Marcus Coker. He's the highest-rated true freshman running back in the Big Ten.
Josh Ferguson, Illinois - Ferguson filled in for Donovonn Young in the spring game and rushed for 150 yards. He is smaller than Young, but has great speed.
Bri'onte Dunn, Ohio State - Dunn is considered No. 2 behind Garmon as the best freshman running back in the Big Ten.
James Gillum, Minnesota - Gillum is a junior college transfer who plans on filling the void left by running back Duane Bennett.