Predicting the 25 College Football Games That Will Be Decided in Closing Minute
Kevin C. Cox/Getty Images

We all love college football, and we love to see close games.
But the very best of the very best comes when those great, epic games come down to one or two plays in the final minute.
Win or lose, those games are the ones we remember for years—sometimes even decades.
As the 2012 season approaches, and the rosters begin to firm up, let's take a look at the upcoming season. Here, we'll predict which games are most likely to come down to those one or two pivotal plays in the closing moments, cementing the game's position in the annals of college football.
Here is our prediction of the 25 college football games that will be decided in the closing minute.
Begin Slideshow

»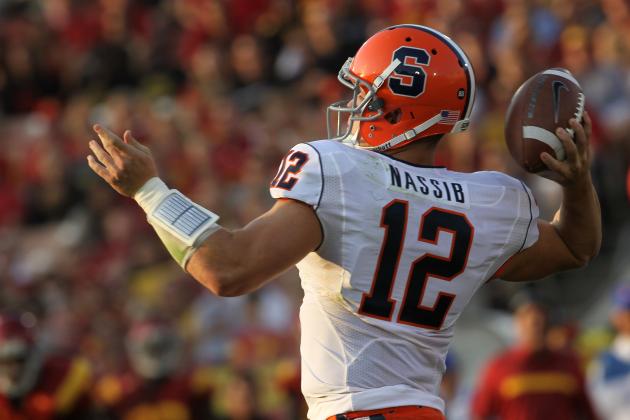 Stephen Dunn/Getty Images

We're going to throw a bone to a pair of teams that really have no realistic shot at their respective conference championships, to say nothing of a BCS.
Heck, even making a bowl game could be a stretch for Syracuse and Minnesota in 2012.
But when the Orange and Golden Gophers get together, we usually see a pretty tight, entertaining game that comes down to the wire.
In 1996, Minnesota engineered a spectacular comeback, edging Syracuse 35-33 at the Metrodome.
In 2009, Minnesota again came out on top, 23-20, this time in the Carrier Dome.
This September 22 game will be big for both teams. This will be Syracuse's third September game against teams from top BCS AQ conferences (Northwestern and USC also appear on the Orange's schedule), while this will be the Gophers' first game against a BCS AQ opponent.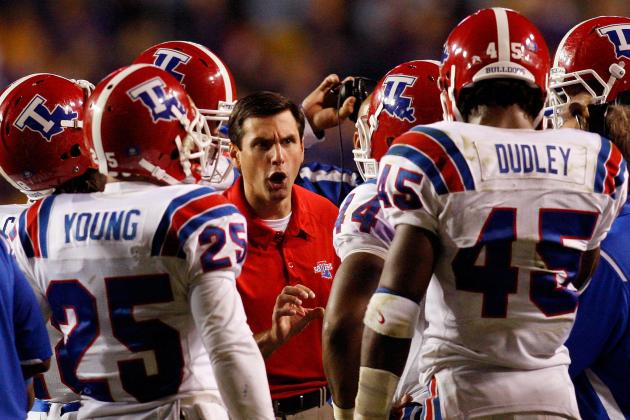 Chris Graythen/Getty Images

No one really paid much attention, but Louisiana Tech won the WAC last season in pretty impressive fashion.
The Bulldogs finished the 2011 regular season with seven straight victories, and almost pulled off upsets against Mississippi State and TCU.
Needless to say, Tech is a much better team than it got credit for last year.
Texas A&M, on the other hand, struggled mightily last year, failing to live up to preseason expectations.
Kevin Sumlin takes over at A&M after guiding Houston to an impressive 13-1 finish last year. But as the Aggies move to the SEC, it's possible their attention could be elsewhere—giving the Bulldogs just the opening they need to finally get that signature, big-time, headline-grabbing victory.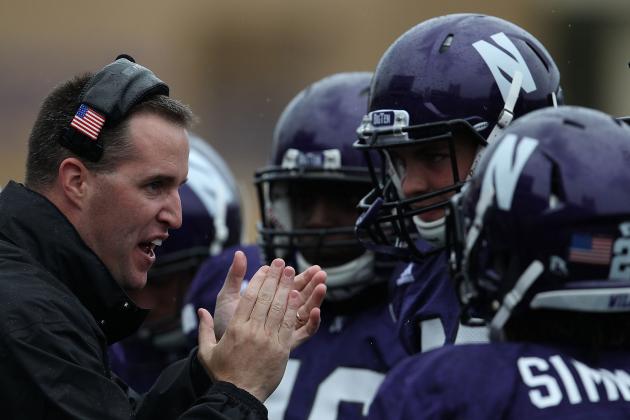 Jonathan Daniel/Getty Images

When we think of the SEC and Big Ten, Vandy and Northwestern probably aren't the first two teams that pop into our minds.
But this game looks to be fairly evenly matched, and could go a long way towards giving ammo to the "top to bottom" argument for either the SEC or Big Ten.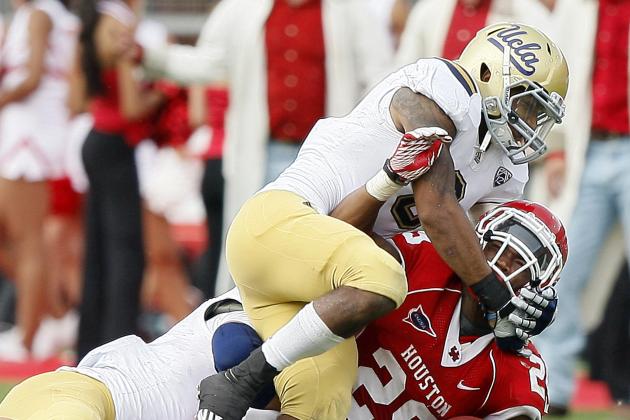 Bob Levey/Getty Images

This will be the third meeting in as many seasons between the Bruins and Cougars, with both teams winning a game thus far.
Last season, Houston barely pulled off a victory over a pretty bad Bruins team, and that Houston squad was led by Case Keenum—who is now trying his hand at the NFL game.
At first glance, one might think Houston has absolutely no shot at knocking off the Bruins at the Rose Bowl.
But UCLA has had more than its fair share of turmoil since December, and Houston is eager to prove that it is more than just a one trick pony.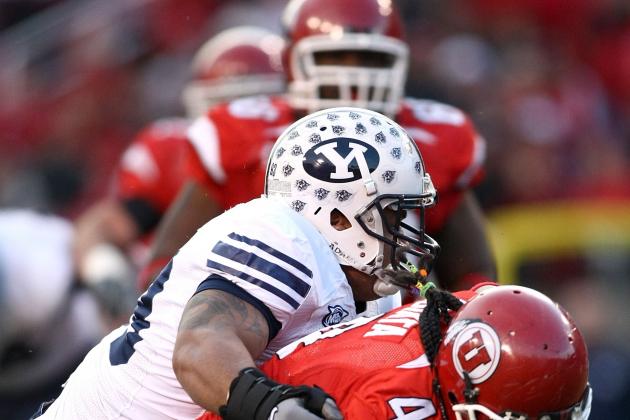 Jonathan Ferrey/Getty Images

Who would have guessed that BYU was actually pretty good last season?
The Cougars finished 10-3, going 9-1 over their last ten games.
But this bitter rivalry has seen better games from BYU's standpoint than last season's 54-10 drubbing at the hands of Utah.
To make matters worse, that beatdown was in Provo.
Both teams are looking for something more than 2011 gave them, and this September 15 showdown could set the tone for the rest of the season.
Don't bet on BYU rolling over for Utah in Salt Lake.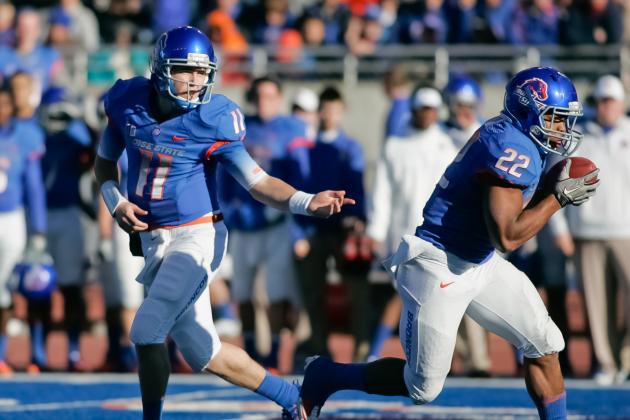 Otto Kitsinger III/Getty Images

We'll segue right into the following BYU game, also on the road.
On September 22, the Cougars travel to Boise to take on the Broncos.
Sure, Boise State is a very difficult team to beat, more so in Boise. But BYU seems to be a team on the rise, and Boise State is without Kellen Moore for the first time in what seems like an eternity.
Boise State has several big tests in the first few weeks of the season, and BYU may find a very feisty, wounded animal in front of them when they walk out onto the blue turf.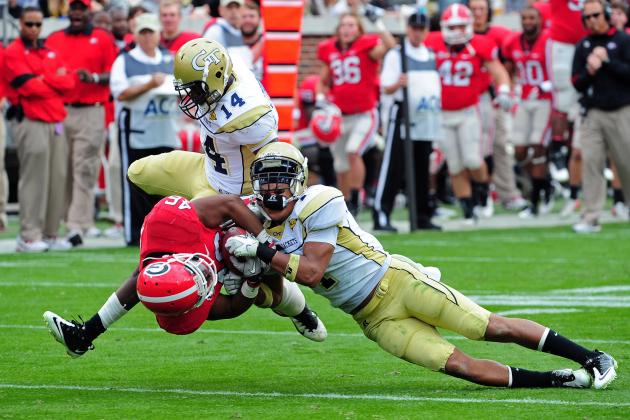 Scott Cunningham/Getty Images

The Georgia-Georgia Tech rivalry is one of the great battles in college football, and certainly ranks near the top of the list of cross-conference rivalries.
Georgia has won the last three meetings, but Georgia Tech appears to be an ACC team on the rise.
Despite winning the last three (not to mention ten of the last 11), Georgia will have its hands full with a Yellow Jackets squad that very well could be the best Georgia Tech team we've seen in quite a while.
That's not to say Georgia won't be any good—they will. With quarterback Aaron Murray back for another season, you can bet that the Bulldogs will be right in the hunt for another SEC-East title in 2012.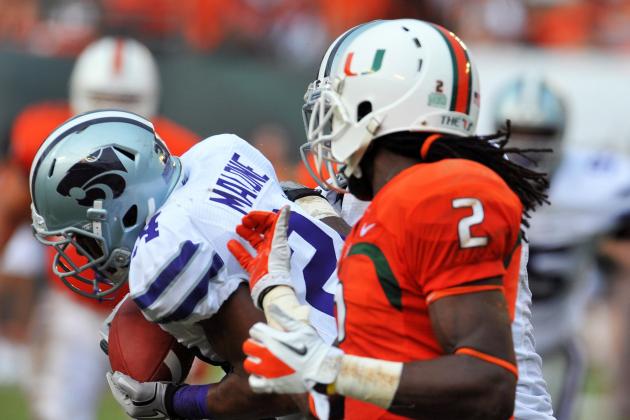 Al Messerschmidt/Getty Images

At the time, most people were pretty shocked to see Kansas State knock off the Hurricanes last season.
Now that we know just how good this crop of Kansas State players is, another epic battle between these two programs won't come as a surprise—but it will still be entertaining.
This year's meeting in Manhattan will be an opportunity for Miami to gain a measure of redemption.
It could also serve to distract a fanbase that has taken more than its fair share of lumps lately.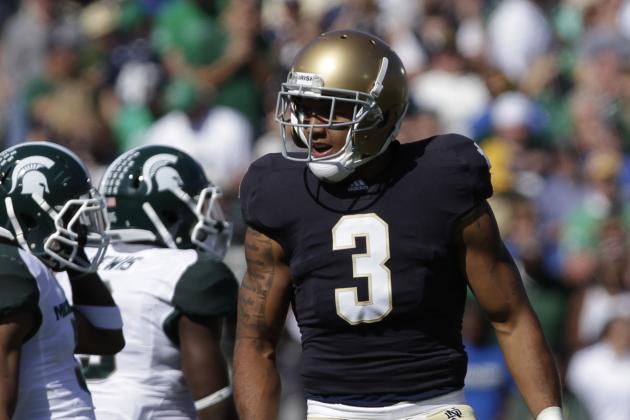 John Gress/Getty Images

The Notre Dame-Michigan State rivalry is almost as old as the game itself. Over the decades, it has proven to be one of the more entertaining annual early-season match-ups anywhere in the nation.
Last season's 31-13 Fighting Irish victory is an outlier in this series. We typically see close, hard-fought games that often come down to the final play.
Don't be surprised if Spartan Stadium provides the perfect, rowdy backdrop to another great chapter of this epic rivalry series.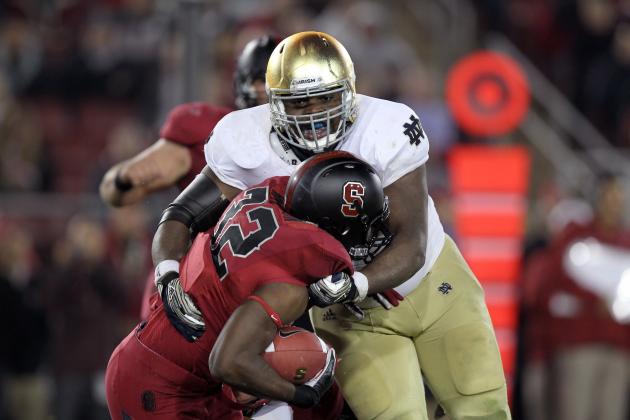 Ezra Shaw/Getty Images

Notre Dame makes another appearance on our countdown of 25 games that will come down to the final minute, and it won't be the last, either.
In fact, the Irish appear more times (six) than any other team on our list.
In this second appearance, we're talking about their October 13 meeting with visiting Stanford.
The first important piece of information about this game is obviously the lack of Luck Stanford will have coming in.
Notre Dame has had significant trouble with Stanford over the years, and continued losses to rivals could put Brian Kelly on the hot seat before 2012 comes to a close.
Kelly won't be anywhere close to being fired this season—unless the unthinkable happens—but it's games like this to which the powers in South Bend will be paying close attention to determine Kelly's future with the program.
The Cardinal probably won't be as bad as everyone fears, and rivalry games have the habit of bringing out the best in everyone.
When this game goes down to the wire, expect Kelly and company to pull out all the stops.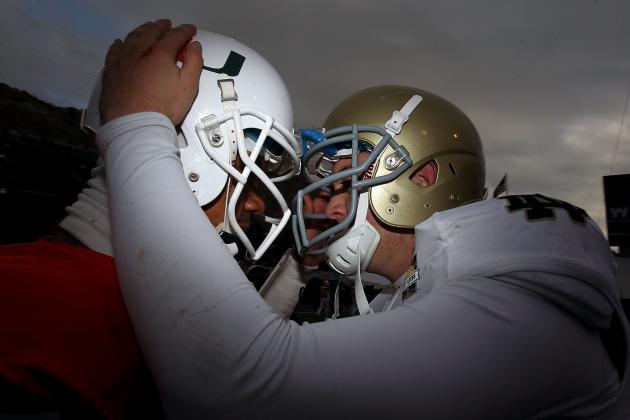 Ronald Martinez/Getty Images

Why not stick with the Irish?
This game looks to be a classic showdown between two traditional powerhouse programs.
Looks can be deceiving.
While neither Miami nor Notre Dame is likely to compete for a national title this season, this October 6 meeting at "neutral" Soldier Field in Chicago should still provide some fireworks.
After all, regardless of the records, these two programs don't particularly like one another.
As we've already mentioned, Miami is looking for a distraction from what could end up being a season where the biggest Hurricane headlines include the words "sanctions" and "NCAA" and "violations."
Notre Dame will have its own opportunity to create some headlines, as a win over Miami in the nearest "big city" to South Bend (Chicago is less than a two hour drive west) could create some much-needed excitement about the Golden Domers.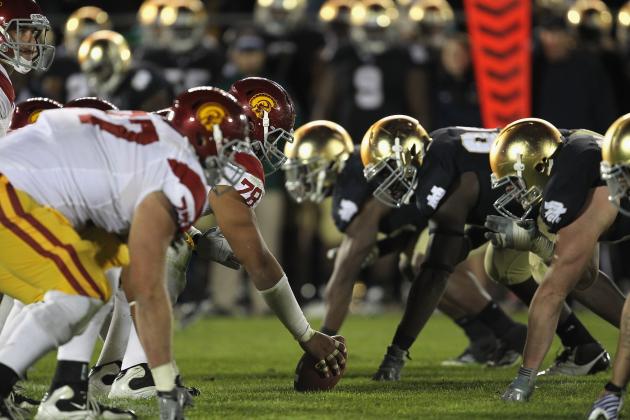 Jonathan Daniel/Getty Images

At the risk of making everyone Irish-sick, we'll mention one more Notre Dame game before taking a bit of a break.
Since this game takes place late in the season (November 24), you know it's going to be in Los Angeles (because Heaven forbid USC actually plays a game in the cold). And that late-season date could provide a little extra fuel to an already hot fire that exists between these two programs.
Notre Dame and USC have split the last two meetings, both winning on the road. After last season's victory over the Irish, a few USC players made headlines by suggesting that Notre Dame "quit" in the final minutes.
Don't think the Irish have forgotten about that.
Especially given the time of the year, you can expect this game to be as heated as any rivalry game in the nation in 2012. This could spell the difference between BCS or not for both teams, and the battle for every single yard will be epic.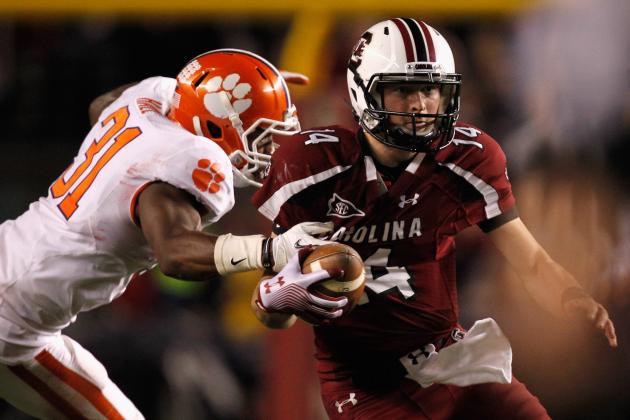 Streeter Lecka/Getty Images

There was a time not all that long ago when the South Carolina-Clemson rivalry didn't matter much beyond the borders of the state of South Carolina.
Those days are gone.
South Carolina has emerged as a powerhouse in the SEC-East, competing annually for a divisional title. Clemson has similarly emerged (or reemerged) as an ACC power, doing what is necessary to earn a trip to the ACC Championship Game.
While this game doesn't have a bearing on those conference championship races, it has turned into a battle between two potentially BCS-bound programs, with national rankings hanging in the balance.
The benefit for the rest of the nation is the treat of watching two hated rivals beating the ever-living daylights out of one another.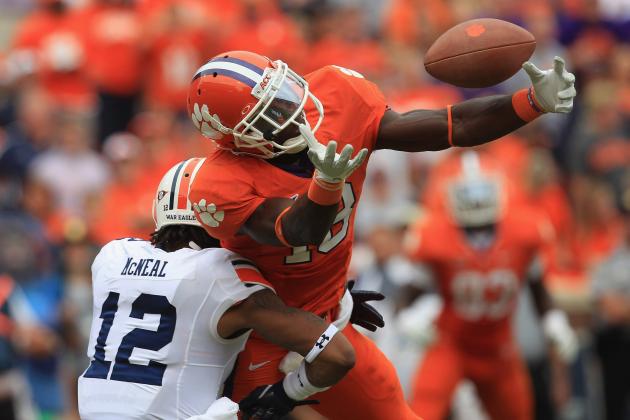 Streeter Lecka/Getty Images

We've seen these two teams play twice, and even South Carolina and Alabama fans have to admit that those games were incredibly fun to watch.
Both times, the home team emerged victorious. So how are you going to predict the result when the two tangle at the neutral Georgia Dome in Atlanta on September 1?
If it wasn't for games like Michigan-Alabama, Michigan State-Boise State, and Georgia Tech-Virginia Tech, this game may have been the headlining Week 1 contest.
Even still, this game will be one you won't want to miss, as both teams are looking to recover from disappointing seasons (for different reasons).
While winning or losing a game in Week 1 doesn't make or break your season, a win is an important first step towards setting a positive, winning tone for the rest of the year.
And with the way the talent is stacking up for these two programs in 2012, that positive, winning tone could lead straight to the BCS.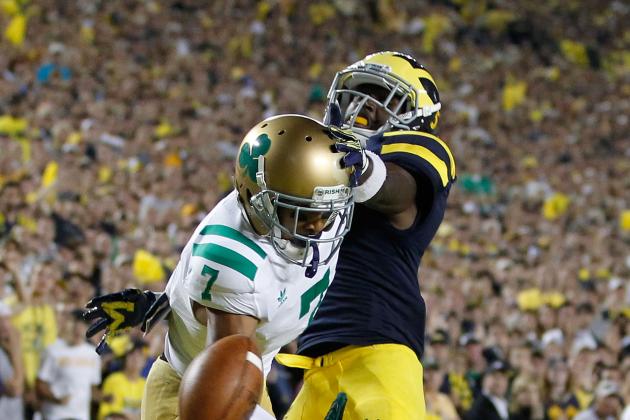 Gregory Shamus/Getty Images

And we're back to Notre Dame.
The last time we saw these two teams tangle was at the first night game in the history of Michigan Stadium.
Now, Notre Dame gets its chance to put up an epic win over their hated foes from Ann Arbor.
Last season, it was like watching a bunch of kids play football in the backyard. It seemed as if there was a touchdown a minute in the fourth quarter, as the Wolverines and Fighting Irish traded blow after blow before Denard Robinson and company came up with a final minute touchdown to pull ahead for good.
The 2011 game was perhaps the most entertaining game of the entire college football season, and while we may not see an offensive free-for-all this time around, you can bet that it will turn out to be just as entertaining.
Christian Petersen/Getty Images

And yet again, it's Notre Dame.
Last time, we promise.
The fact that Notre Dame appears so often on our list of games to be decided in the final minute could mean a couple of things. First, Notre Dame is improving, and the Irish are at a point where they can take the best teams in the nation down to the wire.
Of course, it's also entirely possible that Notre Dame ends up with the short end of the stick in these games, in which case, the Irish will be hard pressed to even make a bowl game in 2012.
But even if that's the case, we could be in store for one of the most entertaining Notre Dame seasons in a very long time.
This October 27 trip to Norman will be an excellent mid-season test for both teams. Oklahoma is clearly the favorite in the Big 12 for 2012, even with a feisty West Virginia squad making its debut in the conference.
Still, with Landry Jones coming back, the Sooners could quickly erase the painful memories of 2011 from fans' minds.
Of course, Landry Jones couldn't right the ship last season, so...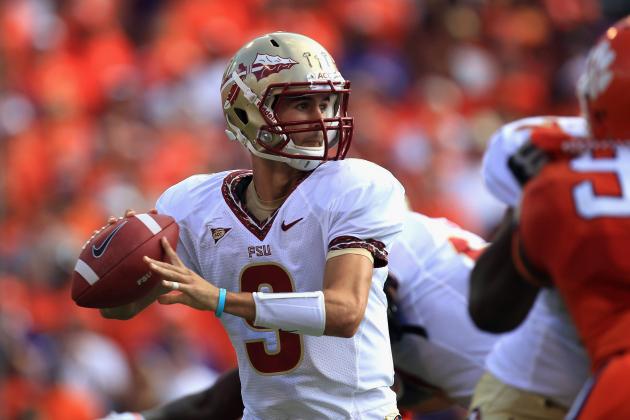 Streeter Lecka/Getty Images

The September 22 meeting between Clemson and Florida State looks to be the marquee regular season game in the ACC this season.
It's hard to imagine that the entire season could boil down to a game in September, but last season, Clemson and Florida State finished one-two in the ACC-Atlantic, and were just one game apart (6-2 for the Tigers, 5-3 for the Seminoles).
Both teams return a bevy of talent, and both teams are hungry to get past the failings of last season (Florida State in its mid-season stumbling and Clemson in its pasting at the hands of West Virginia in the Orange Bowl).
And don't for a moment think that the importance of this early game is lost on the coaches or players. Both sides know what is at stake, and this game will likely come down to the final couple of plays.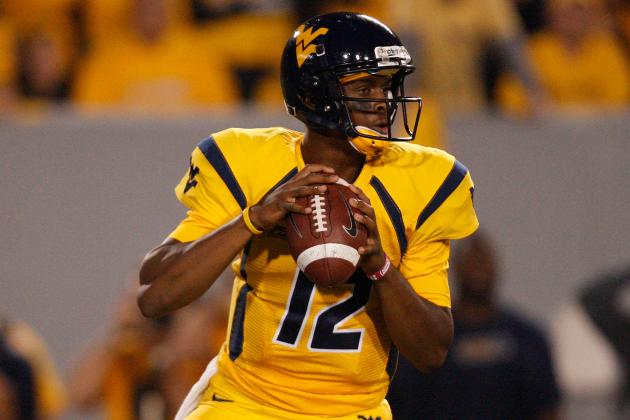 Jared Wickerham/Getty Images

We mentioned earlier that Oklahoma is the odds-on favorite in the Big 12 this season.
While we're not going to shy away from that prediction, we will say that if there is another Big 12 team capable of knocking off the Sooners this season, it looks as if it's West Virginia.
The schedule-makers smiled on the Mountaineers in their first Big 12 season as Oklahoma will make the trip east to Morgantown.
We all know how difficult it is for road teams to win in Norman, but Morgantown isn't exactly a friendly place for visitors, either.
And with Geno Smith executing Dana Holgorsen's plays, don't be surprised if the Mountaineers give the Oklahoma defense all it can handle—and then some.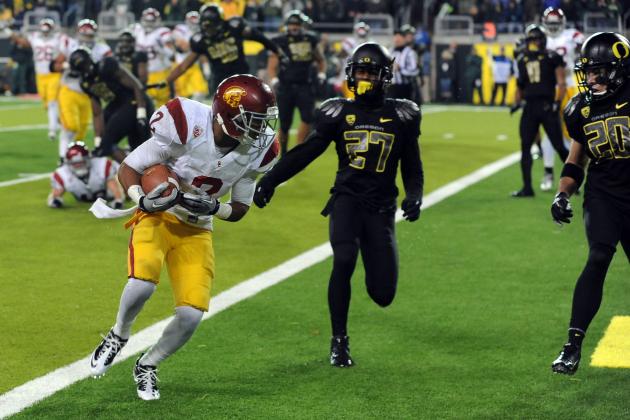 Steve Dykes/Getty Images

If you look back at the last decade of play in the Pac-12, you'll see two teams at the top more than every other team combined: USC and Oregon.
And now that USC's days of post-season exile are over, you can bet that the Trojans are eager to prove once again that they are the true kings of the conference, and the road to the Rose Bowl Game—or maybe beyond—will lead through Trojan land.
Of course, the Ducks will have their own argument to make.
There has been no Pac-12 team more successful over the past few seasons than Oregon. Two Rose Bowl Game berths and a BCS National Championship Game berth in three seasons is quite an accomplishment.
And it doesn't look like Chip Kelly and the Ducks are quite ready to go quietly into that good night.
There's absolutely no doubt in anyone's mind that the 2012 Pac-12 season could very well come down to USC and Oregon, and even though this cross-divisional game won't preclude either from reaching the conference championship, it could spell the end to any hopes of a national championship run.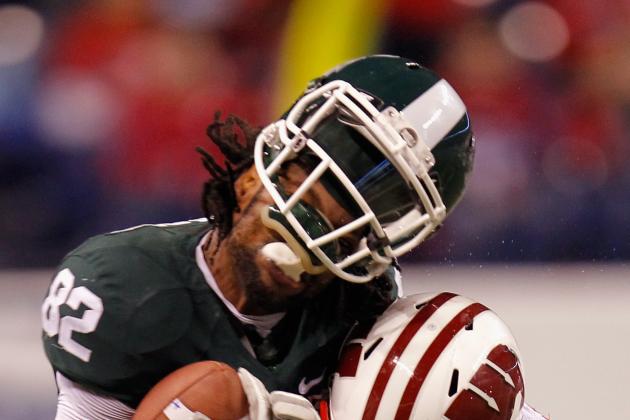 Gregory Shamus/Getty Images

The past couple of seasons, Wisconsin and Michigan State have easily been the two best teams in the league.
The Badgers and Spartans shared the conference title in 2010, and the same two teams met in the first Big Ten Championship Game last season, with Wisconsin mounting a late scoring drive, and then holding off Sparty for the title.
A lot has changed for both teams, but that doesn't mean we're back in an era where Wisconsin and MSU are relegated to the role of Big Ten spoiler.
Mark Dantonio knows what it takes to beat Wisconsin, and Bret Bielema knows that it takes to win conference championships.
And if last season's thrilling ending to the regular season meeting between these two teams in East Lansing is any indication, we're in for yet another great game.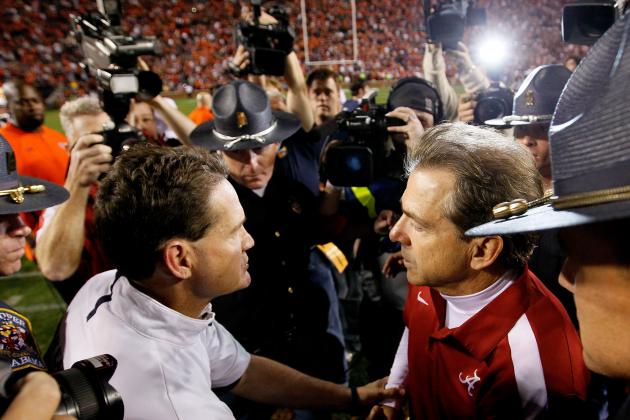 Kevin C. Cox/Getty Images

There really are few things better in college football than the good, old Iron Bowl.
There are few fan bases that dislike each other more. There are few teams that look forward to pounding each other more. There are few rivalries as heated.
Regardless of the records, regardless of the perceived talent levels, and regardless of how the teams stack up on paper, Alabama-Auburn is usually one of the most hotly contested rivalry games in the nation, year in and year out.
With Alabama coming off of yet another BCS championship and Auburn looking to prove something after last season's disappointment, you can rest assured that the 2012 installment of the Iron Bowl is going to be one for the ages.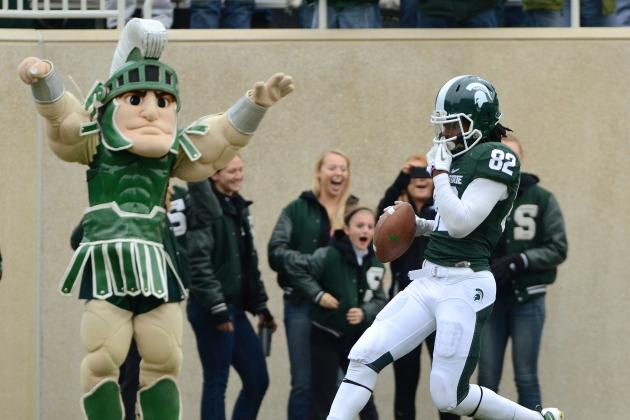 Mark A. Cunningham/Getty Images

Michigan State makes its third (and final) appearance on our list, and for good reason.
As MSU's football prowess has improved, so too has the level of competition, both from within the Big Ten, and from other conferences.
Michigan State took the bold step of agreeing to play the proverbial giant-killer of the FBS—Boise State.
The Broncos have proven their worth over the past half decade, knocking off such teams as Oklahoma, Oregon, Virginia Tech, and Georgia. Now the Broncos get their chance at defending Big Ten-Legends champion Michigan State.
Sooner or later, you'd think that some BCS AQ program would actually be able to beat Boise State. Michigan State may prove to be that team.
After all, Boise State is without perennial play-maker Kellen Moore, and there's plenty of question marks for the Broncos heading into 2012.
Of course, Michigan State isn't exactly coming to the table with a full deck, either.
MSU will be missing some key components to its success over the past two seasons, including Kirk Cousins, BJ Cunningham, Keith Nichol, Keshawn Martin, Brian Linthicum, and Edwin Baker. And that's just on offense.
This Week 1 contest will be an excellent barometer for both squads, and could give us great insight into how 2012 will shape up in the Big Ten and Mountain West.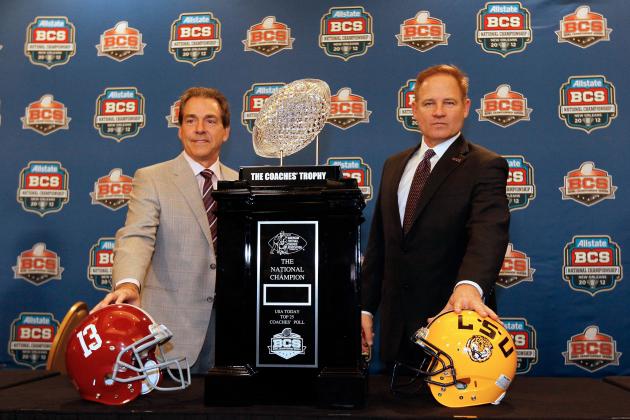 Kevin C. Cox/Getty Images

And since we've made our way into SEC country, why not talk about the game everyone in the country is waiting to see?
Last season, we were "treated" to two meetings between Alabama and LSU.
We say "treated" because no one can honestly say that watching either game was a treat. We went from a mistake-filled field goal fest in the regular season to a one-sided snoozer in the BCS National Championship Game.
Where were the fireworks? Where was the passion? Where was the epic battle down to the wire we were all promised?
But as dull as the national title game was, it was still clear that—if the Oklahoma State crowd will forgive us—Alabama and LSU were the two best teams in the nation last season.
But it's still not lost on Alabama fans that it was LSU that won the SEC-West (and SEC Championship Game) last season. And LSU fans are desperate for another shot at the BCS championship.
And a shot at either title will in all likelihood come down to the final drive on November 3 in Baton Rouge.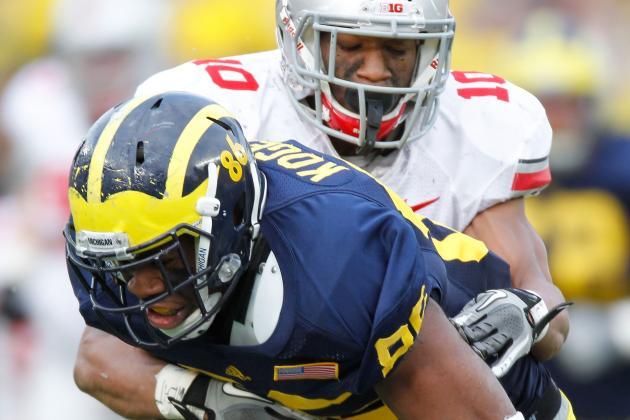 Gregory Shamus/Getty Images

Despite a bit of a cooling during the Rich Rodriguez years at Michigan, the Michigan-Ohio State rivalry has been shoved back into overdrive since Brady Hoke arrived in Ann Arbor.
After losing six straight to Ohio State from 2004 to 2009, the Wolverines got their first win over the Buckeyes in eight years in 2011, finally putting that long streak to bed.
From the Buckeyes' point of view, this game of ultimate importance will become their bowl, their national championship in 2012 as Ohio State is prohibited from post-season play due to NCAA infractions.
But before we get too far ahead of ourselves, let's take a look at what makes the 2012 match-up a likely last-minute nail-biter.
First, Michigan is clearly a much improved team over the languishing years of Rich Rodriguez. Almost instantly, Brady Hoke was able to instill a sense of pride back into the Michigan football program.
The nation's winningest program is now back to doing what it does best; competing for Big Ten titles and BCS invitations.
And after reaching—and winning—the Sugar Bowl after the 2011 season, you can bet that nothing in Ann Arbor short of a trip to Pasadena will be acceptable for the Maize and Blue.
But, as always, they'll need to get past the Buckeyes.
Ohio State also seems to on the verge of a renaissance. The Jim Tressel sleaze has been almost completely scrubbed from the halls in Columbus, and the transgressions of the past are all but forgotten by Ohio State fans (maybe too quickly?).
In comes Urban Meyer, a coach who has a proven track record of success, both on the field and in the recruiting world.
A program like Ohio State almost recruits itself, so a coach like Meyer should have the Scarlet and Grey back to their old Big Ten championship form in short order.
So don't think for a moment that this rivalry has cooled in the slightest. If anything, it's getting hotter (thanks in part to some flames, and the classy response from Columbus).
And there have been recent flames to prove it.
Michigan knows that this game is a must-win if there's any real chance of post-season glory. And for Ohio State, this is the game that can provide glory. Not only is it at home, it will be the last game of the season, win or lose.
And you can bet that the Wolverines will, as always, get the Buckeyes' best shot.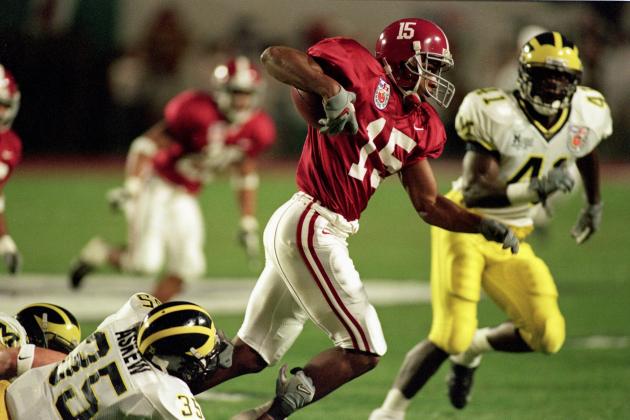 Eliot J. Schechter/Getty Images

It's almost hard to believe, but in the long, storied history of these two great programs, there have been just three meetings.
The last meeting was at the 2000 Orange Bowl, where a quarterback named Tom Brady led the Wolverines to a thrilling overtime victory over the Crimson Tide in what was one of the most entertaining bowl games in history—certainly in the BCS era.
Michigan leads the scantly-played all-time series, 2-1, but has outscored the Tide by just two points all-time (77-75).
The largest margin of victory in the series was four points, when Michigan beat Alabama, 28-24 in the 1988 Hall of Fame Bowl.
But with Michigan coming off of a Sugar Bowl win and Alabama fresh off of its latest BCS National Championship Game victory, it's probably a fair argument to say that this Week 1 marquee match-up is at least as big, if not bigger than any of the previous three meetings.
Last season, it was LSU that rode an impressive Week 1 win over Oregon to what seemed like an inevitable national championship game berth. Don't be surprised if this game's winner rides a similar wave of momentum in 2012.
Yes, we all know that Alabama still will have to face the gauntlet of the SEC after this game is over, but if Michigan is as good as advertised, the Crimson Tide will get tested every bit as much in Week 1 as during any other week of the season.
Michigan has a collection of offensive skill position players that will give any defense nightmares, and the much improved defense of the Wolverines should be capable of holding its own this season against the best the nation can throw at it.
That being said, we're talking about the Alabama Crimson Tide.
The Tide are going to be one of a small handful of national championship game-bound teams we'll all talk about before the season even kicks off—and for good reason.
Nick Saban is the best in the business, and you can rest assured that he'll have his team in perfect order come September 1.
But Michigan's new head coach Brady Hoke has found a way to come up with some pretty impressive—and improbable—wins in his first season. A win against Alabama would only serve to prove that Michigan is indeed "back."
A Michigan win would also go a long way towards taking much of the wind out of the SEC fan base's sails. If the Wolverines emerge victorious, the SEC is going to have to abandon at least one of its two favorite arguments; either the Big Ten isn't as inferior as they'd have the rest of us believe, or a one-loss SEC team isn't more valuable than an undefeated Big Ten / ACC / Big 12 / Pac-12 team. If the Crimson Tide lose, SEC fans will have to ditch at least one of those arguments—for now.
Of course, a win for Alabama (against a BCS bowl-caliber team) would just show us that Alabama is still Alabama, and the SEC is still the SEC.
And both teams know exactly what is at stake.
Not only will a victory give the winner a surge of momentum, it will also give instant credibility to the inevitably resultant top five ranking.