2012 College Football Season: Projected Biggest Flops
June 16, 2012

Wesley Hitt/Getty Images
Speculation with little information is rampant in college football at this time of the year. It can be quite entertaining to read, watch and listen to professed "experts" make ill-advised predictions about college football. None can be taken seriously.
What can be even more intriguing are those that use previous college football and NFL experience as their credentials. There's little doubt that these people know something of the Xs and Os, but that usually does not include up to date research on the team being speculated about.
Usually at this time of the season, local fans and media outlets are much more informed on teams than the national pundits who make the majority of predictions. This is what leads to the phenomenon of preseason polls being so laughable the majority of times. It's also some of what makes college football so fun to follow.
The informed fan can watch while the national media pumps up unsuspecting fans of some teams that are doomed to fail. It's intriguing much like watching video of an impending train wreck.
There are also the cases of teams that are totally dissed and disrespected in the preseason only to make fools of those "experts" when the season gets underway. This is usually more long lived as those "experts" continue to predict the doom of said team week after week to keep from admitting they were simply wrong. Some say pride goes before the fall, but it's also a great source for comical relief for the informed fan.
Taking this phenomenon to heart, the following is a list of teams that could become unwillingly subject to some serious misguided prognostications for the coming season. While this could prove embarrassing to some prognosticators (including yours truly), it could also provide hours of entertainment to the well-informed college football fan.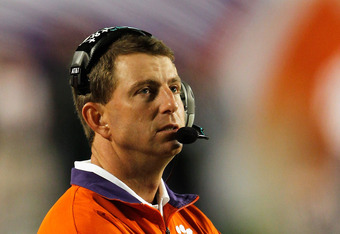 Streeter Lecka/Getty Images
Candidates for Biggest Flop
Every year there are teams hyped as national contenders that have huge problems. This year is no exception.
Arkansas 
This is a team with very mediocre talent overall that had a great offensive coach. This allowed them to reach heights never before achieved by the program. The problem is that all of this is over for this season.
Arkansas had the No. 12-ranked recruiting class in the SEC according to rivals.yahoo.com in 2012. With there being 14 teams in the SEC, this is not impressive. Recruiting rankings are notoriously inaccurate, but seldom are they completely wrong.
Arkansas had the ninth-ranked class of the 14 SEC teams in 2011, according to the same source. This was added to the 12th- and seventh-ranked classes in the conference in 2010 and 2009. One can assume these rankings are off some, but it would take a huge shift for Arkansas to compare to elite teams on a talent basis.
Bobby Petrino was a head coach known for coaching very specialized talent up to the level needed to operate his unique offensive scheme. He was a genius as a play-caller and got every ounce of ability from his teams at every collegiate stop along the way. Unfortunately, he became enamored with a young lady inappropriately and was let go from his highly successful tour in Fayetteville.
His replacement is a head coach known for doing less than expected from the talent he has. His play-calling has been criticized at every stop. No one has ever accused him of coaching up inferior talent.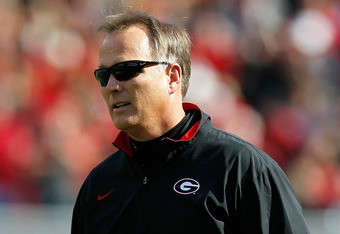 Kevin C. Cox/Getty Images
Some of the national pundits actually believe the talent at Arkansas and the totally new defensive and offensive staff at Arkansas is a recipe for contention in the BCS and a possible appearance in the BCS Championship Game.
Clemson
This team was on fire to start the 2011 season. They brought out a new offense that surprised the majority of their opponents for the first part of the season. This all started to change as defensive depth issues were exposed, and the new offense was figured out by opponents.
Clemson dropped four of their last six games. Most of these losses were in spectacular fashion as they failed to score 20 points in three of the four losses. In that fourth loss, the lack of defensive depth and an offense that routinely left the defense on the field for more than 75 plays per game combined for a spectacular 70-33 bowl loss to an average West Virginia team.
Clemson is rebuilding their offensive and defensive lines for 2012 with less talent and depth than was available for 2011. They have changed defensive coordinators and appear to be recruiting better defensively for future years. The problem is that their new defensive coordinator has little to work with for 2012, and opposition defenses have figured out their offense.
Georgia
This is a perennial underachiever as a team. Many pundits are predicting BCS Championship aspirations for this team due to one of the weakest schedules in their conference. The problem is that the schedule is not a weak as it appears, and Georgia is not as good as last season's weak schedule projected.
The entire nation watched as Georgia, a team that had backed into the SEC Eastern Championship, faced LSU in the SEC Championship Game. It was a great game until Georgia's weakness was exposed. As the game wore on, poor conditioning and a lack of depth led to an embarrassing 42-10 loss to the eventual SEC champions.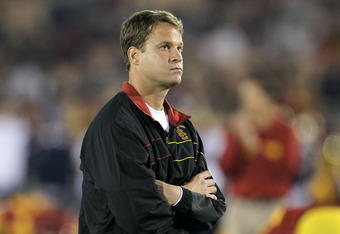 Stephen Dunn/Getty Images
This same weakness was exploited by a much weaker Michigan State team in their bowl game as an outcoached Georgia team was again on the losing end. The conditioning problems have not been addressed in the off season, and the depth issues are even more pronounced for 2012.
Taking into account that the majority of Georgia's defensive backfield will be suspended for the first part of the season, this appears to be a recipe for a train wreck.
Southern California
This is a case of a very solid team that could go either way. Southern California is a top-tier team when their starters are evaluated. The problem is that they have very little depth. One bite of the injury bug from this sanction-depleted roster could result in a four-loss season.
There are no guarantees that these teams will all flop this season. There's even a small chance that all will meet the expectations of early prognosticators. In all likelihood, most, if not all, of these teams are seasonal train wrecks waiting to happen.