Robert Nkemdiche: Are Clemson Tigers in the Lead After Verbal from Teammate?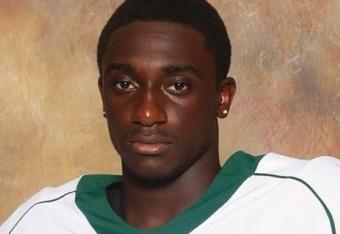 Over the past week, the Clemson Tigers held their big summer camp, where Dabo Swinney and his staff got a chance to instruct some of their top commitments as well as some of the guys who were key targets for them. David Kamara, a defensive back from Loganville, Ga., was among these targets, and after spending more time with the staff, Kamara decided Clemson was the place for him.
Kamara joins his current Grayson High teammate, running back Wayne Gallman, on the commitment list for the Tigers for the class of 2013. Kamara and Gallman are good friends who spent time at camp together, and both are aiming to don the Orange and Purple come next season. Both players are solid gets that should bolster Clemson's talent pool going forward.
However, the true gem from Grayson High is the nation's No. 1 recruit, defensive end Robert Nkemdiche; he joined his teammates in Pickens County for the Tigers camp.
Clemson is in the final five or so schools hoping to get Nkemdiche, along with Alabama, LSU, Georgia and Ole Miss. Alabama and LSU are the heaviest hitters on the field. They will start the season in the top five, and both teams just participated in the BCS National Championship Game. However, Georgia, Ole Miss and Clemson are very much in the game.
For Clemson fans, holding two Nkemdiche teammates seems like a great key to the heart of the highly-touted defensive end. They can help recruit him to Tiger Town, would bring a sense of familiarity to his transition to college and can hopefully help get him on campus for Swinney and new defensive coordinator Brent Venables.
Don't get too excited, though; Clemson is not the only school playing the familiarity card game. Ole Miss currently has the services of Robert Nkemdiche's older brother, Denzel Nkemdiche, at its disposal, as the Atlanta Journal-Constitution reminds everyone. Perhaps blood is truly thicker than water, or teammates, in this case.
While Clemson and Ole Miss play the "come play with your friends/brother" game, Georgia has another avenue into Robert Nkemdiche's life: one of his former coaches.
The Bulldogs recently hired Daryl Jones as their director of on-campus recruiting, and while some folks cried foul, it must be acknowledged that the former coach is extremely qualified for the job he holds in Athens. He's worked in high school athletics for quite some time and served as Under Armour's director of Georgia prep operations prior to being employed by UGA.
Who do you think is in the lead for Robert Nkemdiche?
Everyone has an in with Nkemdiche. For LSU and Alabama it is clearly the success and the fact that they have an existing track record of producing defensive talents that have dominated the All-SEC team and gone on to be high NFL draft picks.
Georgia is on the rise with Todd Grantham at the helm of the defense, but it doesn't hurt to have someone who played an influential role in Nkemdiche's development. Ole Miss has the brother. Clemson has the teammates.
Given the fact that there are so many layers to this story, if the question is whether Clemson gained the lead by getting Kamara committed, the answer has to be no. It is going to be an interesting battle for the nation's top recruit, and as everyone searches for a leg up, the decision will ultimately boil down to where Robert Nkemdiche wants to suit up.
This article is
What is the duplicate article?
Why is this article offensive?
Where is this article plagiarized from?
Why is this article poorly edited?