College Football Facial Hair Rankings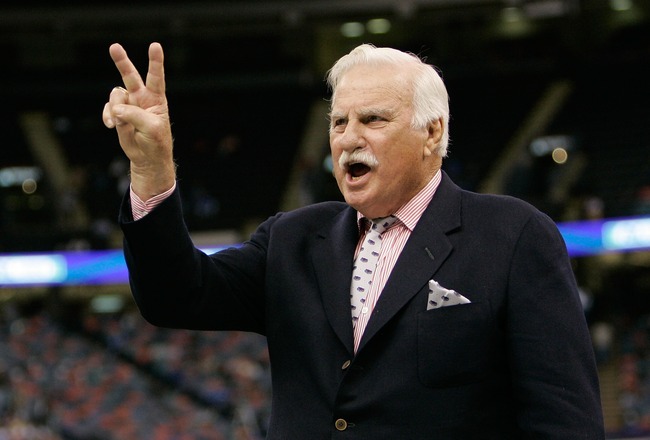 Chris Graythen/Getty Images
A solid beard, mustache or goatee can alter how you view a man entirely, and the astute construction of hair follicles on one's face can go a long way in shaping your opinion of that person.
Now, I've never been able to wear a beard or mustache well. I've tried, but they've never grown into something worth wearing permanently, or at least semi-permanently. I blame my lack of patience. And puberty.
There are individuals out there, however, that sport facial hair exceptionally well. Although college football's face-to-hair ratio pales in comparison to the great game of hockey, it's not as far behind as you think.
Iowa State coach Paul Rhoads reminded us of this with his offseason lumberjack beard, which has only recently morphed into a mustache that belongs in some sort of museum. It's beautiful, really. Simple, yet somehow this small piece of coordinated gray controls the room (or in this instance, your computer screen).
Let's consider other great facial hair cameos that have surfaced in college football over the past year. Those that have worn the appropriate cheek tuxedos deserve to be recognized for their patience and dedication.
We've done just that and pieced together our first (and I really hope not last) Facial Hair Rankings.
10. Steve Addazio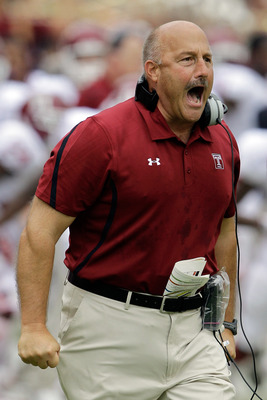 Rob Carr/Getty Images
Temple's head coach prefers his mustache subtle and controlled, much like his play-calling, which gave Gator fans ulcers only a short whole back. Still, you must respect the fact that he's never tempted to extend his mustache into more than it needs to be.
It truly is a buzz cut for the face, the perfect reflection of this discipline he preached to his players en route to a very successful first year as head coach. It's bold because it's not.
9. Paydirt Pete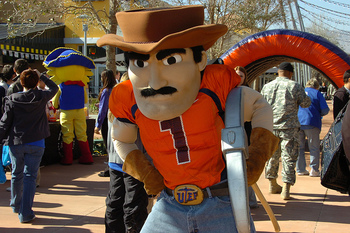 Via Flickr
Our first mascot to make his way into the top 10 is one certainly deserving of such high praise. UTEP's sideline leader may not have a real mustache like all other participants on this list, but he does wear his lip prop better than other fuzzy contenders.
History Lesson: The older version of Paydirt Pete actually had a massive beard instead of the mustache you see today. Although we were fans of bearded Pete as well, we approve of this simplified upgrade.
8. Jerry Kill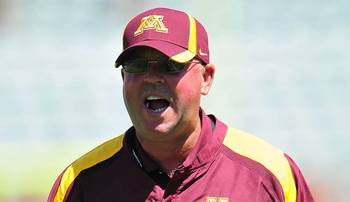 Via Fox Sports North
Minnesota's leader (and one of my favorite coaches) has one of the most established mustaches in the game. It's a power 'stache of sorts, and it sets the tone for the kind of coach you'll be getting when you play for him.
Jerry Kill doesn't bother with flash, doesn't need to manicure to the degree of others included in the top 10 and certainly doesn't need to alter the look of his consistent lip buddy. He lets it do the talking for him, and it speaks volumes.
7. Whoever Is Coaching at Purdue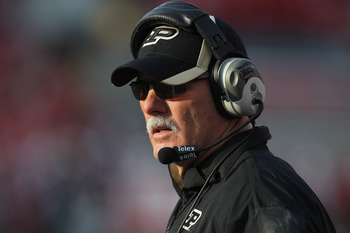 Jonathan Daniel/Getty Images
Joe Tiller has been out at Purdue for a while now, but his decade-and-a-half-long mustache legacy should not be forgotten. He sported a gray beauty, which was one of the fuller entries to ever take the field.
Current head coach Danny Hope grabbed the baton, and the facial hair excellence barely skipped a beat. Although Hope's isn't quite as full as Tiller's was, it's a well-groomed sideline force. Alabama recruits better than anyone in the country; Purdue coaches dominant facial hair.
6. Pat Hill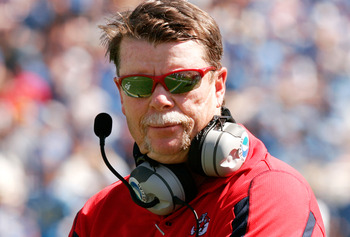 Via The Collegian
Pat Hill is out at Fresno State, but we cannot overlook his contributions to the mustache game as he heads to the NFL. One of the most dedicated wearers the game has ever seen, Hill is a true veteran in this area.
He's done the simple 'stache, he's gone to the Fu Manchu for an extended period of time and he also sported nearly a full goatee for a test drive. It was different every season, but every precision cut and trim worked for him. And when he was mad, his MuFuGoat could practically talk.
5. Paul Rhoads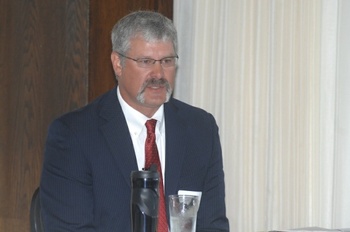 Via Kegs 'n Eggs
The inspiration of such rankings also has a spot in the top 10. Not only is Rhoads' latest mustache brilliantly crafted, he also has the versatility to switch between the horseshoe and the grizzled look he sported earlier in 2012.
That says a lot about the man, and we are just SO PROUD of the way he's been able to manicure his mug this offseason. If he keeps this up a little longer, he will absolutely coast into the top three with ease.
4. Andrew Luck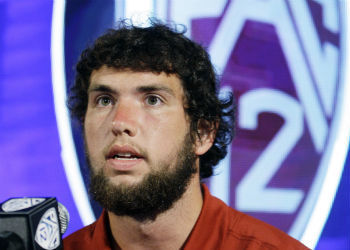 Via Saturday Blitz
He no longer has the beard, which is a travesty. You could actually make the argument that cutting his face warmer cost Andrew Luck the Heisman in 2011. Yeah, let's go with that.
The beard didn't last for long, but its presence was so known and appreciated, he must be included. It was massive, it spread to his neck, it wasn't groomed, well, at all and it was a caveman kind of beautiful.
You might be in the NFL, Andrew, but your beard will live on forever. And please, bring it back.
3. The West Virginia Mountaineer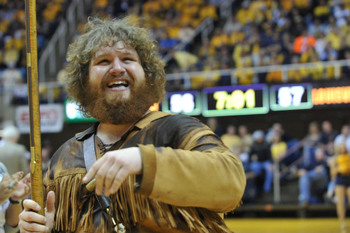 Via WVU Today
Another mascot, and this should come as no surprise. Morgantown's emotional leader has the best beard in business. No question, no debate.
Regardless of which large male is playing the Mountaineer role, the beard is always present, full and somewhat hypnotic in nature. Rarely does a musket go unnoticed on the sideline, but if you've fallen into the Mountaineer's hair-guided trance, you may never be able to look away. You could hide a flask in there if you wanted. Think about that for a sec.
2. Brian VanGorder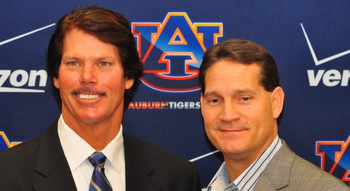 Via madvertiserblogs.com
For some of you, this might be your orientation to Auburn's new defensive coordinator. If that's the case, what an orientation it will be.
Brian VanGorder has a mustache that appears to have been genetically altered in the 1970s and slapped on his face permanently. It's that good, almost looks Photoshopped, and he crafted a hairstyle that only adds to the excellence of this thin but somehow potent mustache. Its depth pales in comparison to everyone else on this list, which is what makes it so special. Unexplainable powers.
Howard Schnellenberger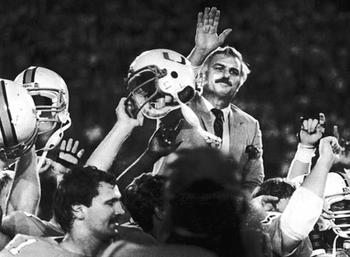 Via USA Today
There is no other option for the top spot. Rumor has it that the coaching legend was born with a mustache on, and I just can't doubt that at this point. Longevity is one thing, but no one wears it better.
Through trims and color changes, and thousands upon thousands of razors, his simple but dominant mustache served as a centerpiece for college football. The addition of the occasional pipe only added to this mystique, and for me, envy.
Schnelly retired after last season as one of the game's giants. His achievements on the field and with his mustache will live on forever.
Keep Reading